↓
Continue Reading To See This Amazing Video
The New World orioles are a group of vibrant orange and yellow blackbirds. They are known for their strongly contrasting plumage and woven elongated hanging nest pouches. These birds are insectivores and typically migratory. They also share similar shapes: slender bodies, long tails, and pointed bills. Learn about the nine types of oriole birds found in North America and discover their habitats, range, and behavior.
Baltimore Oriole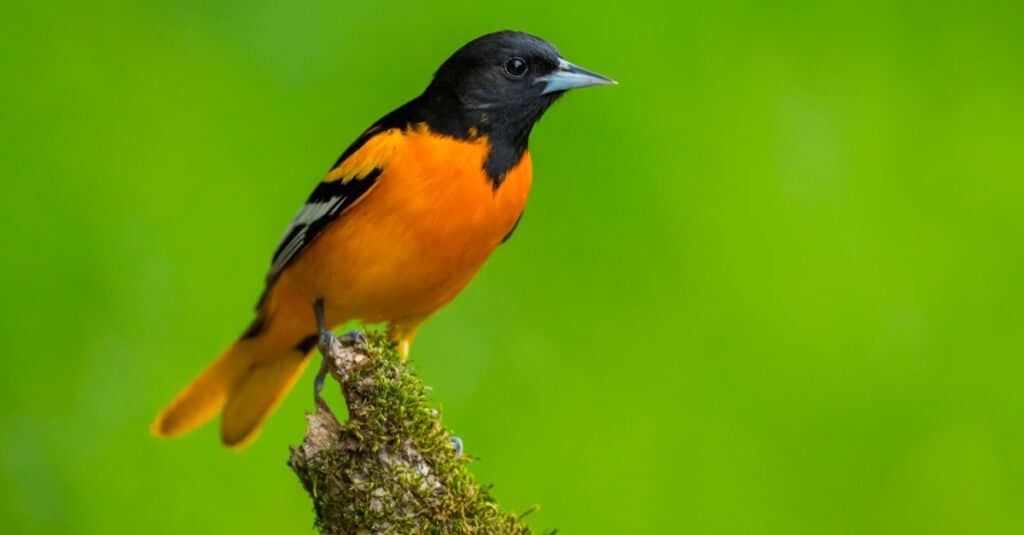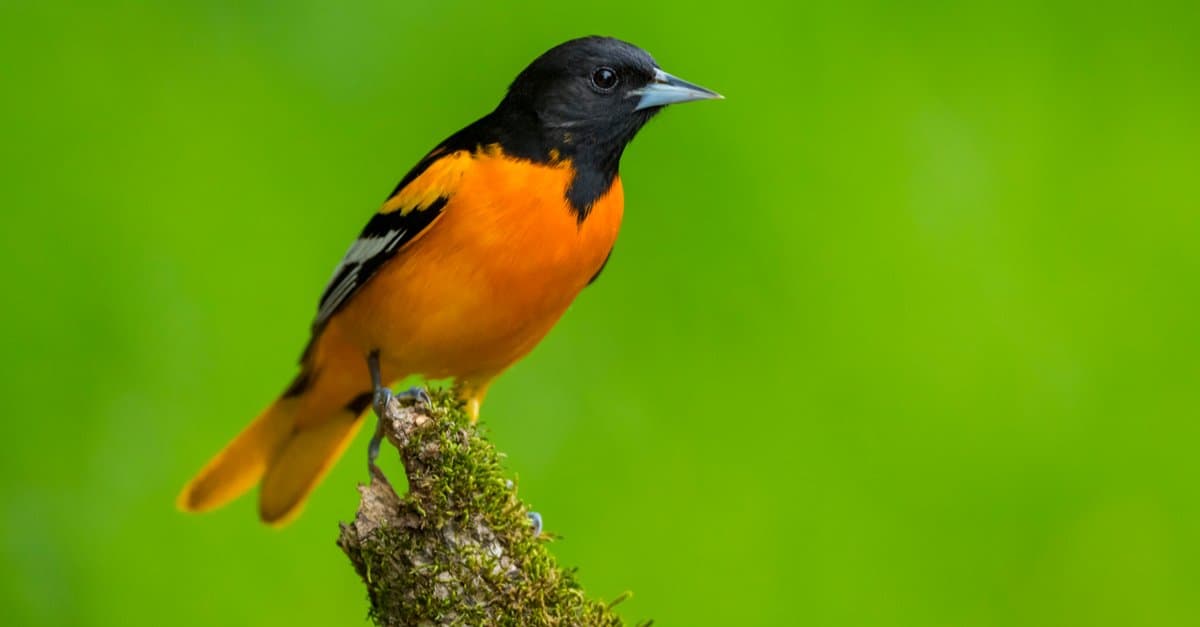 The Baltimore oriole brings bright colors and rich whistles to the Eastern United States during spring and summer. After breeding in the Northeast, they migrate to Florida, Mexico, Central America, and South America for winter. You will find this species in tall deciduous trees in open woodlands, forest edges, and river banks. These birds eat many pest species but can damage fruit crops in the process. Baltimore orioles are sturdy songbirds with all-black heads and backs. They feature flame-orange undersides, and their wings have white bars. Females are yellow orange with grayish-brown backs and wings.
Bullock's Oriole
Look for the Bullock's oriole hanging upside down in the open woodlands of the West. This medium-sized bird is bright orange with black backs and wings and white wing patches. Their faces are orange with black lines through their eyes and black throats. They are medium-distance migrants, breeding in the Western United States and wintering in Mexico. They find open woodlands, including parks, during the breeding and wintering season. Like other orioles, they consume insects, fruits, and nectar, gleaning and probing trees while hanging for long periods.
Orchard Oriole
The orchard oriole is pretty easy to spot, as it differs from the typical bright orange and yellow oriole plumage. These songbirds are relatively slim with medium-length tails. Males have black heads and upperparts and rich maroon-chestnut underparts. They also have white wing bars. Females differ greatly in appearance, featuring greenish-yellow plumage and grayish-brown wings. The orchard oriole breeds in the eastern half of the United States and Mexico before heading to Central and South America for the winter. They live primarily in open woodlands along rivers, but you can also find them in marshes, lakeshores, farmlands, and shrublands.
Scott's Oriole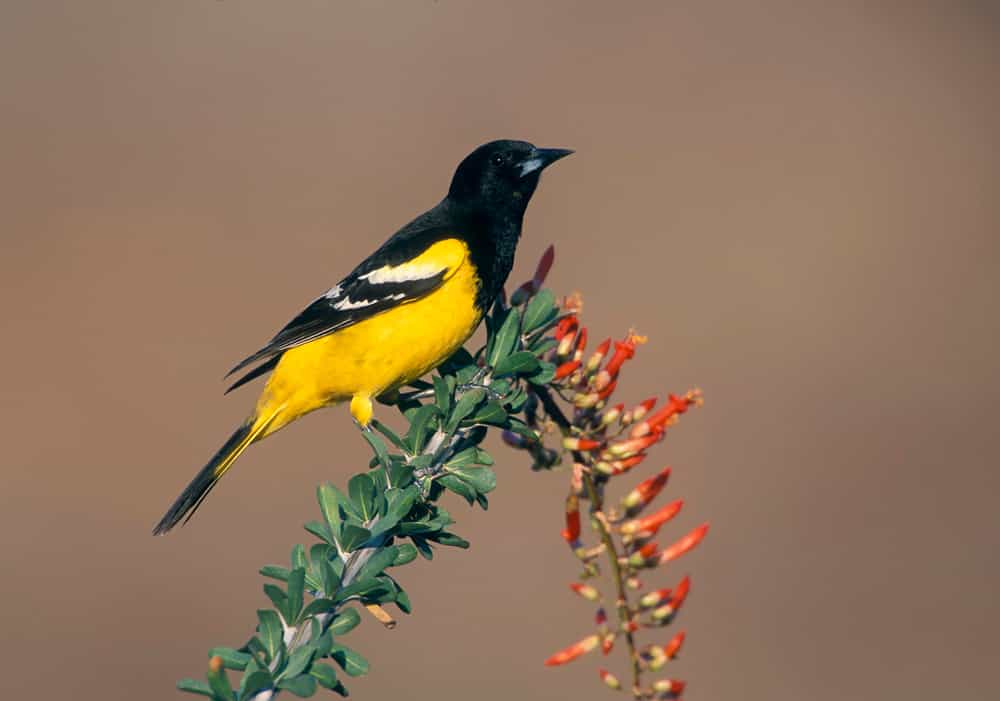 The Scott's oriole is a black and bright lemon-colored songbird of the Southwest. They spend summers nesting in yucca and palms in arid mountains and deserts before spending winters in Mexico in similar habitats. They forage in desert vegetation, looking for invertebrates and nectar, often in pairs or small groups. Males are large with black heads, backs, wings, and tails, and feature white streaking and bright yellow undersides. Females may be harder to identify due to their duller olive-green and yellow plumage and streaky gray and white wings. They sing and give nasal calls when foraging as a group.
Streak-Backed Oriole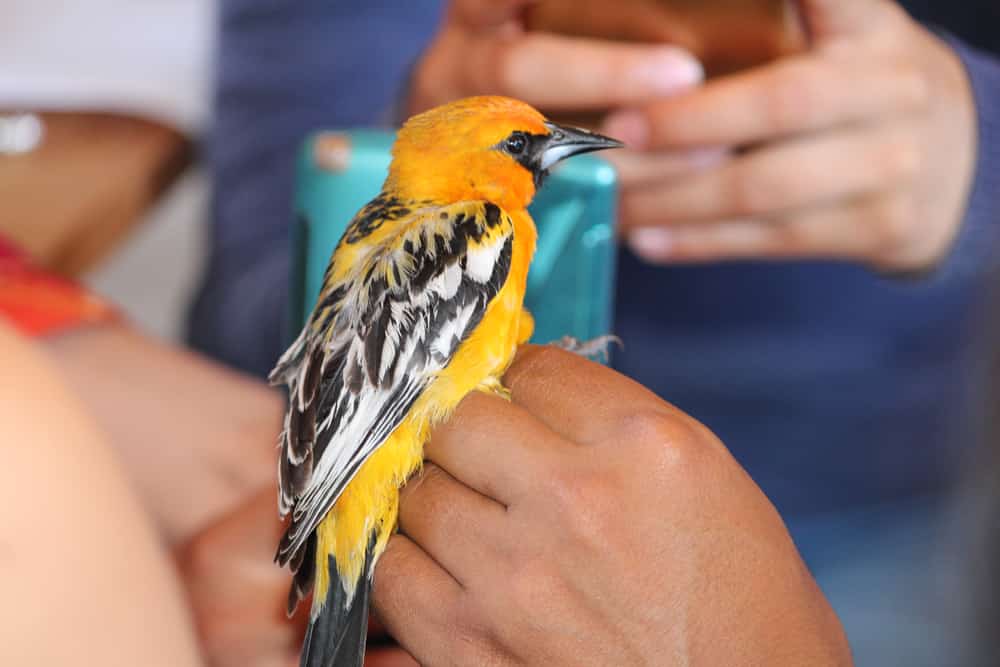 The streak-backed oriole features bright colors like its US cousins, but you will only find it in Mexico and Central America, except for occasional vagrants that wander into Southern California and Arizona. They prefer dry, open woodlands with abundant mimosa herbs and shrubs. You will find them in woodlands, grasslands, shrublands, and savannas. These birds are bright orange with black throats and tails. They have heavily streaked black and white wings with distinctive black dots on their shoulders. Females are duller and appear more olive and yellow. Their songs sound similar to the northern species but less melodious. They also produce dry chattering and clear call notes.
Hooded Oriole
The hooded oriole is another brilliantly-colored bird of the Southwest. This species is bright yellow-orange with black throats, backs, and tails. And their wings are heavily streaked in white. They appear more delicate than other orioles and can be easily distinguished by the black throat patch that extends up around the eye. Females are light olive-yellow with gray back and white wingbars. Hooded orioles live in open, dry regions with scattered trees. They use similar habitats in their wintering environments in Mexico. Populations around the Gulf of Mexico and the Yucatan Peninsula live there year-round.
Spot-Breasted Oriole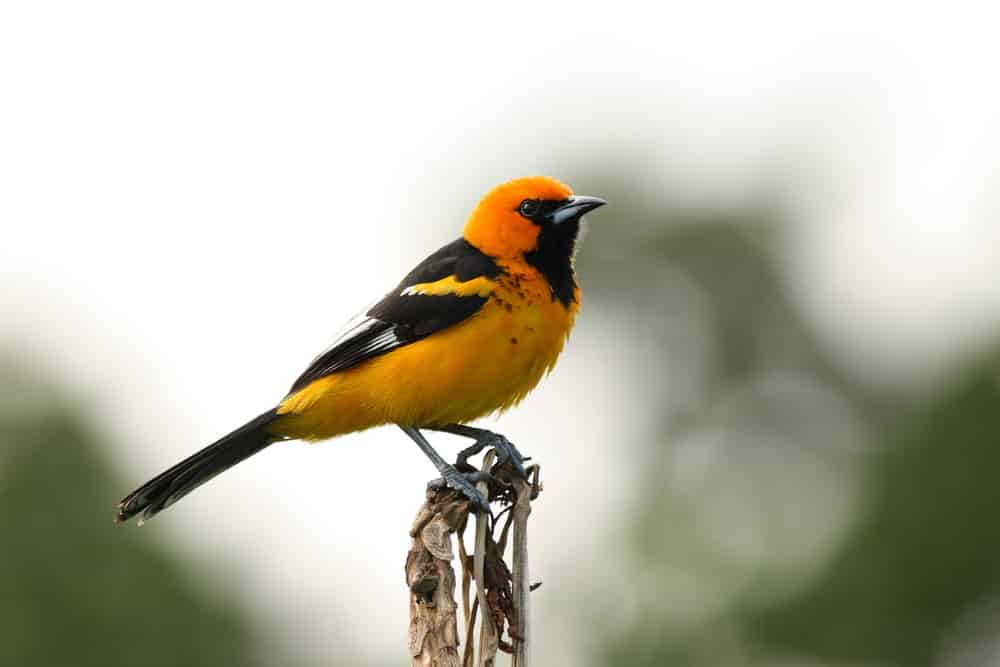 The spot-breasted oriole is a rare sight in the United States. They are natives of Southern Mexico and Central America, but a small resident population inhabits Southeastern Florida, where they were introduced in the 1940s. This species is not as sexually dimorphic as other orioles. Males and females are bright orange with black backs, wings, and tails. Their heads are orange with black throat patches extending to the eyes. They also have black spots dappling their breasts. They live in suburban neighborhoods in Florida, but they inhabit open woodlands, dry scrub, and forest edges in their native range. 
Audubon's Oriole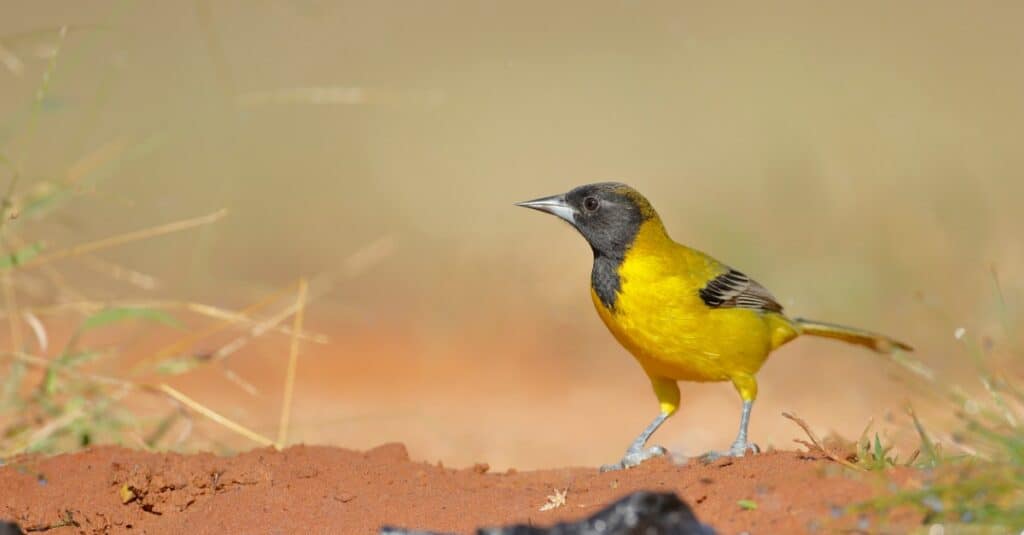 The Audubon's oriole is a shy songbird with bright plumage very similar to other orioles. They are bright yellow with black heads, wings, and tails. Females are similar in plumage but not as vivid in color as the males. They forage for insects in dense vegetation in woodlands along streams. But you can find them in many habitats, such as backyards, forests, scrub, and coffee plantations. They hide their nests deeper in vegetation than other oriole species, making them more difficult to find. These birds live year-round along Mexican coasts, but you can also find populations in the very southern tip of Texas.
Altamira Oriole
The Altamira oriole is a flame-orange tropical songbird. They live permanently in Mexico but have a small range along the lower Rio Grande in South Texas. They look very similar to the hooded oriole but, surprisingly, are not closely related. These birds are the largest orioles in the United States with long tails and stocky bodies. Males and females are similar in appearance, featuring brilliant orange plumage with black backs, wings, and tails. They have orange heads with black throat patches that extend toward the eyes. They live in lightly wooded areas, like riparian corridors, parks, orchards, farms, and thorn forests. This species does not form flocks, but you will likely find them in pairs throughout the year.
Up Next:
More from A-Z Animals
---
The Featured Image
---