↓
Continue Reading To See This Amazing Video
Have you ever wanted to see a giant living legend like a crocodile first-hand? Well, that's sort of what this particular video illustrates! Two Australian wildlife experts enjoy an up close and personal experience with apparently the biggest crocodile either party has ever seen. But they don't just observe this dinosaur; they have a bit of fun with it too! 
Croc Size: How Big Can They Get?
Despite being their own independent species, crocodiles appear to be descended from dinosaurs and their DNA has not changed very much over the past 200 million years. That's why it's not a surprise to see a crocodile reach an immense size, especially the notorious saltwater crocodile. Located in parts of the US and Australia, the saltwater crocodile is the largest crocodile species. 
While rare, some saltwater crocodiles can reach over 2000 pounds and 10 feet in length, not including their tail– some crocs can reach over 20 feet total. You can only imagine the power of an apex predator such as this, which is why the contents of this video are surprising and fearless. 
Baiting a Big Boy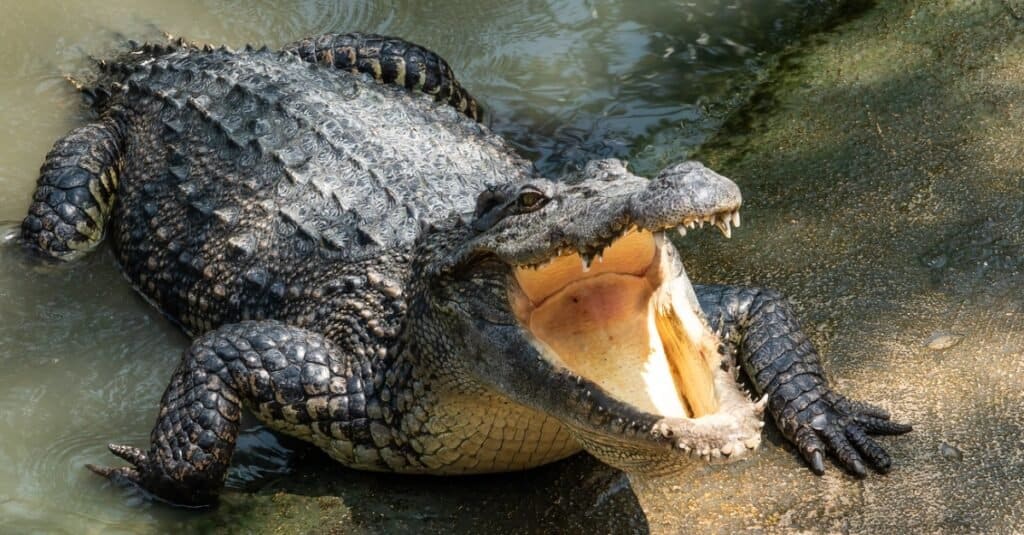 In this video, we see two wildlife experts examining a crocodile in the Australian wilderness. This dinosaur emerges from the brackish water and its head is roughly the size of a man's torso. But it's difficult to tell just how big this crocodile is without it jumping out of the water. Thankfully, the wildlife expert in this video gives the audience exactly what they want. 
Watch This
Without protection and armed with only a baseball cap, the wildlife expert in this video gently taunts the crocodile with his hat. The crocodile is intrigued and immediately pursues the cap, even as the wildlife expert raises it into the air. Without hesitation, the crocodile pursues the hat at a graceful and gentle pace. It raises a frightening amount into the air and attempts to bite it. 
From this angle, we can see just how large this crocodile is. According to the two wildlife experts in the video, this is one of the largest crocodiles they've ever seen in a wild location. Once you see it, it's no surprise to hear them say this. While we can't exactly tell just how large this crocodile is, it definitely weighs hundreds if not thousands of pounds. 
Just as casually as he removed his hat, the wildlife expert replaces his hat as the crocodile swims away. The body of this croc appears to be at least the same length as the men standing on the docks nearby. It likely means this crocodile is over 10 feet long. No matter what, it's a special experience to see a dinosaur like this close-up. Even if it means you have to be a bit fearless to see one in the first place!
Next Up:
If you like this video, check out some other fantastic footage of crocodiles and alligators here:
More from A-Z Animals
---
The Featured Image
---