↓
Continue Reading To See This Amazing Video
While it may be the shortest month of the year, there are plenty of things to plant in February. As the seasons change and many locations around the world begin to warm up, February can bring uncertainty in terms of weather and temperature. However, with variability in mind, there are still plenty of plants, flowers, and crops that you can sow during this time of the year!
Depending on your Hardiness Zone, February is a perfect time of year to plant certain plants outdoors as directly-sown seeds such as peas and pansies. You should also start some plants indoors such as tomato and pepper plants, as they need more time to germinate compared to other crops. Finally, planting bare-root fruit trees as well as certain shrubs is best accomplished in February, when these plants are still dormant.
In this article, we'll go over a variety of vegetables, flowers, and other types of plants that do well when planted in February. We'll also give you some helpful tips and reminders when it comes to garden maintenance that should occur during this time of year. That way, you'll feel plenty prepared for the upcoming spring planting season! Let's get started. 
What to Plant in February: Flowers
While it's likely too late to plant your springtime flower bulbs (unless you live in a particularly frigid Zone!), there are many other types of flowers that you can start in the shortest month of the year. Here are some flowers you should begin growing during the month of February, both indoors and out.
Azaleas
Given the fact that many azalea cultivars and varieties do well when grown in containers, starting an azalea plant during the month of February makes a great deal of sense. Many azalea plants need some protection from temperatures lower than 40 degrees Fahrenheit, so make sure to start your new flower friend indoors first. 
You can start an azalea plant fairly easily from seed, or you can always purchase an established plant from a garden center. Given the shallow root systems of most azalea plants, transplanting is fairly easy to accomplish. Just make sure to do so when your azalea plant isn't in bloom!
Gardenias
Another gorgeous flowering shrub to consider planting in February has to be gardenia. Sweet-smelling and delicate, gardenias are surprisingly cold-hardy, but you'll need to protect them in the wintertime if you experience regular temperatures under 20 degrees Fahrenheit. Just like azaleas, you can grow gardenias in a container, bringing them inside during cold snaps.
Keep in mind that, should you choose to keep your gardenia indoors during the winter, that it will need consistent care during this time of year. It is unlikely that your gardenia will go dormant, so be sure to give it plenty of humidity and mild nighttime temperatures to keep it flowering come springtime!
Pansies
Perfect for a winter garden transitioning to spring, pansies are cheerful and shockingly easy to care for. You can grow pansies in containers or in the ground, once it is workable and unfrozen. If you are starting your pansy collection in February, it's best to purchase already-established plants from your local garden center, as pansy seeds need ample time to germinate indoors.
With plenty of colors and bloom types, pansies are a fantastic flower to grow either as a perennial or annual, depending on your Zone. They are often cold-hardy to Zone 3, returning with plenty of happy blooms once frosts have passed!
Calendula
Edible, medicinal, and a fantastic companion flower, calendula is great for attracting pollinators and bringing a smile to your face. Also known as pot marigolds, calendulas are incredibly easy to grow and can be directly sown into your garden's soil beginning in February. With a few different varieties, you don't have to settle for a basic orange or yellow daisy. These flowers bring bees and butterflies to any garden, making them perfect when planted near crops.
Sweet William
If you are seeking a flowering border plant, sweet William may be a great choice for you. While these perennial flowers are unlikely to bloom in their first year when grown from seed, they are cold-hardy to Zone 3, meaning they'll survive and bloom next February! However, you can always start sweet William seeds indoors and transplant them in April, or you can even purchase already-established plants and get them started in your February garden.
What to Plant in February: Vegetables
While your Hardiness Zone will greatly affect what vegetables you can plant in February, there are still a few options that work best when started during this time of year. Here are some crops to start indoors from seed or directly sow outdoors, depending on your climate!
Beets
With plenty of cold-hardy varieties, you can directly sow your beet seeds outdoors once your soil is workable. In fact, beets prefer to establish roots in one location rather than being transplanted, though starting your beets indoors and transplanting them within a few weeks of sprouting is also possible. Delicious when roasted, beets are packed with vitamins and important minerals! Plus, you can eat the greens while the bulb develops underground.
Peppers
It is still too cold to directly sow peppers during the month of February, but these slow-growers should be started indoors in early spring. With countless pepper varieties and plants to explore, you may want to start a few different varieties! Starting your pepper seeds inside roughly two months before your final frost is a good idea, and many pepper varieties work well when container-grown too.
Tomatoes
Just like peppers, tomatoes also can't handle the cold. However, they need more time than you think to get established, so starting seeds indoors during February is perfect. By starting your tomato plants indoors roughly a month and a half before your last frost date, you should have a well-established tomato plant that can handle transplanting once your temperatures have warmed up. Plus, there are so many different types of tomatoes that you'll never get bored!
Peas
You can directly sow peas into your garden during the month of February, depending on your region. In fact, peas don't take well to transplanting, so getting your seeds into the soil right away in spring is a good idea. Provide pea plants with a trellis as well as full sunlight for the sweetest peas possible. There are plenty of types of peas that can be grown in February, including sugar snap and snow peas.
What to Plant in February: Trees and Other Plants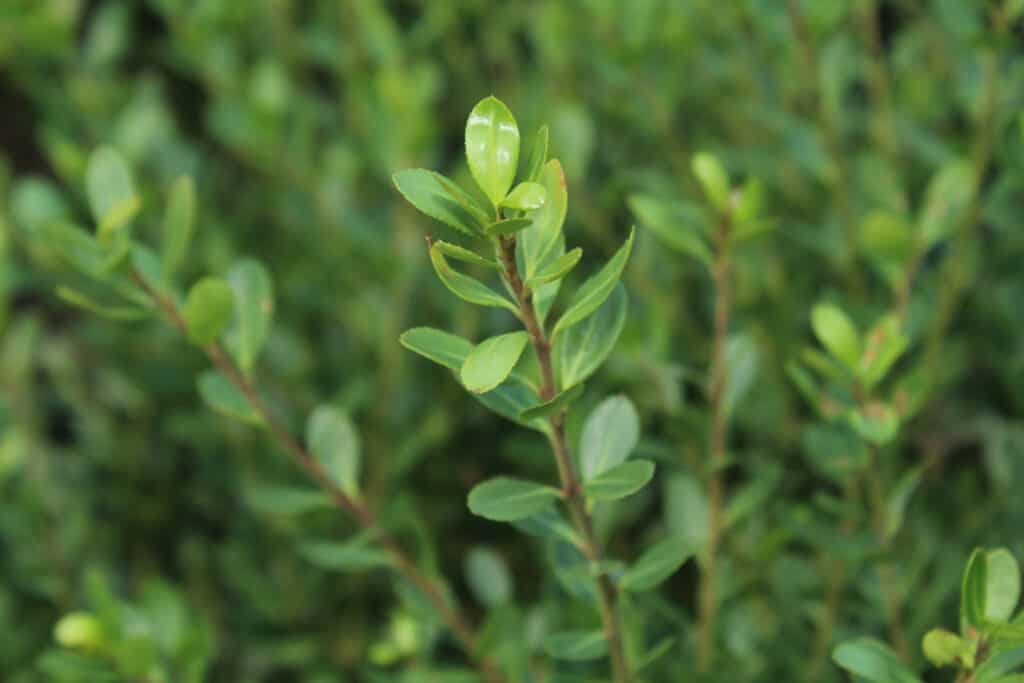 It isn't exclusively certain veggies and flowers that grow well during late winter. You can also prepare the rest of your garden and landscaping during February, including certain shrubs and trees!
Coleus
Gorgeous when planted with other flowers or border plants, coleus comes in a variety of foliage colors and cold-tolerance levels. While it may not be able to handle freezing temperatures, you can keep your coleus plants alive by taking cuttings in the fall. Additionally, starting coleus from seed and keeping them in containers are easy processes to accomplish, giving you plenty of freedom to use this versatile plant however you please!
Bare-Root Fruit Trees
Are you planning on caring for any fruit trees this year? Planting a bare-root tree during the month of February is a good idea. You should choose a fruit tree specimen that hasn't started budding yet, dormant and waiting for warmer weather. Plant as soon as possible, as the moist conditions of this time of year are perfect for most fruit trees. Popular options to consider include plum, apricot, cherry, pear, and peach trees.
Boxwood Shrubs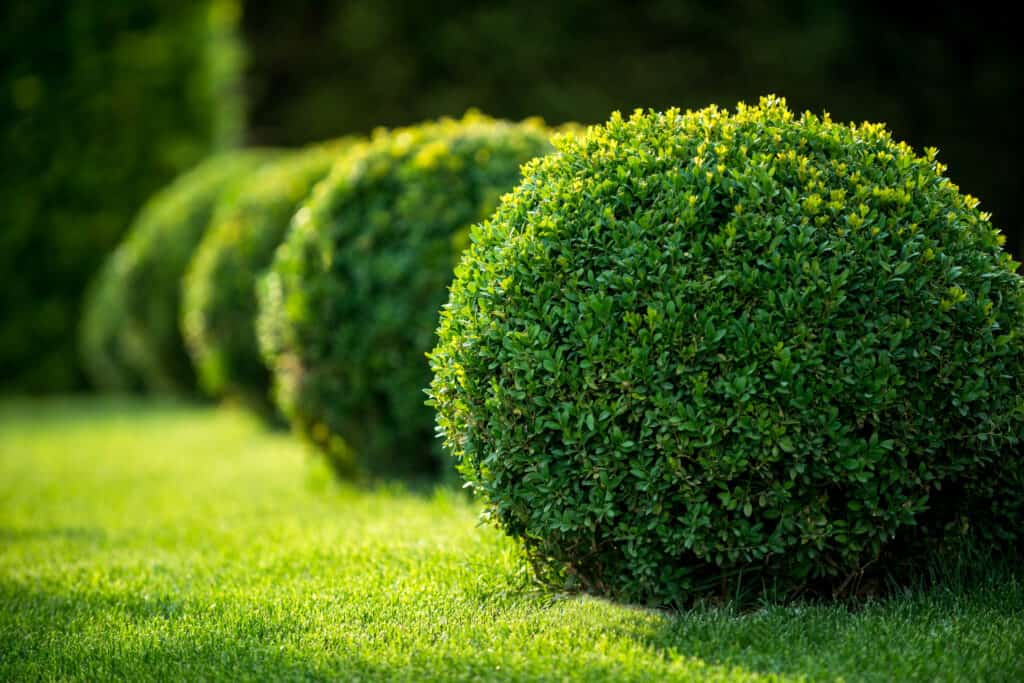 Available in a number of sizes and hardiness levels, boxwood shrubs can be planted outdoors during the month of February, but pay special attention to your region. Some cultivars cannot tolerate frost and should only be planted if you are in a warm enough region. However, many other shrubs prefer establishing roots during this time of year, before spring comes. Some popular boxwood varieties to consider include Japanese, Korean, and small-leaved boxwoods.
Is Your Pruning Done?
February is a great time of year to prune your garden, depending on your Hardiness Zone. If you have noticed your plants already producing buds and new growth, it may be too late to prune too heavily. However, most locations in the United States can utilize this month as a pruning month, given that many shrub and tree types are dormant currently.
By pruning your shrubs and trees before spring fully sets in, you're encouraging your plants to produce new growth. It's a great way to keep your plants healthy, especially ones that produce fresh foliage and buds from old growth. February may be the shortest month of the year, but there's no shortage of work to be done!
Up Next
More from A-Z Animals
---
The Featured Image
---