Key Points
Mumbai, India is projected to be the largest city in 2050. It has a current population of over 21 million and consistent growth.
Delhi, India is expected to be the second largest city in 2050. This city features a diverse population and plenty of cultural attractions.
Dhaka, Bangladesh is predicted to be the third largest city in 2050. Its rapidly growing population is diverse and harmonious.
Kinshasa, Democratic Republic of the Congo is estimated to be the fourth largest city in 2050. Check out its young population and a thriving music scene.
Kolkata, India is projected to be the fifth largest city in 2050, with a booming IT and education sector.
The world is growing at an alarming rate. Experts project that due to birth rates and longer life spans the Earth could be home to close to 10 billion people by the year 2050. Many of them will be filling the major cities on this list. Today, we'll talk about several different locations that could end up being the largest city in 2050. We'll also discuss good reasons to make these locations your future home.
How To Determine the Largest City in 2050
When determining the largest city in 2050, we turned to growth models and data offered by the Global Cities Institute at the University of Toronto. They looked at demographics, birth rates, and other trends to anticipate future events.
Future population is determined by comparing initial population size to estimated growth rate. If you want to calculate your own town's population estimates, plug your numbers into this online Population Growth Rate Calculator.
Mumbai, India
When the experts put their heads together, they determined that the city of Mumbai, India, will have the largest population in 2050 with just over 42.4 million people.
The current population of Mumbai is just over 21,000,000 people. Emerging trends show that the city is increasing by over 1% per year, so they expect consistent growth. The population has more than doubled since 1991, and experts believe this explosive growth will continue. The population of the city is very dense, with approximately 73,000 people per square mile. This makes it one of the densest places in the world. Unfortunately, that also means that many people live in cramped quarters far from their jobs and sometimes their families.   
As you can imagine, Mumbai is a very diverse city, and many people move here for job opportunities. There are 16 major languages spoken in the city. While two out of every three residents are Hindu, there is a wide variety of religious representation. 
Why You Should Move to Mumbai
There are many good reasons to consider Mumbai for your future home. Although there are slums and poverty, Mumbai is safe and has good public transportation. It's also a hub of culture, art, and theater, so there's a lot to keep you entertained.
There's also a lot of peace and harmony in Mumbai. Even with so many different cultures, everyone gets along. Whether you work in the world of business or you are an entertainer at heart, there are many employment opportunities. The city also has tons of great restaurants, shopping districts, and real estate.
Delhi, India
Although Mumbai will likely take the crown, Delhi, India will likely be the second largest city in 2050. Experts believe that Delhi may have as many as 36.2 million people living within the city limits by that time. Currently, the population of the city is close to 15.2 million people. Contributing to these numbers is Delhi's large land area of 1,484 square kilometers. There's a population density of just under 30,000 people per square mile.
The population of Delhi is rather diverse, with many religions represented. Muslims, Hindus, Christians, and Sikhs call the place home. However, 81% of the population is Hindu. Interestingly, Delhi has a skewed male-to-female ratio, with approximately 866 women to every 1,000 men. Hindi is the most commonly spoken language in the area.
Why You Should Move to Delhi
There's a ton of culture in Delhi. You can walk down almost any street and find tasty restaurants and clothing shops. The amazing architecture dates back thousands of years, with structures from the British era and the Mughal era.
The mass transit system can take you just about anywhere, offering convenient travel. Choose a home in the city or on the outskirts of town. The city also has great schools and plenty of chances to further your education.
Dhaka, Bangladesh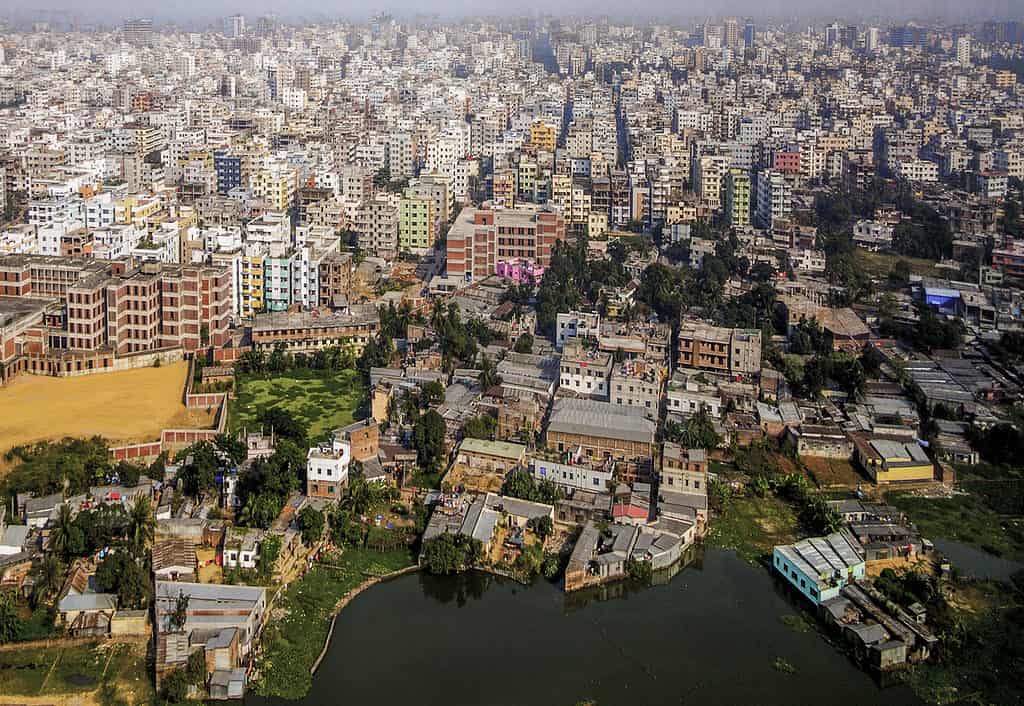 If trends continue at their current pace, Dhaka, Bangladesh will be the third largest city in 2050. It will have 35.2 million people. At this point, the current population of Dhaka is just over 23,000,000 people. Amazingly, the area only had 335,760 people back in 1950. In the last few years, the population has grown exponentially, with a growth rate of 3.25% each year. Bangladesh has many large and populous cities, but Dhaka is the largest.
The city currently has a population density of 23,234 people per square kilometer. In many places, the city is bursting at the seams. The city's boom is due in part to migration from Africa and Asia. While population growth is often seen as positive, the city of Dhaka is not built for so many residents. Plus, the city's services leave something to be desired. Still, the area does have a growing economy, so circumstances could improve.
Why You Should Move to Dhaka
Dhaka is a very diverse city that's full of religious harmony. Although the city is 91% Muslim, there's also a growing Hindu population and different temples. There are also many job opportunities in the area in a variety of fields. The faster the city grows, the larger the job market will become. Residential communities are very friendly and helpful, so you'll feel like family. 
Kinshasa, Democratic Republic of the Congo
There's a very slim margin between the third and fourth-ranking cities on this list. Still, experts believe that Kinshasa in the Democratic Republic of the Congo will come in fourth place. It will have an estimated population of 35 million people. As of 2021, Kinshasa has a population of 17.07 million people. Since then, there's been a 3.2% increase. Part of the vast population increase is due to folks migrating from the Congo. Plus, the city's boundaries have been widening for some time, which instantly makes the population larger.
The city also has a younger population, so there's a higher chance of procreation. In fact, more than half of the people in Kinshasa are under the age of 22! Only a small percentage are over the age of 50. The growing population causes concerns for city administrators, especially due to public transportation being stretched thin. If the country improve as the population increases, then the city of Kinshasa can continue to prosper.
Why You Should Move to Kinshasa
With so many young people in the city, Kinshasa is a bastion for great nightlife and music. Many big names from around the world perform here. The city is also a major industrial center with an expanding job market.
Kolkata, India
According to estimates, the fifth largest city in 2050 will be the bustling metropolis of Kolkata, India. Experts believe it will have a population of 33 million people. According to data from 2020, the current population is close to 15 million, so we're looking at a huge bump in the next 25+ years. In the last year alone, there has been a 1.31% increase. The city has a notoriously high population density, with a whopping 63,000 people per square mile. That is one of the highest densities in the world. The city itself is also huge, as it covers 205 square miles of surface area.
This is another diverse city. Although the primary religion is Hinduism at 76%, there are other major religions represented, including Islam, Christianity, and Buddhism. As of 2011, the city had a literacy rate of 86%, which means this growing city has a lot of potential.
Why You Should Move to Kolkata
If you want to join the fabulous people of Kolkata, then this is the time to do so. The city is evolving by leaps and bounds and is seeing a lot of success in the IT and education sectors. With plenty of large museums, there are tons of opportunities for literature and art. There are also plenty of sports to play, and you can enjoy many fun games, from cricket to football. The real estate market is also booming in Kolkata. Although there are a lot of homes and industrial buildings, there are still plenty of parks and riverbanks for your nature fix.
Conclusion
These cities make up an incredibly diverse list, and it's no wonder why people are thriving in each of these hotspots. Even if you don't plan to move, visit a few of these growing cities and see what all the fuss is about!
Summary Table
| Rank | City | Estimated Population in 2050 |
| --- | --- | --- |
| #1 | Mumbai, India | 42,403,631 |
| #2 | Delhi, India | 36.2 million |
| #3 | Dhaka, Bangladesh | 35.2 million |
| #4 | Kinshasa, Democratic Republic of the Congo | 35.0 million |
| #5 | Kolkata, India | 33 million |
The photo featured at the top of this post is © IM_photo/Shutterstock.com
---