Below you can find a complete list of Bangladeshi animals. We currently track 255 animals in Bangladesh and are adding more every day!
Many different animals live in Bangladesh, but sadly that number is diminishing. There are 138 species of threatened mammals, 566 bird species, 167 reptile species, 49 amphibian species, 253 freshwater fish species, 141 crustaceans, and 305 butterfly species in the country. Overexploitation and habitat degradation are the two main reasons why 390 species are critically endangered, endangered, or vulnerable. In the last 15 years, officials have documented 31 species as being regionally extinct in this fauna.
The Official National Animal of Bangladesh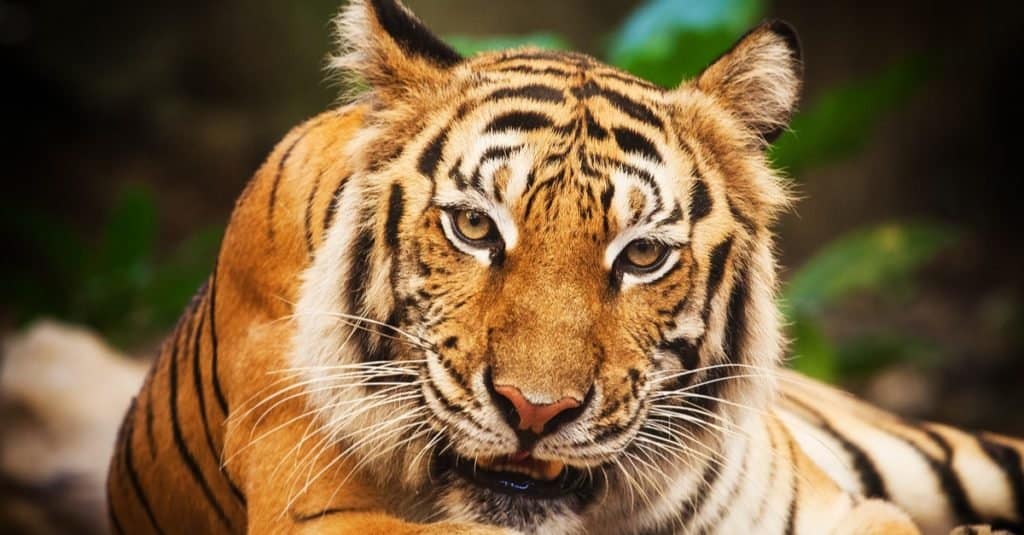 In 1971, the royal Bengal tiger became the national animal of Bangladesh. It replaced the lion. Experts believe that about 440 royal Bengal tigers live in the forests of the Sundarbans and the Chittagong Hill Tracts. These animals live a solitary lifestyle, and they often walk miles in search of prey. Officials made it the national animal because of the way it royally carries its body, its fearlessness, and its wrath.
The royal Bengal tiger is a formidable predator and lives mainly in the forests of Bangladesh. It typically feeds on deer, wild pigs, and fish found in its natural habitats. Its coat has characteristic stripes that are darker than the orange fur, with each stripe unique to every individual tiger. They have an impressive lifespan of up to 10-12 years if they manage to survive their dangerous life in the wild.
When it was selected as the national animal of Bangladesh in 1971, officials highlighted its regal carriage and fearlessness as reasons why it earned such an important distinction within the country's culture. Unfortunately, due to poaching and habitat loss caused by human activity, these majestic animals are now facing extinction despite conservation efforts by local authorities and international organizations like WWF (World Wildlife Fund).
The National Bird of Bangladesh
The national bird of Bangladesh is the magpie robin (Copsychus saularis). The magpie robin is well-known in Bangladesh for their beautiful song and intelligence. They are found in both rural and urban areas and symbolize good luck and joy.
The magpie robin is also called the black-collared starling. It typically has a glossy black head and upper parts and white underparts, which distinguish it from other species of birds in its range. The males also have a patch of blue on their wings, while females lack this feature.
They are mainly insectivorous birds that feed on larvae, spiders, and small insects, as well as fruits like berries, figs, and dates. Within Bangladesh, they breed year-round, with peak times during the spring months when temperatures are just right for nesting. Magpie Robins can be found living in gardens, woodlands, forests, and even mangrove swamps! Their beautiful warbling song is heard all throughout the country, making them one of Bangladesh's most beloved animals.
Where To Find The Top Wildlife in Bangladesh
Bangladesh is home to 17 national parks, 20 wildlife sanctuaries, and one special biodiversity conservation area, so there are many places to go to see mammals in their natural fauna. While you have many choices, three rise to the top, offering some of the best fauna!.
If you want to see wildlife in Bangladesh, consider going to Lawacherri National Park. There you can see Northern pig-tailed macaques, Phayre's leaf monkeys, and capped langurs. The forest is also home to Western Hoolock gibbons, which is the only ape that lives in the country. Additionally, you may see many bird species, including Oriental pied hornbills and Kalij pheasants, along with several flowerpeckers species, which is the smallest bird in the country.
Satchari National Park is also a great place to go if you want to see wildlife. You are likely to see Northern pig-tailed macaques, Pharyre's leaf monkeys, capped langurs, and Western Hoolock gibbons. One reason people come to this location is to see the breeding pairs of cuckoos and hooded pittas, but if you want to see them, then come during the early monsoon season, which usually lasts from March to May.
Rema-Kalenga Reserved Forest is another great place to see wild animals in Bangladesh. Visiting this location may allow you to see endangered fishing cats and nationally rare black giant squirrels, along with several species of monkeys. This reserved forest is also a great place to see breeding pairs of critically endangered white-rumped vultures.
The Most Dangerous Animals In Bangladesh Today
There are a few dangerous animals and snakes in Bangladesh, such as the king cobra, Russell's viper, and common krait. These animals pose a risk to humans due to their venomous bites, which can cause serious injury or even death.
The natural habitats of these creatures vary depending on the species but generally include areas with dense vegetation like forests, grasslands, and wetlands. They often hide among long grasses for camouflage or under rocks or logs during hot days when they need cool shelter from the sun.
Most of these dangerous creatures can only be found in certain parts of Bangladesh, such as the Chittagong Hill Tracts, where many types of wild snakes live, including cobras, kraits, and vipers. It is important for people living near these areas to take extra caution when exiting homes at night or walking through tall grasses so as not to disturb any sleeping wildlife that might present harm if provoked.
While many Bangladesh animals are non-threatening, there are some that you will want to watch for as they can be deadly. These include:
Royal Bengal tigers – Tigers in the Sundarbans region seem to be more aggressive than in other parts of the world.
Russel vipers – One of the fastest biters globally, this snake lives on land and in the water.
King cobras – The king cobra is the longest poisonous snake globally, and it lives in the Sundarbans region of Bangladesh.
3 Rarest Animals in Bangladesh
The three rarest animals to be spotted in Bangladesh are the Bengal tiger, the greater adjutant stork, and the Asian elephant. The Bengal tiger is a critically endangered species due to poaching and habitat destruction, with an estimated population of fewer than 300 individuals living in Bangladesh's Sundarbans mangrove forest.
The greater adjutant stork is a bird native to South Asia that is currently classified as 'Endangered' by the IUCN Red List due to the loss of its wetland habitats across India, Nepal, and Bangladesh. In Bangladesh, it can only be found nesting in small numbers near rivers or wetlands throughout Khulna Division and Chittagong Hill Tracts.
Finally, there are roughly 5500-6000 wild Asian Elephants left in Bangladesh, making them one of the most threatened mammals on earth. They inhabit a variety of habitats, including grasslands, savannahs, and moist deciduous forests throughout Sylhet Division. Their populations have been drastically reduced over time due to deforestation for agriculture and human settlements encroaching on their natural habitats.
3 Largest Animals in Bangladesh
The three largest animals that can be spotted in Bangladesh are the Asian Elephant, Royal Bengal Tiger, and the gaur. The Asian Elephant is the largest land mammal in Asia and can grow up to 9 feet tall. Male Asian elephants can weigh 8,800 pounds! It lives mainly in forests, grasslands, and scrublands throughout the Indian subcontinent, including Bangladesh. This majestic animal is an important part of both Hinduism and Buddhism religions as it symbolizes strength, power, and wisdom.
The second largest animal to spot in Bangladesh is the royal Bengal tiger which can reach almost 10 feet from head to tail with a weight of over 570 pounds. Its habitat consists mainly of tropical or subtropical moist broadleaf forests across India, Bhutan, Nepal, and Bangladesh, but due to human-animal conflict has been pushed into smaller areas like national parks or protected reserves. Despite its population decreasing significantly over the past few decades, conservation efforts have helped increase their numbers slightly since 2014, making this one of the most iconic animals from the South Asia region.
Lastly, we come to the third biggest animal found in Bangladesh – Gaur, also known as Indian Bison, which stands between five to seven feet tall at the shoulder and weighs 1,400 to 2,200 lbs. This makes it one of the heaviest wild cattle species on earth today! They inhabit mostly dense forested hillsides where they graze on grasses. Due to human activities such as deforestation, they no longer range widely across central India and Southeast Asia anymore. Instead, they are found more often living within protected reserves or national parks.
Endangered Animals In Bangladesh
The reality is deforestation, and the subsequent loss of habitat, are major contributors to species endangerment in Bangladesh. As more land is cleared for farming, animals are driven out and pushed into smaller areas making it harder for them to find food or escape predators. The rapid growth of commercial livestock production has also contributed to the problem, as large amounts of trees have been cut down in order to grow hay for these animals. This not only leads to a decrease in biodiversity but can cause environmental issues such as soil erosion and air pollution from burning forests.
Reducing meat consumption can definitely help endangered species as it allows more land for reforestation and wildlife sanctuaries, which provide necessary habitats for these species. Additionally, fewer resources like water, energy, and feed would need to be used if there were less livestock production meaning that natural ecosystems could recover faster with less human interference. Though it will take time before we see the full effects of reduced meat consumption on animal populations, reducing our reliance on this resource could go a long way toward saving many endangered species around the world — including those found in Bangladesh!
While some animals have gone extinct in Bangladesh, there is still time to protect many others. The mugger or marsh crocodile is the sole reptile to become extinct. Many animals listed on the extinct list were actually combined with other listed animals during the 1800s. Bangladesh is home to many endangered animals, including:
Capped monkey
Slow loris
Pearson's horseshoe bat
Thickened bat
Asian Dowitcher
Black spotted pond turtle
Giant snakehead
Six-legged tortoise
Mainland serows
Pig-tailed macaques
Common langurs
Assamese macaques
Capped langurs
Barking deer
Asiatic wild dogs
Indian hares
Particolored flying squirrels
The Flag of Bangladesh
The flag of Bangladesh was adopted on January 17th, 1972, and consists of a red disc on a dark green background. The red disc symbolizes the rising sun and its representation of the dawning of a new era for Bangladesh. It is said to also represent the blood spilled during their fight for independence from Pakistan in 1971. Additionally, it has been used as an international symbol of peace throughout South Asia since then.
The green banner represents hope and prosperity. This color is associated with Islam which is Bangladesh's official religion. Additionally, the slightly offset position towards the hoist (the side where the flagpole or staff is attached) alludes to Bengali culture by reflecting traditional designs found in Bengal artworks such as saris and tapestries.
Since its adoption over four decades ago, it has served as an important national symbol for Bangladeshi citizens around the world, who proudly display it whenever possible to show their love for their country's history and future potential.
Bangladeshi Animals
Bangladeshi Animals List
Animals in Bangladesh FAQs (Frequently Asked Questions) 
What kind of animals are in Bangladesh?
There are many different species of unique animals in Bangladesh. Scientists are discovering new ones all the time. Recently discovered unique animals include common pipistrelle bats, Indian round leaf bats, wrinkle-lipped free-tailed bats, least leaf-nosed bats, dawn bats, lesser false vampire bats, cook's mice, Edward's rats, Himalayan rats, white-toothed rats, red climbing mice, yellow-throated martens, particolored flying squirrels, Himalayan striped squirrels, Indo-Pacific humpback dolphins, Indo-Pacific bottlenose dolphins, pan-tropical spotted dolphins, rough-toothed dolphins, false killer whales, sperm whales, and Bryde's whales.
How many animals are there in Bangladesh?
There are over 22 species of unique amphibians, 708 species of fish, 126 -species of reptiles, 628 species of birds, and 113 species of mammals 1,720 species of animals in Bangladesh.
What is the most dangerous animal in Bangladesh?
One of the most dangerous animals in Bangladesh is the royal Bengal tiger. These animals tend to be more aggressive in this country than in any place else in the world. Yet, most people still want them protected.
Are there any lions in Bangladesh?
No, lions do not live in Bangladesh. You can find other big cats, including tigers, clouded leopards, fishing cats, marbled cats, Asiatic golden cats, leopard cats and jungle cats.