Below you can find a complete list of animals in India. We currently track 340 animals in India and are adding more every day!
In terms of its size, population, and even wildlife, India is a land of incredible extremes. Some of the largest (and even some of the smallest) wildlife on the planet can be found across India's vast array of rich mountains, verdant grasslands, luscious tropical jungles and forests, dense wetlands, and arid deserts.
The country's most prominent regions include the Himalayas, the Indo-Gangetic plain (named after the two northern rivers against which it's bound), the Western Ghats mountain range, and the Deccan Plateau toward the south.
The Official National (State) Animals in India
As a symbol of strength and power, the Bengal tiger is the official national animal of India. Other important symbols include the Indian elephant and the Indian peacock, which is the national bird of India, symbolizing royalty and good luck.
The Bengal Tiger was not always the national animal of India. In fact, prior to 1973, it was the lion. Why did it change? Bengal tigers had large populations in India prior to 1900. But between 1900-1973, their numbers fell drastically due to poaching. In an effort to bring its numbers back, Project Tiger was launched in April 1973, and as a springboard, the Bengal Tiger was declared the national animal of India.
Where to Find the Top Wild Animals
Many people automatically think of the continent of Africa as the go-to place for safaris. But the country of India features a rich habitat for wild animals to thrive, and since 1972, efforts have been made not only in the area of conservation but also to build on India's reputation as a great wildlife safari destination.
The state of India has set aside 500+ wildlife sanctuaries which cover over 74,425 square miles and a hundred national parks to protect its wildlife. The largest and most popular parks are listed below:
The Most Dangerous Animals in India Today
India is home to a number of dangerous animals. While some wild animals are dangerous by sheer size, strength, predatory skills, or deadly venom, others are dangerous for different reasons. Unfortunately, India is a place where its inhabitants can become victims of wild animal attacks on a daily basis. Surprisingly, one study conducted between April 2016 – March 2017 revealed that of a total of 7,556 deaths due to animal attacks, 80% of those deaths were attributed to dog bites (whether the deaths were because of the attacks or as a result of contracting rabies from the dogs is not clear). 5% of the deaths came from snake bites, 3% from monkey attacks and the rest included attacks from wild boars, tigers, leopards, jackals, elephants, etc. There were even cases of deaths from domestic bull or cattle attacks and rat bites.
In general, these animal species are highly dangerous and responsible for many of the deaths of humans in India:
Endangered Animals in India
India contains some of the largest and most unique wildlife on the planet, but a lot of this diversity is now in danger of becoming extinct from human activity. There are multiple animals that are endangered, some being the snow leopard, the Nilgiri tahr, the Kashmiri red stag, the blackbuck, and the one-horned rhino.
Below is a list of other endangered Indian animals with greater details of their plight:
Indian Elephant – This subspecies of the Asian elephant is endemic to grasslands and forests throughout South Asia. But as habitat loss has gnawed away at the elephant's natural territory, the numbers have fallen precipitously. Only about 30,000 of them still remain in India.
Bengal Tiger – This subspecies of the tiger once roamed the forests, grasslands, and mangroves of India in much larger numbers. But poaching and habitat loss have caused numbers to decline, so it's now classified as endangered. Only about 2,000 of them remain in India out of a total population of about 3,000 throughout the larger region.
Dhole – Also known as the Asian wild dog, this close relative of the wolf is endemic to mountains and alpine forests, and meadows. Like the wolf, it was deliberately persecuted by humans both for sport and to prevent them from killing livestock. It's now extinct from large parts of its former territory.
Asiatic Lion – This subspecies of the lion are less well-known than its African brethren. It once inhabited a huge swath of territory across Western Asia, but as a result of deliberate hunting and some habitat loss, this species is now restricted to the Indian state of Gujarat in the western part of the country.
Indian Vulture – The Indian vulture experienced a sharp and sudden decline between 2000 and 2007 due to kidney failure from the accidental ingestion of pharmacological drugs that are usually administered to livestock. Because vultures help keep the environment free of carcasses, their decline has caused disease to spread more rapidly. Conservationists are attempting to breed them in captivity, but their slow reproduction is a hindrance to their rehabilitation. It's now in danger of becoming extinct.
Lion-tailed Macaque – This endangered Old World monkey, which sports an elegant silver-white mane and long tufted tail, is endemic to the Western Ghats mountain range of South India. Only a few thousand remain in the wild.
South Asian River Dolphin – This freshwater dolphin species is endemic to the Indus River of Pakistan and the Ganges River of India, Nepal, and Bangladesh. It is estimated that less than 5,000 remain, possibly due to pollution, dam construction, and other habitat changes.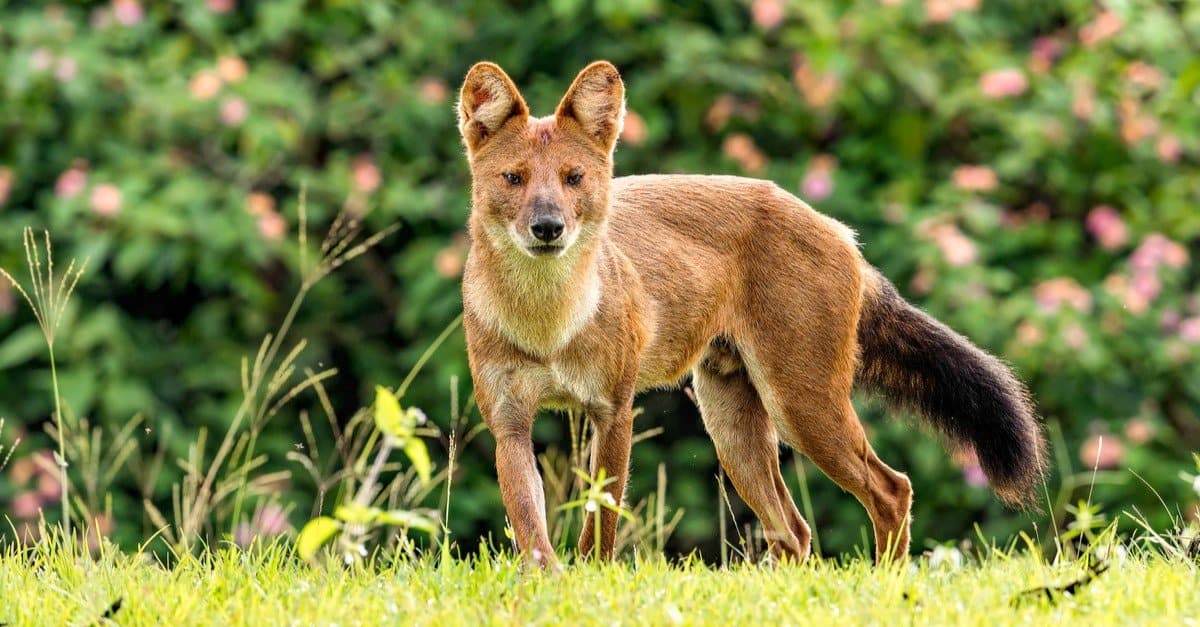 Types of Birds in India
Around 1,300 species of birds are native to India, 80 of which are endemic. The Ranganathittu Bird Sanctuary is the largest bird sanctuary in the state of Karnataka, and one of India's best birding locations.
You'll find a wide variety of birds including pied kingfishers, long-legged spoonbills, spotted owls, and painted storks. You can see resident birds year-round, or many species of migratory birds utilizing the sanctuary. The best time to see both resident and migratory birds are November to February.
The Bharatpur bird sanctuary, also known as Keoladeo National park, is famous for bird watching. Over 360 species of birds inhabit this sanctuary's woodlands, grasslands, swamps, and wetlands. It is famous for critically endangered Siberian cranes. You can also find Indian peafowls, flamingos, pelicans, vultures, Indian grey hornbills, and so much more.
The best time to see resident and migratory birds is between October to March.
Snakes Native to India
There are 60 species of venomous snakes in India. It is famously home to a group of venomous snakes known as "The Big Four". The Indian cobra, Russell's viper, common krait, and saw-scaled viper are responsible for the deadliest snake bites in the country. Experts have recently included a fifth venomous snake that contributes to the most mortality rates, the hump-nosed pit viper.
There are many types of snakes in India's diverse habitats other than The Big Four. Other popular animals in India include:
Indian Rat Snake: Also known as the Oriental rat snake, they are common in a wide range of habitats throughout India. These semiarboreal snakes are long and slender.
King Cobra: The longest venomous snake in the world, reaching lengths of up to 18 feet long. They are found in Northern India in forests and agricultural areas.
Indian Python: They go by several common names, including black-tailed python, Indian rock python, and Asian rock python. These non-venomous snakes live in a variety of tropical habitats in India.
Checkered Keelback: Aggressive semi-aquatic snakes found near freshwater sources.
Brahminy Blind Snake: The smallest snake in India, and one of the smallest in the world. They live underground and are similar in appearance to earthworms.
The 6 Largest Animals Indian Animals
India is home to some truly large animals. Below is a list of the largest land animals you'll find in India.
The 6 Rarest Indian Animals
If you were to travel to India, you may want to put these rare animals on your bucket list to seek out at a wildlife sanctuary or on a safari.
Red Panda: This bamboo-loving animal inhabits temperate forests in the Himalayas at altitudes between 1,800 and 4,000 meters. It has fiery red fur and resembles a raccoon more than a panda in its features.
Asiatic Lion: This species of lion only numbers 600 in the wild, isolated in the Gir Forest of Western India, their last remaining natural habitat.
Nilgiri Tahr: This goat species is not only rare to see in the wild–it's also the state animal in the Indian state of Tamil Nadu.
Snow Leopard: The snow leopard sports one of the most beautiful coats of any member of the cat family, and well worth viewing. A couple of places for viewing are Dibang Wildlife Sanctuary (Arunachal Pradesh), Himalayan National Park (Himachal Pradesh), and Nanda Devi National Park (Uttarakhand).
Black Buck: Another state animal (of Punjab, Haryana and Andhra Pradesh) is the Black Buck, also known as the Indian antelope. It sports spiraling horns and unique colorations–a site to behold.
Great Indian Bustard: This would be one of the rarest birds to see in India, as there's only 150 recorded left in the wild there. They prefer a dry, grassland habitat, and are endangered due to that habitat loss.
National Parks in India
Are you looking for an adventurous way to explore the country? Check out the many beautiful national parks in India! Discover dozens of Bengal tiger reserves, traverse areas that inspired The Jungle Book, and relax at luxury resorts near lush jungles.
More on Animals in India
Indian Animals
Indian Animals List
India FAQs (Frequently Asked Questions)
Which animals are found in India?
India is particularly rich in deer and other hoofed animals, big cats, snakes, bats, monkeys, rodents, birds, insects, and freshwater fish.
What are the main animals in India?
The most well-known animals are perhaps the tiger, elephant, rhino, lion, peacock, snow leopard, and monkeys.
How many animals are in India?
India has approximately 2,500 species of fish, 200 amphibians, 400 reptiles, 400 mammals, and some 1,250 species of birds.
Which animal is banned in India?
India does ban people from owning or importing certain animals, including some species of monkeys, parakeets, parrots, tortoises, penguins, otters, manatees, and cetaceans.