Key Points
The #1 Best Overall dog grooming shears are the HASHIMOTO Curved Scissors for Dog Grooming.
What kind of grooming experience your pup will have depends on the type of blade you choose. Clean, precise cuts can be achieved with curved scissors. Round edges ensure your pup won't be poked and will keep the blades sharper for longer. Even thinning shears were included in our list for adding layers or thinning matted hair.
Choosing the right size of shears is very important. Ideally, you should go for the 6.5-inch size if you have a small dog. Try to find scissors that are longer for larger breeds of dogs.
Comfort is key. Grooming your dog can be a time-consuming task. It's important to have shears that won't cramp your hands! Groomers can choose from right-handed or left-handed options.
Taking care of your dog's grooming has more benefits than just vanity. It can keep their skin healthy, prevent ticks and fleas from burrowing, keep them cool in the summer, and more! From the convenience of your own home, you can virtually create your own puppy spa and save money on expensive grooming fees.
Whether you plan on starting a grooming business or you just want to trim the hair around your dog's paws, working with the right grooming shears is critical. Specifically designed for animal hair, grooming shears are a type of hair-cutting scissors. The use of regular scissors can pose a risk to your dog.
Choosing the right dog shears for your pooch can be difficult for anyone, even professionals. Having compiled a variety of options on the market, we've narrowed it down to what we believe to be the best.
Top Picks: The Best Dog Grooming Shears Today
#1. Best Overall: HASHIMOTO Curved Scissors for Dog Grooming
Among the dog grooming scissors that caught our attention, the HASHIMOTO Dog Grooming Scissors ranked as the best overall. In addition to being a high-quality shear, it's also reasonably priced. There is a slight curve to the stainless steel blade that measures 6.5 inches long and is made from Japanese Hitachi 440C stainless steel.
Anyone can easily cut with better accuracy thanks to the curved edge. It is often possible to use stainless steel shears for several years before they need to be replaced. Both lefties and righties can easily use the shears due to the symmetrical craned handle. It is inevitable that this pair of HASHIMOTO scissors will need to be sharpened over time, just like any other grooming shears. The hair of dogs with particularly thick coats has been noted to be challenging to cut for some dog owners. So these scissors may not be the best option for very thick fur.
Pros and Cons of the HASHIMOTO Curved Scissors for Dog Grooming
| Pros | Cons |
| --- | --- |
| This blade curves both inwards and outwards, allowing you to cut your dog carefully without hurting it. | Fur that is particularly thick may not be suitable for these scissors. |
| Considering their high quality, the scissors are very affordable. | |
| The scissors are made of Japanese stainless steel Hitachi 440C. | |
| These scissors can be used by both left-handed and right-handed individuals. | |
Best
2. Best Dog Grooming Shears for Trimming: ConairPRO Dog Round-Tip Shears
This ConairPRO Dog Round-Tip Shears is an excellent choice if you need something that can reach tight places, such as around your dog's paw pads. It's impossible to lose these scissors since they have a bridge yellow handle.
Around six inches in length, the blade is slightly shorter than others on this list. A blunt tip and EverGuard coating ensure your pup's safety while you use the blades in delicate areas around the eyes, such as around the mouth.
This pair of scissors is very lightweight and it also has a plastic finger rest that makes it more comfortable to use when cutting your dog's hair. These shears may be too small for people with larger hands, so if you have larger hands, you should avoid them.
Pros and Cons of the ConairPRO Dog Round-Tip Shears
| Pros | Cons |
| --- | --- |
| With EverGuard-coated blades, you can easily cut your dog's hair without causing them any harm. | People with larger hands may find these scissors too small. |
| Safe facial trimming around the eyes, nose, and ears is made easier with rounded tips. | |
| The scissors are lightweight, with finger holes and finger rests for improved grip and control. | |
Best for Trimming
3. Best Affordable Dog Grooming Shears: Chibuy Dog Grooming Scissors Set
You can't go wrong with the Chibuy Dog Grooming Scissors Set if you like inexpensive scissors that work well.
Are you looking to spend less than $10 on your next set of dog grooming shears? Regardless of your budget, Chibuy has a pair that won't compromise quality. These scissors are just over 6.5 inches long and have a stainless steel blade that can cut through even the roughest dog hair.
The blade stays sharp for longer because of its rounded edges. There are two finger rests on the handle to prevent your hands from becoming overly tired. However, this option has the drawback of needing to tighten the screw that holds the blades together from time to time.
Pros and Cons of the Chibuy Dog Grooming Scissors Set
| Pros | Cons |
| --- | --- |
| These scissors are incredibly affordable. | One disadvantage is that the screws that hold the blades together need to be tightened periodically. |
| Every blade is razor-sharp and made from stainless steel. | |
| You won't feel fatigued or cramped with the handle because it fits comfortably in your hand. | |
Best Affordable
4. Best Dog Grooming Shears for Hair Thinning: Pet Magasin Pet Thinning Shears
Your dog may need thinning scissors like the Pet Magasin Pet Thinning Shears if it has thick gorgeous hair.
There are many dog breeds that have thick hair, such as sheepdogs. Dog grooming shears that help with thinning may be a good investment if your pup has lush locks. The stainless steel blade on the Pet Magasin Pet Thinning Shears measures seven inches. Matted fur or excessive hair can be easily removed from the blade thanks to the 28 teeth.
Despite their ability to handle harder grooming jobs, these scissors are remarkably lightweight. Pet Magasin designed these for left- and right-handed users, as well as having a removable finger rest. There were some reviews that expressed dissatisfaction with the sharpness of the shears, however.
Pros and Cons of the Pet Magasin Pet Thinning Shears
| Pros | Cons |
| --- | --- |
| It is easy to remove matted and excessive fur with the 28 teeth on the serrated comb blade. | There have been some complaints about the sharpness of the shears in some reviews. |
| The blade is seven inches long and made of stainless steel. | |
| There is a removable finger rest on this product. | |
Best for Hair Thinning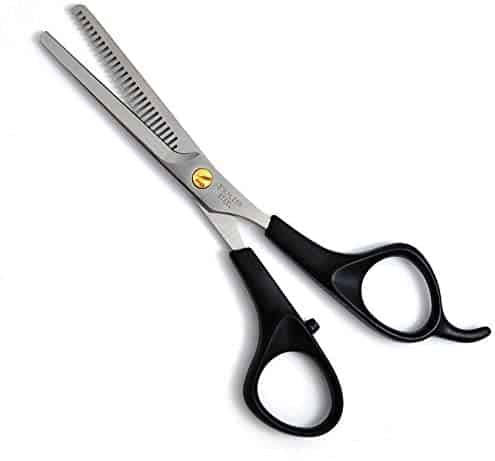 Pet Magasin Pet Thinning Shears
Has a 7-inch blade made with stainless steel
The 28 teeth on the blade make it easy to get rid of matted fur or an excessive amount of hair
Scissors are impressively lightweight
Comes with a removable finger rest
Check Chewy
What to Look For in the Best Dog Grooming Shears
In terms of grooming your dog, there are a wide variety of products that are available on the market that you can choose from. No matter whether you are a professional pet groomer or just want to give your dog a good groom, grooming shears can be a useful tool. When it comes to choosing the right dog grooming shears, it doesn't have to be as difficult as you may think. If you want to make yourself and your pup both happy and well-groomed, there is a pair of shears that will do the trick!
There are three main factors to consider when choosing the best dog grooming shears:
Type of blade
Adjustability
Comfort
The following sections will review each of these factors in more detail:
Type of Blade
There are a variety of blade types available on pet grooming shears as you can see from the options above. Would you like a pair of scissors that can be used for standard cutting? If you want to get rid of heavily matted hair, you may need something specific. Decide what the shears will be used for, and what part of the body you will be cutting hair from, and you're ready to go!
Adjustability
If you are a professional dog groomer, you may want something that you will be able to adjust as you need. The tension of many pairs of shears can be adjusted. When you are cutting a dog's hair, this makes it easier for you to get clean lines and have more control over the process of cutting.
Comfort
Surely you are not going to want your hand to be sore at the end of two or three minutes of chopping hair, do you? You should make sure that the dog grooming shears you choose are lightweight so that they are easy to handle. Additionally, you might also want to think about investing in a finger rest, which will prevent your hands from becoming fatigued. It is not uncommon for dog groomers to develop tendon problems over the course of their careers. You should choose scissors that you can use for an extended period of time in order to maintain your health.
The 3 Different Types of Dog Grooming Shears
A good understanding of the differences between each type of dog grooming scissor, is extremely important in order to make the right purchase. In general, dog grooming scissors all cut dog fur, and this is one thing they have in common. You will find, however, that there are many different designs available as well as varying uses for each. As a result, although dog grooming scissors are versatile, they perform best when used for their intended purpose. That's why it's important to know the advantages and disadvantages of the different types of scissor options available.
Below you'll find some of the most common pros and cons for the best dog grooming shears:
Standard shears — A major advantage of using standard grooming shears is that they are compatible with most types of hair. With these, you won't have to worry about not being able to cut your dog's hair. The main disadvantage of this type of scissor is the fact that it can be more dangerous to use around the eyes.
Curved shears — The curved shape of curved scissors prevents nicks and cuts while grooming. The purpose of these shears is to produce curves and finish curved areas on dogs. Despite this, they are not ideal for getting into nooks and crannies.
Thinning shears — Using thinning shears will be extremely helpful if your dog has a lot of fur. It is possible to rid your dog of excessive hair by using thinning shears that are designed with multiple teeth along one of the blades. Cost is one of the drawbacks of thinning shears.
Up Next
The Best Dog Grooming Shears — Reviewed and Ranked FAQs (Frequently Asked Questions)
Why do dog groomers use curved scissors?
The main reason professional groomers use curved scissors is to be able to quickly and safely trim around dogs' feet. The curve gives them more control and can easily cut around curved parts of the body, such as the thigh muscles.
Can I use craft scissors to cut my dog's hair?
You should avoid using anything but hair-cutting scissors specifically made for pets on your pet. Regular scissors are often too sharp and thick, which can quickly turn into a dangerous situation.
Should I cut my dog's hair when it's wet or dry?
Unlike people, dogs should get their hair cut when it's dry! Be sure your dog is clean before cutting their hair and cut slowly with the tip of the shears when grooming around sensitive areas.