Key Points:
The #1 Best Overall ferret litter pan is the Marshall Ferret Litter Pan.
Pet ferrets won't travel back to the litter box in their cage when they need to relieve themselves, so it's necessary to place litter boxes at other locations in the home where they are free to roam.
Ferret litter boxes come in varied shapes depending on how they are utilized. A triangular box is often used in a cage, whereas you may use a rectangular shaped one for the kitchen or a utility room.
For cleaning purposes, it's recommended to look for a litter pan that is resistant to odor and corrosion from urine. A non-stick coating in the litter box is also a plus.
Your ferret can learn to use a litter pan, both inside his cage and out if you keep two things in mind. First, be mindful of the fact that ferret kits (babies) won't naturally use a litter pan as a kitten or cat will. You will need to train them. 
Second, remember that ferrets won't travel far to find a place to relieve themselves. This means that you will want to buy a litter pan for your ferret's cage and one for every room of your home to which he has access. In general, triangular corner litter pans are best for ferret cages because they don't take up much space, while rectangular pans can be placed throughout your home.
Ferrets instinctively back into a corner to relieve themselves. So, the perfect litter pan will feature a high back to ensure that their waste remains inside the pan. 
Top Picks: The Best Ferret Litter Pans Available Today
#1 Best Overall: Marshall Ferret Litter Pan
The Marshall Ferret Litter Pan is our best overall choice for its ergonomic design, especially for ferrets. Its high corners and walls prevent messy over-the-edge accidents. And it's crafted from durable, easy-to-clean plastic so you can spend more time playing with your pet and less time cleaning up after him. 
One disadvantage of this ferret pan is that some reviewers reported that the product sticker is difficult to remove. 
Pros and Cons of the Marshall Ferret Litter Pan
| Pros | Cons |
| --- | --- |
| This ferret litter pan is ergonomically designed with high corners and walls to prevent over-the-edge accidents. | The product sticker may be difficult to remove. |
| It's made of durable plastic that's easy to clean. | |
Best Overall
2. Best Budget: Kaytee Tall Corner Litter Pan with Quick Lock
Our choice for the best budget ferret litter pan, the Kaytee Tall Corner Litter Pan with Quick Lock, features a quick-release carabiner lock for secure attachment. Simply attach the litter pan to any wire cage and unclip it for easy cleaning. This is a great feature for ferrets since they like to rearrange unsecured items in their cages. 
This litter pan features a tall back wall to prevent waste from escaping the pan and soiling the area behind it. At 13.5" x 8" x 8.75", it's large enough for your ferret to use comfortably without taking up too much precious "real estate" in his cage. 
One disadvantage is that you can't select the color that you will receive.
Pros and Cons of the Kaytee Tall Corner Litter Pan with Quick Lock
| Pros | Cons |
| --- | --- |
| This tall corner litter pan attaches to any wire cage with a quick-release carabiner lock. | You can't select the color of the litter pan that you will receive. |
| Unclip the carabiner lock for easy cleaning. | |
| This ferret litter pan features a tall back wall to prevent waste from soiling the area behind it. | |
| It measures 13.5" x 8" x 8.75", so it won't take up too much room in your ferret's cage. | |
Best Budget
#3 Best Triangular ― Kaytee Hi-Corner Small Animal Litter Pan
Great for in-cage use and for liberty training big bunnies, ferrets and others.
Made of plastic that's stain and odor resistant so it stays cleaner and fresh-smelling longer.
High corner design helps prevent spilling litter to make cleaning even easier with no messes.
Size is designed to fit larger enclosures, and is great for rabbits, ferrets and larger small animals.
Available in different colors so you can color coordinate your pal's style 
Ships in a variety of random and fun colors!
The Kaytee Hi-Corner Small Animal Litter Pan is perfectly designed to fit the corner of your ferret's cage. It's spacious enough for your pet to use comfortably without taking up too much valuable space in his cage. You can also place them in the corners of rooms where your ferret is allowed to roam.
It features a high back to prevent waste from escaping the litter pan and soiling the surrounding area. And it's crafted from plastic that's stain and odor resistant so your ferret's cage will be easier to clean and will smell fresh longer.
One reviewer reported, "I love the height of the sides and my three ferrets quickly started using it." Another reviewer placed eight Kaytee Hi-Corner Small Animal Litter Pans in corners throughout their house. They said, "With free-roaming ferrets, the more corners you have covered the better."
One disadvantage of this ferret pan is that it doesn't have hooks that secure the pan to the cage. 
Best Triangular
#4 Best Rectangular ― PetFusion BetterBox Cat Litter Box, Non-Stick Large Litter Box 
Vet Recommended Features: Open top box to promote healthy usage (enclosed spaces might cause behavior issues). High walls to contain litter. Low entry 
Superior Hygiene & Cleaning: Non-stick coating reduces sticking up to 70%. Anti-microbial. Less odor
Smart Design: Spacious curves are inviting & make for easier scooping/cleaning. Easy grip lip for all ages
Large Size & Safety: 22.6 x 18.1 x 8.0 inches
Most cat litter boxes aren't accessible to long-bodied, short-legged ferrets, but the PetFusion BetterBox "Cat Litter Box" is the notable exception. Its low entry will allow him to enter and exit the litter pan easily. And it has high walls that will protect the surrounding area from your pet's waste. 
This unique litter pan is crafted from premium ABS material and an anti-microbial, non-stick coating that reduces sticking up to 70%, making it more hygienic for your pet, for you, and for your family. Plus, it features spacious curves that simplify cleaning and maintenance.
One reviewer, a veterinarian, said, "As a professional who knows a thing or two about litter boxes, I would highly recommend this box. It is also made of a very strong material and the non-stick coating is genius. I'm very surprised someone didn't think of this sooner!"
Features Non-Stick Coating
How to Choose the Right Litter Pan for Your Ferret
There are four main factors to consider when selecting the right litter pan for your ferret:
Whether the litter pan will be placed inside or outside of your ferret's cage
The litter pan's design
How easy the litter pan is to clean
Which litter you will use
Let's examine these factors in more detail:
Whether the Litter Pan Will Be Placed Inside or Outside of Your Ferret's Cage
If you're going to place the litter pan inside of your ferret's cage, you should probably select one that is triangular. Ferrets instinctively back into corners to use the bathroom. If yours has already selected a corner for this purpose, that's where you should put his litter pan.
Also, the triangular shape won't take up as much cage space as a rectangular litter pan will. If your ferret's cage is exceptionally large, you may choose to purchase a rectangular pan instead. You should situate it in your ferret's preferred corner just like you would a triangular one.  
The Litter Pan's Design
It's important to select a litter pan with a high back wall. This will ensure that your pet's waste will remain in the pan instead of soiling the surface behind it.  However, the litter box should not be high on all four sides. Ferrets are small, dainty creatures, and shouldn't be forced to scale a small wall whenever doing their business. An average cat litter box is inappropriate for a ferret because all sides are high. The ferret should be able to enter and exit the box easily without exertion.
Next, read the vendor's description thoroughly to determine how the litter pan is constructed, what materials were used, and their claims as to why you should select their product. Then read customer reviews, which will provide you with real-life insight as to the litter pan's functionality.
How Easy It Is to Clean
The vendor's description of the litter pan will indicate whether it is easy to clean and, if so, how they recommend doing so. Customer reviews will tell you how well their litter pans withstood multiple cleanings and whether all stains and odor were removed.
Which Litter You Will Use
While it may not directly affect the ferret litter pan you buy, it bears mentioning that ferret litter is different than cat litter. Whereas most cat litters are made of clay (which can create dust), ferrets are very sensitive creatures and cannot tolerate clay litter. Types of litter that are popular for ferrets are recycled paper, wood, and wheat-based pellets. Ferret urine has a very strong ammonia-like smell that some compare to that of battery acid. It's recommended that ferret owners change the litter in the box every 3-4 days to keep odor under control. When putting fresh litter in the box, you should make it more of a shallow layer, as ferrets don't cover their stool like cats do. If too much litter is put in the box, ferrets will often dig, causing spillage.
Our Criteria and Experience: How We Chose the Best
When making our recommendations for the best ferret litter boxes, we researched many products to find ones with the following features present:
Durability–the materials used in the construction of the box hold up against wear and tear without cracking or breaking easily. Other durable options would include a steel tray.
Safety–the materials used are safe for your cat. BPA-free plastic construction was preferred.
Functionality–the litter box was size-appropriate for your ferret; there was at least one low side for your ferret to enter and exit the box comfortably; we chose options in different shapes and designs such as triangular or rectangular.
Washability–if a cage litter box, it's easy to remove or re-attach into the cage to clean.
Related Images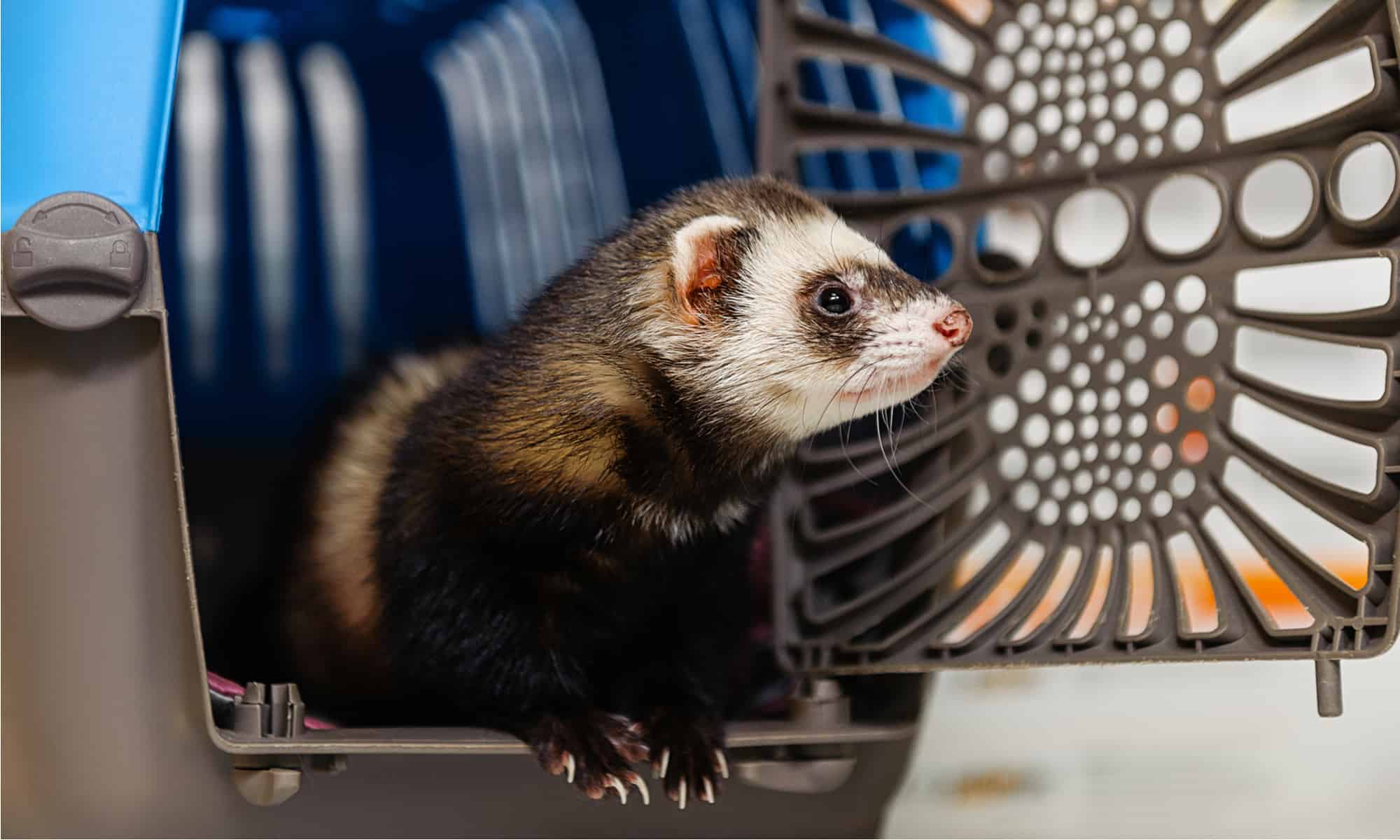 Up Next…
The 4 Best Ferret Litter Pans: Reviewed and Ranked FAQs (Frequently Asked Questions) 
What do you put in a ferret litter box?
Choose a litter that's safe for ferrets. These include:
Recycled newspaper pellets
Alfalfa pellets
Denatured wood litter pellets
Never use litter made from cedar or pine wood shavings. They contain essential oils, which are harmful to ferrets. Also, avoid the following types of cat litter:
Silica-based crystal cat litter can cause respiratory issues in ferrets.
Clay litter can get into ferrets' eyes and get stuck on their paws. It also contains silica.
Sand-based cat litter can clog ferrets' sinuses if they tunnel in it.
Is any cat litter safe for use in a ferret litter pan?
In a word: No.
While corn-based cat litter is theoretically safe for ferrets, it is associated with several significant health risks. The issue is that some ferrets eat corn-based litter because they like the taste. This is a problem because:
It may be soiled from their waste.
It can cause intestinal blockages.
It is prone to mold.
In addition to potential health issues, most corn-based cat litter is dusty, and your ferret will track it around your home.
How big should a ferret litter pan be?
You should choose a litter pan that can easily accommodate your ferret's length, which may be up to 16" when fully grown. While the walls, especially the back wall, should be high, it should have a low entryway so your ferret can enter and exit easily. That's why most litter boxes designed for cats are unsuitable for ferrets.