Key Points:
Clicker training is a method of training dogs and other animals that is approved by countless animal trainers as being more effective than command-based training. It uses positive reinforcement through the clicking sound made by a clicker and a treat rewarded after the good behavior.
Clicker tools basically do the same thing–they emit a two-toned click. Some have extra features such as a loop to attach to a purse, belt, or keychain, and some even feature a retractable pointer to aid in training.
Clickers vary in price from very inexpensive, such as a few dollars, to a clicker with more features, such as retractable target stick, which will run closer to $20.
Clicker training is a simple, effective form of positive reinforcement training. When your dog performs the desired behavior, such as "Sit!" on command, you press the clicker to "mark" the moment with an audible click. Then you give him a food reward. He will quickly learn that the click means "Good dog!"
There are two schools of thought regarding treats. Some trainers continue to provide treats after each click. Others discontinue treats after their dogs associate the click with positive reinforcement, believing that a food reward is no longer necessary.
Clickers are widely available and relatively inexpensive. We've reviewed and ranked the best so you can start clicker training your dog right away.
Before You Buy…Some Tips on Clicker Training
Just in case clicker training is a new activity your are trying with your puppy or adult dog, we wanted to share a few tips to get you started on the right track:
A good clicker will have a two-toned click. Once you push and release, reward your dog with a treat.
Stick to small treats to keep from over-feeding your dog. A bite-sized healthy treat, a small piece of meat, or a piece of kibble will work.
It's very important to click while your pet is doing a desired action, not once its finished. This will reinforce that the action its doing is why the click is sounding. You can reward with the treat after the click at any point, but the timing of the click is crucial.
To get started, you can click when your dog does something it has already learned, like shaking, rolling over, sitting, or any "good" behavior. That way it will start associating a good behavior with the click.
If your dog does something really well, it may be tempting to click twice. Do not do so. You can give a double reward at the end, but you should always click once (remember–one click should be two-toned already).
Keep training sessions to 5 – 10 minute intervals so that your pet doesn't get bored with the repetition.
You can click even if your pet has not completely achieved the desired behavior. If it is moving in the right direction, you can click to show your dog he's on the right track.
Keep raising the bar. If your dog has learned to "stay" with the clicker, back away a few paces to test if he stays for a bit longer time, then click.
As your dog advances with certain behaviors, you can start weaning it off of clicks towards cues, either verbal or physical.
If your dog is behaving badly, put the clicker away, as the clicker should always be associated with good behavior and reward, not confused with discipline.
A-Z-Animals Top Picks For Dog Clicker
#1 Overall Best Dog Clicker: Starmark Pro-Training Clicker (Pack of 3)
The Starmark Pro-Training Clicker (pack of 3) is our choice for the best overall dog clicker. This training aid is ergonomically designed to fit comfortably in your hand. It features a raised button that's easy to find and press so you can always reward your pup with a click.
It's made from durable vinyl and rubber and measures 6.75" x 5" x 1". It has a hole near the top so you can easily attach it to your keychain or a lanyard.
The Starmark Pro-Training Clicker (pack of 3) includes a free step-by-step training guide.
Overall Best
#2 Best Value-Pack Dog Clickers: Downtown Pet Supply Training Dog Clickers
Downtown Pet Supply Training Dog Clickers are available in packs of two, four, five, and 12. They come in a random assortment of fun colors.
This big-button clicker delivers a clear, loud click to create positive reinforcement training for your dog. While most dogs respond well to this sound, if your pup is sensitive to loud noises, this isn't the clicker for you.
The Downtown Pet Supply Training Dog Clicker is easy to use and it will fit in the palm of your hand. A convenient stretch band will allow you to wear the clicker on your wrist so you will always have it handy for training.
Best Value-Pack
#3 Best Dog Clicker with Finger Strap: PetSafe Clik-R Dog Clicker
While most dog clickers have a wrist strap, the PetSafe Clik-R Dog Clicker features an attached finger strap that makes it comfortable to hold securely. It also features a loop that can be attached to a lanyard or keychain.
This training accessory's compact, ergonomic design makes it easy to hold while you are training your canine friend. It comes in two color combinations: blue with a green button and purple with a green button.
PetSafe is a U.S.-based company that has been manufacturing pet products since 1991, so you know they're a brand you can trust.
Best with Finger Strap
PetSafe Clik-R Dog Clicker
Finger strap makes it comfortable to hold securely
The compact, ergonomic design makes it easy to hold
Manufactured by a U.S.-based company
Comes in two color combinations
Check Amazon
#4 Best Dog Clicker with Target Stick: Karen Pryor Clicker Training Terry Ryan Clik Stik
If you're interested in combining clicker and target stick training, the Karen Pryor Clicker Training Terry Ryan Clik Stik for Pet Training is the product for you! This all-in-one clicker and retractable target stick are perfect for trick and target training.
This training tool is designed to free up one of your hands. There's one less piece of equipment to drop, juggle, or lose. It's a wonderful tool for teaching targeting, contacts, weave-poles, send-away or go-outs, heeling, and lots more.
The target stick can be telescoped from 6" to 23". It can also be used as a clicker when the rod is closed. Includes Terry Ryan's training guide.
Best with Target Stick
Choosing the Best Dog Clicker: What to Look for
When choosing the best dog clicker there are really three factors that you need to consider: price, durability, and features. Here's how to consider the best dog clicker across each of these factors:
Price
Dog clickers are inexpensive training tools that range from less than $2.00 to around $20.00. Those that come in value packs are generally less expensive per piece, but they may not be as durable as more expensive models or have as many features.
Durability
Dog clickers that come in multi-packs are usually less durable than their more expensive counterparts.
Features
Dog clicker features can include stretchy wrist bands, finger straps, and target sticks. Some are packaged with training guides.
The Different Types of Dog Clicker Pros and Cons Compared
When selecting the best clicker for training your pup, first you need to know the different types that are on the market. There are clickers with no straps, those with straps, and those with target training pointers.
Clickers with no straps – These clickers usually have a hole near the top of the device so you can attach it to your keychain or a lanyard.
Clickers with straps – These training devices usually have a stretchy wrist strap. Some have a finger band.
Clickers with target stick – These clickers feature an integrated target stick so you can combine both training methods. The device can be used as a regular clicker when the target stick is closed.  
Our Criteria and Experience: How We Chose the Best
To make our list of the best dog clickers for your consideration, we researched multiple products and consulted product reviews to find the ones that fit with certain criteria we had set: features, sturdiness, ease of use, and value for money. Below are some thoughts of ours on each criteria and the products we consider to be the best:
Features: Dog clickers, like many small items, can easily go missing in the car, on an outing, or even in the house. Features such as a loop to attach the clicker to a lanyard, keychain, or purse will help you keep track of it better, and are included in all of our choices. And the #4 Click Stick has an retractable target stick to direct your dog when training.
Sturdiness: The products we included on our list are made of durable materials and were found to stand up well against wear and tear without breaking easily.
Ease of Use: We chose clickers that fit comfortable into the hands of the users and were easy to operate.
Value for Money: The clickers we recommend will run you as low as $4 up to a more professional design such as the Karen Pryor Clicker at about $18. The more expensive clickers tended to have more, or better, features to them.
Summary of the Best Dog Clickers
| Rank | Best For | Product |
| --- | --- | --- |
| 1 | Overall | Starmark Pro-Training Clicker (Pack of 3) |
| 2 | Value Pack | Downtown Pet Supply Training Dog Clickers |
| 3 | With Finger Strap | PetSafe Clik-R Dog Clicker |
| 4 | With Target Stick | Karen Pryor Clicker Training Terry Ryan Clik Stik |
Related Images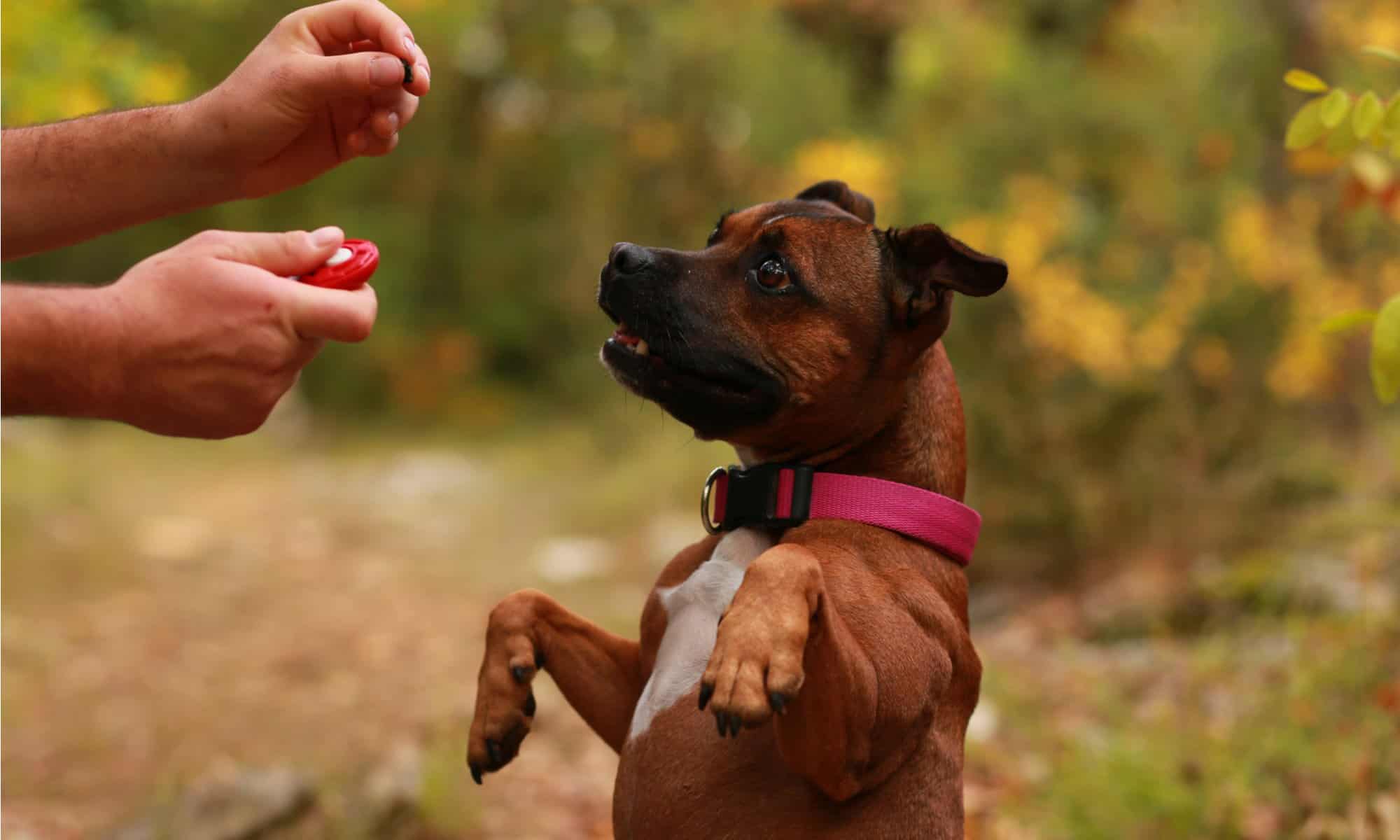 Up Next…
The Best Dog Clicker for 2022 – Reviewed and Ranked FAQs (Frequently Asked Questions) 
What is clicker training?
Clicker training is a positive reinforcement training method that can be used with dogs, cats, horses, even dolphins!
This training methodology combines an audible sound, the "click" from the clicker, with a food treat to let the animal know that they correctly performed the desired behavior.
Some trainers follow clicks with treats indefinitely. Others stop giving treats after the animal learns that the click equals positive reinforcement.
How do you clicker train a dog?
The moment that your dog performs the desired behavior on command, such as "Sit!," push the button on your clicker. Immediately follow that sound with a bite-sized food treat.
Your dog will quickly make the association between the click and the treat and know that his behavior pleased you.
Like all positive training methods, this method will require patience on your part. You may say "Sit!" 20 times before your dog finally sits because they're bored. Don't correct them the previous 19 times. Just calmly say "Sit" again. The moment that their rump connects with the floor, click your clicker and follow up with a treat.