Have you been trying to decide what to dress your dog up as for Halloween or an upcoming costume party? Have you considered a tiger costume for your pup? Tigers are playful and fierce animals, who are also exceedingly cute. It's been a favorite choice for decades among children, and now tiger costumes are in abundance for pets. What better costume for your dog?
If you're looking for the best tiger costume for your dog, however, you may be having some trouble deciding which option is the best choice. To help simplify this decision for you, we've rounded up a list of the top dog tiger costumes. Continue reading to select the perfect option for your pooch!
Items to Consider When Shopping for the Best Dog Tiger Costume
Use the following considerations to help guide your search as you look for the best dog tiger costume for your pup. Since there are different choices available on the market, taking just a few minutes to consider these features and compare the different options can help ensure both you and your dog are happy with the costume you select.
Size
Purchasing a costume that doesn't offer the right fit for your dog will be a waste of money. If the costume is too small, it either won't go on at all, or it will be too tight for your pup to wear without discomfort. If a costume is too large, it is just going to swallow your dog, and he or she won't be able to move properly while wearing it.
Manufacturers include a sizing guide to help individuals select a costume that will offer the right fit. You'll need to take measurements of your dog's neck and chest girth (circumference) and length. You should also have your dog's weight handy when shopping since this may also be included on some sizing charts.
We find that sometimes it's not enough to just go by the manufacturer's size charts. If you have ever shopped for clothes for yourself in the online marketplace, you are fully aware that clothes can run smaller or bigger than the sizing suggests. It's always good to check out a few online reviews of the item purchased to determine if other buyers had to swap for a size smaller or bigger. This can save you the headache of a return that is annoying in the least, but even worse, can interfere with your doggie's dress-up plans.
Materials
Next, consider the materials used to make each tiger costume. Look for materials that will be comfortable against your dog's skin and coat. Also, remember that dogs have a fur coat that keeps them insulated. They don't require thick clothing to stay warm. In fact, a costume that is too thick may cause your dog to overheat, especially if it's worn on a warmer day.
When considering the materials of the costume, you also want to look for options that look like they'll be durable. You don't want to waste money on a costume only for it to tear or be easily chewed apart by your pooch.
Safety
When shopping for anything for a pet, safety is key. This is no less true when you're shopping for a dog costume. Avoid purchasing any costumes with small pieces or parts that could break off (or be chewed off) by a dog. Dogs can choke on these small parts.
Verified Review: Our Hands On Experience
Before you read through our reviews below, we want to share our opinions on the costumes we're recommending. We researched the products thoroughly, and also took consumer testimonies into account. There's no greater guide than the one who has personally handled a costume and tried it on their dog. We hope this will help you gauge your decision better
We love the realistic-looking design of our overall best, the Dr. NONO Tiger Costume. It looks great on a number of different breeds and the craftmanship is superb. We prefer costumes that can stand up against some wear and tear and be worn multiple times, and this one checks that box for us. The velvet fabric is lightweight and breathable, and the overlock stitching was sturdy. We also found the fabric to be a bit stiff, and many consumers suggested to order a size up.
We were excited about our #2 choice. Who doesn't love Tigger from the heartwarming Winnie-the-Pooh stories? This costume is adorable to say the least. It's made of lightweight polyester and was stretchy, which is a plus. We found the fit to be good, and the measurements for the shirt portion were pretty accurate. Some customers complained that the size of the hood was on the large side and slid around.
We are recommending our #3 pick for small dogs because the general consensus is that this costume runs 2 sizes too small. While that is not great news, that doesn't mean the costume doesn't do well in other respects. It's made of soft cotton, is super-cute, and the material is on the thick side, so this is actually a good piece for small dogs that get cold easily.
The Top Picks for the Best Dog Tiger Costume: Ranked
Best Overall
The Dr. NONO Dog Tiger Costume from Sweet Pet Garden is our top choice for a few different reasons. First, we love the orange color and realistic-looking tiger print. We also really like the hoodie design that gives the dog tiger ears without fully covering its face and making it uncomfortable.
Another thing we really like about this option is the soft velvet and polyester fabrics that were chosen for the costume. Not only does the costume feel like it will be comfortable for a dog to wear, but it also feels well-made to withstand the test of time.
This costume can be hand-washed or cleaned in the washing machine, which certainly makes things easier. It comes in a size medium, which is designed to fit dogs who weigh between 5.5 and 8.5 pounds, with a back length of around 12.2 inches, a chest girth of around 18.5 inches, and a neck girth of around 14.1 inches.
Click here to check out Dr. NONO Dog Tiger Costume on amazon.com.
Best Tigger Costume
If you love Winnie the Pooh, you'll fall in love with this adorable Tigger costume from Rubie's Costumes. It could be the perfect complement to a family Winnie the Pooh costume theme, or even on its own since Tigger is such an iconic character.
The costume design features a soft and easy-to-put-on orange shirt with black stripes and a cream-colored belly. Tigger's tail is attached to the shirt to ensure it stays in place. A separate Tigger headpiece that slides over a dog's head is also included with the costume.
You can choose from small, medium, large, and extra-large sizes for this costume. Based on the sizing chart, the options should fit dogs weighing between 6 and 45 pounds.
Click here to check out Rubie's Disney: Winnie the Pooh Tigger Pet Costume on amazon.com.
Best for Small Dogs
If you're looking for a tiger costume for your small or toy breed, consider this option from NACOCO. There are five sizes to choose from (extra-small, medium, large, and extra-large), and the sizing chart covers neck girth, with a range of 14″-24″, and back length from 8″-16″. The costume also runs small, so we recommend you size up.
This tiger costume is made from a soft cotton material designed to keep dogs comfortable. It is designed to be easy to put on and take off a dog, which we feel is a must for any pet costume.
One of the things we like the best about this costume is how cute it is. Between the hoodie with ears and the long tiger tail, your dog will be simply irresistible dressed up as a tiger this year.
Click here to check out NACOCO Dog Tiger Halloween Costume on amazon.com.
Best Tiger Accessory
This adorable trademark hood from Disney's Winnie-the-Pooh series is perfect for the dog who doesn't want to fully commit to a full-bodied tiger costume. Made of 100% polyester, this soft hood comes in two choices of size: small/medium and medium/large.
Click here to check out ChezAbby Tiger Dog Costume amazon.com.
Summary of the Best Dog Tiger Costumes
Related Images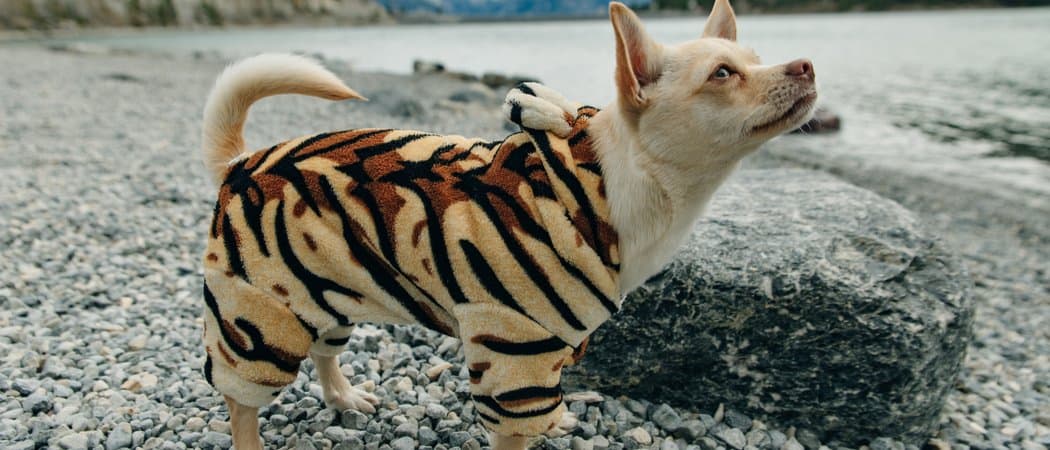 Up Next…
Last update on 2022-09-27 / Affiliate links / Images from Amazon Product Advertising API
The Best Dog Tiger Costumes: Updated for 2022 FAQs (Frequently Asked Questions) 
Will my dog like wearing a tiger costume?
It is important to point out that dogs don't see costumes the same way we see them. While we see something cute and funny for our dog to wear, they may be afraid of the costume and may not enjoy wearing it. Some dogs may even get stressed out or nervous if they are forced to wear a costume. If your dog acts this way, it should let you know that they aren't comfortable with the costume and that you shouldn't force them into wearing it.
Some dogs, on the other hand, do seem to like wearing costumes. They'll happily let their owners dress them up and walk around in costume. Since every dog is different, you may not know how your dog will react until you try a costume out.
Where can I buy a dog tiger costume?
A reputable online realtor, such as Amazon, is probably the best place to find a dog tiger costume. You won't be limited by the size or style options that would be available in a pet store or costume shop, assuming you were even able to find a tiger costume for dogs available in-store.
What size tiger costume does my dog need?
Tiger costumes for dogs come in a wide range of sizes, and you clearly don't want to purchase one that is either so big that it is falling off, or so small that it is tight and uncomfortable. Tiger costume manufacturers include sizing charts with their costumes. Most of these charts include a range of neck girths and chest girths that the costume may fit. They may also include a range of weights or dog lengths to ensure a proper fit.
You will need to use a cloth tape measurement to find your dog's length, chest girth, and neck girth before shopping for a new costume. It is also important to note that sizes vary between manufacturers. A size large from one manufacturer may be significantly smaller or bigger than a size large from a different manufacturer. So, always use your dog's measurements and the sizing guide to help select the right fit, even if you have purchased other costumes in the past.