Is your once playful pup showing more and more signs of aging? Just as humans have more trouble with mobility and getting up as we age, so do our canine companions. Many senior dogs suffer from conditions or other joint problems that can cause them pain and discomfort. An orthopedic dog bed offers greater support than standard foam or polyester-filled dog beds. With an orthopedic dog bed, your dog will be able to sleep more comfortably and get out of bed with greater ease.
However, choosing which orthopedic dog bed to get for your dog is challenging. With the number of options on the market and deciding between flat beds, beds with bolsters, beds for crates, cooling beds, or waterproof beds, your head may be spinning trying to decide what to get. We've put this review together to help you narrow down your options by introducing you to some of the best orthopedic dog beds on the market, including our #1 overall top pick!
Benefits of Orthopedic Dog Beds
Orthopedic dog beds offer many benefits to dogs, particularly older dogs or ones with issues like hip dysplasia, osteoarthritis, or intervertebral disc disease. The bed you choose can mean the difference between your dog getting the rest and relief it needs, or suffering more than is necessary.
Orthopedic dog beds can help relieve joint and arthritic pain, and even help prevent future joint issues. Another key benefit is that they can improve mobility, reduce strain on pressure points, and make it easier for a dog to get up from the bed. And a good night's rest is a must for your prized pooch. Orthopedic beds provide greater support and comfort for dogs, thereby helping them relax and sleep more comfortably.
What to Look for When Choosing an Orthopedic Dog Bed
As you're shopping for an orthopedic dog bed, it is important to keep in mind that all beds are not the same. Some offer different features or different designs that may make them better suited for the specific needs of your pup. Use this buying guide to help you identify your priorities before shopping.
Size
When choosing a bed for your dog, you want to choose one that is the right size. The best bed for large dogs will look different than the best bed for small dogs. Manufacturers should include both the dimensions of each bed, as well as a range of dog weights or sizes that should fit comfortably in it. Many beds come in multiple sizes to accommodate different dogs.
Style and Design
Style and design are some of the most important features when shopping for an orthopedic dog bed. Many beds are designed with bolsters, while others are flat. Taking note of how your dog prefers to sleep can help you choose the style that is best for them. Dogs that like to prop their head up on something may prefer a bed with bolsters, while dogs that like to spread out more may be more comfortable on a flat bed.
Some orthopedic beds also feature a cooling pad, while others use heat. These features can help offer pain relief for dogs dealing with inflamed joints and may be a feature you want to look for.
Materials
Finally, consider the materials used to make each bed. Beds made with memory foam are often best for dogs with joint problems since memory foam is so supportive and offers greater stability to assist a dog with getting out of bed. You will also want to pay attention to the material covering the outside of the bed to ensure that it will feel soft and comfortable for your dog.
Choosing a bed with a non-slip backing to keep it from sliding around on the floor is also important. If the bed slides around, it can make it more challenging for a dog to get out of it. You may also want to choose a bed made with waterproof materials to allow for easier clean-ups if your pup has an accident.
Our Criteria and Experience–How We Chose the Best
When researching our top choices for the best orthopedic dog beds, we considered scientific support for the success of the products, durability, size and design of the beds, and customer recommendations for the products.
Our overall best was a fan favorite for many reasons. Five different choices in size with a helpful sizing chart from the manufacturer helped customers to find the perfect fit for their dogs. They also raved on the variety of color choices and the easy-clean removable bed cover. The foam is the recommended 4 inches in thickness for larger dogs, while the pillow is 7 inches thick. One customer with a 13 year old Golden Retriever noticed immediate improvement in her dog after just one night of sleeping on this bed. The dog didn't struggle to rise and stretch the next morning like usual, and even chased chipmunks with it's older canine brother–something it hadn't done in a long time.
Our #4 recommendation for large dogs is actually the envy of many adult customers who have bought it for their dogs, yet found it to be very comfortable for human use. It's orthopedic support is top notch, it comes in a variety of colors to easily blend into your home decor, and the protective cover easily slips off for washing. And you can't beat a 10-year warranty–this bed will last most of your large dog's life, so it's well worth the initial investment.
We took particular consideration of dogs that spend time in crates. Confining spaces can be challenging, especially when it comes to comfort. That's why we feel our #3 pick is a great option. The egg crate foam is covered with a durable machine-washable cover featuring a soft quilted pillow top. Customers were particularly impressed with the durability of this product, as it stands up well against scratching. It also comes in two sizes that fit most standard crates easily–just make sure you take note of measurements before you buy.
The Top Picks for the Best Orthopedic Dog Bed: Ranked
#1 Overall Best: Furhaven Orthopedic Memory Foam Pet Bed
Best Overall
The Furhaven Orthopedic Memory Foam Pet Bed is our overall top pick if you're looking for a great orthopedic bed for your dog at an affordable price. There is a lot to love about this bed, and it is certain to offer the support your dog needs to stay comfortable. The bed with an L-shaped bolster offers support for a dog's head while also helping them feel safe and nestled into their bed.
The bed's cushion is made from a gel-infused memory foam that offers a cooling effect by pulling heat away from a dog's body. The memory foam material also offers ideal support for a dog's joints to keep them comfortable. An extra soft faux fur material covers the base of the sleeping area and suede covers the bolsters. These materials were selected because of how the comfort they will provide for dogs.
Available in five different sizes (small, medium, large, jumbo, and jumbo plus), this bed can accommodate both small and large dogs. It also comes in 12 different color options to match a variety of decors. Choose from: two-tone stone gray, two-tone marine blue, two-tone espresso, two-tone dark sage, kilim desert brown, kilim boulder gray, kilim black medallion, faux fur & velvet sable brown, faux fur & velvet platinum gray, faux fur & velvet merlot red, and faux fur & velvet deep sapphire.
#2 Best with Bolster: BarksBar Snuggly Sleeper
Best with Bolster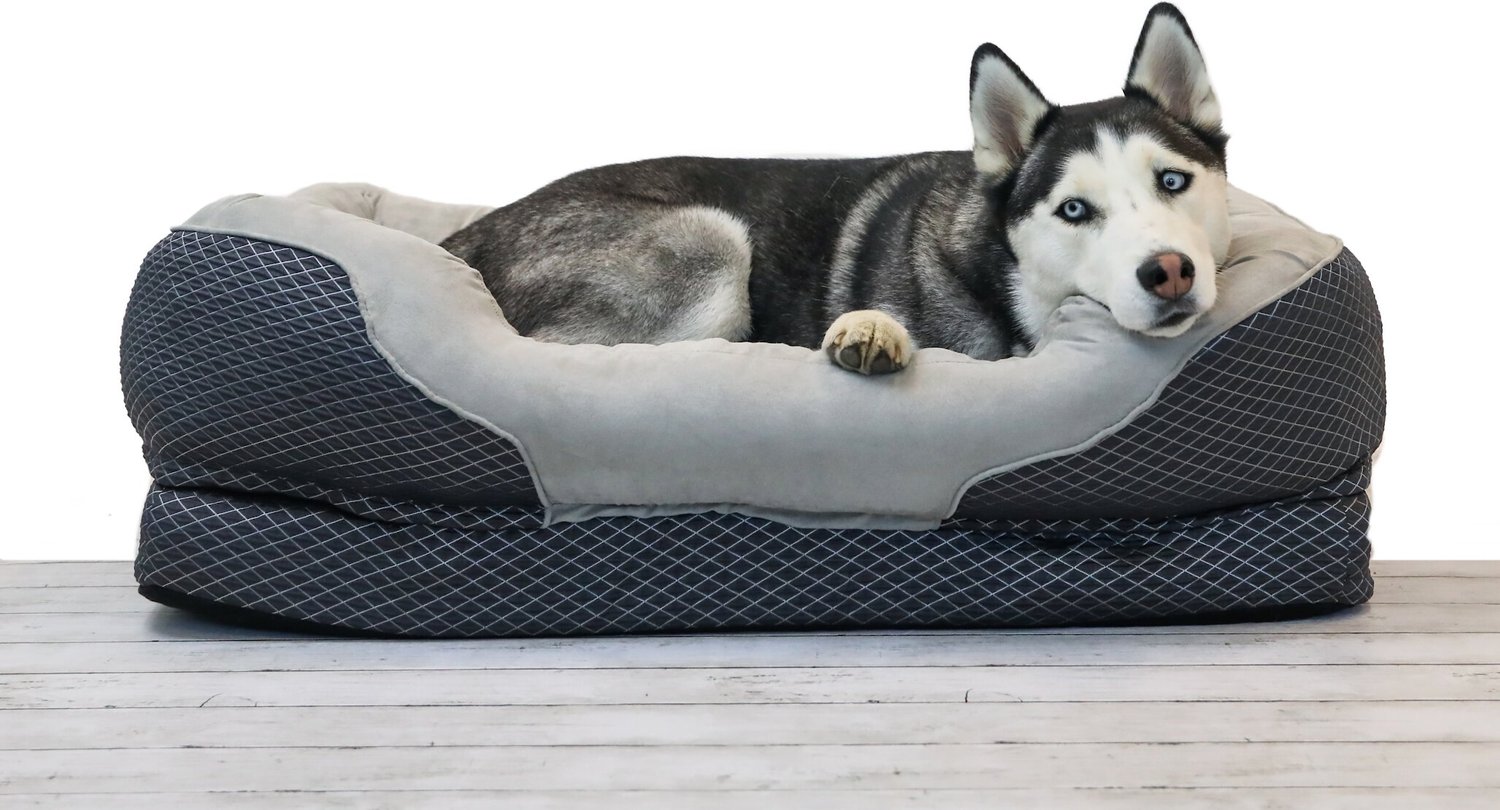 If you're looking for a bed with a bolster to support your dog's head and allow them to sleep in their favorite position, we think you'll love the BarksBar Snuggly Sleeper. This orthopedic dog bed features an orthopedic foam base to contour and conform to a dog's body to reduce joint pain and improve mobility. The base is covered with cotton padding and a quilted and soft polyester cover. The padded bolster ensures a dog's neck gets the support it needs to prevent pain and discomfort.
The base of this bed features non-slip rubber backing. This design feature means you can confidently use the bed on hardwood or tile floors without worry about it sliding around as your dog tries to get in or out of it. The cover can be removed for easy cleaning in the washing machine.
You can choose from three different sizes for large and small dogs. The small size is ideal for dogs weighing up to 35 pounds, and the large size can accommodate dogs weighing over 100 pounds.
#3 Best for Crates: Milliard Quilted Padded Orthopedic Dog Bed
Best for Crates
This dog bed for crates from Milliard is a more budget-friendly pick. The flat orthopedic bed is designed from an egg-crate lux foam designed to provide support for ailing joints.
Despite the budget-friendly price, this bed still has a lot of luxurious features, such as the thick pillowtop layer to help dogs rest comfortably. When needed, you can remove the cover and wash it in the washing machine to maintain a clean sleep surface for your canine companion.
This dog bed comes in three different sizes for crates. The sizes are small (35 x 22 inches), large (42 x 72 inches), and extra-large (47 x 29 inches). You may find that your dog enjoys sleeping on this comfy bed outside of their crate as well.
#4 Best for Large Dogs: Big Barker 7″ Pillow-Top Orthopedic Dog Bed
Best Overall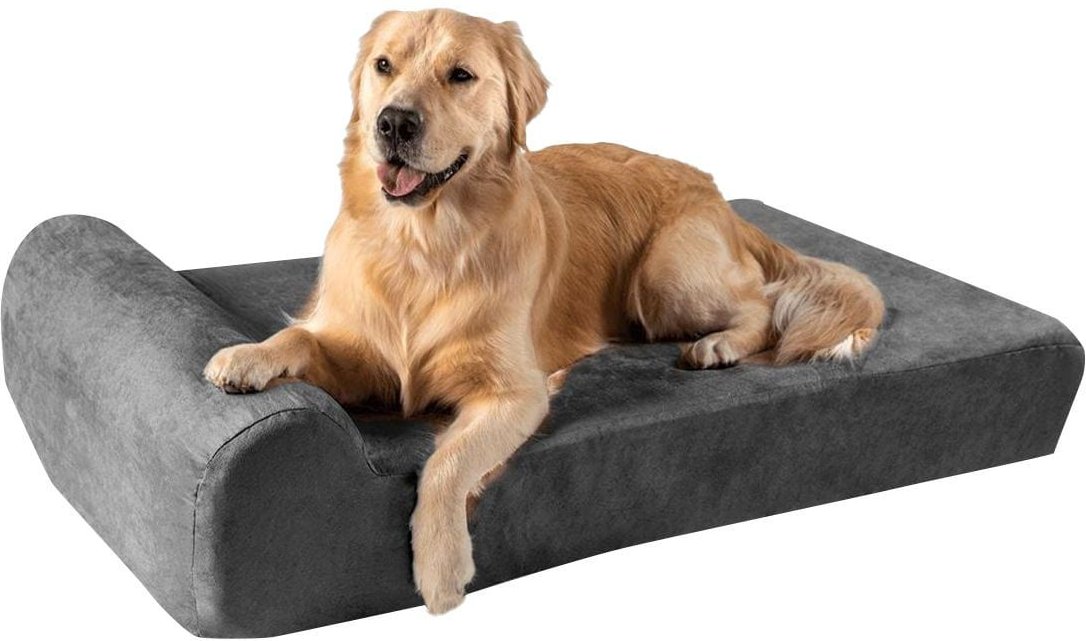 This particular orthopedic bed would be a splurge cost-wise, but it has a 10-year warranty to guarantee that it "wont flatten," but will retain its shape and orthopedic features. This bed is perfect for large to extra-large dog breeds, featuring engineering that provides perfectly distributed weight support for comfort and durability. There's a study from the University of Pennsylvania to endorse the claims that it actually does reduce joint pain and stiffness, improves mobility, and helps to relieve arthritis in large dogs.
The bed is available in a wide variety of colors to blend in with your home decor, and the 100% micro-suede cover easily slips off to be machine washed. When you buy this bed, you can rest assured that your giant pooch will get the rest and rejuvenation that he needs.
Summary of the Best Orthopedic Dog Beds
| Rank | Best Of | Product |
| --- | --- | --- |
| 1 | Overall | Furhaven Orthopedic Memory Foam Pet Bed |
| 2 | With Bolster | BarksBar Snuggly Sleeper |
| 3 | For Crates | Milliard Quilted Padded Orthopedic Dog Bed" |
| 4 | Large Dogs | Big Barker 7″ Pillow-Top Orthopedic Dog Bed |
Related Images
Up Next…
The Best Orthopedic Dog Beds: Updated for 2022 FAQs (Frequently Asked Questions) 
Are orthopedic dog beds worth it?
While an orthopedic dog bed may feel like a bit of a splurge compared to a more budget-friendly standard dog bed, if your dog is older or in pain, you'll likely find that their comfort is worth the splurge. Orthopedic dogs beds can help keep your dog more comfortable and offer them greater support than they'll receive from a standard dog bed. This can help provide relief from the pain they may be experiencing. And, while they are typically more expensive than a standard dog bed, there are still options to fit a variety of budgets.
Why are orthopedic dog beds good?
Orthopedic dog beds offer greater support for aging dogs or those experiencing pain and discomfort. They can make it easier for a dog to get up more easily and feel less pain when they sleep. Orthopedic dog beds come with many different design features to help ensure a dog's comfort. These can include beds with bolsters around the sides to support a dog's head and cooling capabilities to prevent a dog from overheating. Orthopedic dog beds may even be waterproof to allow for easier clean-up of accidents from an elderly pup.
What does orthopedic dog bed mean?
Orthopedic dog beds are specifically designed to offer more support for a dog. They're designed to keep dogs with mobility issues, joint pain, arthritis, and other medical conditions more comfortable than they would be in a standard dog bed with foam padding or a polyester filling. Unlike these other bed types, orthopedic beds don't let the dog sink down, which can help keep them more comfortable and supported as they rest or sleep.
Orthopedic beds are available in a range of sizes for small dogs and large dogs. They often come with bolsters to support a dog's head and may include additional features such as cooling or waterproof materials.
Are Kuranda beds good for dogs with arthritis?
Yes, Kuranda beds can be a good choice for dogs suffering from arthritis. They offer greater support to keep a dog with arthritis more comfortable.
How do I know when my dog needs an orthopedic bed?
The best time to purchase an orthopedic bed can vary from one dog to the next. If your dog is suffering from any medical conditions, such as arthritis, joint issues, pressure sores, or just general mobility issues or trouble with standing up, getting an orthopedic bed is probably a good idea. You may also want to get an orthopedic dog bed as your dog starts to get older to help keep them more comfortable.