Key Points
The best overall pet gear product is the dog and cat car seat and carrier bag.
Consider the design of the product you're considering to make sure it's a good fit for both your pup and you.
Don't forget to check out customer reviews to learn about different features and get a good sense of the pros and cons.
When you first bring your pet home, you're completely enamored. You cuddle them non-stop and enjoy those early moments of falling in love with your new best friend. Give it a couple of weeks and you start understanding what your pet needs from you aside from love, food, and water. Pet gear is ultra-helpful, particularly if you rescue an older pet or when you start noticing mobility changes in a pup that you've raised from puppyhood.
In the list below, we highlight four of the best pet gear products you can bring home to make your pet's life easier. Our top pick is a two-in-one design that makes car rides and vet visits a lot more comfortable for both cats and dogs. Whether it's a mobility issue, an endurance issue, or just a safety issue, a pet stroller can get your pet out in a comfortable way, so you can take your animal companion with you on more adventures. Additionally, stairs and ramps are a huge help for short legs and older pets.
We break down each of the product's details, including any weight limits or special features. We share some honest customer feedback from others who have already purchased these products and can share their experiences. If you're skimming through, we include some pros and cons to make your search easier. Toward the end of the article, we itemize the factors to consider before committing to a new product. Finally, we answer some of your most frequently asked questions.
Top Picks: The Best Pet Gear Today
#1 Best Overall: Pet Gear Signature Dog & Cat Car Seat & Carrier Bag
Best Overall
The best overall Pet Gear product is the dog and cat car seat and carrier bag. This is a great two-in-one car seat and pet carrier that has front and top mesh windows. They're zippered so you can easily open and close them and they help to keep the inside well-ventilated, so your pet is always comfortable. It does have a weight limit and is only suitable for pets up to 20 pounds. Inside, there is a fleece pad cover that you can remove and throw in the wash for easy cleaning. It also includes some rear storage pouches to carry any collapsible food bowls, a harness, or even some treats to keep your pet happy and content during car rides.
Customers rate this product 4.7 out of five stars. 94% of them would recommend it to a friend. One customer shared that she has a 13-year-old arthritic cat. She leaves this carrier out in her apartment, and she usually finds him sleeping in it. For him, that's high praise. She also mentions that the zippers are really convenient for when they're at the vet. Although her cat tends to hide inside the carrier, her vet can easily unzip and get him out with minimal stress. She's been using this specific carrier for about two years now and it's held up really well considering she is frequently taking her cat to and from the vet.
| PROS | CONS |
| --- | --- |
| The fleece pad cover is machine washable | Only for pets up to 20 pounds |
| Two-in-one design |   |
| Zippered mesh windows |   |
2. Best Stroller: Pet Gear Jogger No-Zip Pet Stroller
Best Stroller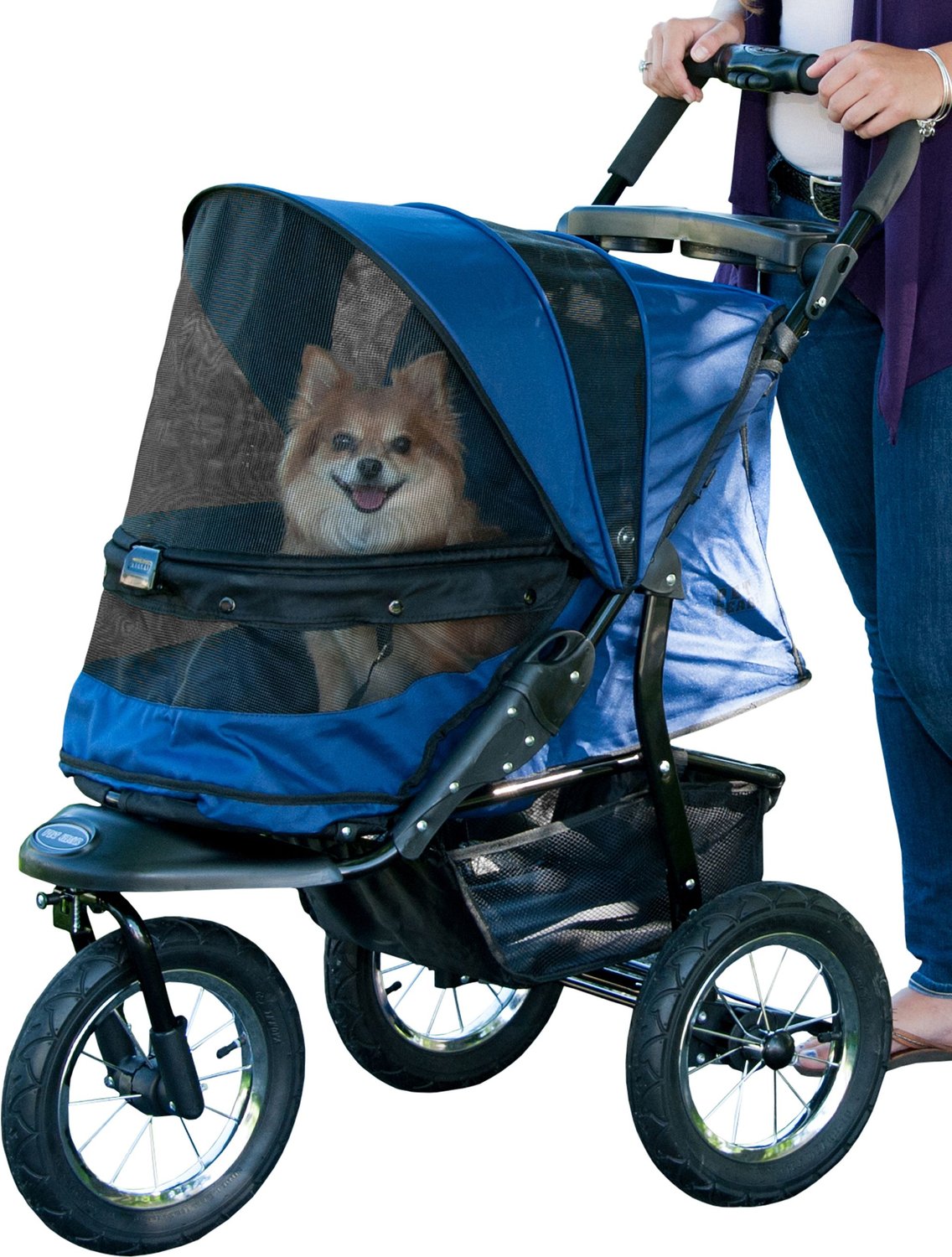 This is a great, three-wheeled, jogger pet stroller. It has a canopy that allows your pet to enjoy a panoramic view and there are no zippers. Inside, there is an interior tether that helps to keep your pet secure. The elevated stroller allows them to get a great view when you're out strolling through your neighborhood or local park. There's also a removable waterproof liner, which makes cleaning this a breeze. For safety, this stroller has rear brakes, shock absorbers, and 12-inch quick-release air tires. To store, fold it right up! You can take a water bottle with you because it has cupholders and there's a large storage basket in the bottom portion where you can include treats, water bowls, or some of your own belongings. It also comes with a compact portable air pump.
Customers rate this product 4.6 out of five stars. 91% of them would recommend the stroller to a friend. One dog mom calls this a game changer. She loves that it's really sturdy and says that it's easy to maneuver up and down hills, which is important for the area in which she lives. With it, she's been able to take her dog, Nicholas, to a lot more places. She definitely recommends it and only has one suggestion for the manufacturer: that they make the cupholders a little bit deeper. Although she hasn't had any issues with anything falling out, she feels that they could be a bit more secure.
| PROS | CONS |
| --- | --- |
| Easy-locking canopy | The cup holders may feel a bit too shallow |
| Rear brakes for safety |   |
| Removable waterproof liner |   |
3. Best Pet Steps: Easy Step II Cat & Dog Stairs
Best Pet Steps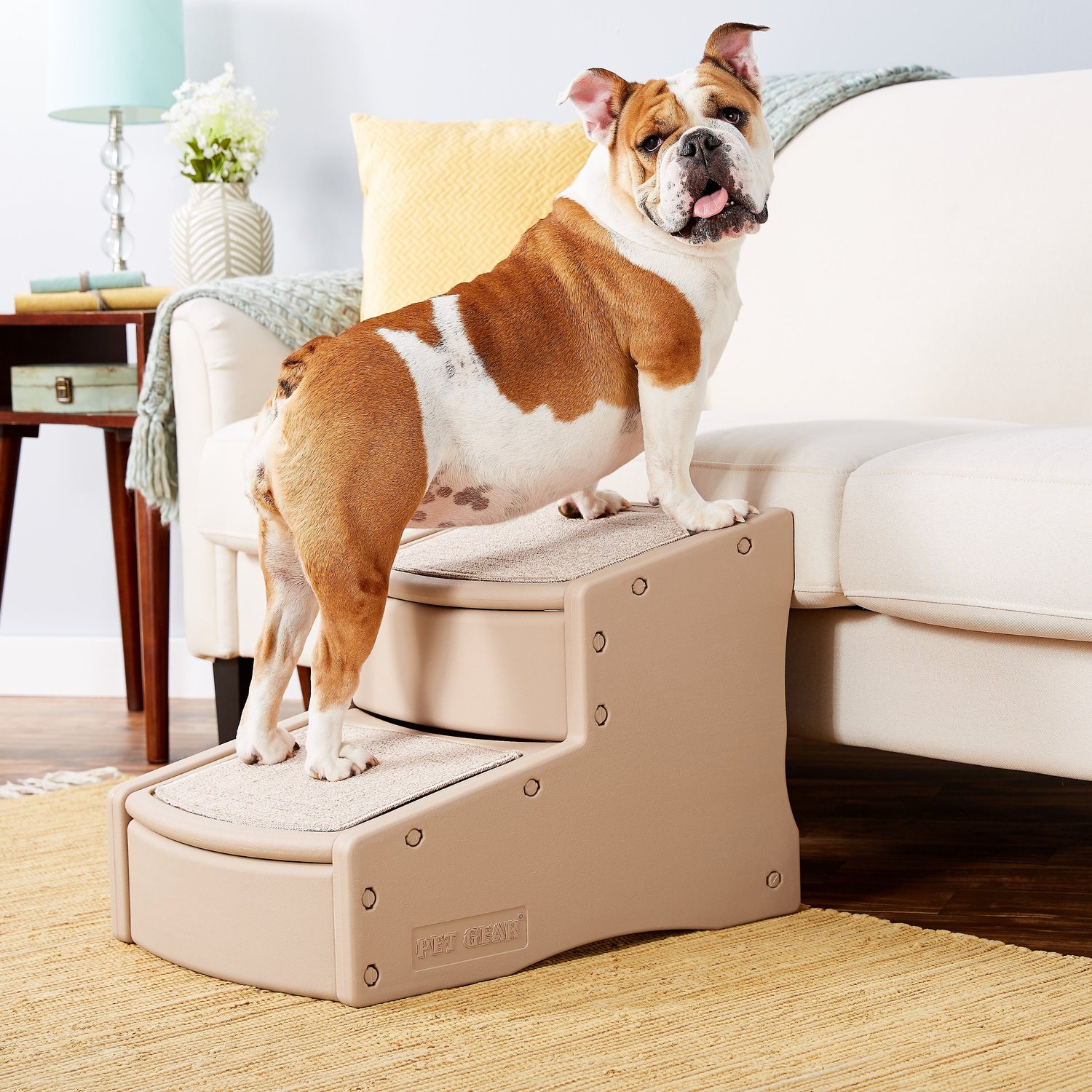 Pet Gear Easy Step II Cat & Dog Stairs
Available in three colors: tan, chocolate, and sage.
Suitable for pets up to 150 pounds.
Wide and deep stair landings good for both small and large dogs.
Rubber grippers help keep the steps secure.
Check Chewy
If your cat or dog needs a little extra help getting up and down furniture, these stairs are a great find. They're strong enough to handle pets that weigh up to 150 pounds and they're quite wide and deep for extra stability. On the bottom, there are rubber grippers so they stay put even on hardwood floors. They snap together which means you don't need tools to build them. The included carpet tread is machine washable to keep this product clean.
Customers rate these stairs 4.6 out of five stars. 94% of them would recommend them to a friend. One customer says his dog was kind of leery at first. He did have to coax him with a couple of treats but after a few days, he was comfortable using them. He says they were easy to assemble and remain very sturdy even though his dog weighs 50 pounds. Another customer set this up for her 65-pound, eight-year-old English bulldog. She says his favorite spot ever is right on the couch. These steps help both him and her senior cat get up and down from the couch with ease.
| PROS | CONS |
| --- | --- |
| For pets that weigh up to 150 pounds | Depending on your strength level, you may need a little help snapping the parts together |
| Machine washable carpet tread |   |
| Wide and deep stair landings |   |
4. Best Pet Car Ramp: Bi-Fold Dog Car Ramp
Best Pet Car Ramp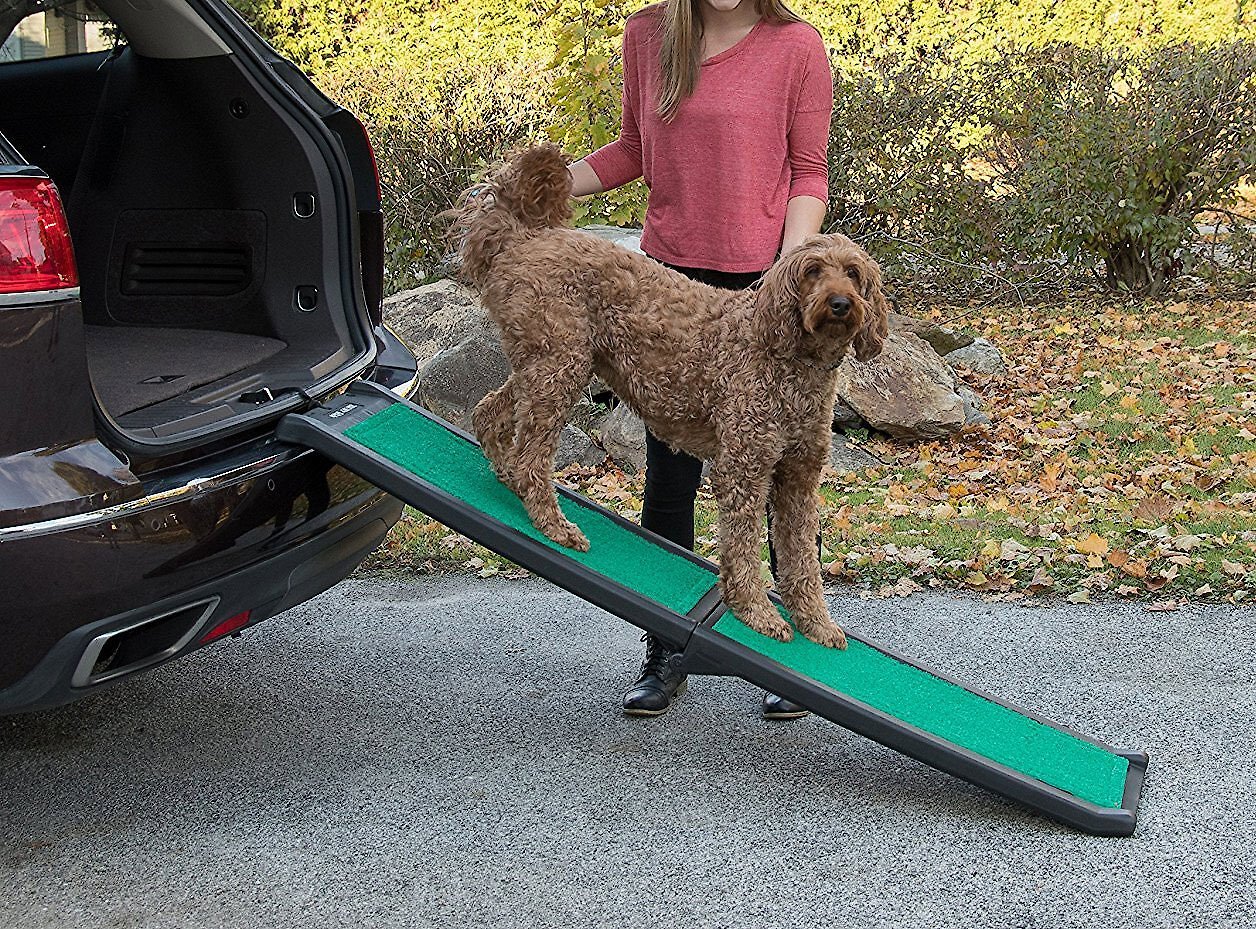 For extra support when you're on the road, you can pick up this dog car ramp. This is a high-quality product that supports your dog when climbing in and out of your car or when trying to access other hard-to-reach spots. It's a bi-fold design and comes with a carrying handle so you can easily store it and move it around. It measures 66" x 16" x 14" when in use and can support dogs that weigh up to 150 pounds. The included mat is pressure activated and provides your dog with extra grip so they feel secure when climbing up and down it.
Customers rate this dog ramp 4.4 out of five stars. 92% of them would recommend it to a friend. They love that it's heavy-duty and has a great grip. One customer shared that he got his Labrador comfortable with it so that they could enjoy more adventures in his car. He likes that it's longer than some other versions, which means it's not so steep. The grip is wonderful because he needs his dog to feel secure as he climbs. Other customers suggest having some treats on hand to train your pup for the first couple of tries.
| PROS | CONS |
| --- | --- |
| Bi-fold design with carrying handle | It may be too narrow for larger dogs with hip issues |
| Extra grip SupertraX mat |   |
| Long design for comfortable climbing |   |
Criteria: What to Look for in Pet Gear
Design
The design of a product determines how to use it. For instance, one customer purchased the stairs but didn't want them to lean against a couch or bed. He tried setting them up in the wrong location and they didn't work as intended. They need the support of a couch or bed to remain stable. Some people may prefer the use of zippers with carriers while others prefer other options like Velcro and buckles. Even small, seemingly unnoticeable features can ruin the overall design. An example would be if you frequently carry a large-size water bottle or coffee cup. The cup holder on a stroller should be deep and wide enough to support your preferred beverage.
Customer Reviews
The customer reviews section is like a happy little gossip town. You get all the information you need — good and bad about a product! We selected products that have an overwhelming number of positive reviews, so you won't find too many negatives. However, the reviews section is where you learn the subtleties of a product, which can help you decide if it's a yes or a no for you.
Up Next, Check Out More Products on Chewy…
The 4 Best Pet Gear Products on Chewy Today FAQs (Frequently Asked Questions) 
How do you secure a dog in a pet stroller?
Close any mesh windows completely and use the tether on the inside to secure your pup's harness for a safe stroller ride. Look at the design of the stroller you decide on and check the manufacturer's use instructions to make sure you're securing your dog appropriately for that specific stroller. Another feature you can look at is the braking mechanism. Although this feature doesn't secure your dog inside the stroller, it does offer safety when you 'park' the stroller, so it doesn't roll away in any direction, potentially endangering your pup.
Is a ramp or stairs better for dogs?
Depends on your pup's mobility! A ramp is a great option for older pups with joint issues. If your pup is a smaller dog with short legs, stairs are super helpful for helping them get on and off couches and beds. The same is true for kittens. Stairs give them the access they need to those pieces of furniture that they can't reach. Ramps are helpful when getting in and out of a car. These are usually foldable, which makes them easy to store in your trunk as well.
Do pet carriers have to be airline approved?
To travel with your pet by plane, the carrier has to first be approved by the airline. If it's not, you'll encounter issues when trying to board. To prevent travel day stress, call ahead to get clarity on any specifications on the pet carrier. Not all airlines have the same guidelines. If you're not traveling by plane and just need something for your car, you can choose an option that's most comfortable for your pet.
More from A-Z Animals