Chewy primarily sells a range of dog and cat products. They also have a variety of products that you can purchase for your small pets, though.
Chewy has products suitable for small pets such as hamsters, rabbits, degu's, gerbils, mice, chinchillas, sugar gliders, guinea pigs, ferrets, rats, and even hedgehogs.
Their products range from bedding, foods, treats, enclosures, and even hideouts and toys that can benefit your small pet. They also have fair prices and even the option of free shipping on some of their products.
Let's take a look at some of the best and most popular products on Chewy from the small pet category.
Best Overall: Carefresh Bedding
Best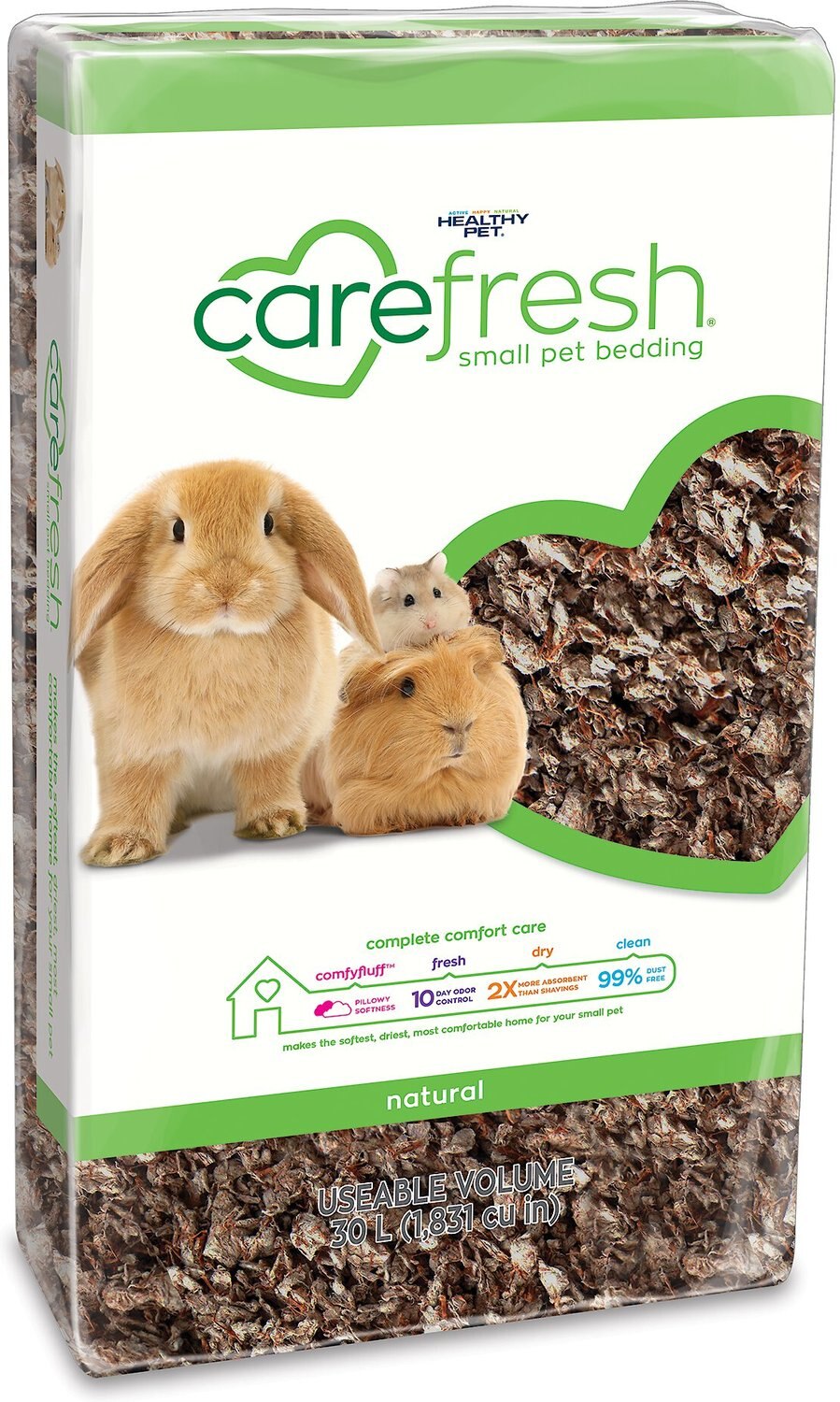 The best overall small pet product from Chewy is the Carefresh bedding. Carefresh is one of the safest and most reliable small pet bedding. It can be used for a variety of different small pets, like hamsters, rats, mice, and gerbils. The bedding is paper-based. It's made from natural paper fibers that make it soft, super absorbent, and a safer option than wood-based bedding.
As a dry small pet bedding, it is highly absorbent. This means it can help control the ammonia smell from your pet's urine for up to 10 days. It can be used to line the inside of your pet's enclosure to create soft bedding for it. It's also a great addition to your small pet's litter box due to its excellent odor-controlling abilities.
Carefresh bedding is mostly dust-free; however, you might notice a small amount of dust at the bottom of the bag. This happens during the manufacturing process. The bedding is eco-friendly, though, making it biodegradable and compostable.
| Pros: | Cons: |
| --- | --- |
| Highly absorbent to keep your pet's enclosure dry. | Even though it is dust-free, some dust particles can be left over. |
| Great at controlling odors from pet urine for up to 10 days. | |
| Eco-friendly. | |
Best for Affordability: Naturals By Rosewood Trio of Fun Balls
Best for Affordability
The best small pet product for its affordability and value for money is the Rosewood natural fun balls. These small pet toys are chews in a bundle of three, for an affordable price in comparison to other similar products.
The balls are made from different natural fibers, such as seagrass, water hyacinth, and rattan which makes it safe and ideal for small pets to chew. It is suitable for small pets such as hamsters and mice who will enjoy chewing these toys. Since it is a small size of 3 inches, it is not the best option for larger small pets because they can chew it up too quickly.
The toy's safety is improved because they do not contain any harmful or unsafe items mixed in with the toys, such as metals, plastic, staples, and glue. The brand aims to offer natural products, and unsafe materials do not form part of their manufacturing process.
| Pros: | Cons: |
| --- | --- |
| Good value for money. | Too small for larger types of small pets. |
| Safe and made without glue or staples that could harm your pet. | |
| Made from all-natural materials. | |
Best Water Bottle: Kaytee Chew Proof Small Pet Water Bottle
Best Water Bottle

Providing your small pet with constant access to fresh water is important, so a durable and long-lasting water bottle is beneficial. The Kaytee water bottle is chew-proof and available in a 6-ounce size, making it suitable for hamsters, rats, and gerbils.
The size might be too small for larger pets like rabbits and guinea pigs, but it can be used when they are still young. This bottle is chew-proof and made from glass and high-quality stainless steel, making it not only easy to clean, but also durable even for small pets that like to chew.
The clear design makes it easy to see the water through the bottle, while the floating duck in the bottle makes it easier to see the waterline and know when it is time to refill the bottle.
| Pros: | Cons: |
| --- | --- |
| Durable and chew-proof. | Little droplets can slowly leak out if the bottle is placed too close to the bedding. |
| The floating duck makes it easy to determine when the bottle needs refilling. | |
| The glass is easy to clean. | |
Best Litter Tray: Oxbow Enriched Litter Pan
Best Litter Tray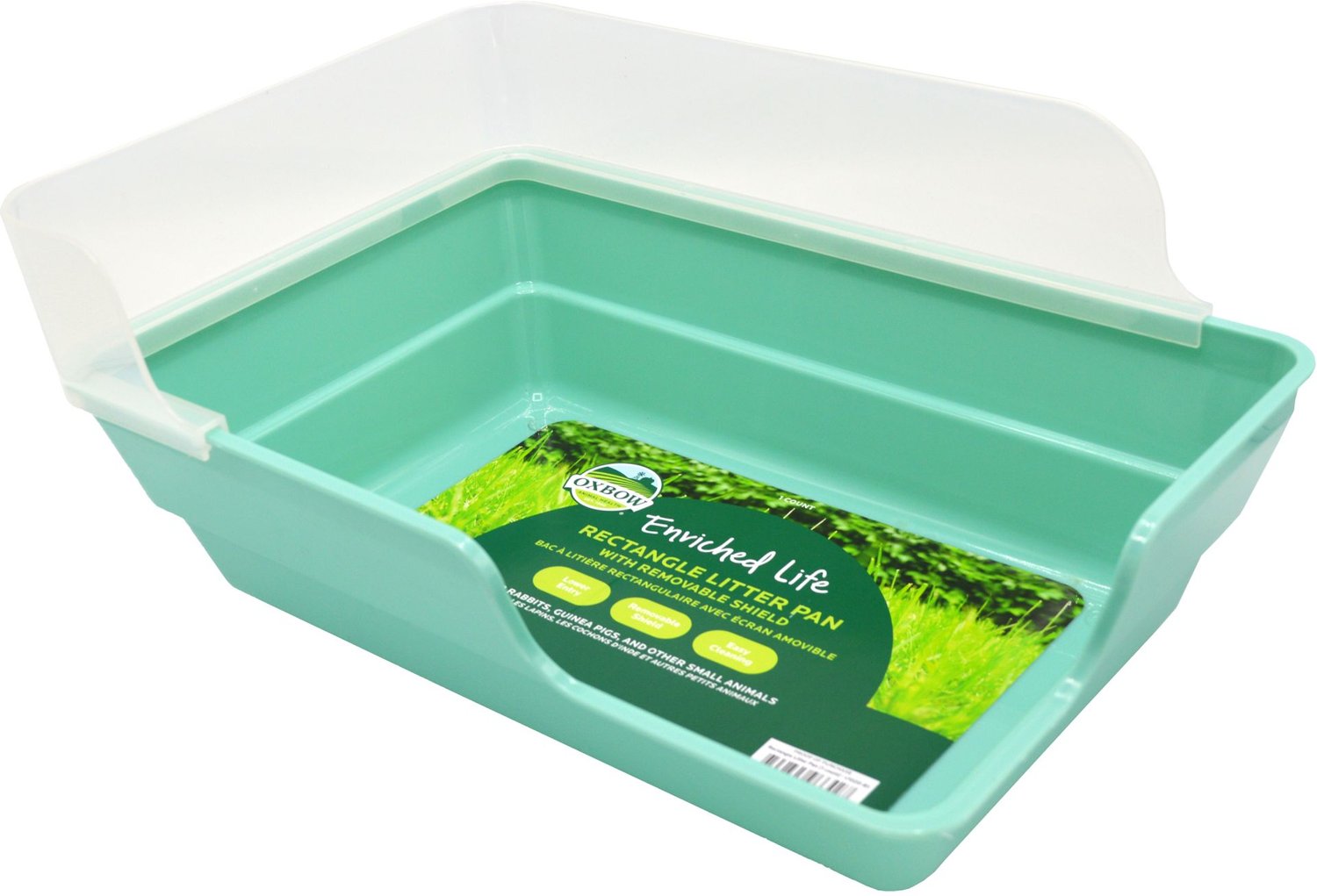 One of the best litter trays for small pets like rabbits and guinea pigs is the Oxbow Enriched litter pan. This litter pan has a removable shield that helps to keep then of the litter from spilling out if your small pet likes to dig in the litter.
The litter pan has a low opening that makes it easy for your small pet to enter and exit without feeling trapped or having to jump into it. It has been designed to be easy to clean while being made from pet-safe materials (primarily plastic) and it can be placed into a corner of the room or enclosure of your small pets without taking up too much space.
The litter pan is lightweight and available in a teal color, with the removable shield being transparent.
Pros:
Cons:
Easy to clean.
Better for indoor use as the plastic can become brittle from prolonged sunlight.
Low entryway to make it more comfortable for your small pet.
The removable shield makes it ideal for rabbits or guinea pigs that spill their litter.
Best Treats: Exotic Nutrition Rose Petals and Buds
Best Treats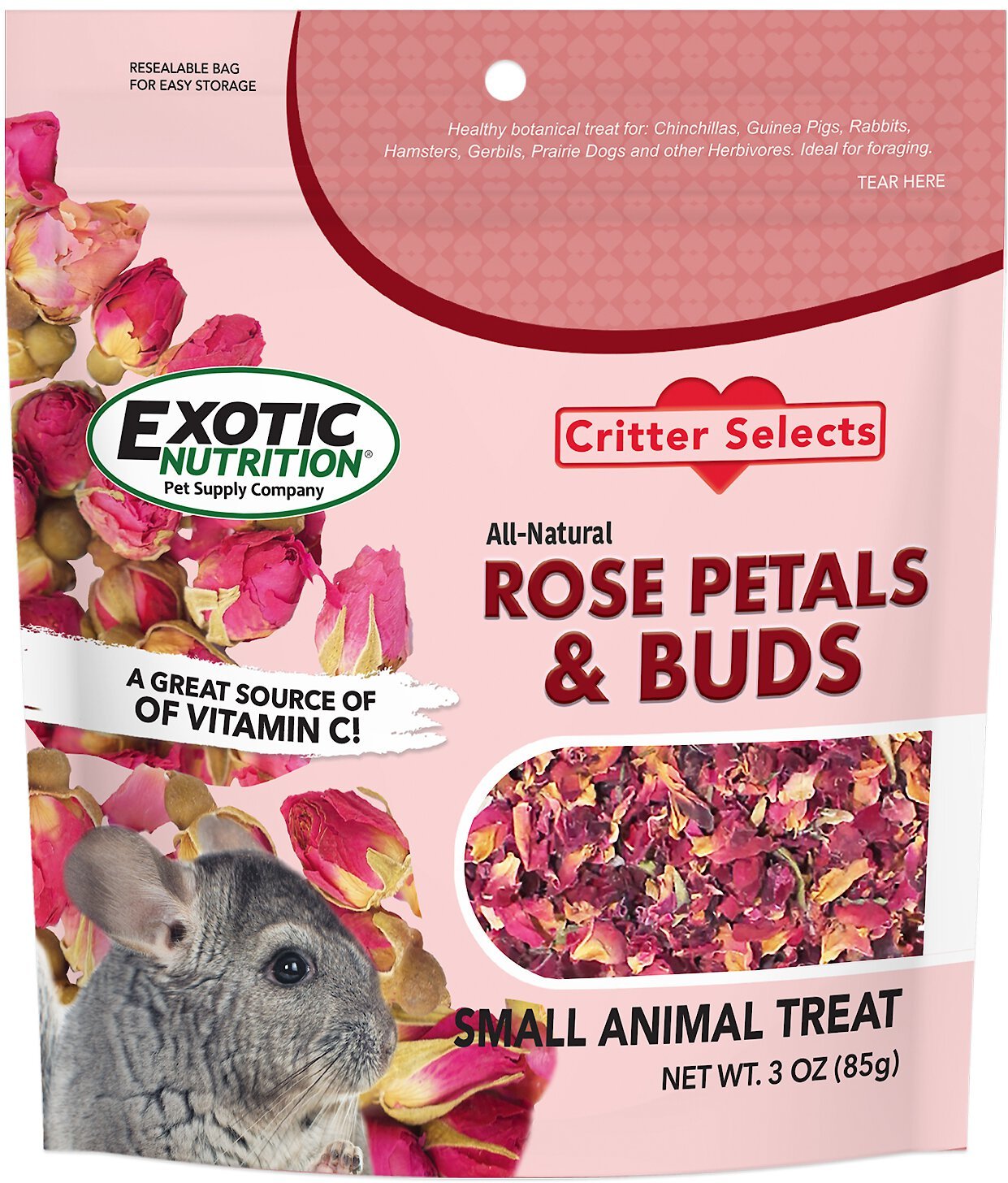 A healthy and tasty treat can help improve your small pet's diet by adding variety, which makes the Exotic Nutrition rose petals and buds a good choice. This product can either be fed as a treat, or it can be used as a food topper for small pets such as rabbits and guinea pigs.
It is high in fiber and encourages your pets' natural instincts to forage. The sweet smell makes it enticing for small pets, and you can even add them inside your rabbit or guinea pigs' toys to make it more rewarding for them to find and eat.
The food is made from dried rose petals and buds in their natural form, inside a decent-sized bag that can last for a few weeks.
| Pros: | Cons: |
| --- | --- |
| Adds variety to your small pet's diet. | The buds and rose petals are quite small. |
| High in fiber. | |
| Encourages your small pet to forage. | |
Best Hideout: Kaytee Woodland Get-A-Way Hideout
Best Hideout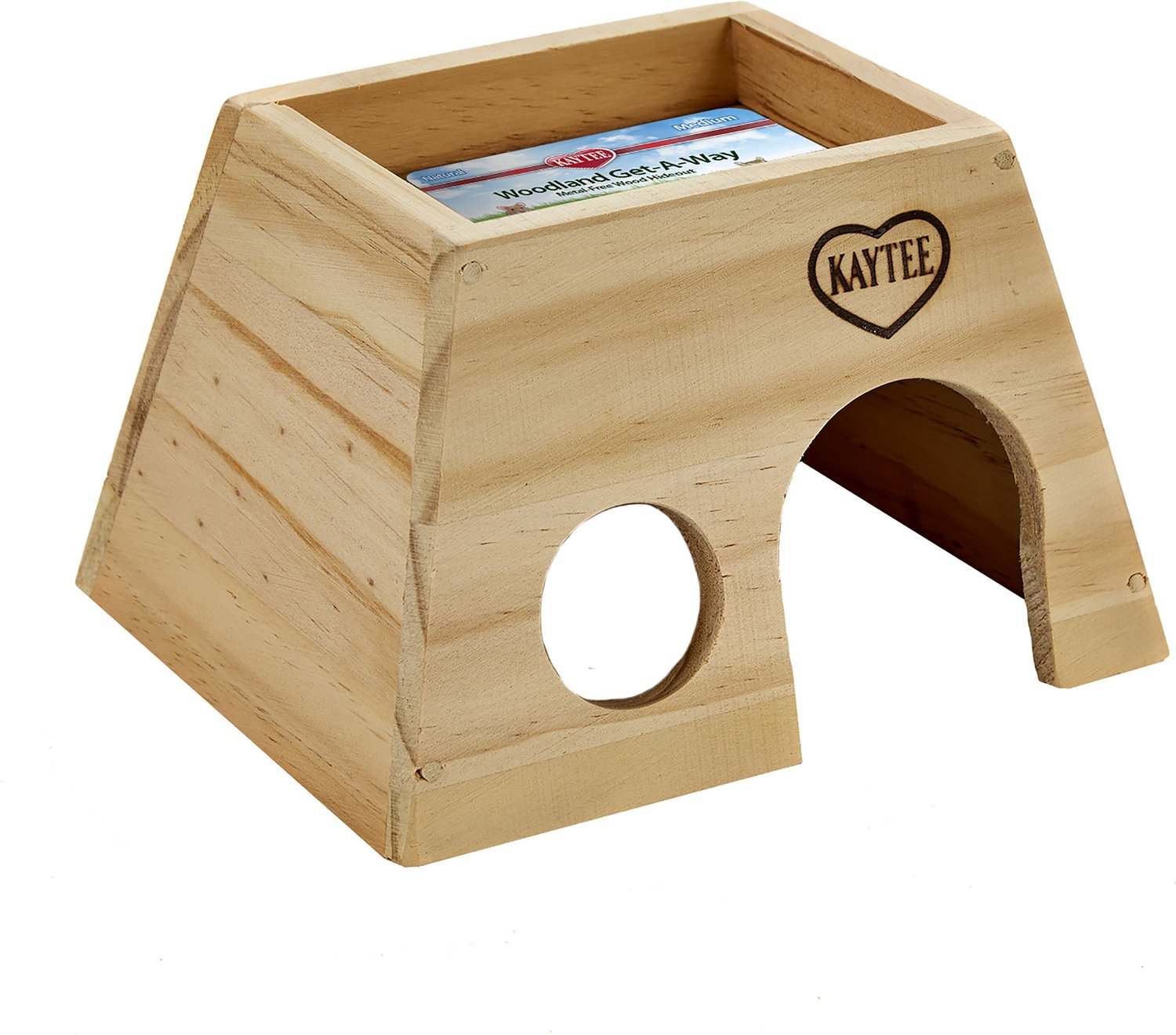 Many small pets prefer to sleep in hideouts where they can create a safe place for them to nest. A great hideout that you can give to your small pet is the Kaytee Woodland hideout, and it is available in four different sizes, making it suitable for small pets like hamsters and mice, to larger small pets like rabbits and ferrets.
The sizes include small, medium, large, and X-large, with the price varying according to the hideout's size. The hideout is made from natural wood that is safe for animals and it is also safe for your pet to chew if they are a chewer.
The design has two openings, a door-shaped opening, along with a circle opening right next to it.
| Pros: | Cons: |
| --- | --- |
| Available in four different sizes making it suitable for all types of small pets. | Some small pets may get stuck in the small circular opening. |
| Made from all-natural wood. | |
| Safe for pets to chew. | |
CHEWY: https://www.chewy.com/kaytee-woodland-get-way-small-pet/dp/188994
Best Hay Feeder: SunGrow Hay Feeder Rack Dispenser
Best Hay Feeder
SunGrow Rabbit, Bunny Hay Feeder Rack
The no-mess design keeps your bunny's food clean
Constructed from metal and plastic
A spring-loaded door secures the hay in place
A tray underneath catches stray pieces of hay
Not a good option for large rabbits or those that chew on plastic
Check Chewy
Check Amazon
Certain small pets like rabbits and guinea pigs need constant access to hay, so a hay rack or dispenser is important. The SunGrow hay feeder is an excellent choice, and it is easy to use. This hay feeder dispenses hay without creating much of a mess while keeping the hay off the floor that could get stuck in your small pet's waste.
It can easily be cleaned using a damp cloth, and it is made from plastic, metal, and steel which makes it durable. The hay feeder is made to be tip-resistant, which can be beneficial if you have a small pet that likes to tip its hay feeders over and make a mess.
A bonus to this product is that it can be attached to a wire or barred cages to make it sturdier.
| Pros: | Cons: |
| --- | --- |
| Easy to clean. | Quite small and better suited for young bunnies or guinea pigs. |
| Tip resistant for rabbits and guinea pigs that tip over their hay feeders. | |
| Less-mess. | |
How To Choose The Best Small Pet Product
When it comes to choosing the best product for your small pet, these are the factors you should consider – the safeness, type, and durability of the products which we will discuss below.
Safety
As pet owners, you want to ensure that the product you are purchasing for them are safe and will not harm your pet. Safety is important, so choosing a product that does not have any sharp edges, not made from harmful materials, or contains potentially dangerous additives is something to look out for. Make sure that the toy or treats you choose for your small pet is made from pet-safe materials and will not harm them if it is chewed.
Type
There are many different types of small pet products, such as:
Hideouts
Bedding and litter
Hay dispensers
Litter boxes
Climbing toys
Chews
Treats
The type of small pet product you choose will depend on which type of small pet you have. Hamsters, mice, and rats won't need a hay feeder, whereas a guinea pig and rabbit will need one. So, purchasing a hay feeder for your hamster, mice, or rat will not be very beneficial, but it will be important for rabbits and guinea pigs.
Small products also come in different sizes, so small to medium products will be a better option for smaller pets like hamsters and rats, whereas larger products will be a better option for rabbits, ferrets, and guinea pigs who are much bigger.
Durability
We all want products that will last long with our pets, without being made from low-quality materials and a poor design that can break easily or be difficult to clean and assemble. Choosing a higher quality product made from a reliable and well-known small pet brand is a good place to start, as you know that the product will be worth your time and money.
Up Next…
The 7 Best Small Pet Products on Chewy Today FAQs (Frequently Asked Questions)
How many types of small pets are there?
There are many small pets who are generally considered to be rodents, but there are certain small pets that don't fall into that category. A small pet is an animal that does not fall into the dog, cat, bird, or fish category, and it includes the following animals:
Hamsters
Gerbils
Mice
Rats
Guinea pigs
Rabbits
Ferrets
Degus
Sugar gliders
Hedgehogs
What types of small pet products are there?
There are a variety of small pet products available on the market, from bowls, bottles, toys, treats, hideouts, bedding, litter and trays, and hay and hay feeder. The list is extensive, and many different brands manufacture small pet products.