Whether you're a beginning gardener or an expert, there are plenty of vegetables (and fruits!) to plant in April. While your specific Hardiness Zone and region will greatly determine what you can and cannot plant outdoors during this potentially volatile month, April is the perfect time to get your garden started!
So, what are some of the best vegetables to plant in April? Depending on where you live, most lettuce, chard, pea, and carrot varieties can be directly sown outdoors during the month of April. If you haven't already started your eggplant, tomato, and pepper plants indoors, you may want to consider waiting and purchasing established plants in another month. Finally, many root vegetables do well when planted in April, such as beets and potatoes. 
In this article, we will go over 11 of the best vegetables to plant during the month of April, though there are many others to consider. Whether you want to start your plants indoors or out, April is a great month to get things growing. Let's get started and dig into some vegetables that do best during this time of year now! 
The 12 Best Vegetables to Plant in April
Timing is everything when it comes to planting vegetables in April. Many Hardiness Zones and local weather conditions make it difficult to know when the time is right to plant something. With practice, patience, and perhaps a few different attempts at growing something, your April garden can be a fantastic one for whatever vegetables you desire! Let's discuss some candidates now. 
Cabbage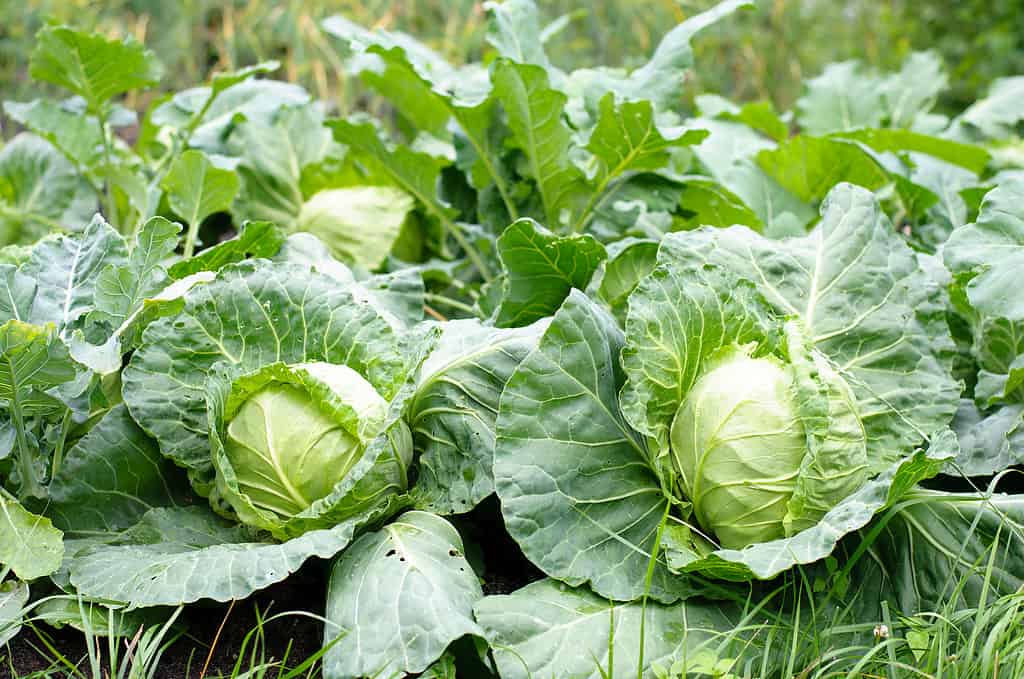 It may be too late to start your cabbage seedlings indoors during April, but your outdoor temperatures may support directly sowing the seeds. If you find that your soil temperatures are anywhere from 55 to 65 degrees Fahrenheit, most cabbage varieties can be directly planted outside during April. While cabbage needs plenty of food and space to grow, most cabbage heads are ready in less than 3 months' time. Just be sure to plant them in full sun, and watch out for pests! 
Beets
If you have yet to plant beets, now is the time! Easy to grow from seed, beets need to be directly soon so that you don't disturb their roots during transplanting. Thriving in full sunlight and in soil temperatures below 75 degrees Fahrenheit, this cold-weather vegetable is easy to care for and produces delicious roots that are best when roasted. Make sure to thin your beet seedlings so that these hearty roots do not crowd one another under the soil. 
Tomatoes
With countless varieties and an easy level of care, tomatoes are perfect for gardeners of any level. However, April is a tricky month when it comes to planting them. You may live in a region that is warm enough to plant your tomato seedlings outside already, but it is likely too late to start your tomatoes indoors from seed. You may want to wait and purchase an established seedling from your local garden center instead. No matter the variety, tomatoes need at least 8 hours of direct sunlight a day in order to produce countless, delicious fruits! 
Potatoes
Many cooler zones enjoy potatoes that are planted during the month of April. While spacing your potatoes is important, this is an easy and fun crop to consider growing. Once your soil has dried out a little bit and is an average temperature of 45 to 50 degrees Fahrenheit, you should plant your seed potatoes promptly. There are plenty of potato varieties to choose from, with some preferring warmer regions than others. Plus, there are early, mid, and late-season potato varieties that have different weather preferences as well as germination times, so keep this in mind when choosing a specific cultivar! 
Peppers
Just like tomatoes, April is a tricky month to consider planting pepper plants. While some varieties may do just fine when directly sown outdoors from seed, most pepper plants grow best from established seedlings started indoors or purchased at a garden center. April is not a good month to start your pepper plants inside, so you may want to wait until May or even June to purchase your favorite variety as a seedling! Speaking of varieties, there are countless different types of peppers, from bell peppers to the infamous ghost pepper! Full sunshine is a must for pepper plants, and they will not last once cold temperatures arrive in the fall. 
Lettuce
With so many different types and a simple growth habit, lettuce makes for an easy vegetable to start outdoors from seed during the month of April. You should sow your lettuce seeds on the surface of your soil so that they have plenty of light to germinate, though some varieties may need to be planted up to a quarter inch deep. Thinning your seedlings is important so that lettuce heads have enough space to fully mature. Depending on where you live, some types of lettuce may even overwinter and grow year-round with proper protection! 
Chard
Like lettuce and other leafy greens, chard should be directly sown in your garden. April is a good time for this, as this crop can tolerate some cold temperatures and in fact prefers a bit of cold in order to germinate. Full sunshine produces the best chard harvest, but partial sunshine may also work depending on where you live. There are different types of chard, but they all have a similar growth habit. Thin your seedlings as they start popping up, and use these immature leaves in a salad! 
Eggplant
What's another summertime crop that may be tricky when planted during the month of April? Eggplants are similar to peppers and tomatoes in that you likely should have already started growing them indoors during late winter. However, your region may currently be warm enough to offer you established seedlings that can be planted during April. Eggplants can be found in a variety of cultivars and sizes, from petite patio aubergines to large and impressive specimens that need plenty of structural support. Full sunshine and temperatures above 65 degrees Fahrenheit work best for nearly all varieties of eggplants. 
Parsnips
Just like beets, parsnips should be directly sown outdoors to avoid disturbing their deep root systems. In addition, parsnips take much longer to grow compared to beets and should be planted as soon as your soil is workable, likely during the month of April. With proper spacing and thinning of your seedlings as they sprout, parsnips are relatively easy to care for and often result in a large harvest come the end of fall. They are a fantastic roasted root vegetable as well, preferring full sunshine and lots of nutrients. 
Carrots
While extremely similar to parsnips, carrots grow faster, but in similar conditions. They will need full sunlight in order to produce large, sweet yields. Plus, spacing is incredibly important to carrot plants. Directly sow them outdoors once your temperatures reach 45 to 50 degrees Fahrenheit, thinning seedlings as they age. Depending on the variety, most carrots mature and are ready for harvest in 75 days or less. This makes it easy to grow a couple of batches in a raised bed during the springtime. 
Melons (Many Types)
Whether you're interested in growing muskmelons, cantaloupes, honeydews, or watermelons, you should definitely start your melon seeds indoors during the month of April. These sun-loving crops shouldn't be directly sown this early, but you will need to take some care when transplanting them. Most melon varieties have a fairly delicate root system, but they will definitely take off once temperatures are above 65 degrees Fahrenheit regularly. Plant them in full sunlight so that you can harvest the sweetest melons possible! 
Peas
Depending on the variety, you may be able to harvest peas as early as the end of May if you plant them at the beginning of April. While most pea plants can't survive hot temperatures, April is a fantastic time to establish these seedlings. Directly sow all varieties of peas outdoors, as they do not transplant well. With a trellis for some structural support, pea plants produce their pods en masse when grown in full sunshine! 
Summary of the 12 Best Vegetables to Plant in April
| Rank | Vegetable | Harvest Time |
| --- | --- | --- |
| 1 | Cabbage | 60-90 days after planting |
| 2 | Beets | 55-70 days after planting |
| 3 | Tomatoes | late summer |
| 4 | Potatoes | 8-12 weeks after planting |
| 5 | Peppers | 90-150 days after planting |
| 6 | Lettuce | 25-40 days after planting |
| 7 | Chard | 4-6 weeks after planting |
| 8 | Eggplants | 100-120 days after planting |
| 9 | Parsnips | 4 months after planting (or later!) |
| 10 | Carrots | 75 days after planting |
| 11 | Melons | June to October |
| 12 | Peas | End of May |
---