The American alligator is a species to be feared and respected by humans and other animals alike. These powerful predators live in lakes, ponds, and other freshwater bodies of water in the southern United States from Texas to Florida and as far north as North Carolina. Due to their aggressive nature and the genuine threat they pose to human life, should an attack occur, one must take great care to avoid them. Avoiding the problem starts with knowing where these creatures call home. Central Florida's Lake Tohopekaliga hosts an astonishing alligator population.
In fact, more than 8,200 of the beasts inhabit the 22,700-acre lake. That's about a 35.5 square mile area with approximately 231 alligators per square mile. Central Park in New York is about 1.3 square miles. Can you imagine over 200 alligators roaming in Central Park? That would be wild! It would also be extremely dangerous to venture into the park. The same can be said of Lake Tohopekaliga.
Although Lake Tohopekaliga's special public access areas are monitored closely, alligators can still find their way into these areas. Less than 2,000 of the area's alligators are adults as of the 2022 count, but even a young or baby alligator can cause significant damage to humans and pets. Mother alligators also watch their young for a time once they hatch and are highly protective of their nests. So, you might only see a few small alligators, but their mother likely lurks nearby!
Let's learn more about the American alligators in Lake Tohopekaliga below!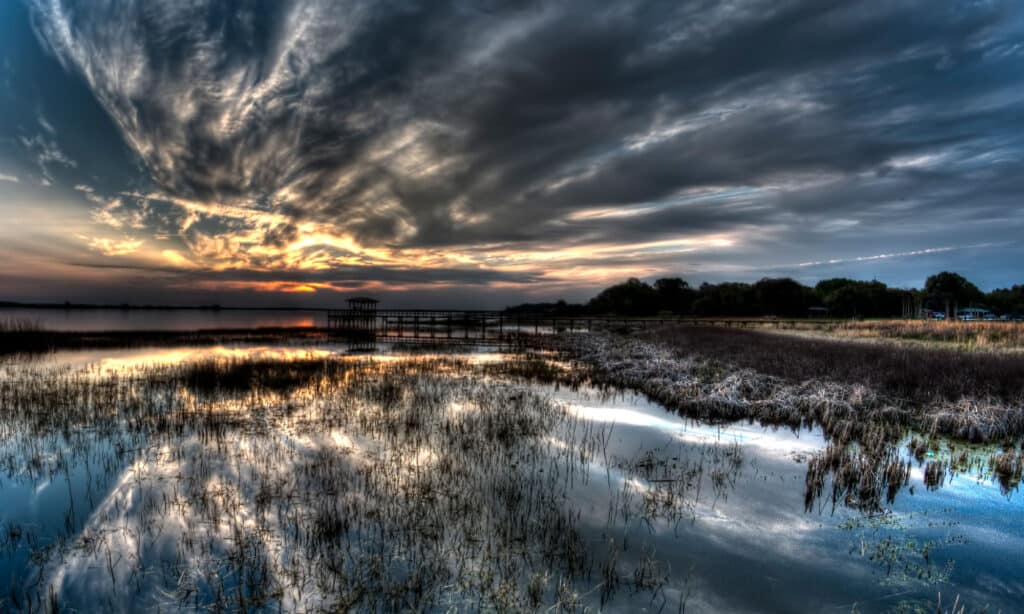 Can You Swim in Lake Tohopekaliga?
Technically, yes. The lake has public access areas where people can swim, fish, and enjoy the water. However, swimming in this lake or venturing within 10 feet of the water's edge is risky business. If Lake Tohopekaliga visitors report alligators that pose a threat to humans or property, the Florida Fish and Wildlife Conservation Commission (FWC) usually removes them. Despite Lake Tohopekaliga making the top five best lakes for swimming in Florida, we certainly wouldn't be taking that risk!
Lake Tohopekaliga Alligator Attacks
About eight reports of unprovoked alligator attacks make headlines per year in Florida. Fortunately, we did not yield many results when researching alligator attacks in Lake Tohopekaliga. However, one significant attack occurred in 2014 in East Lake Tohopekaliga. A 9-foot-long, 400-pound alligator grabbed hold of 9-year-old James Barney when he and his friends decided to swim in the lake.
The boy states he thought it was one of his friends teasing him, poking him under the water to scare him. Then he felt the teeth on his body and knew he was in trouble. Amazingly, the boy managed to fight off the massive alligator and free himself with non-life-threatening injuries. The boy states he punched the alligator multiple times in the face and once in the eye, which caused it to loosen its grip.
James underwent surgery to clean and repair his wounds. He even ended up with an alligator tooth souvenir from his ordeal. His friends say they were shocked he made it, crawling onto the lake shore bloody and covered in tooth marks and scratches.
What Lake in Florida Has the Most Alligators?
It's a safe bet to take that most freshwater lakes in Florida have alligators in them. Over a million alligators reside in the state, and some places see populations even greater than Lake Tohopekaliga. The most alligator-infested lake in Florida is Lake Okeechobee, with an estimated 30,000 alligators. This lake also makes the list of the most alligator-infested lakes in the U.S. All but three of the top 10 lakes on the list are located in Florida. Louisiana takes second place with two entries, while Texas comes in 3rd with just one lake on the list.
What Other Animals Live at Lake Tohopekaliga?
Many other animals live in and around the waters of Lake Tohopekaliga besides alligators. Fish species include largemouth bass, bluegill, redear sunfish, and black crappie. Other creatures include various birds, river otters, and several species of turtles. Some special birds you might see in the area of ospreys and bald eagles. The lake supports are vast abundance of smaller fish and insects, as well.
Where is Lake Tohopekaliga on a Map?
Lake Tohopekaliga rests about half an hour south of Orlando, Florida, and just over an hour east of Port Canaveral. St. Cloud Canal connects it to East Lake Tohopekaliga. Many people enjoy fishing and boating on the lake despite the presence of thousands of alligators.
The photo featured at the top of this post is © Benjamin Klinger/Shutterstock.com
---