Bulls are one of the largest and strongest animals that humans have domesticated. There are many breeds of cattle, all with their scale-tipping bulls. Over the centuries, humans have created larger, heavier, and stronger cattle breeds to pull carts, called "draught cattle," then, as time passed, vehicles took their place for meat and milk. Crossbreeding has created massive bulls that shake the ground as they walk.
Let's take a look at the biggest bulls in the world that can weigh thousands of pounds.
How Big Is the Average Bull?
Bulls are usually larger than cows of the same breed, if not by height, then by weight, because they have more muscle mass. An average bull weighs anything from 1,100 to 2,200 pounds, but it ultimately depends on the breed.
Which Is the Biggest Bull in the World?
It all depends on how you want to measure the "biggest"!
The heaviest bull in the world was five-year-old Fetard, a Maine-Anjou bull. He was officially weighed at the Paris International Agriculture Show in 2016 and topped the scales at 4,299 pounds.
Other mega heavy-weight bulls include a Chianina bull, Donetto, who weighed 3,920 pounds and stood 6 feet 1 inch tall. Donetto was on exhibit back in 1955. And there's Belino, also a Chianina, who stood 6 feet 6 inches and weighed 3,500 pounds. Poor Belino died at age 14 when his legs could no longer hold his epic weight.
So, there we have some of the heaviest individual bulls in the world. Let's look at the breeds that produce these ground shakers and marvel at just how heavy they get.
For comparison:
2,000 pounds is around eight average-size refrigerators.
3,000 pounds is roughly the weight of a Toyota Corolla.
Biggest Bulls in the World By Breed
1. Sibi Bhagnari
Sibi Bhagnari bulls are one of the largest cattle breeds in the world. They are native to Pakistan and known for their epic proportions. These massive bulls have white or grey bodies and a hump on the back of the neck that stores water and fat. The biggest bulls reach heights of 6 feet tall and 7 feet long and can routinely weigh up to 2,000-2,500 pounds. The largest bulls weigh over 3,000 pounds.
Experts argue whether Sibi Bhagnari bulls are the largest overall bull breed or if the title goes to Chianina bulls.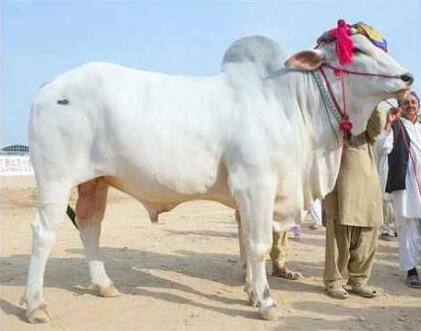 2. Chianina
The largest bulls in the world title might belong to Chianina bulls, and for a good reason. These giants can reach well over 3,000 pounds and stand 6 feet tall at the shoulder. Chianina cattle are native to Tuscany, Italy, where they've been bred for thousands of years. They are one of the world's oldest cattle breeds and arguably the most beautiful with their pure white coats. At first, they were for pulling carts and for transport but are now chiefly for beef purposes.  
These massive bulls are handsome chaps that are born with dark coats that gradually turn gray and then white. Calves are often born already weighing 110 pounds!
3. Maine Anjou de Pres
Here's a massive French native that's one of the largest bull breeds. It's the Maine-Anjou De Pres. Its magnificent name is from the French town of Anjou.
Bulls reach over 5 feet tall at the shoulder and routinely weigh 1,500 pounds. Fetard, the heaviest bull ever weighed, was a Maine-Anjou.
This breed was created in the 19th century by crossing French Mancelle cattle with British Durhams. It was bred for both meat and milk back then, but today, it's a fairly rare meat breed.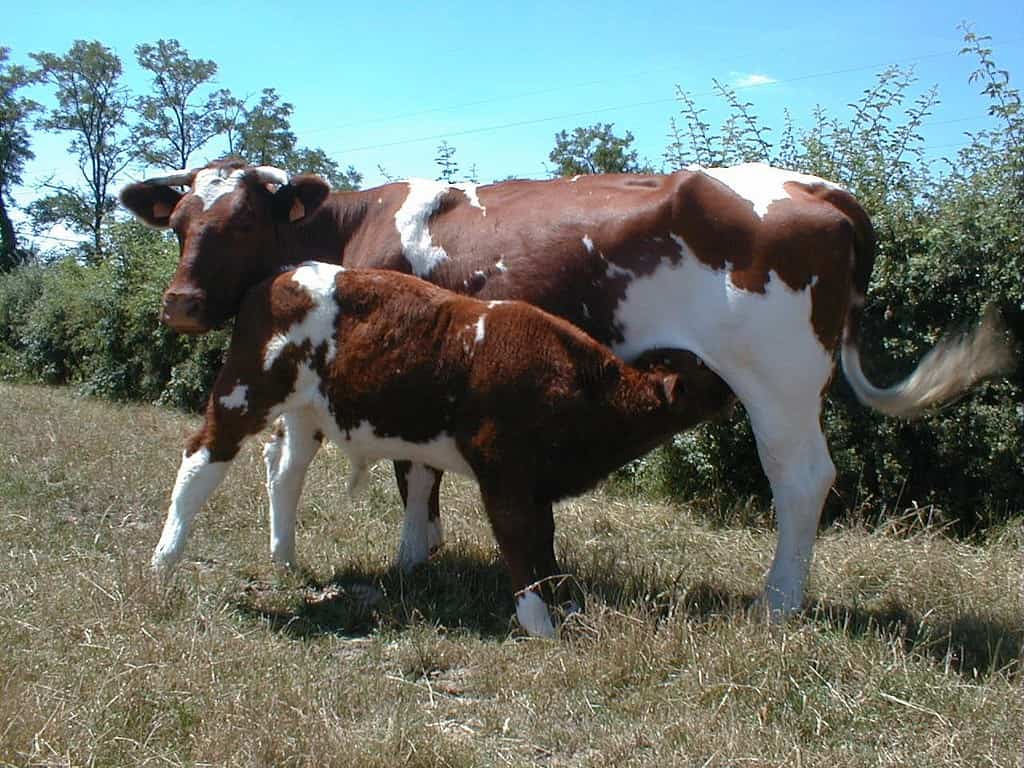 4. Parthenais Bull
Parthenais bulls are an old breed from Parthenay, France, with the largest, weighing more than 2,700 pounds and reaching over 5 feet tall.
They have attractive red-brown coats with cream faces, docile temperaments, and rich-tasting beef, which is primarily their modern function, but in the past, the bulls were draught animals. This cattle breed is a common sight in the French countryside.
5. South Devon
South Devons are the largest U.K. cattle breed, and they hold their own on the world stage, too. They are one of the biggest bulls in the world, reach 5 feet tall at the shoulder, and routinely weigh 2,500 pounds.
These curly-coated redheads are from the 18th century from South England's Devon and Cornwall counties. They are fast-growing cattle that were originally for meat and draught work.
6. Belgian Blue
Blue-gray-coated Belgian blues are big boys that were bred from Belgian local cattle and British shorthorn breeds in the 1800s. They look different from other bull breeds because they are extremely lean and sculpted. Their unusual physique comes from an increased amount of muscle fiber that's known as "double muscling."
A Belgian blue bull can reach an epic weight of 2,600 pounds and stand over 5 feet tall at the shoulder. However, the genetic difficulties of this breed make it more difficult for cows to give birth, so Caesarian sections are commonly needed. The extra management issues mean this is no longer a popular breed.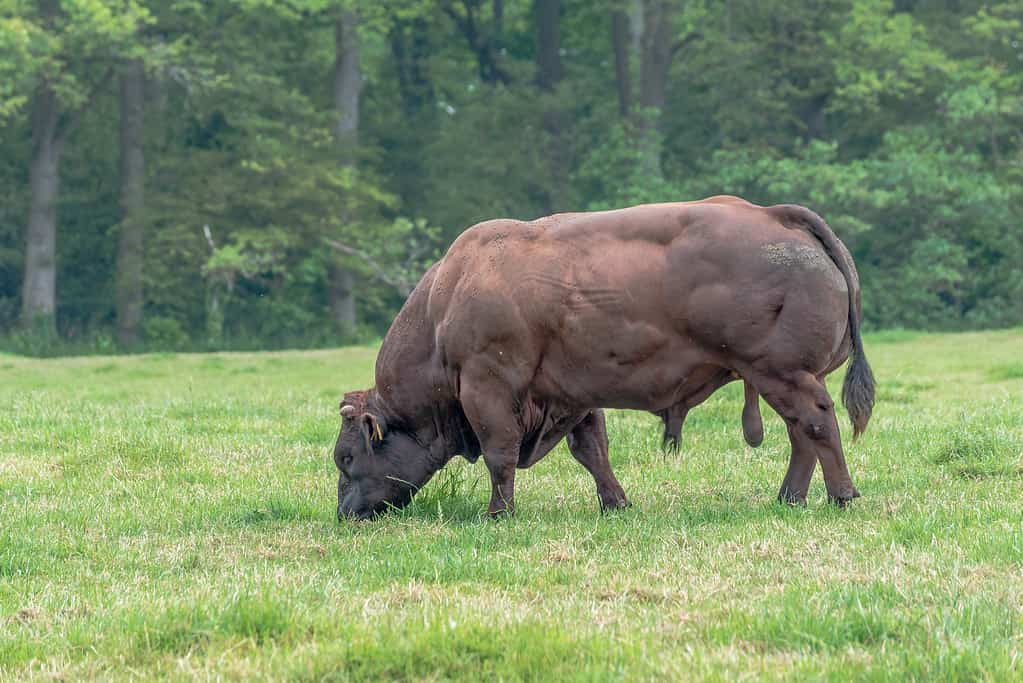 7. German Angus
German Angus bulls are impressive bulls with incredible shoulder strength. They weigh up to 2,200 pounds and look out-of-this-world powerful with their sleek and shiny black coats.
The breed was created in the 1950s by crossing Aberdeen Angus cattle from the U.K. with several local German cattle to make a productive, tasty beef. Their spectacular appearance makes German Angus cattle a show-stopping sight, especially the massive glossy bulls.
8. Montbeliarde
Montbeliarde bulls are a French breed first crossed in the 1800s for beef and dairy purposes but are now chiefly bred for beef. The bulls reach 2,200 pounds and stand over 5 feet tall at the shoulder. Female Montbeliardes are prized for their excellent cheese-making milk.
Bulls are red and white pied, naturally hornless, and even though they reach huge proportions, are one of the more docile breeds.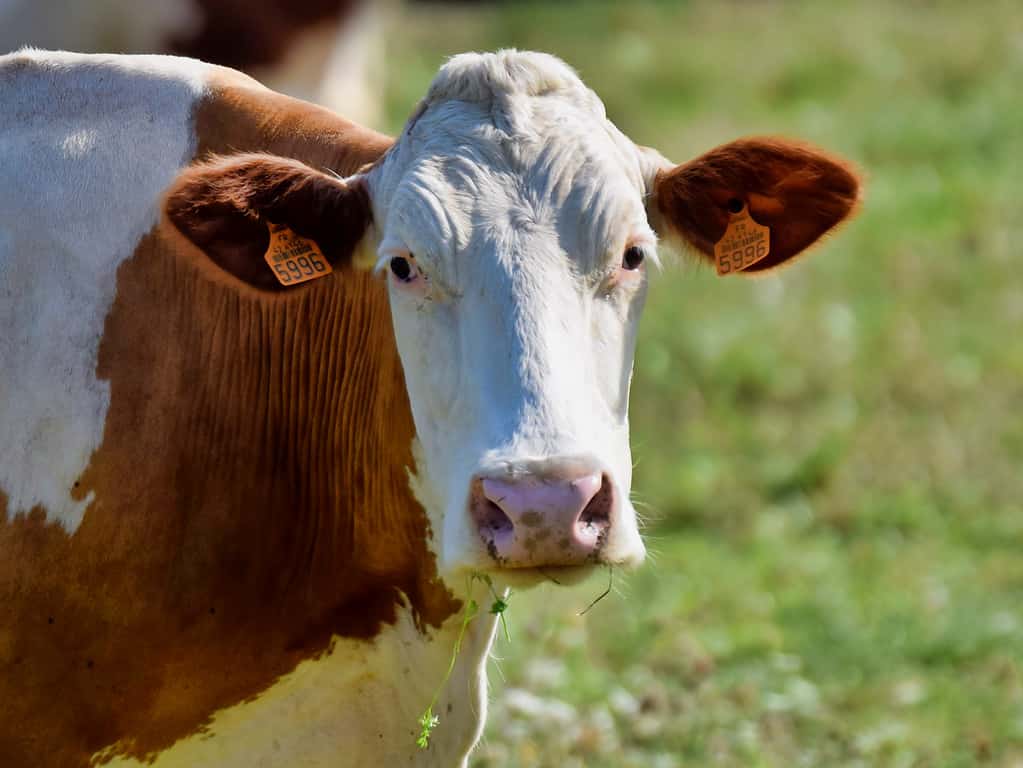 9. Brahman
Brahman bulls are instantly recognizable by the large hump on their necks. They vary in color from gray to almost black, and their coat is so shiny it reflects heat. They are native to India and adapted to deal with harsh conditions there, such as their extra sweat glands and long floppy ears that protect their ear canals. Brahman bulls can weigh up to 2,300 pounds.
American Brahmans were bred in the U.S. from Indian Brahman bulls imported by settlers because they have hardy characteristics. They can also weigh over 2,000 pounds.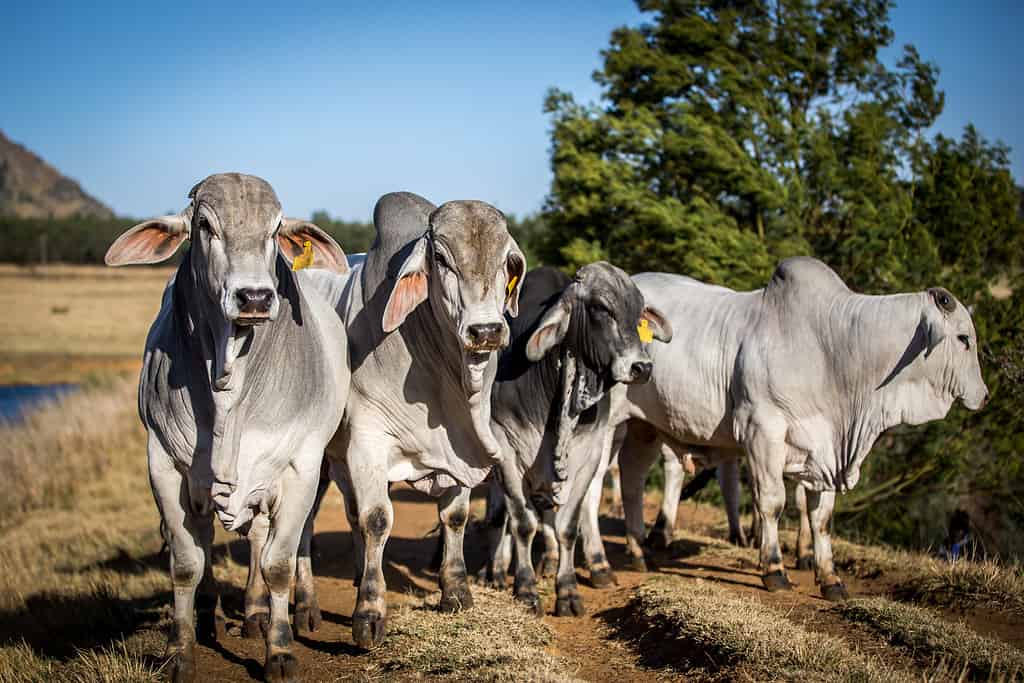 10. Limousin
Limousin cattle are one of the most ancient breeds. They look like cattle types painted in caves throughout historic Europe, even though they were bred in the 1800s.
Bulls reach just under 5 feet tall, but they are stocky chaps that reach 2,800 pounds! They were indispensable draught cattle to 19th-century French market towns, especially bulls capable of hauling heavy loads.
This old breed is easy to recognize. They have gingery brown coats with cream undersides and muzzle markings. Limousin bulls are commercially popular across Europe, often making $10,000-plus at auction.
Are Bulls Dangerous?
Yes, bulls can be dangerous. As we have seen, they are big animals that pack thousands of pounds in weight, and the largest are taller than an average human.
They are domesticated, but bulls are still unpredictable. How dangerous they are depends on their breed, age, and temperament. You should never enter a field with a bull, especially if there are cows and calves present.
What Does a Rodeo Bull Weigh?
Rodeo bulls are large and strong animals with lots of testosterone, so they are weighty boys. According to Professional Bull Riders Inc., their rodeo bulls often weigh 1,700-1,800 pounds.
Summary of the Biggest Bulls in the World
There are many cattle breeds with enormous bulls capable of tipping scales right off the chart.
The heaviest bulls are generally Chianina and the tallest Sibi Bhagnari, but other breeds sometimes pull total units out of the bag, such as the French Maine-Anjou bull Fetard, which weighed a whopping 4,299 pounds.
| Rank | Bull Breed | Size | Origins |
| --- | --- | --- | --- |
| 1 | Sibi Bhagnari | Bred in the 1950s by crossing Aberdeen Angus cattle with German breeds | Native to Pakistan |
| 2 | Chianina | 6 feet tall and over 3,000 pounds | Native to Tuscany, Italy |
| 3 | Maine Anjou de Pres | 5 feet tall and 1,500 pounds | Native to France |
| 4 | Parthenais Bull | Largest over 5 feet tall and weighing more than 2,700 pounds | From Parthenay, France |
| 5 | South Devon | 5 feet tall and routinely weigh 2,500 pounds | Bred in the 1700s in South England's Devon and Cornwall counties |
| 6 | Belgian Blue | 5 feet tall and weigh 2,600 pounds | Bred from Belgian local cattle and British shorthorn breeds in the 1800s |
| 7 | German Angus | Can weigh up to 2,200 pounds | Bred in 1950s by crossing Aberdeen Angus cattle with German breeds |
| 8 | Montbeliarde | Over 5 feet tall and reach 2,200 pounds | French breed developed in the 1800s |
| 9 | Brahman | Can weigh up to 2,300 pounds | Native to India |
| 10 | Limousin | Under 5 feet tall and can reach 2,800 pounds | Bred in the 1800s |
---