While you may think that there aren't many differences between a capybara vs wombat, the true answer may surprise you. Given that these two animals live in very different locations and live very different lives, you can assume that these unique animals are less like the other than perhaps you first assumed.
In this article, we will address all of the differences and similarities between capybaras and wombats. Some of these differences include their appearances, diets, and behavior so that you will learn about these two animals completely. Let's get started and talk about capybaras and wombats now!
Comparing Capybara vs Wombat
| | | |
| --- | --- | --- |
| | Capybara | Wombat |
| Size | 60-150 pounds; 40-50 inches | 30-80 pounds; 30-45 inches |
| Appearance | No tail, tan fur; head, ears, and eyes on top of their head. Stocky appearance with short muzzle | Stocky legs and rounded body; short coarse fur in brown or gray. Triangular ears and bearlike in appearance |
| Location and Habitat | South America; found in many habitats so long as they are near water | Australia or Tasmania; enjoys open spaces that allow them to dig their tunnels or burrows |
| Behavior | Lives in very social herds; doesn't sleep very much. Extremely active swimmer | Active burrower that is shy and nocturnal; usually lives alone and avoids interaction with humans or other animals |
| Diet | Bark, grass, aquatic plants | Grass, shrubs, roots |
Key Differences Between Capybara vs Wombat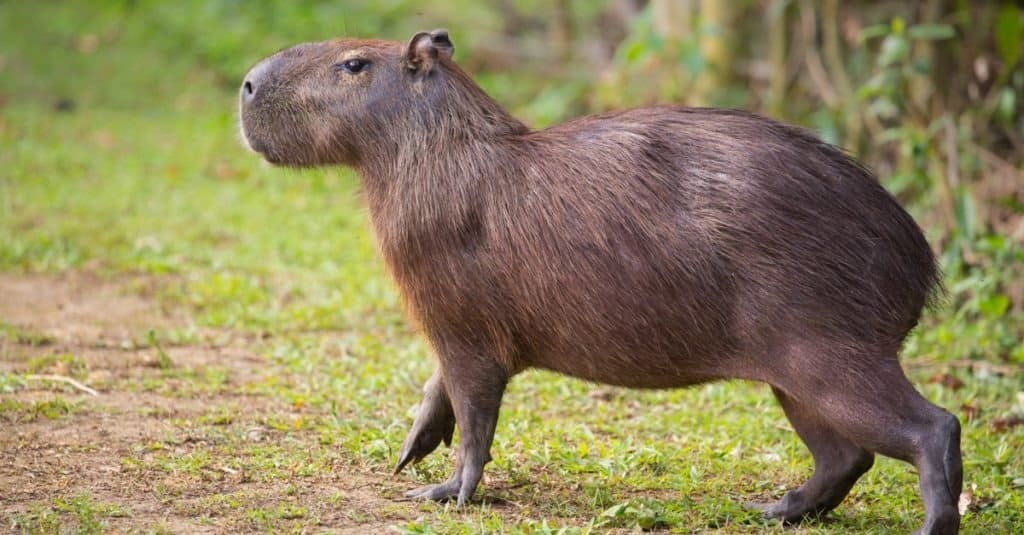 There are many key differences between a capybara vs wombat. A wombat is a marsupial, while a capybara is the world's largest rodent. Capybaras live extremely social lives, while wombats prefer a solitary existence. You will likely not find a wombat swimming, while capybaras spend the majority of their lives in the water. 
But these are only some of their differences. Let's talk about all of this in more detail now.
Capybara vs Wombat: Size and Weight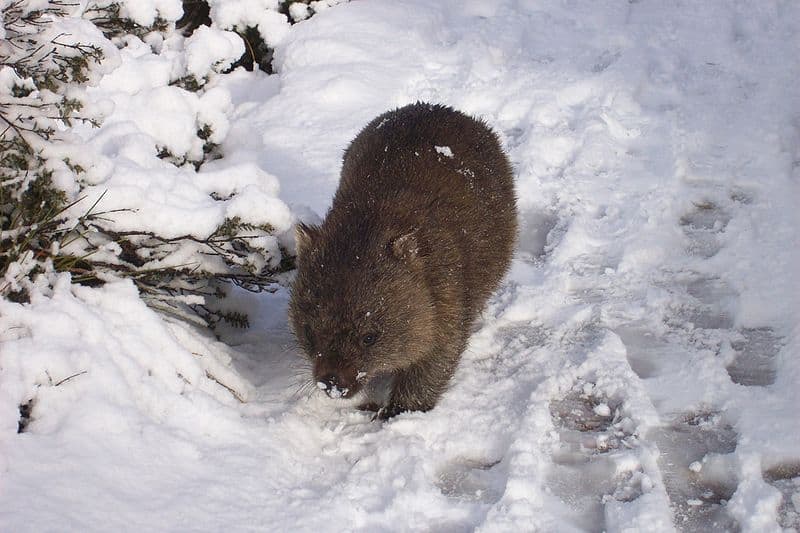 A primary difference between a capybara and wombat is their individual sizes and weights. A capybara frequently reaches lengths of 40-50 inches, while wombats grow to 30-45 inches, making them smaller overall.
There is also a significant weight difference between wombats and capybaras. The average wombat weighs anywhere from 30-80 pounds, while the average capybara weighs 60-150 pounds depending on its gender and age. Given that capybaras are the largest rodents in the world, it makes sense that they far outweigh wombats!
Capybara vs Wombat: Location and Habitat Preferences
Capybaras and wombats do not exist in the same locations, geographically. In fact, capybaras live throughout South America, while wombats live in Australian or Tasmania exclusively. This makes the wombat a unique marsupial, especially compared to the more prolific capybara. Their habitat preferences differ as well- let's discuss that now.
Given that capybaras spend most of their lives in the water and swimming, they prefer habitats that feature rivers, lakes, or ponds. A wombat craves open space so that they can dig complicated tunnels, while capybaras do not necessarily require this. The climates for these two creatures may be similar, but they spend their days very differently!
Capybara vs Wombat: Appearance
Another difference between capybaras and wombats lies in their physical appearances. While both of these creatures have short and coarse fur, the capybara is often a lighter or redder shade of brown compared to the grayer wombat. Both capybaras and wombats have short and stubby tails, but capybaras have webbed feet, while wombats have efficient claws that they use to dig through soil.
A wombat has a rounder body compared to the more elongated body of the capybara. Both creatures have short and rounded ears, though the wombat resembles a bear cub, while a capybara looks more like a long-snouted pig. A capybara also has its eyes, ears, and nose atop its head, while a wombat's facial features face forward.
Capybara vs Wombat: Behavior
There are some key behavioral differences between a capybara vs wombat. The capybara is a prolific swimmer, as we have already discussed, while a wombat avoids swimming if at all possible. Wombats are also nocturnal, while capybaras don't sleep very much at all. They doze in the sunshine when taking a break from the water, but they likely sleep far less on average than the wombat.
Capybaras live in extremely social and large herds with one another, while wombats prefer to spend their time in solitary tunnels or burrows. While they have other wombat family members nearby, they don't often interact unless it is mating season. Capybaras have multiple forms of communication and ways in which they socialize with their own kind.
Capybara vs Wombat: Diet
Both capybaras and wombats are herbivores. However, their diets differ slightly due to their habitats and climates. For example, capybaras eat a large number of aquatic plants and grasses, while wombats eat grass and roots that grow in dry, arid soil. While this may be a subtle distinction, it is an important one to make.
Capybaras love to eat grass, bark, and aquatic plants, while wombats eat grass, bushes, and roots. The plant matter found in South America vs the plant matter found in Australia differ greatly, making these two creatures different from one another in their diet.
---