If you're looking for a beautiful blue-purple flowering perennial, then you can't go wrong with catmint or salvia. These two plants are very similar in appearance and growing requirements, but a few differences hold them apart, and one is very obvious!
There's no arguing catmint and salvia are similar plants. They're both blue flowering perennials that are low-maintenance bee magnets for any size garden. If you like one, then you're going to like the other too! The main similarities are their flowers and growing needs. Catmint and salvia have blue-purple flowers that are highly attractive to bees, butterflies, and other beneficial pollinators. Both species will pull in pollinating insects if you have a wildlife-friendly garden.
Let's compare catmint vs salvia to discover how they differ.
Comparing Catmint vs Salvia
| | Catmint | Salvia |
| --- | --- | --- |
| Botanical Name | Lamiaceae Nepeta | Lamiaceae salvia |
| Perennial or annual | Perennial zones 3-11 | Perennial zones 5-11 |
| Origins | Europe and Asia | The Americas, Europe, Asia, Mediterranean |
| Flowers | blue-purple, white | blue, red, purple, orange, pink, yellow, and white   |
| Foliage | Small serrated and fluffy | Heart-shaped upright and shiny |
| Scent | Spicy mint, attracts cats | Woody, anise, blackcurrant, deters rabbits and deer |
| Stance | Floppy, sprawling | Formal, upright |
| Growing needs | Low maintenance, sun, well-drained soil | Low maintenance, sun, well-drained soil |
| Toxicity | Not toxic | Not toxic |
The Main Differences Between Catmint and Salvia
The main differences between catmint and salvia are their foliage, scent, and growing stance.
Catmint vs Salvia: Classification
Both catmint and salvia are in the Lamiaceae family, but they are from a different genera. Catmint is from the nepeta genus and salvia from the salvia genus.
There are thousands of salvia species ranging from woody shrubs to perennials, but in comparison, there are far fewer catmints. They only number around 150 different species.
Botanists have bred both catmints and salvias to develop new garden-friendly cultivars. They easily cross-pollinate to produce new species.
Catmint vs Salvia: Origins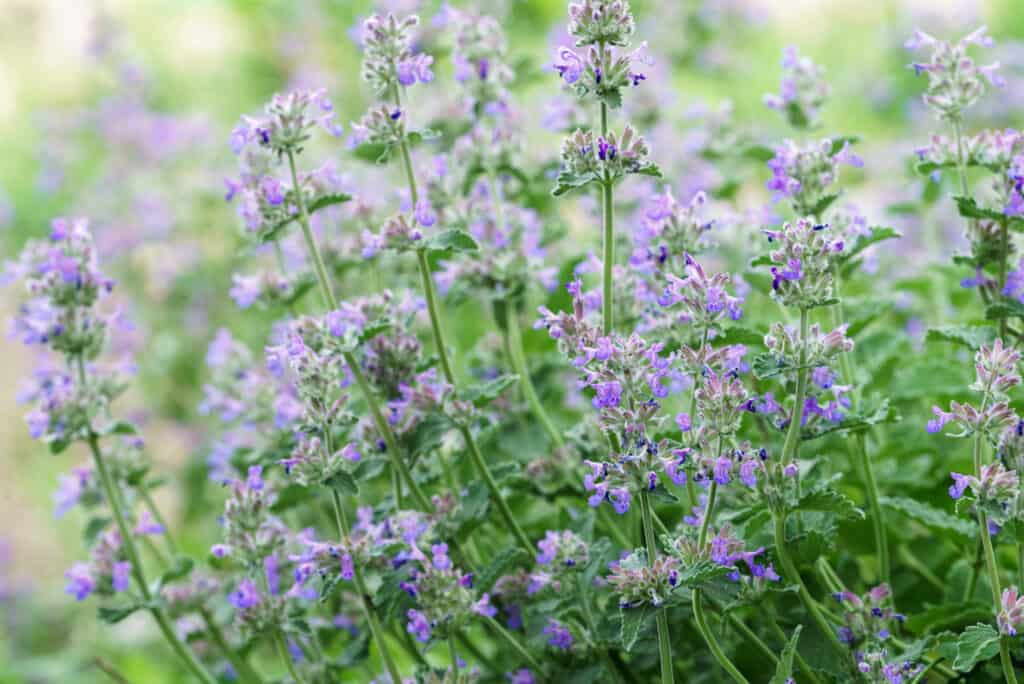 Salvias have a wider native range than catmint. They originate from the Americas, Europe, Asia, and the Mediterranean, but most are native to the Americas, particularly the hotter areas, including south and central America. Catmint is only native to Europe and Asia. However, both species have been introduced to the wider world and are easily grown in gardens worldwide.
Catmint vs Salvia: Leaves
Catmint has a much floppier approach to life than salvias. Its stems and foliage sprawl across the soil and drape over container edges with no attempt to grow upwards. In contrast, salvias are more upright and informal, with foliage that reaches upwards.  
Catmint's foliage is small and greeny-grey with a fluffy coat, whereas saliva foliage is toothed and often heart-shaped, shiny, and much more modern-looking.
Catmint vs Salvia: Flowers
Both species have small, tightly-lipped flowers that attract pollinators and begin to flower in late springtime. They will both grow back after deadheading, but catmint flowers last much longer. This can be a deal breaker if you want low-maintenance plants.
Catmint and salvia have purple-blue flowers, but salvia also has a native Asian species that blooms yellow. Although both have many cultivars, catmint stays resolutely blue-purple with a few white cultivars such as 'alba.'
In contrast, salvias bloom in various shades, including blue, red, purple, orange, pink, yellow, and white.
Catmint vs Salvia: Scent
Here's one of the main differences – their scent!
Salvias have fragrant flowers and foliage that only emit their scent when rubbed roughly. People describe the scent in many ways, including woody, anise, and blackcurrant. This fragrance is used to defend itself against grazing deer and rabbits. It's a good way to keep unwanted grazers from your yard.
On the flip side, catmint smells like spicy mint, and it attracts one mammal we're all familiar with – cats! Catmint only needs a slight brush to release its fragrance, which is why you'll see your kitty lying upside down beside it.
Catmint vs Salvia: Hardiness and USDA Growing Zones
Catmint plants are largely hardier than salvias.
Catmint will grow perennially in zones 3-9 and as an evergreen in zones 9-11. It can cope with some frost and grow back again the following spring unharmed.
Most salvias are hardy enough to grow as perennial in zones 5-9. In zones 9-11, they often grow year-round. A few tougher varieties, such as culinary sage, can cope with zone 4.
Catmint is the best choice if you want a plant that can withstand lower temperatures.
Catmint vs Salvia: Poisonous
The ASPCA doesn't list salvia as toxic to pets, but letting pets eat large amounts of garden plants is never a good idea.
Catmint is widely known as a cat attractant, but it's its sister plant, catnip Nepeta cataria, that cats go crazy for. Catmint contains some chemicals that cats love, but not as much. You can tell the difference because catnip looks much weedier and has intermittent white flowers, unlike salvia's abundance of summer-long purple-blue blooms.
Interestingly the ASPCA lists catnip and catmint as toxic to cats because too much can cause vomiting and diarrhea.
Catmint vs Salvia: Which is Best For My Garden?
Choosing between catmint and salvia is hard, but because they both have the same growing conditions and look very similar, choose the one that best suits your garden style.
Catmint is a floppier cottage garden style plant, whereas salvias are upright and more formal. Catmints will bloom for longer and are hardier, but there are more salvia color choices.
And let's not forget that they both attract bees, but catmint will attract kitties too! If you're not a cat lover and need to deter rabbits and deer, then maybe choose salvia.
Up Next
Sources

American Society for the Prevention of Cruelty to Animals, Available here: https://www.aspca.org/pet-care/animal-poison-control/toxic-and-non-toxic-plants/catnip
The Humane Society of the United States, Available here: https://www.humanesociety.org/resources/crazy-catnip