Choosing perennial flowers for your garden can be an exciting task, especially if you've gotten your hands on some columbine seeds. Infamous for their striking and detailed blooms, columbine flowers are easy to grow and care for. Plus, these flowers come back year after year with little effort, making them a stunning flower to keep around!
You can directly sow columbine seeds into your garden in springtime, once frost conditions have passed. Make sure to rest the seeds atop the soil or lightly cover, as sunlight is key for germination. While you likely won't have columbine flowers your first year of planting, these blooms readily reseed and spread, keeping your garden beautiful long-term!
| Columbine Seeds | How to Grow |
| --- | --- |
| Hardiness Zones | 3-9 |
| Popular Columbine Varieties | 70+ varieties, including every color imaginable! |
| Direct Sow or Transplant? | Direct sow, but transplanting is possible with extra care |
| Time of Year to Plant Seeds | Springtime, or sow indoors 2 months before final frost |
| Things to Note | Columbines planted from seed won't produce flowers their first year, but they will reseed themselves year after year! |
Columbine Seeds: Everything You Need to Know
Despite columbine flowers being poisonous to both people and animals, they remain a popular and infamous perennial. Ornamental and intricate, columbine flowers come in just about every possible color combination and sport a variety of different appearances or styles. You can easily seed columbines directly into your garden, or take care of indoor-grown seedlings for spring planting at the first opportunity!
Some popular columbine varieties or cultivars for you to consider include:
Bluebird. Large blue and white flowers can be as large as 3 inches!
Little Lanterns. Typically red, these flowers love shady locations.
Winky Double. Found in a variety of colors, this columbine looks like a carnation flower.
Alpine. Delicate, blue, and native to the Alps, this columbine is understated and lovely.
Dwarf columbines. You can purchase dwarf columbine seeds in many colors. These varieties typically reach under a foot in height!
Germinating and Growing Columbine Seeds
Growing columbine from seed is incredibly simple. While you can always germinate your new plants indoors, sowing from seed is often easier and less time-consuming. Here's our step-by-step guide for growing columbine plants from seed!
How to Grow Columbine Seeds
Make sure your seeds are cold. Cold stratification is a natural process for a number of plants, including columbines. While this process happens in the wintertime with plants and seeds already established outside, you need to fabricate this process indoors for new columbine plants. Simply keep your seeds in your fridge for a week, and this helps bring the seed out of its dormancy.
Scatter your seeds in a desired location. Columbine seeds do not need to be buried; in fact, they require sunlight in order to grow! Once your final frost date has come and gone, sow your seeds atop your garden soil, or just barely cover them for best results. Most columbines prefer partial shade so that the heat of the sun doesn't burn them.
Water generously. Once your seeds are planted, keep your columbine patch relatively moist and watered. Columbines don't like soggy soil though, so keep this in mind as you care for them, and make sure they drain well!
Thin your plants as they emerge. You can have too much of a good thing, including columbines. Make sure to thin your flowers, with one plant every foot, but only after larger leaves have appeared.
Harvesting Columbine Seeds
You can either choose to harvest your columbine seeds or allow the plants to reseed themselves, year after year. Given the fact that most columbine plants only live 2-4 years on average, you may want to replant them yourself so that you always know where your columbines will be. Thankfully, columbines are obvious when they turn to seed. Here's how to collect your own:
Allow your columbine flowers to dry out on the plant. You'll know it's almost time to harvest your columbine seeds when the flowers start to die and close up. They are forming seed pods!
Collect your columbine seed pods when they are just starting to turn brown. Timing is key for this process. You don't want your columbines to get too old and burst in your garden, but you also don't want to pluck the seeds too soon.
Gently open the seed pod and dump the seeds out. Using a container, carefully pour your columbine seeds from their pods. Remember that columbines are poisonous, so be sure to wash your hands after all of your seeds have been collected!
Store your seeds in an envelope and plant in springtime. Begin the entire process again and enjoy your columbines!
Do I Need to Replant Columbine Seeds Yearly?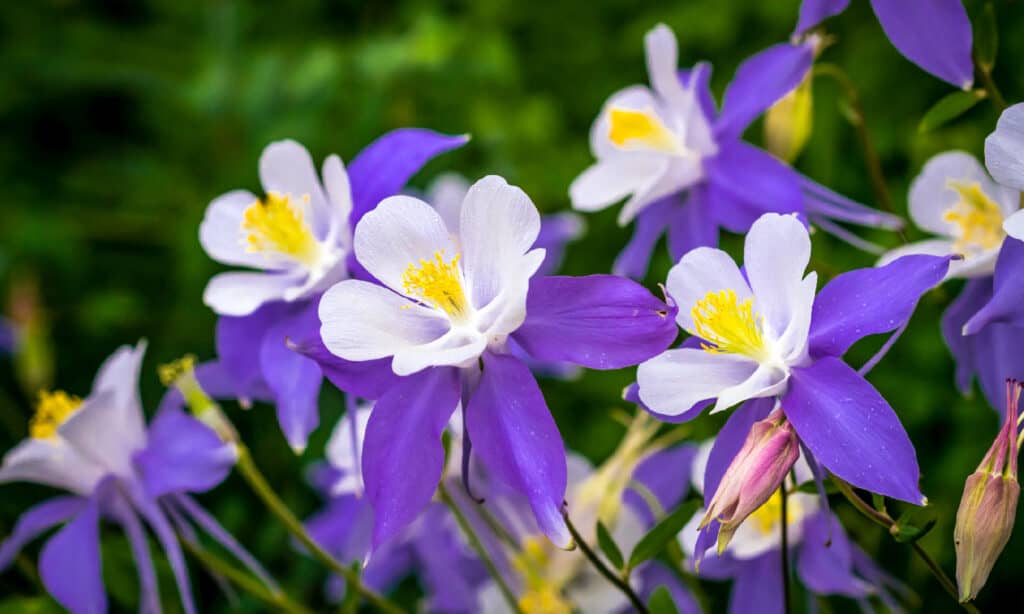 The good news is, columbines are a perennial plant, which means they readily return year after year. There are some caveats to this, however, and if you consider yourself a gardening perfectionist, you may want to read on.
Columbines readily cross-pollinate with each other, and they can take over the average garden in no time. While this may lead to numerous beautiful blooms throughout your yard, you may not want this poisonous plant growing anywhere unexpected. Plus, if you were expecting the same colors of columbine to return the following spring, you may be surprised: their cross-pollinating tactics tend to lead to some outstanding hybrid colors!
Up Next
The photo featured at the top of this post is © Dajra/Shutterstock.com
---
Sources

Effects of floral morphology and display on outcrossing in Blue Columbine, Aquilegia caerulea (Ranunculaceae), Available here: https://besjournals.onlinelibrary.wiley.com/doi/abs/10.1046/j.1365-2435.1998.00231.x
SOME ABNORMAL FLOWERS OF THE WILD COLUMBINE, Available here: https://www.jstor.org/stable/43476183