Key Points:
Cottonmouths are semi-aquatic and can often be found near bodies of water such as swamps, marshes, and streams.
Cottonmouths are named for the white, cotton-like lining of their mouths, which they display as a warning when threatened.
While cottonmouths are venomous, they are generally not aggressive toward humans and will usually retreat or hide when confronted.
South Carolina is located on the southeastern coast of the United States and is divided into three distinct regions – Piedmont, the Blue Ridge mountains, and the Atlantic coastal plain. As the state has so many different ecosystems, it's no surprise that it is home to a vast array of animals.
Snakes are particularly abundant, and there are 38 different species living in South Carolina – including six that are venomous. One of these venomous snakes is the cottonmouth. So, let's learn all about cottonmouths in South Carolina!
How to Identify Cottonmouths
Cottonmouths are highly venomous snakes that are also known as water moccasins because they are semi-aquatic and spend much of their lives in water. Although both are commonly known as cottonmouths, there are actually two species of these snakes – the northern cottonmouth and the Florida cottonmouth.
These two species live across much of the southeastern region of the US, although Florida cottonmouths only occur in Florida and part of Georgia. However, the species that is found in South Carolina is the northern cottonmouth, although we're simply going to refer to these snakes as cottonmouths for the rest of this article.
Cottonmouths are large snakes that reach 30 to 43 inches long. They have dark bodies, which are usually dark brown with black crossbands. Sometimes they can even be almost completely black, which renders their crossbands impossible to distinguish.
They also have keeled dorsal scales meaning that they all have a raised edge. Young cottonmouth snakes also have a distinctive appearance. Juveniles are light brown with reddish crossband markings and a yellow tip on their tail.
However, the feature that cottonmouths are best known for is their mouth. This is because it is a bright white color that resembles cotton – hence their name. Although we really don't recommend you get close enough to see this coloration, it is most easily observed when the snake is trying to defend itself. This is because cottonmouths open their mouth wide when they are in a defensive position.
Cottonmouth Snake Behavior
Cottonmouths, also known as water moccasins, are venomous snakes that are native to the southeastern United States. They are known for their aggressive behavior and can be dangerous to humans.
Here is what we know about Cottonmouth snake behavior:
Aggression: Cottonmouths are generally more aggressive than other species of snakes, and they will often stand their ground and defend themselves when they feel threatened.
Semi-Aquatic: Cottonmouths are semi-aquatic, which means they spend a lot of time in or near bodies of water such as swamps, marshes, and streams.
Nocturnal: Cottonmouths are primarily nocturnal, which means they are most active at night. During the day, they will often hide in thick vegetation or in burrows near the water's edge.
Diet: Cottonmouths are carnivorous and feed on a variety of prey, including fish, frogs, small mammals, and other snakes.
Finally, cottonmouths are aggressive and potentially dangerous snakes that are known for their semi-aquatic lifestyle and nocturnal habits.
Where are Cottonmouths in South Carolina?
Cottonmouths are excellent swimmers and can live in virtually any wetland habitat – including swamps, ditches, rivers, and streams. As we've already mentioned, there are three distinct regions in the state. However, cottonmouths typically only live across the coastal plain.
In fact, if you stretch a line across the state through upper Chesterfield, Richland, Edgefield, and McCormick counties, then they are usually only found below this line. These snakes are primarily nocturnal and are usually active between April and October, which reduces the likelihood of you running into one.
How Dangerous are Cottonmouths in South Carolina?
Snakes bite approximately 7,000 to 8,000 people in the US every year. However, although they have a bad reputation, there are only around five deaths per year. Although cottonmouths are hailed as being extremely venomous, their bites are actually rarely fatal.
Across the entire US, cottonmouths cause approximately 1% of these bites, although if we only consider their range in the southeastern area, then this rises to 7.3%. Despite this, there are no records of them causing any fatalities in South Carolina.
Cottonmouth Venom
When you think about venomous snakes, you probably don't realize that there are actually several different types of venom that all work in different ways. The four main types are hemotoxic, neurotoxic, cytotoxic, and proteolytic.
Hemotoxic destroys muscles and attacks the circulatory system, while neurotoxic venom attacks the nervous system. Cytotoxic venom kills cells and destroys tissue – often causing necrosis – while proteolytic venom has a wide range of toxic effects and is present in most snake bites, including the other three we've just mentioned.
Cottonmouth snakes have cytotoxic venom, and although this type is generally considered to be less deadly than hemotoxic and neurotoxic venom, it is still highly dangerous. The symptoms of a cottonmouth bite include swelling of the affected area and extreme pain.
Although antivenom is available, speed is of the essence, the most serious bites can cause extensive scarring and even result in the loss of a limb.
Each bite from a cottonmouth snake contains approximately 125mg of venom – which is a high venom yield. However, in some cases, this figure can rise to 237mg. Despite cottonmouth bites rarely being fatal, a lethal dose of their venom is in the region of 100 to 150mg.
What Should You Do if You Are Bitten by a Cottonmouth?
Most snake bites happen when the snake is accidentally stood on or is taken by surprise. Although cottonmouths are not the most dangerous snake in South Carolina (this title goes to the related copperhead), bites do still happen. In fact, as cottonmouths spend such a lot of time in the water, bites from these snakes don't just happen on land – meaning you need to be extra vigilant where ever you are.
Most cottonmouths will try to escape if they are disturbed, and usually, they will try to head back into the water. Therefore, it's important to never get between a cottonmouth and water, but if you do, then you should back away calmly.
Don't attempt to run, as this is more likely to provoke the snake instead. If they can't immediately flee from danger, then cottonmouths will attempt to defend themselves – or at least try to ward off the potential threat.
They do this by moving into a defensive position with their body coiled and their mouth gaping open. This is the position that we mentioned earlier when we talked about them exposing the white inner of their mouth.
If you are bitten by a cottonmouth, then the most important thing is to act quickly and get medical help immediately. Even if you think that the bite is not serious, you should get it checked out, as anti-venom will need to be administered, or it can quickly become more serious.
Other Venomous Snakes in South Carolina
There are five other venomous snakes in South Carolina that present varying degrees of danger. Therefore, we thought we'd give you a quick rundown of these snakes too.
Copperhead
The copperhead is closely related to the cottonmouth and is the most common venomous snake in the state. They occur in a variety of habitats across the three distinct regions of the state. Copperheads are usually 20 to 37 inches long and are pinkish-tan with dark brown crossbands.
Coral Snake
The coral snake has a highly distinctive appearance with its bands of red, yellow, and black. They are fairly small at 20 to 30 inches long and are secretive, which means they are rarely seen. However, they are fairly widespread across the state and live in most habitats.
Eastern Diamondback Rattlesnake
The largest venomous snake in South Carolina is the eastern diamondback rattlesnake which is 33 to 72 inches long. These snakes are brown with dark brown or black diamond-shaped markings. They live in pine flatwoods, hills, and grasslands across the lower regions of the state.
Timber Rattlesnake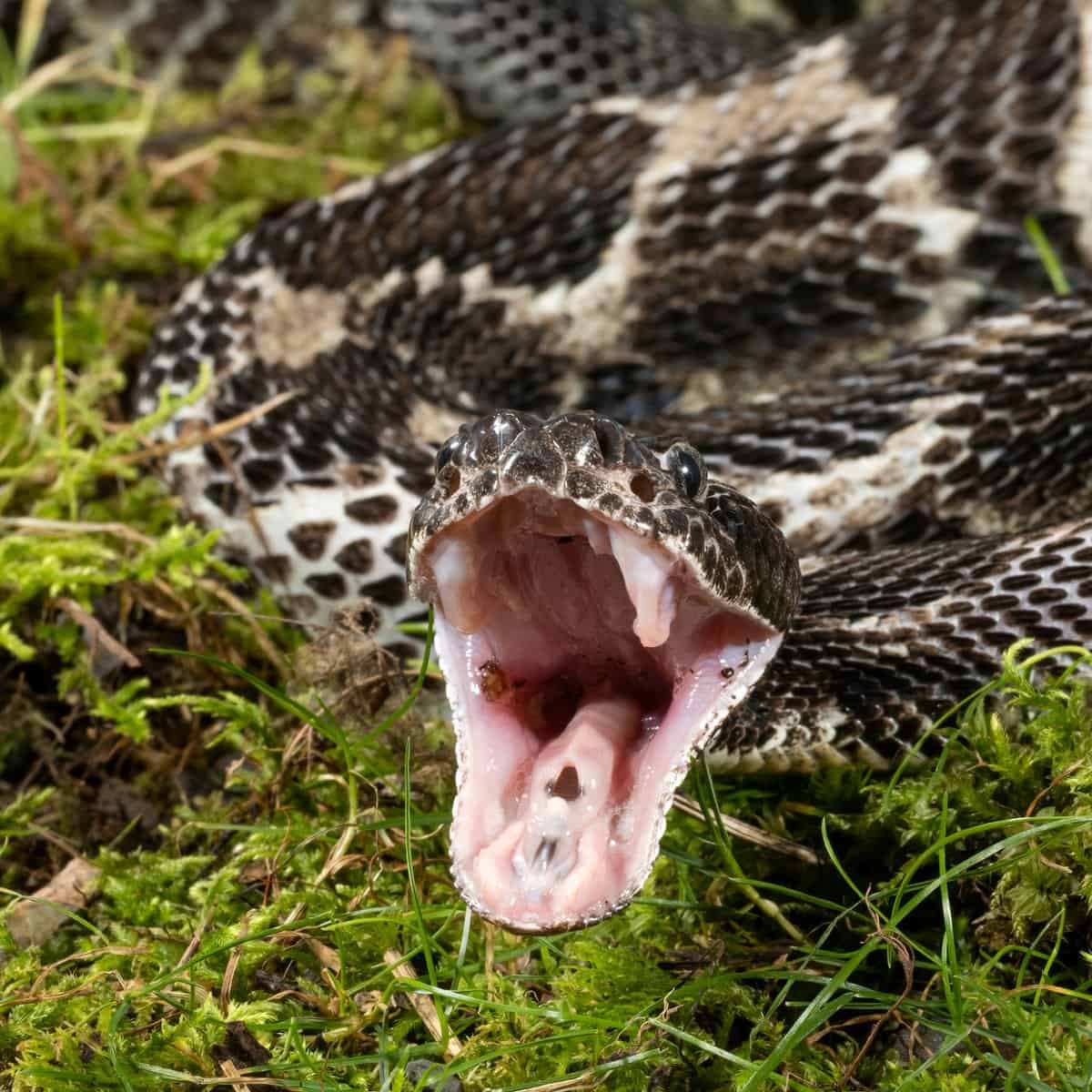 The timber rattlesnake is another large rattlesnake at 36 to 60 inches long. Timber rattlesnakes are brown with black or dark brown crossband markings. They are widespread across the state and prefer forests and rocky outcrops.
Pygmy Rattlesnake
The final venomous snake is the pygmy rattlesnake which is also the least dangerous. These snakes are small – reaching only around 15 to 25 inches long. Therefore, they don't produce enough venom to be a serious threat to healthy adults.
They are usually grey with dark brown or black blotches on their bodies and often a red stripe too. Pygmy rattlesnakes live everywhere in South Carolina except the mountains.
Bonus: Which State Is the Most Snake-Infested in the U.S.?
Your chances of encountering a venomous or nonvenomous snake will depend on which state you live in. Three U.S. states actually have no snakes at all–Alaska, Hawaii, and Maine. There are definitely some states where snakes seem to dominate in terms of species and numbers.
What state ranks highest for being snake-infested? That would be Texas, with a whopping 68 snake species! Venomous snakes in the state are several rattlesnake species, copperheads, cottonmouths, and Texas coral snakes. Nonvenomous snakes include the Texas indigo, Texas brown snake, Texas blind snake, and one of the most numerous–the Texas rat snake. The greatest concentration of snakes is in central Texas.
The top 10 most snake-infested states are as follows:
| Rank | State | # of Species |
| --- | --- | --- |
| 1 | Texas | 68 |
| 2 | Arizona | 52 |
| 3 | Nevada | 52 |
| 4 | Louisiana | 48 |
| 5 | Missouri | 47 |
| 6 | New Mexico | 46 |
| 7 | Oklahoma | 46 |
| 8 | Georgia | 46 |
| 9 | Florida | 44 |
| 10 | Alabama | 43 |
The photo featured at the top of this post is © Linda Burek/Shutterstock.com
Discover the "Monster" Snake 5X Bigger than an Anaconda
Every day A-Z Animals sends out some of the most incredible facts in the world from our free newsletter. Want to discover the 10 most beautiful snakes in the world, a "snake island" where you're never more than 3 feet from danger, or a "monster" snake 5X larger than an anaconda? Then sign up right now and you'll start receiving our daily newsletter absolutely free.
---
Sources

Live Science, Available here: https://www.livescience.com/43597-facts-about-water-moccasin-cottonmouth-snakes.html#:~:text=%22Like%20all%20pit%20vipers%2C%20%5B,which%20is%20often%20potential%20prey.
Center for Disease Control and Prevention, Available here: https://www.cdc.gov/niosh/topics/snakes/default.html#:~:text=Each%20year%2C%20an%20estimated%207%2C000,than%20to%20die%20from%20them.
National Library of Medicine, Available here: https://www.ncbi.nlm.nih.gov/books/NBK546645/