Massachusetts's deer season is typically open from early October until the end of the year. Massachusetts has 15 Wildlife Management Zones (WMZ), which all have different regulations. The zones are established based on their capacity to support the deer population.
The number of antlerless permits available for each zone changes yearly depending on the need to reduce or increase the population. The zones have the same season dates for both the shotgun and primitive firearms seasons, with slightly different dates for the Archery season. Plus, the state has specific seasons for young hunters and those with disabilities.
Below we will summarize the different seasons, licenses, permits needed, and different regulations for hunting deer in Massachusetts. This guide should assist new and old hunters in the woods this year.
Hunting Licenses and Permits
All hunters over 15 who want to hunt in the state must obtain a Massachusetts deer license. All residents must purchase either a Resident Hunting license or a Resident Sporting license. The sporting license is a combination of fishing and hunting licenses.
A discounted resident Minor Hunting License is available for children ages 15-17, and a discounted license for resident seniors over the age of 65 is also available. Note that children under 12 are not allowed to hunt in Massachusetts. Hunters that do not permanently live in Massachusetts must purchase a nonresident license, even if they have a valid license from another state.
Nonresidents must purchase a non-resident Big Game Hunting license to deer hunt in the state. Both the hunting or sporting license for residents and the Big Game hunting license for non-residents includes two antlered deer tags. The annual bag limit for antlered deer is two, corresponding to the two tags that come with the licenses.
Additional Stamps and Permits
In addition to the base hunting license, additional stamps or permits are required depending on the season or if you want to harvest antlerless deer. All hunters must purchase a Wildlands Stamp with their license. An archery stamp is required to hunt during the archery season.
Similarly, a primitive firearms stamp is required to hunt during the primitive firearms season. To harvest an antlerless deer, hunters must have an antlerless deer permit. A certain number of antlerless deer permits are allocated for each WMZ and are awarded by an application process and drawing. These permits are issued for each WMZ and cannot be used in a different WMZ. Each permit comes with a tag for one antlerless deer. To obtain one, hunters must apply for them by July 16. Hunters may only apply for one permit per zone.
After Aug 1st, hunters may return to the online system or the vendor where they applied to see if they are awarded the permit. If permits remain after the drawing period, sale dates will be announced in August. Only one antlerless deer can be harvested with each license since they come with only one tag.
Hunter Education Requirements
Hunters buying a license for the first time must have completed a hunter education course. The course can be taken from another state, or hunters can present a hunting license from any state that was issued before 2007. The course is available in Massachusetts in three different formats. A blended version includes an online study guide and an in-person field day. An independent study includes an in-person introductory class with a homework assignment before an in-person field day.
A traditional class is also available that is entirely in-person and spans multiple days. All courses are free of charge and open to the public.
Deer Season Types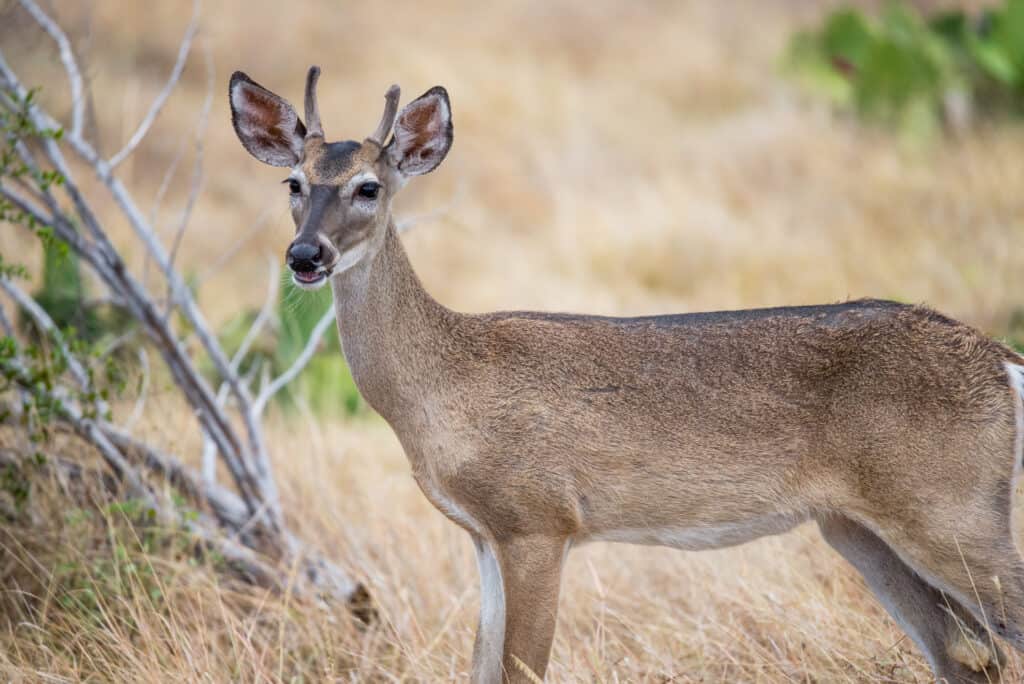 Massachusetts has three deer seasons: shotgun, archery, and primitive firearms. Separate from these, two seasons are dedicated to young and disabled hunters. The initial season is the Youth Deer Hunt which occurs on the fourth Saturday following Labor Day. It is only open for a single day.
The Paraplegic Hunt is three days between the last Monday in October and the following Saturday. Archery season in WMZ 1-9 begins on the sixth Monday before Thanksgiving and ends on the first Saturday after Thanksgiving. Archery season in WMZ 10-14 begins on the eighth Monday before Thanksgiving and ends the first Saturday after Thanksgiving.
The shotgun season begins the first Monday after Thanksgiving and ends the second Saturday thereafter. Finally, the Primitive Firearms Season begins the third Monday after Thanksgiving and ends on December 31st.
Regulations for Different Seasons
Each season type has rules for the weapons and different methods that hunters can use. Some may not be open to all hunters. Instead, several seasons are for youth hunters or hunters with disabilities only. Let's look at the different seasons below.
Youth Hunt
Only youth hunters between 12 and 17 may hunt in this season. Youth hunters ages 12-14 do not need licenses or stamps to hunt in this season, but a licensed adult that is at least 18 years old must accompany them. The adult can only accompany one youth at a time.
Youth hunters ages 15-17 must have the proper licenses and stamps. If the youth hunter in this age group has a Basic hunter education certificate, they may hunt without adult supervision. If they do not have a basic hunter education certificate, they must be accompanied by an adult.
Firearms other than shotguns are allowed in this season, but hunters must follow the Massachusetts firearms license laws. The youth hunter may also use archery equipment. One deer is allowed to be harvested in this season.
Paraplegic Hunt
This season is set aside as a special deer hunt for hunters with paraplegia. Contact the Massachusetts Wildlife Field headquarters at 508-389-6300 for details on this season.
Archery Season
In this season, archery weapons such as compound bows, recurve bows, and longbows may be used. Hunters with special disability permits may only use crossbows. All bows must have a draw weight of at least 40 pounds at 28 inches or peak draw.
Arrows must have sharp broadheads at least 7/8 of an inch wide. Expanding type broadheads are allowed. Firearms of any type are not allowed during the archery season.
Shotgun Season
During this season, modern shotguns can be used. Shotguns must be smaller than ten gauge and can have rifled barrels. Legal archery equipment can be used during this season. However, other firearms are not allowed.
Primitive Firearms Season
In Primitive Firearm Season, you can use shoulder-fired muzzleloading firearms. They must only be able to be loaded from the muzzle end of the barrel, use black powder or a substitute, and have a single barrel that is between .44 caliber to .775 caliber and at least 18 inches long. Single projectiles must be used (no buckshot).
Inline ignition systems, 209 primers, break/hinge-action muzzleloaders, and scopes are all allowed. Archery equipment is also allowed during this season. You may not use any modern firearm during this season.
Essential Regulations
Hunters have specific rules and regulations that must be followed while hunting deer in Massachusetts. A few of the notable ones are listed below.
All deer hunters must wear blaze orange regardless of how they are hunting. During archery season, a blaze orange hat is required. During Youth Hunt Day, Shotgun season, and Primitive Firearms season, at least 500 square inches of blaze orange must be worn on the chest, back, and head.
Hunting on private land that is not posted is allowed. However, as a courtesy, hunters should ask the landowner's permission.
Using a tree stand that is fastened to a tree by nails, bolts, wire, or other fasteners and is intended to be in place for more than 30 days on private land requires written permission from the landowner.
It is unlawful for a hunter to intentionally leave a wounded or dead deer without reasonably attempting to find and retrieve it.
Residents aged 15 years and older must have a Firearms Identification Card (FID) to possess a low-capacity rifle or shotgun. A License to Carry (LTC) must possess a large-capacity rifle or shotgun and all handguns. Local Police Departments issue these.
Non-residents do not need a Massachusetts gun license to possess or transport long guns. Firearms should be unloaded and locked in a case while traveling in the state. Non-residents may not purchase firearms or ammunition in Massachusetts. For handguns, non-residents must have a temporary non-resident handgun permit.
Artificial lights to assist in hunting deer are not allowed. Using bait to attract deer within ten days of the start of the season is not allowed. Shooting a firearm or arrow across or within 150 feet of any state or hard-surface roadway is not allowed.
Hunting, discharge of a firearm, or possession of a loaded firearm is not allowed within 500 feet of any dwelling or building that is in use unless the hunter has permission from the owner or occupant. Electronic calls used to attract deer while hunting is not allowed. Hunting on Sunday is not allowed.
Using a vehicle or aircraft to hunt deer and possessing a loaded shotgun or rifle in or on any vehicle is not allowed. Using dogs to assist with hunting deer is not allowed. Hunting hours begin one-half hour before sunrise and end one-half hour after sunset.
Antlered deer are defined as deer with at least one antler three inches long. Antlers are measured in a straight line from the center of the front base of the antler burr to the tip.
Chronic Wasting Disease Concerns in Massachusetts
Chronic Wasting Disease (CWD) is an extremely fatal and contagious neurological disease that is found in the cervid family. This family includes elk, deer, and moose. CWD causes brain malfunction, causing weight loss, abnormal behavior, and death. A mutated protein causes this disease. Infected deer may spread the disease through saliva, urine, and feces for months before showing any symptoms. The prions that cause the disease can stay in the soil for years.
CWD has been found in multiple states and provinces. As of 2022, CWD has not been found in Massachusetts. Certain restrictions for transporting deer and deer parts into the state have been implemented to prevent the disease from entering the state.
If you harvest a deer outside of the state, it is illegal to import the entire carcass if it was harvested from states or provinces where CWD has been detected. To bring your deer into the state, it must be fully processed into deboned meat, cleaned skull caps, hides without the head, or a completed taxidermy mount.
This applies to all animals in the cervid family, including white-tailed deer, mule deer, moose, caribou, elk, or any other deer. If you see a deer in Massachusetts that appears sick and has any CWD symptoms, note the location and report it to the MDFW.
While health officials have not found that CWD affects humans, precautions should be taken when touching a deer. When field dressing a deer, be sure to wear rubber or latex gloves. Afterward, wash your hands and sanitize your tools. If you suspect the deer you harvested may be sick, have it tested and keep the meat separated until you have the results. Avoid handling parts such as the brain, spinal column, or lymph nodes. These parts may have concentrated levels of the prion.
If the deer test positive for CWD, it is recommended not to eat the meat.
Tagging and Transporting
Once you have harvested a deer, you must immediately fill out and attach the paper tag from your permit or license to the deer carcass. The deer can then be field dressed and transported. When transporting, some portion of the deer must be visible until it has been reported. Within 48 hours of harvest, you must report the deer online through MassFishHunt or at an official game check station.
The issued confirmation must be written on the harvest tag attached to the carcass if it is reported online. The deer must remain intact with the tag attached and cannot be processed until it has been reported. During the first week of Shotgun season, all harvested deer must be taken to an official check station and cannot be reported online.
Up Next
The photo featured at the top of this post is © Steve Byland/Shutterstock.com
---