Key Points:
King County contains more than 100 of Washington's nearly 8,000 lakes and is home to Lake Sammamish, Deep Lake, Green Lake, and Snow Lake.
Lake Washington is King's County's deepest lake, with a maximum depth of 214 feet, as well as the second-largest lake in the state.
The lake has historically had low water quality, with sewage effluent found from the 1940s to the 1960s, and blue-green algae present in the 1970s.
With more than two million residents, King County is Washington's most populous county. It's famous for its impressive geographical diversity. You'll find crowded urban areas on the shores of the massive saltwater estuary Puget Sound, while isolated towns occupy the Cascade Mountains' lower hills. King's eastern half boasts vast forestlands and watersheds guaranteeing continuous drinking water supply. 
But there's still a lot more to King. It's home to more than 100 of Washington's nearly 8,000 beautiful lakes. Whether artificial or natural, all these magnificent water bodies have distinct features that set them apart and add to their charm. Take, for instance, Calligan Lake, which is stowed away in the lower regions of the 90,000-acre Snoqualmie Tree Farm. It's among the county's most spectacular alpine lakes, with many trails awaiting hikers to explore.
The lakes in King County also come with different depths. Eager to know the deepest one? You've come to the right place. Read on to discover its identity, history, and invaluable information about fishing in the water body. We'll also discuss other well-known lakes in this part of western Washington. 
Which Is the Deepest Lake in Washington's King County?
Lake Washington is King's County's deepest lake, with a maximum depth of 214 feet. When it comes to size, it also takes the prize as it sits on 21933.6 acres, making it the largest lake in the county and the second-largest one in the state. This narrow and long water body has more than 50 miles of shoreline. On top of that, it boasts a couple of crossing bridges, including the Evergreen Point Floating Bridge, the Lacey V. Murrow Memorial Bridge, and the Homer M. Hadley Memorial Bridge. 
Although the area around Lake Washington experiences occasional snowfall in the winter, the weather is usually mild, an aspect that draws many people to the water body. To the west, it borders Seattle and is about 16 minutes away from the city center. Additionally, the lake is adjacent to Kirkland and Bellevue on the east, Kenmore on the north, and Renton on the south. 
The Sammamish (from the north) and Cedar Rivers at the south mainly feed Lake Washington, but many other tributaries also supply it with water, including: 
May Creek
Juanita Creek
Ravenna Creek
Coal Creek
Forbes Creek 
Yesler Creek
Mapes Creek
Fairweather Creek 
McAleer Creek
Yarrow Creek
Lyon Creek
Thornton Creek.
Water Quality in Lake Washington
Lake Washington had low water quality between the 1940s and 1960s, when sewage effluent was found in it; human and biological activities were to blame. Then, the lake also had a lot of blue-green algae in the early 1970s, making its water unsafe for drinking, swimming, and agricultural use. 
Sadly, despite numerous comprehensive studies by biologists such as George Anderson and the late Dr. W.T. Edmondson, much hasn't changed, as Lake Washington's water is still not entirely safe. For instance, in 2022, King County officials warned swimmers to steer clear of two of its beaches following a sewage spill. 
Furthermore, Seattle Parks and Recreation advised pet owners to keep their furry pals away from Lake Washington's water. The government office divulged that dogs were more likely to fall ill after drinking it. Also, at least four of the lake's swimming areas were shut down because of high bacterial alerts, including Meydenbauer Bay Park and Gene Coulon Memorial Beach Park. 
History of Lake Washington 
Lake Washington is among the oldest natural lakes in King County, as it has been around for centuries. It got its name in 1854 when the Seattle pioneer Judge Thomas Mercer proposed it to honor the first U.S. president George Washington. 
This deep lake has undergone various modifications throughout the years, some triggered by the blockage of its natural outlet, the Black River, in 1916. This was when Cedar River, Seattle's primary drinking water source, was redirected into the water body to boost inflow. Furthermore, its shoreline mostly has urban and residential properties, with only a few commercial developments. But years ago, the latter occupied a large portion of the lakeshore.  
Lake Washington's adjustments have significantly transformed its features. For instance, changing its water supply source lowered its level by approximately 10 feet and reduced its shoreline length by roughly 12.8%. Because much of the woody debris at its shore was removed, only its northeast part has retained its natural allure. 
Fishing on Lake Washington 
King County's Lake Washington embraces anglers throughout the year. You'll find many fishing piers around this lake, which host these species: 
Black crappie
Largemouth bass
Coastal cutthroat trout
Signal crayfish
Coho salmon
Tench
Threespine stickleback
Largescale sucker.
Note that while some of these species are known to inhabit Lake Washington, they're not always available. For example, the sockeye salmon's population rides on returning species, meaning that sometimes, it might take you hours to catch a live specimen. 
At the same time, beware of some poisonous fish species in Lake Washington. The Washington State Department of Health has advised people against eating the northern pikeminnow due to PCB contamination. This protects them against adverse health effects like cancer, liver damage, and developmental and reproductive problems. 
Where Is Lake Washington Located on a Map?
Lake Washington, situated next to the city of Seattle, is a substantial body of freshwater. It holds the distinction of being the largest lake in King County and the second-largest naturally occurring lake in Washington, following Lake Chelan.
Here is Lake Washington on a map:
Other Lakes in Washington's King County 
Most lakes in King County are known for their beautiful scenery and tranquility, which enable you to relax and appreciate nature. Aside from Lake Washington, you have countless others to tour. Looking for some recommendations? Consider these 10 other incredible lakes in the region.
1. Lake Sammamish
Situated east of Seattle and Lake Washington, Lake Sammamish is a popular freshwater lake with a maximum depth of 105 feet and a surface elevation of 30 feet. Many people visiting it are nature enthusiasts hoping to discover wildlife, including the many salmon species that call it home.
Lake Sammamish is Washington's sixth-largest lake. While the Issaquah Creek feeds it, the Sammamish River drains it. Around this body of water is the 531-acre Lake Sammamish State Park, with two picturesque lakefront beaches and a deciduous forest with many trails for those who love hiking. It is also a fantastic location for bikers, birders, and boating enthusiasts. If you bring your dog along, you are required to keep your pet on a leash and you must keep the animal away from designated swim places.
Many of Lake Sammamish's visitors are captivated by its cultural significance. Various Native American tribes frequently congregated around the area surrounding it.
2. Lake Meridian
With a surface elevation of 372 feet and a depth of 90 feet, Lake Meridian is another freshwater lake in King County. It's located in Kent, an urban community with more than 2,000 residents. Being a part of Lake Meridian Park, it receives thousands of visitors yearly, but mainly during the summer. More often than not, they engage in watersports such as:
Canoeing
Fishing (including two-pole fishing)
Boating
Swimming
Paddling.
Some fish species living in Lake Meridian include Kokanee, brown bullhead, largemouth bass, yellow perch, and rainbow trout. Visitors will also find a playground, a large sheltered area, and restrooms available.
3. Langlois Lake
This 98-foot deep freshwater lake occupies a 40.6-acre piece and is known for its clear waters and minimal algal growth. It offers easy access to its shore and many opportunities to boat and fish. Speaking of which, most anglers exploring Langlois Lake catch largemouth bass, rainbow trout, and kokanee. Unfortunately, camping is prohibited here. But you can hang out at the shore interacting with other anglers and nature lovers or enjoying the breathtaking scenery.
4. Deep Lake 
At a depth of 76 feet, Deep Lake boasts a decent population of rainbow trout, resident coastal cutthroat trout, and kokanee. If the odds are in your favor, you can also catch other species, including largemouth bass, black crappie, brown bullhead, and yellow perch.
On the shore of Deep Lake lies the Nolte State Park, which offers diverse entertainment opportunities. For example, there are a couple of picnic tables and grills. Take advantage of them to prepare and enjoy recipes like chili beef and burgers, pork chops, and salads with your loved ones. Be sure to enjoy the scenic lake views while your kids play at the massive playground. 
The Nolte State Park requires you to make a reservation to access it. On the upside, you can come here during all seasons, including the winter, although the restrooms are usually closed. Because it's off-season and the guest numbers are limited, you can spend quality time alone.  
5. Pipe Lake
Sitting near the Lakewood Estates and Autumn Bay neighborhoods, Pipe Lake is a 65-foot deep private lake covering 52 acres. These are the species most anglers hook:  
Rainbow trout
Kokanee
Black crappie
Smallmouth bass.
Pipe Lake is next to the 16-acre Lake Lucerne and about 12 minutes from the 120-acre Cedar Creek Park. This forested area has hundreds of plant species, including Douglas firs, cedars, western Hemlocks, giant maples, azalea, and rhododendron. 
Other attractions near this lake are the Lake Wilderness Arboretum, with more than 200 species of western azalea, and the Lake Wilderness Golf Club, which welcomes novice and experienced golfers. 
6. Lake Youngs 
Found between Renton and Maple Valley, Lake Youngs is a man-made lake established in the 1920s. The Cedar River supplies it with water, which is handy for residential and commercial use. Additionally, three dams, which the Washington State Dam Safety Office regulates and maintains, surround this reservoir. 
Contrary to some water bodies in King County, only authorized guests and staff can visit Lake Youngs, explaining why it's fenced off. Still, the trail looping around it makes an excellent locale for hikers. Moreover, the 72-foot deep reservoir is close to more amazing destinations, including these restaurants: 
Peyrassol Café – Serves European and French cuisine, including vegetarian-friendly dishes. 
Melrose Grill – Offers American cuisine like steak and gluten-free options. 
Montalcino Ristorante Italiano – Great for Italian cuisine lovers. 
Jimmy Mac's Roadhouse – Has a steakhouse and bar and prepares American cuisine. 
Red House Beer & Wine Shoppe – Serves American cuisine and a wide range of tasty wines. 
Regrettably, the Lake Young Trail doesn't offer the most amazing lake views. Since many people don't use it, it's perfect for hikers, runners, and dog walkers who dislike crowds. 
7. Lake Desire
Otherwise known as Echo Lake, this watershed boasts a surface elevation of 495 feet and a maximum depth of 21 feet. Although it's undeveloped, it provides good water quality and opportunities to indulge in the following: 
Fishing (species in the lake are largemouth bass, rainbow trout, black channel catfish, and pumpkinseed)
Hiking
Boating
Mountain biking.
Like Langlois Lake, Lake Desire has clear water but high algal growth. 
8. Green Lake 
The 30-foot deep Green Lake is within Green Lake Park. Although it lacks a boat launch, its shoreline access is good, and there's a fishing pier. This glacial lake is stocked with more than 30,000 rainbow trout yearly, making it a good spot to catch the species. You'll also find many others, including rock bass, common carp, pumpkinseed sunfish, channel catfish, brown bullhead, and largemouth bass.
Of course, you might not hook some of these species because their availability differs. For example, the rainbow and brown trout populations are enormous, so you'll likely catch many. However, channel catfish are rare, meaning you must be patient to find some.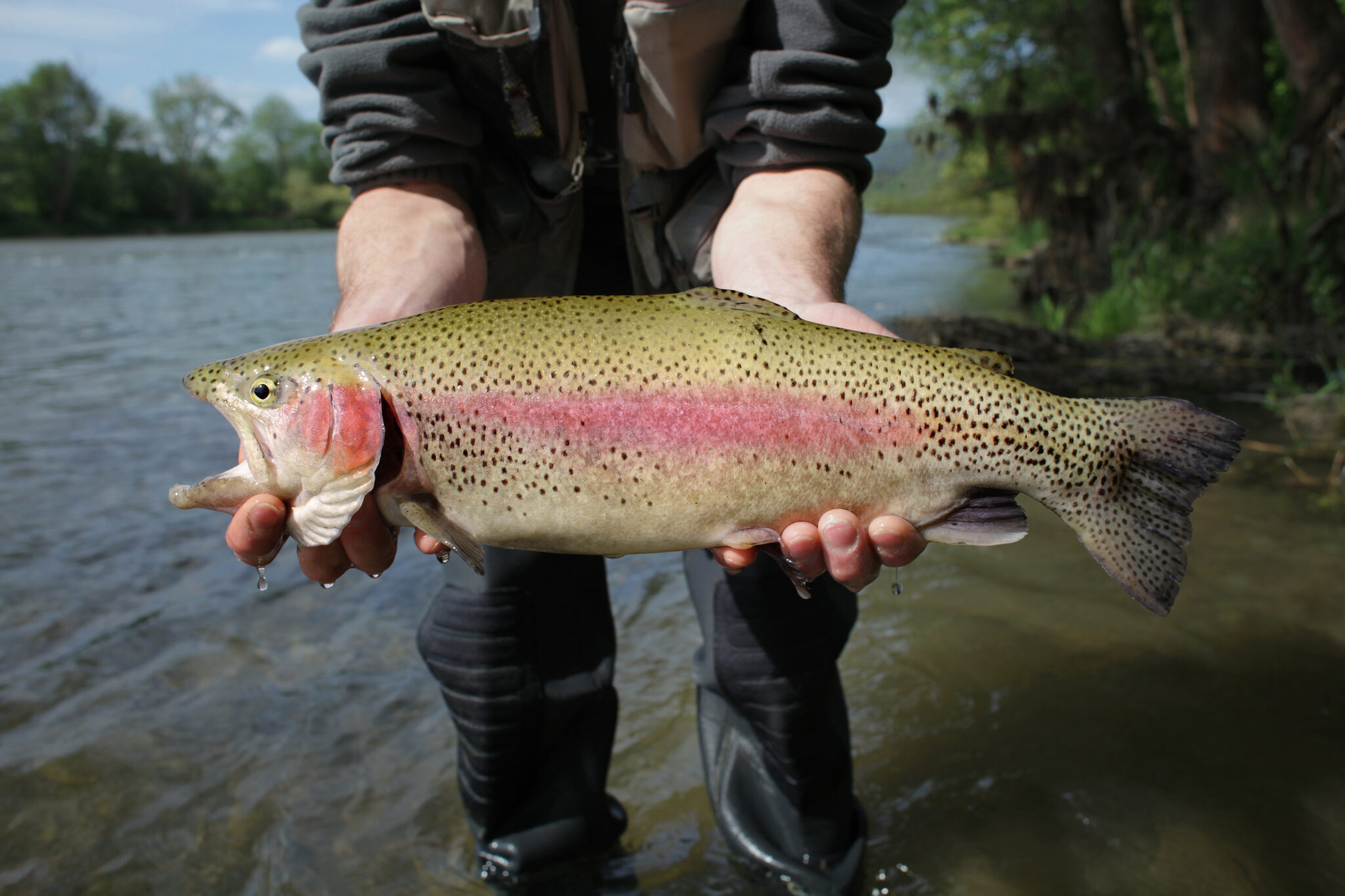 Amenities at Green Lake Park
Even if you don't fancy fishing, you can still have a great time around Green Lake. These are some of the amenities that make the surrounding park more enjoyable: 
Basketball courts
Soccer fields
Wading pools 
Swimming beaches 
Baseball fields
Tennis courts
Drinking fountains 
Grills
Hand-carried boat launches 
Restrooms.
Green Lake Park also has an indoor pool you can take advantage of when you don't want to swim outdoors. 
9. Pine Lake
Pine Lake in Sammamish is less than 30 minutes away from downtown Seattle. It's among the 10 water bodies in King County with a seasonal fishing closure. In early spring, anglers catch plenty of trout, but their population decreases as the season progresses due to harvesting. Plus, the fish are cold-water species, so they usually move to seek refuge in low-temperature areas. 
Many anglers don't explore Pine Lake in the fall, although it has plenty of fish that grow throughout the summer. Nevertheless, Pine Lake Park on the lake's east shore attracts swarms of locals and tourists owing to its impressive amenities. The latter includes a boat launch, playgrounds, basketball courts, picnic spots, and climbing walls. 
10. Snow Lake 
Ranked among King County's most visited locations, Snow Lake is an alpine lake regularly stocked with rainbow trout for anglers. Even so, that's not it's only draw, as it boasts beautiful scenery, hiking trails, and established campsites. This area experiences heavy snowfall during winter, so make sure to prepare adequately if you're coming here then. For instance, you can wear your snowshoes and warm clothing to facilitate mobility and enhance comfort. 
Because Snow Lake is in Mount Rainier National Park, explore it to see more than 100 flower species, including the rampion bellflower. Additionally, consider dining at Paradise Inn, the historic structure with a restaurant serving guests all day. 
Make the Most of Lakes in King County, Washington 
Undoubtedly, lakes in King County are worth your time, whether it's the deepest one, Lake Washington, or shallow options like Pine Lake. From fishing, hiking, camping, and discovering countless plant species, these diverse water bodies have something in store for everyone.
Once you choose the lake you want to visit, plan your excursion carefully. Be sure to leave your home or hotel room early so you'll have ample time to enjoy yourself. You can self-drive, walk or hire a taxi, depending on how far you are from your preferred waterbody or what you deem convenient.
---