Pennsylvania has over 2,500 lakes making it a prime fishing destination for largemouth bass. The largemouth bass is impressive to catch and hold, easily exceeding 30 inches long!
Are you curious about the record for the largest largemouth bass caught in Pennsylvania? Continue reading to discover the largest largemouth bass ever caught in Pennsylvania!
What is the Largest Largemouth Bass Ever Caught in Pennsylvania?
Can you believe that the record for the largest largemouth bass ever caught in Pennsylvania happened about thirty years ago? Donald Shade in 1983, caught the largest largemouth bass in Pennsylvania. This impressive largemouth bass was 11 lb, 3 oz!
While Donald Shade is not a household name, he amazingly caught the largest largemouth bass in Birch Run Reservoir. Donald Shade struggled hard to reel in this heavy fish and swore it weighed over thirty pounds, although it only weighed about 11lbs.
Are Largemouth Bass Common in Pennsylvania Lakes and Rivers?
Largemouth bass are native to Pennsylvania waters, but they are not easy to locate. These large fish swim up to 12 miles per hour and 20 miles per hour in short bursts. Bass season in Pennsylvania begins in the early Summer as these fish prefer warm rivers and lakes.
It is hard to catch largemouth bass in Pennsylvania, but you may have better luck using large live bait as the movement in the water attracts the eyes of these beautiful large fish.
Where Can You Find the Most Largemouth Bass in Pennsylvania?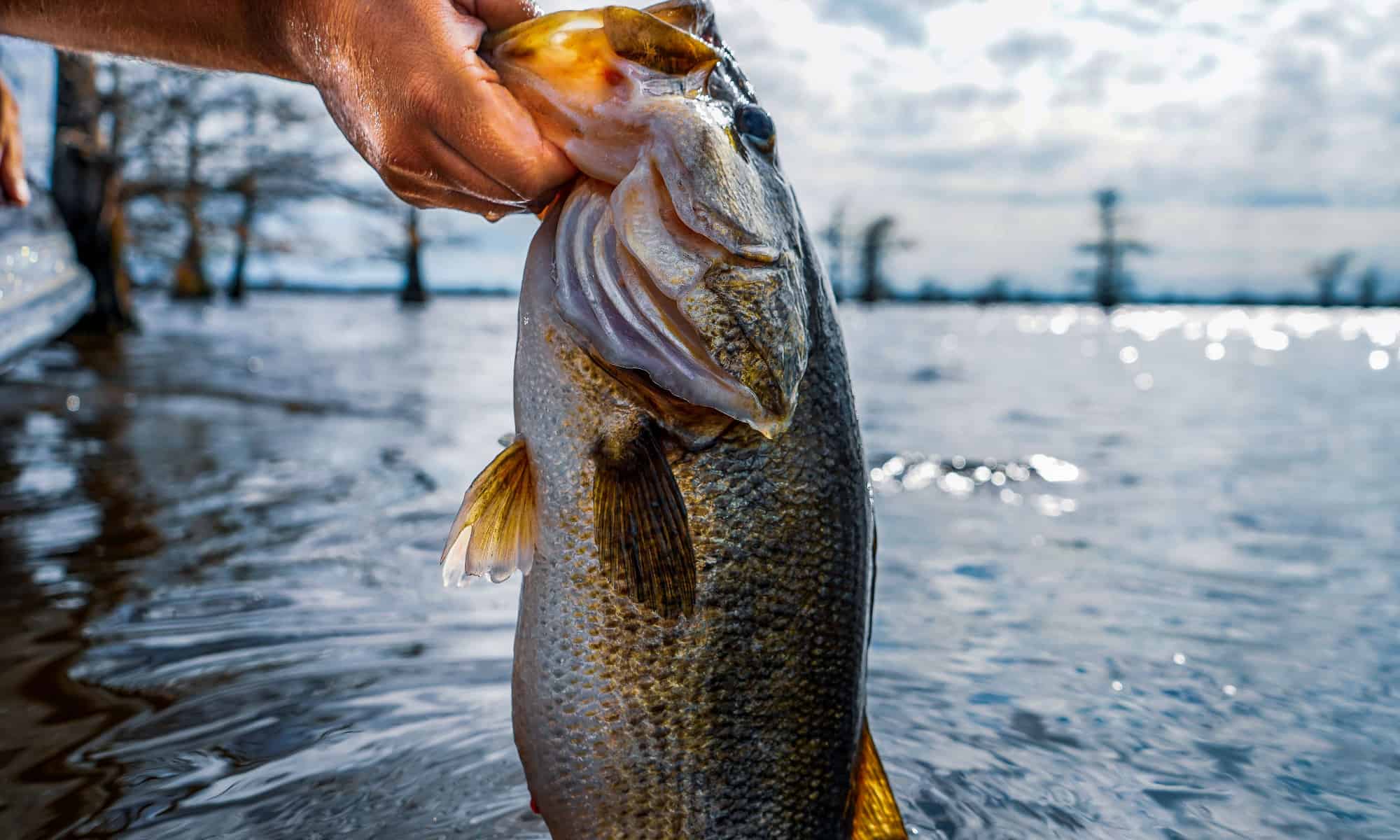 Not all freshwater lakes have the same potential. If you are looking for the best chances of finding the most largemouth bass in Pennsylvania, feast your eyes on Blue Marsh Lake and Lake Wallenpaupack.
Usually, smallmouth bass hang around Lake Wallenpaupack, but most largemouth bass live and eat near the Ledgedale Recreation Area in the southern part of the lake.
Largemouth bass hang around waters filled with small fish to feast on, like sunfish and shiners. Amazingly, largemouth bass have huge appetites and can eat fish up to half of their size.
What is the Lake with the Largest Largemouth Bass in the World?
While Donald Shade is the reigning king for catching the largest largemouth bass in Pennsylvania, he does not hold the world title. Instead, the largest largemouth bass caught was 22 pounds and 4 ounces.
Can you believe that the largest largemouth bass in the world was caught almost 100 years ago? George Perry in Montgomery Lake in Georgia caught the 22-pound fish in 1932.
In 2010, Manabu Kurita surprised fishers worldwide by tying with Donald Shade for first place by catching 22.5-pound largemouth bass in Japan! Since the difference was not two pounds heavier, the two are tied. Who knows when someone else will come and beat Shade and Kurita for the largest largemouth bass catch?
Top 5 Best Fishing Lakes in Pennsylvania
Pennsylvania has some breathtaking water views and some of the best fishing lakes in the nation. If you are looking for your next fishing destination, keep on reading! Maybe you will be lucky and find yourself catching the next largest largemouth bass.
1. Shenango River Lake
Anglers from all around the United States travel to Shenango River Lake for a beautiful destination and a great chance to find bass and walleye. Boating is a super popular recreational activity and sport in the area. There are even six large boat launch ramps.  
As popular as largemouth and smallmouth bass are, you can find a lot more fish in the Shenango River like muskellunge and hybrid striped bass. With 3,500 acres of fishing space and wildlife spotting, you won't get bored enjoying your time at this beautiful lake.
2. Lake Wallenpaupack
Lake Wallenpaupack is an impressively large lake in Pennsylvania with a shoreline of 799 miles. The lake covers 5,700 acres and is known for its diverse fishing population. This reservoir is not natural, but don't let this fact fool you since it is a fishing paradise surrounded by friendly small towns. 
The Wallenpaupack Historical Society takes care of the museums and heritage sights near Lake Wallenpaupack. If you want to take a break from fishing, there are dozens of well-cared-for trails surrounding the lake where bird-watching is common.
3. Lake Erie
Lake Erie makes this list as an amazing fishing lake in Pennsylvania because of how massive the fish population is. This beautiful freshwater lake has over 107 fish species, including the largemouth bass, smallmouth bass, king salmon, walleye, and lake trout.
Every year up to 1.5 million fish are caught in this large body of fresh water. Experts recommend going into the deeper waters of Lake Erie to increase your chances of catching fish. Lake Erie is also the fourth largest lake in the United States, and some of the deepest areas are over 200 feet deep! What could be hiding at the bottom?
4. Lake Nockamixon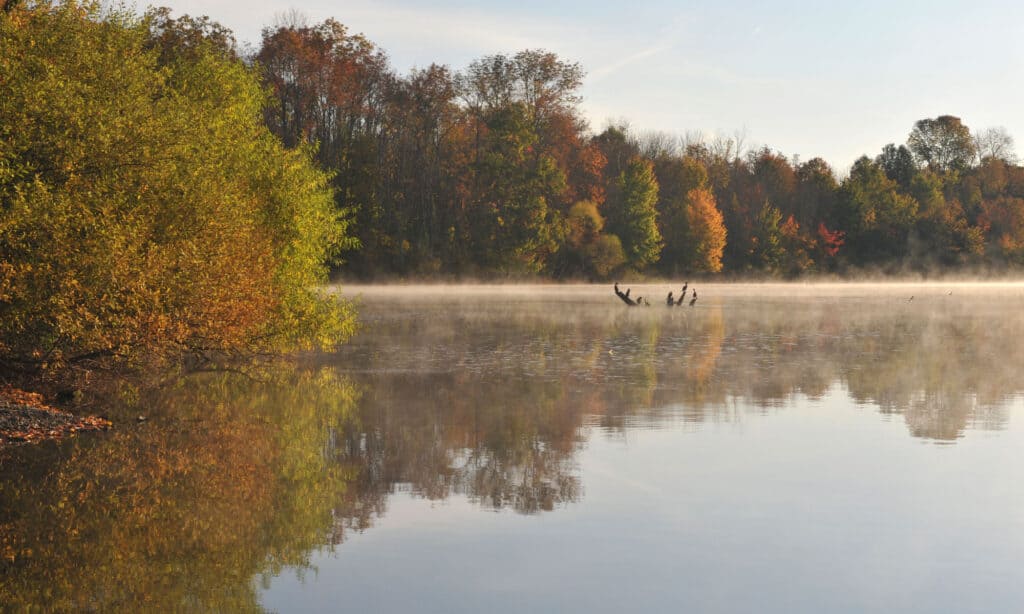 Just an hour away from Philadelphia is Lake Nockamixon. This lake is impressive at 1,450 acres and has a massive population of catfish, sunfish, and bass. The possibilities are endless when it comes to fishing in Lake Nockamixon. There is a 20-hp limit for boats so that the water is peaceful and quiet for fishers.
Fishers have an option between deep lake fishing and shoreline fishing. Well-maintained hiking trails lead to beautiful and clean shoreline fishing spots. Even in the Winter, when the weather permits and the conditions are safe, Pennsylvania gives you permission to ice fish.
5. Raystown Lake
A popular 29,000-acre wedding venue and outdoor family spot is Raystown Lake in Pennsylvania. This massive lake is situated between tall green mountains and lots of wildlife. Schools of fish travel throughout the large lake. 
Canoes and kayaks are popular deep lake fishing options as they do not disturb the water. On the lake, there are playgrounds, nature trails, and camping sites. Fishers can test their luck for largemouth bass, Atlantic salmon, and muskie fish in Raystown lake.