Georgia is located on the southeastern mainland of the U.S., not to be confused with the country at the intersection of Asia and Europe, also known as Georgia. Furthermore, this state borders Tennessee, North and South Carolina, Alabama, Florida, and the Atlantic Ocean. Georgia has a humid, subtropical climate with unbearable hot and humid summers and mild winters. However, in the far north, like the Blue Ridge Mountains, where the weather is colder. In fact, it often snows there in the winter. The state's average temperature ranges from 50 to 60 degrees Fahrenheit in the winter and low 90s in the summer. However, some counties receive a lot of rainfall, but the rainiest place in Georgia is Clayton.
The Rainiest Place in Georgia
Clayton is the rainiest place in Georgia, with 130 days and 71.7 inches of rain per year. In addition, Clayton is also situated in the wettest county in Georgia, Rabun County. This quaint little town sits on the edge of the Blue Ridge Mountains, only two hours north of Atlanta. Additionally, the town is a gateway to Black Rock Mountain State Park. This park is a must-visit with its fishing, wildflowers, and breathtaking 80-mile views.
Cherokee tribes originally inhabited the town of Clayton. However, it was incorporated by European settlers in 1821. This quiet community is known for its vibrant downtown, outdoor recreation, lodging, and restaurants, even earning the name, The Farm to Table Capital of Georgia. Furthermore, tourists flock to the area for the nearby wineries that offer magnificent views.
Where is Clayton Located on a Map?
Clayton is nestled neatly in Rabun County, Georgia, serves as the county seat. This charming city, located in the scenic Blue Ridge Mountains, had a population of 2,003 according to the 2020 census.
Here it is on a map:
The Population of Clayton, Georgia
The town of Clayton in Georgia has a population of 2,094 residents, making it the 7,436th largest city in the U.S. and the 227th largest city in Georgia. This little town is currently growing at a rate of 1.45% per year. Clayton spans over three miles, and as a result, there are 618 people per square mile.
The Rainiest Place in Georgia's Wildlife
Areas surrounding the rainiest place in Georgia are teaming with wildlife, especially the Blue Ridge Mountains, that provide an excellent environment for various animals, including:
Mammals
Birds
Fish
Amphibians
Below is a list of some wildlife inhabiting Clayton and its surrounding areas.
1. White-tailed Deer
The white-tailed deer is common throughout the U.S. However, Georgia made this large animal their state mammal in 2015. These deer range throughout the Peach State, from coastal marshes to forests. White-tailed deer have reddish-brown fur during warmer months, but their coat changes to a grayish brown in winter. Their tails function as a warning sign when threatened. They use the white underside of their tails to warn other deer while they run.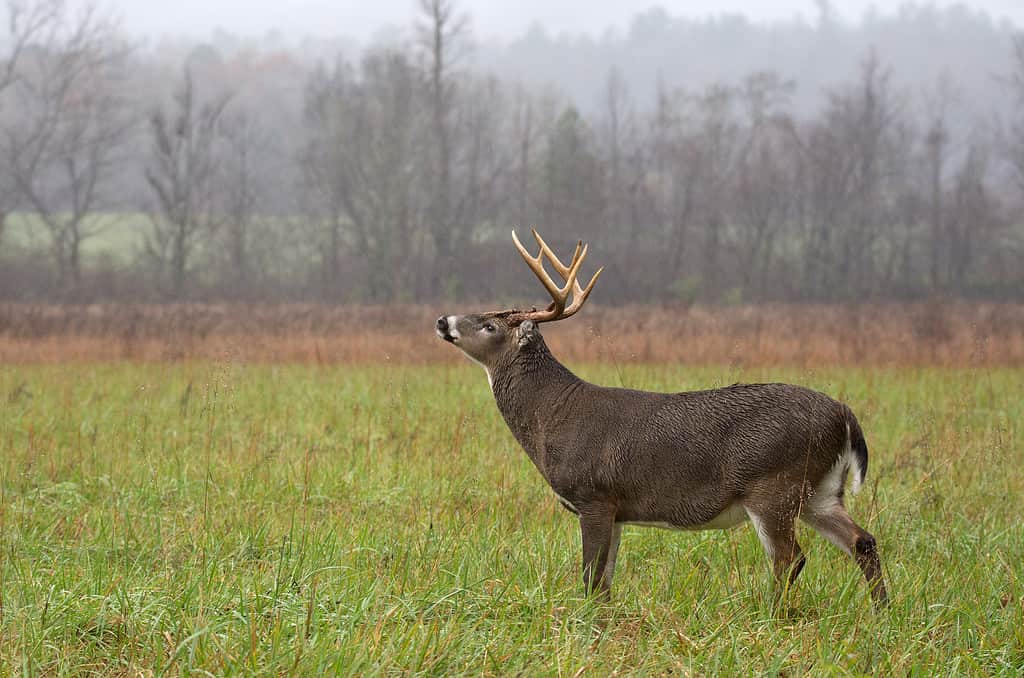 2. Black Bear
Black bears inhabit three concentrated areas of Georgia. However, some exceptions exist, as these bears will travel over large areas to search for food when it is scarce. Furthermore, some male bears travel extensively to establish their territories. But the three regions of Georgia with concentrated populations lie in the Georgia mountains, the Ocmulgee River drainage system in Central Georgia, and areas surrounding the Okefenokee Swamp, located on the state's southern border. Out of the three regions, the northern Georgia black bear has the highest population, with approximately 3,000 bears. Central Georgia has a population of 300 bears, while the southern regions have around 800 bears.
3. Bobcat
Georgia provides an excellent habitat for bobcats that helps them thrive and populate. In fact, the Peach State has a very robust, healthy, and stable population of bobcats. These feline predators inhabit most areas of Georgia, thanks to the diverse environment. Furthermore, these cats have an abundance of prey, which is easily found anywhere in the state. In addition, Georgia is famous for its agricultural regions, forests, marshes, coniferous forests, woodlands, swamps, and mountains. Lastly, bobcats also occur in the state's rocky areas and vegetated hillsides.
4. River Otter
The rainiest place in Georgia is home to the cute little river otter, which inhabits most of North America. While most people think these otters only live in or around rivers, they go where the food is, including estuaries, swamps, and marshes. River otters have a varied diet, which depends on where they live. However, they primarily prey on aquatic invertebrates and fish. But these otters also hunt for food on land. River otters have sharp bites and long tails, which help them catch their prey, making them voracious predators. Their hunting skills are very similar to cats, as they often use their whiskers to detect prey before pouncing.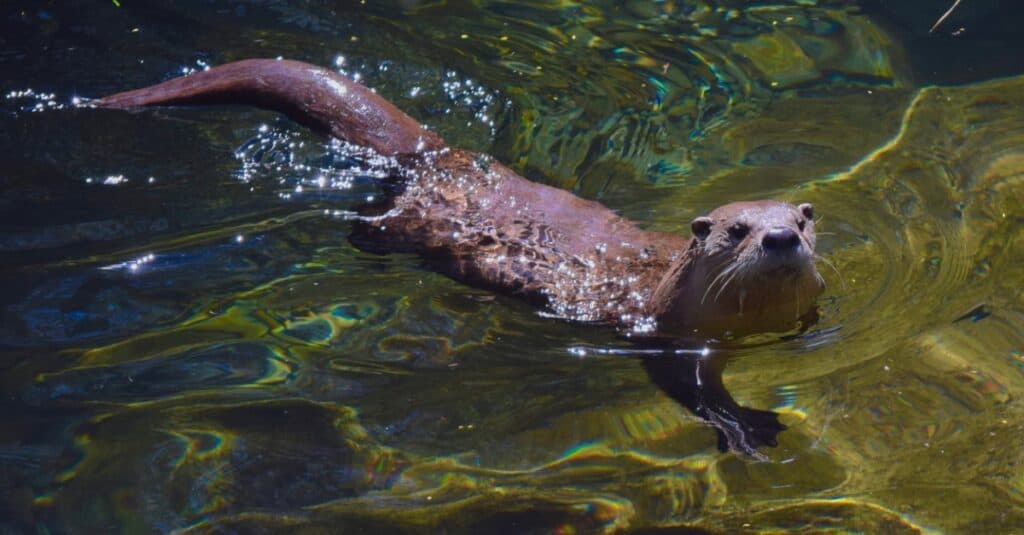 5. Copperhead
Copperheads occur throughout the Peach State, except for the southeastern corner. Furthermore, they inhabit a massive range throughout the U.S., covering most of the central states, the eastern seaboard, and west to Texas. Copperheads in the southern regions of Georgia tend to be paler and softer colored than those in the northern areas of the state, which tend to be darker and more richly colored. These snakes primarily inhabit forested areas, especially mixed hardwoods. However, they are wary of open areas and tend to keep their distance.
Additionally, they also like regions with rocks or rock piles, swamps, and lowland riverine. While these snakes are venomous, copperheads, including juveniles, can control the amount of venom they secrete when biting. In addition, they often attack with dry bites, meaning they do not inject any venom. And if they do inject their venom into a human, survival is almost guaranteed. However, one should always rush to the hospital after a snake bite, just to be sure.
6. Kestrel
The smallest falcon in North America is the kestrel, similar in size to the blue jay. These birds of prey wag their tails when perched and often hover when searching for food on the ground. Kestrels thrive in large, open environments, including pastures, grasslands, open pine forests, sandhills, and urban and suburban areas. These small falcons nest in cavities in trees, including old woodpecker holes. Furthermore, they will also live in buildings, nest boxes, power poles, and other manufactured structures. As birds of prey, kestrel's diet consists of the following:
Cicadas
Grasshoppers
Beetles
Butterflies
Dragonflies
Spiders
Moths
Scorpions
Additionally, they prey on vertebrates, including small mammals like voles, mice, snakes, frogs, lizards, and small birds.
7. Rainbow Trout
Rainbow trout are native to the Pacific Ocean from the U.S. to Russia. However, these fish were introduced to several countries, including the United Kingdom. Additionally, they are also widely farmed for stock in rivers as sport fish and as table fish. But, interestingly, these trout have the ability to migrate to the ocean and return to the freshwater to spawn. When rainbow trout migrate to the sea, they are called steelheads. These fish inhabit rivers and lakes draining into the ocean on the west coast of North America. Furthermore, their range extends from Alaska to Mexico but also occurs on the Kamchatka Peninsula off Russia's Pacific coast.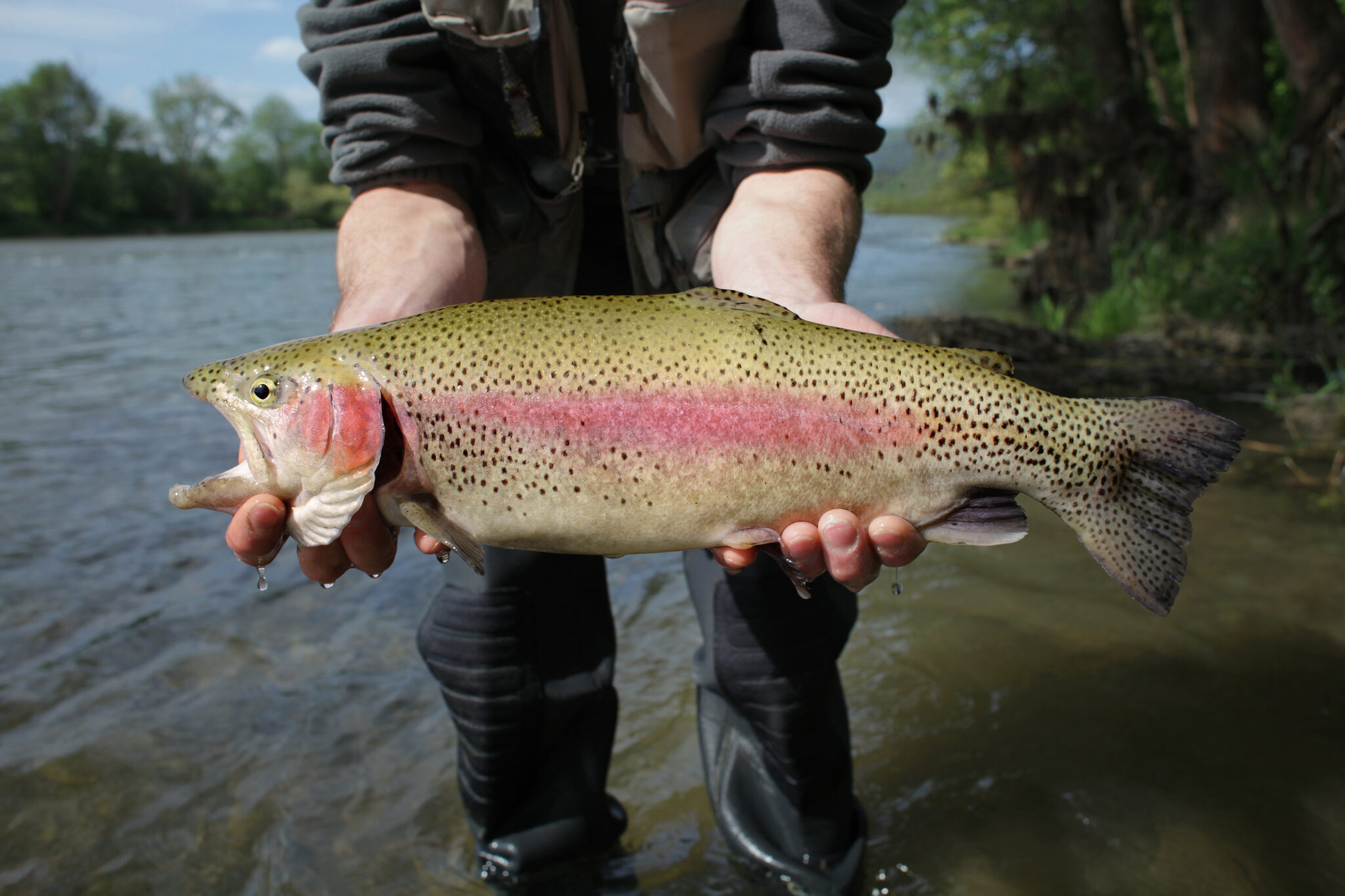 The photo featured at the top of this post is © perfect strangers/Shutterstock.com
---