The American flamingo is a striking bird renowned for its lovely pink feathers, elongated neck, and tendency to form large flocks. While these birds can be found mainly in zoos nationwide, flamingos in Florida proliferate practically statewide!
If you're wondering where to find them, these gorgeous birds are viewable in several stunning locations. We've selected some of the best places to see flamingos in Florida, including the best times of year to scope them out.
Read on to discover the best places in Florida to see flamingos, the best times of year to visit, and several fun facts about these eclectic yet lovely birds.
Why are Flamingos in Florida?
On a global scale, the flamingo's habitat ranges from the Caribbean islands to Venezuela, Mexico, Bonaire, and the Bahamas. Flamingos were originally native to Florida, but most of the population disappeared at the start of the 20th century due to habitat destruction and humans over-collecting their eggs and feathers. In the mid-1920s, people created captive colonies of flamingos in the southern part of the state. One of these first colonies was the Hialeah Park Race Track, which still operates today.
Some evidence also suggests that, while flamingos aren't migratory, several flamingos in Florida arrived independently from elsewhere in the Caribbean. Flamingos will generally stay in one place unless conditions change, such as rising water levels or a dwindling food supply. Researchers estimate that Florida's flamingo population hosts about 1% of the current global species' population.
Flamingos in Florida's Everglades National Park
Aside from Hialeah's first-ever captive colony, approximately 95% of flamingo observations have happened within the Everglades, nearby Biscayne Bay, and the Florida Keys. In Everglades National Park, the flamingo population often congregates in the park's many mudflats, easily viewable by an airboat tour. The best time of year to see these lovely birds is in spring through summer, as they prefer the more favorable weather of these seasons.
Discovery Cove's Flamingo Mingle
SeaWorld Orlando's Discovery Cove delivers if you're craving an up-close and personal experience with flamingos. This park hosts the Flamingo Mingle: a morning-time parade where park-goers can stroll alongisde and help feed these striking birds. If you'd instead observe from a distance, park-goers can enjoy watching these Florida flamingos in their enclosure.
Sarasota Jungle Gardens
In Sarasota, Florida, viewers can easily find flamingos in the Sarasota Jungle Gardens, which has hosted a zoological garden since 1939. Free-roaming flamingos delight visitors throughout the jungle garden, and there are even opportunities to hand-feed these pink, leggy creatures.
Busch Gardens
Tampa visitors seeking flamingos in Florida should look no further than Busch Gardens' Flamingo Island, which has operated since 1959. Home to dozens of these brightly-colored birds, the island has at several times hosted more than 125 flamingos – one of the largest populations in the state.
Lion Country Safari
The Lion Country Safari park offers a different flamingo encounter for Florida-goers. Rather than a typical zoo, this park mimics a wild safari experience. Located in West Palm Beach, visitors mingle with the Caribbean flamingo flock, take pictures, and help hand-feed them. This experience is one of many close encounters the park offers. Other activities include driving through a four-mile safari enclosure with zebra, giraffes, rhinos, and more iconic animals.
Flamingos in Florida's Flamingo Gardens
Where better to catch flamingos in Florida than at a park with the bird's name? This learning center and botanical sanctuary in Florida's everglades boast 60 acres of beautiful gardens. The acreage also hosts many wildlife species, including dazzling flamingo populations. The birds make their home in the gardens' lush pond area, beautifully displayed among tropical vegetation and gushing nearby waterfalls.
Palm Beach Zoo & Conservation Society
The Palm Beach Zoo is a worldwide non-profit organization dedicated to species education and animal conservation efforts. The park's flamingo experience is a guest favorite and includes a surprising bonus delight: meeting Zeus, the capybara! Zeus shares an enclosure with the Palm Beach Zoo's flock, alwoing guests to get up close and personal and snap photos of these friendly animals.
Hialeah Park Casino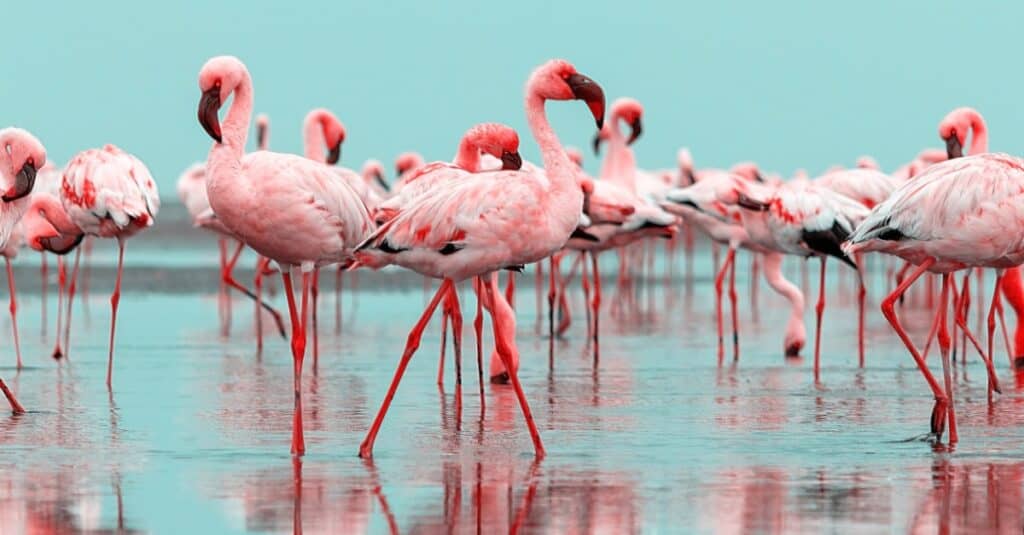 Last but not least, the flamingo colony that started it all resides at the Hialeah Park Casino race track. The flamboyant (the name for a group of flamingos) was hatched and raised entirely on the track. Later, this unique fact earned the track's infield designation as a National Audubon Sanctuary. Flamingos from this successful breeding site are donated to zoos nationwide, from Miami and St. Louis to California.
Where Else Can You Find Flamingos?
Flamingos live in tropical climates. Some live in east, west, and southwestern Africa. Other species live in the southern region of coastal South America. They are also found in the Galapagos Islands, Turks and Caicos Islands, India and the Bahamas. In fact, the flamingo is the national bird of the Bahamas!
The region of the world where a flamingo lives depends on its species. There are four flamingo species distributed throughout the Americas and the Caribbean, and two species native to Afro-Eurasia.
Greater Flamingo (most widespread) — Parts of Africa, Southern Europe, and Southern and Southwest Asia
Lesser Flamingo (most numerous) — Africa to Northwest India
Chilean Flamingo — Southern South America
James's Flamingo — High Andes in Peru, Chile, Bolivia, and Argentina
Andean Flamingo — High Andes in Peru, Chile, Bolivia, and Argentina
American Flamingo — Caribbean Islands, Caribbean Mexico, Southern Florida, Belize, coastal Columbia, Northern Brazil, Venezuela, and the Galapagos Islands.
The photo featured at the top of this post is © Millie Bond - Copyright A-Z Animals
---