Picking out the perfect pet is never done lightly! Any responsible owner goes through all the steps and learns all they can in order to provide the best home for their new friend. While the process may look a little different when getting a snake than some other pets, the love and care is still the same.
When it comes to snakes, displaying your beautiful reptile is one of the best things about it. Snakes come in all sizes and colors, but one of the most uncommon options has to be the pink snake! For anyone truly looking to have a unique snake, finding a pink one may just be the option for you. Today, we are going to explore the different options for pink snakes: the prettiest snakes you can keep as a pet. Let's get started!
Picking a snake based on color
Choosing a snake isn't the same as getting a cat or dog from the pound. Snakes are displayed in glass containers, and part of the process is building a beautiful environment for them to live in! As a result, choosing a snake that has the behavioral characteristics you want is part of the process, but so is choosing a snake that has the physical characteristics you want. You may want a snake with multiple scale patterns, such as a garter or king snake. Or you may want to focus on the color–a sleek black snake, a yellow snake…or maybe a pink snake!
Coloration is one of the most exciting and unique elements of the entire snake-choosing process. There are literally thousands of snake species, and all of them have unique colors and patterns. Additionally, captive breeding programs have allowed reptile breeders to selective choose certain traits for people looking for something specific. Overall, choosing a snake with the coloration you want is a vital part of the path to owning one.
If you are reading this guide, you have chosen one of the most interesting colors: a pink snake! There aren't many snakes that are pink out there, but the list definitely isn't zero. Let's learn about the options for someone who is absolutely sure that only a pink snake will do.
What species of snake are pink?
There are a number of species that can be bred to be pink, let's look at a few of the most popular:
Corn snakes
The most common and probably easiest to obtain species of pink snake is the corn snake. Corn snakes have been available to reptile owners for quite some time now, and they make wonderful pets. Additionally, corn snakes have been selectively bred for decades in order to get certain gene variations and color patterns. As a result, they come in a variety of colors and patterns, and can certainly satisfy your craving for a pink snake.
The most accessible pink corn snake is likely one with the albino mutation. This almelanistic snake trait happens in the wild and was one of the first color variants even found in the species. The resulting color is a light pink, bordering on white. In an albino corn snake, the eyes are usually bright pink, with their bodies showing off a duller pink that has been mixed with white. Another name for this gene variation may be a "strawberry" corn snake, but the result is the same.
For an albino or strawberry corn snake, expect to pay a little more than for a standard one – anywhere between $100-$200 is normal.
Ball pythons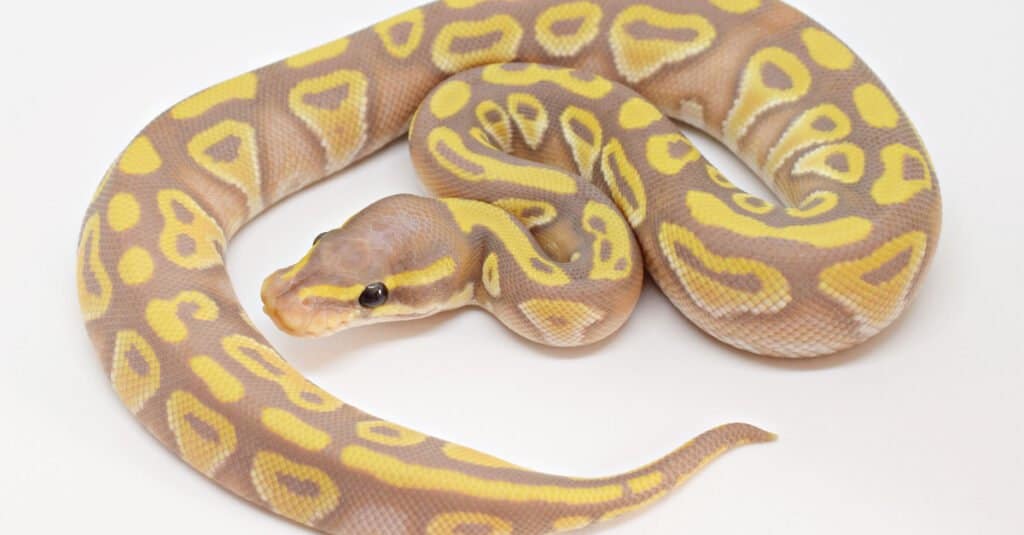 The ball python is one of the most famous and common species of pet snake in the world. They are wonderful snakes that do well in almost any home. Additionally, people have been breeding ball pythons for specific color variations for a very long time. Altogether, there are dozens and dozens of designed genes, all with an associated rarity and cost.
The morphs (the name for the different colorations and pattern variations) that the pink snakes have in them are the purple passion morph, the mystic potion morph, the ivory morph, the coral glow morph, and the fire ivory morph. These morphs are all very rare, however, and require extensive research to find. Each of these morphs has some level of lavender or pink in them, even if they are present only as an undertone.
Here are the standard prices for these morphs:
Purple passion: $400-$500
Mystic potion: $300-$450
Ivory: $200-$300
Coral glow: $250+
Fire Ivory: $375+
Western Hognose
Hognose snakes are also common in the US and can be found at almost any pet store. The only challenge, however, comes when you want a pink snake. Like the other species on our list, the pink variations can cost more as they require selective breeding.
The morphs with pink in them include the Snow Western morph, the Coral morph, and the Anaconda Snow morph. Each of them is rather rare, but some specialty breeders may have them in stock.
Here are the standard prices for these morphs:
Snow Western: $500+
Coral: $350-$3000+
Anaconda Snow: $500-$800
Rosy Boa
The rosy boa is a beautiful snake that is native to the American Southwest and Mexico. Rosy boas are famously cute snakes that stay relatively small. They come in shades of pink, orange, and tan, often with stripes down their backs. Making great pets, rosy boas are a perfect example of a wild snake that does well in captivity. For any future snake owner looking to add a pink snake to the mix, the rosy boa is one of the best options around.
Rosy boas aren't broken down by morph. Instead, they are broken down by the region they come from. With four species, all with colors suited for their specific environment, the Desert rost boa is likely the species with the highest chance of having visible pink colors.
Generally, rosy boas start at $200 and can get as high as $500 if the patterns are especially unique.
Honorable mentions
Although this is primarily a list of pink snakes you can keep as pets, here are some pink snakes that you could keep as a pet, but most people don't. Some are dangerous, keep in mind.
Discover the "Monster" Snake 5X Bigger than an Anaconda
Every day A-Z Animals sends out some of the most incredible facts in the world from our free newsletter. Want to discover the 10 most beautiful snakes in the world, a "snake island" where you're never more than 3 feet from danger, or a "monster" snake 5X larger than an anaconda? Then sign up right now and you'll start receiving our daily newsletter absolutely free.
---
The Featured Image
---