Many people use the words steer vs bull interchangeably when referring to these two types of bovine. In reality, they are different in a few key ways, namely their ability to reproduce. However, there are other things separating a steer from a bull, despite both of them being male cattle or bovine breeds.
In this article, we will address the many key differences between a steer and a bull, including which one is more prized in the agricultural and meat production industries. Not only will you learn something new about animals today, you might learn something new about agriculture and farming too! Let's get started and learn all about these bovines now.
Comparing Steer vs Bull
| | Steer | Bull |
| --- | --- | --- |
| Behavior | Capable of living with other cattle, both male and female; largely considered more docile and approachable | Often hostile and aggressive given their desire to be dominant over their herd; may charge humans and other male cattle |
| Appearance | Appears similarly to female cattle; less muscular and developed | Larger and more muscular than steer or cows; more developed reproductive organs |
| Reproduction | Lacking testicles; has been castrated | Has testicles and is capable of breeding |
| Purpose | Bred for meat purposes only | Meant for breeding with female bovine as well as meat purposes |
| Cost | High cost; valued for meat | Mid to high cost; valued for genes |
Key Differences Between Steer vs Bull
There are a few key differences between a steer vs bull. A steer is a castrated male from the bovine or cattle family, while bulls have their genitals intact. Bulls are more aggressive and dominant overall when compared to steers, and steers are capable of living alongside humans and female cattle. Finally, the purposes of bulls and steers are different, while most bulls are used for breeding and steers are used for meat production.
Let's take a look at some of these differences in more detail now.
Steer vs Bull: Overall Behavior and Personality
There are some huge personality and behavioral differences when you compare a steer vs bull. Given that steers are castrated and never reach the same testosterone levels as bulls, they are much more personable and friendly than bulls are. Bulls are notorious for their aggression, capable of charging humans and other animals should they feel infringed upon.
Steers are capable of living with other cattle, including males, while bulls want to be the only male in their herd. It is unlikely for a steer to feel threatened by humans, while bulls are typically aggressive individuals.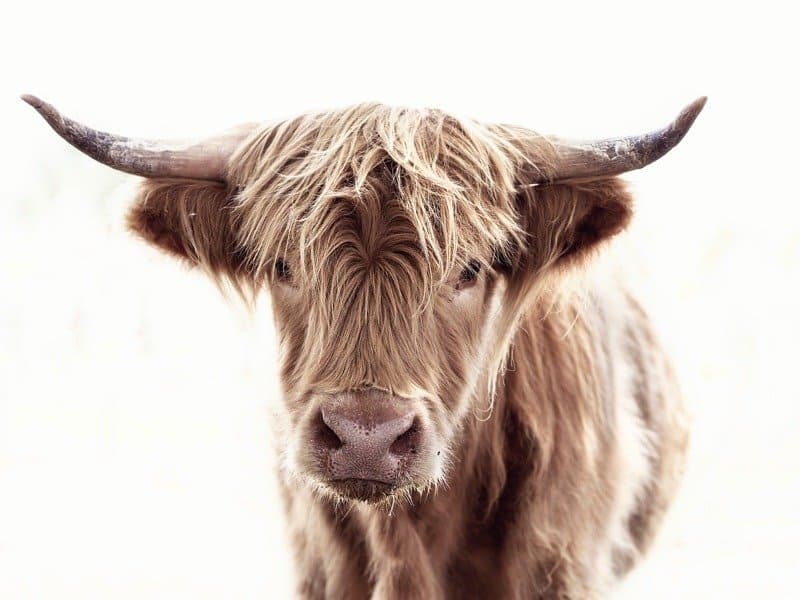 Steer vs Bull: Appearance 
Another difference when comparing a steer to a bull lies in their overall appearance. While both castrated and intact male cattle grow larger than female cattle, a bull will also outgrow a steer. They do this primarily through muscle mass, as steers remain softer in their appearance, similarly to female bovines.
A steer looks almost the same as a female bovine, except for the presence of a penis. Bulls have large muscular backs and bodies, as well as the presence of a penis and testicles. You can easily pick out a bull over a steer, given these key differences!
Steer vs Bull: Reproduction and Castration
An obvious difference between a steer vs bull is their ability to reproduce and whether or not they are castrated. Steers are castrated bovines incapable of reproducing, while bulls are fully intact. The primary purpose of bulls is for reproduction, and this is why they are left intact. Steers need to coexist in a herd of other male bovines or females, and that is why they are castrated at a young age.
Steer vs Bull: Purpose in the Agricultural Industry
Another difference between steers and bulls is their purpose in the meat and agricultural industries. While neither of these two types of bovine are capable of producing milk, they are both valuable for their meat production. However, steers are only raised for meat, while bulls are raised for both meat and breeding purposes.
Bulls are highly prized for their bloodlines and breeding abilities, but this does not mean they are friendly. They are capable of breeding with multiple cows or female bovine at a time, and have territorial tendencies because of this. Steers on the other hand are castrated, making them friendlier and less likely to grow large muscles. This makes steers better for meat production, as their meat will not be as tough when it comes time to send them away.
Steer vs Bull: Cost of Purchase or Raising
A final difference between a steer and a bull is their overall purchase price as well as the cost of raising them. While the cost of a steer's castration and care may rack up some bills, bulls are equally expensive for their bloodline and breeding capabilities. Many people pay top dollar for a bull of a certain bloodline, though the same could be said for certain steer varieties. 
However, given that a steer's castration takes some investment, steers are often more expensive than bulls are, both as calves and when it comes time to purchase their meat. It all depends on what someone is looking for: you may spend more on a bull of good breeding, or a quality steer calf that has been bred for meat purposes!
---
FAQs (Frequently Asked Questions) 
Which is used for bullfighting steer or bull?
Bulls are used due to their elevated testosterone levels and potential for aggression. The history of bullfighting shows that bulls are actually bred specifically for the tradition, to be even more aggressive.