There are several beetles native to Arizona that many consider the most unique and beautiful in the world. One thing is certain, Arizona has a unique and fascinating history with beetles, especially the tamarisk leaf beetle, introduced during World War II as a biocontrol agent.
Though the release of the tamarisk beetle was done with good intentions, the tamarisk beetle is now a pestilence. It goes to show the dangers of meddling with nature, even if it's something as seemingly innocuous as the tamarisk beetle.
It's also an example of how deeply we are intertwined with the natural world, especially with beetles. After all, beetles make up the largest portion of all living animals in the world. Beetles are capable of wiping out nuisance insects in an entire region or destroying massive crop fields.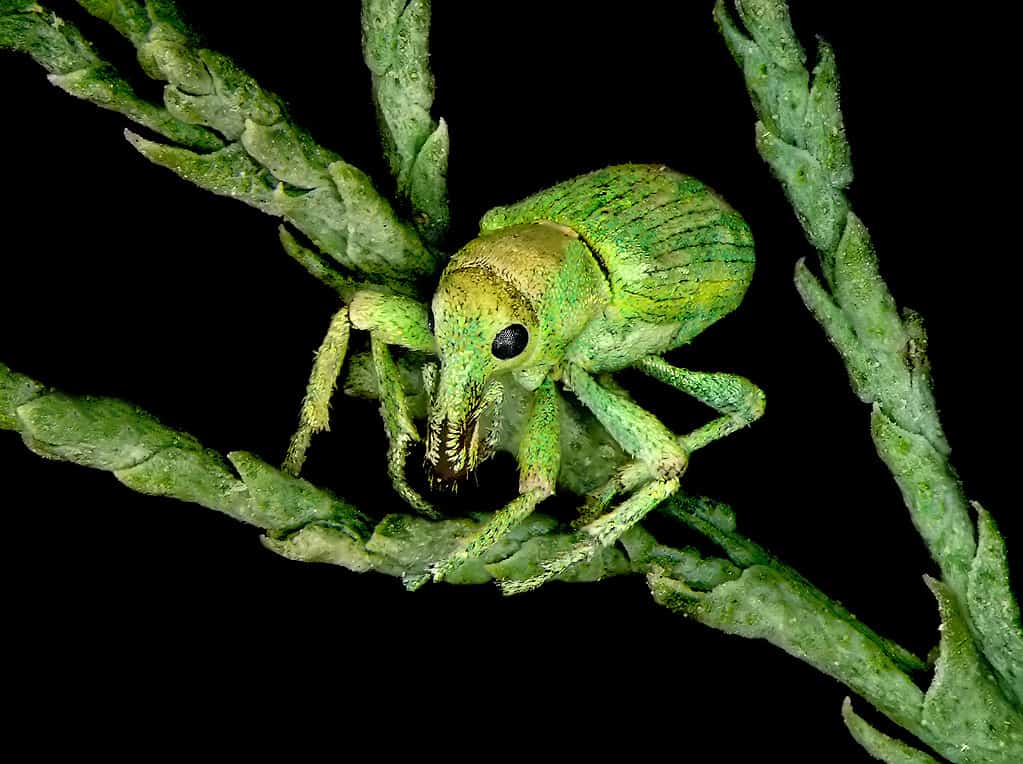 1. American Carrion Beetle
The American carrion beetle is another fascinating beetle that roams the painted landscapes of Arizona. As adults, they are as small as 1/2″ and as large as 3/4″. Their large, rounded wings are roughly textured, and the thorax is creamy yellow with a gigantic black spot directly in the center.
As adults, American carrion beetles' primary diet is maggots, wherever they can find them, which is mostly in or on the carcasses of dead animals. They are large, like bumblebees, and move around much the same, flying in lazy, sluggish circles until they find something interesting to eat.
Also known as the Crusader Carrion Beetle, the American Carrion Beetle is one of those crucial elements of the cycle of life. It improves the rapidity of decay and helps eliminate dangerous organisms.
2. Palo Verde Beetle
The Palo Verde Beetle is synonymous with Arizona, and not in a bad or good way. They are, for all intents and purposes, ordinary beetles, efficient and economical in their way. The Palo Verde is all black, with an elongated abdomen, short thorax, and a small head. Their legs are long and spiny, with antennae that feature numerous, distinctive segments.
They spend nearly four years as grubs, feeding intensely on tree roots to sustain themselves and grow. At the end of around three or four years, they become adults and bore their way up and out of the ground. Fortunately, they don't go after healthy tree roots to sustain their life cycle—only ill or rotting tree roots.
They are a lot like love bugs in the southern states, coming out of their holes in late July and flooding the world for about three months. Then they fade away, with little to nothing to show until the next summer.
3. Iron Cross Blister Beetle
The iron cross blister beetle gets its name from the black/brown cross that runs the gamut of both wings on its back. In between the cross spaces is a yellow web-like coloration that stands out in contrast to the cross. They typically have a red thorax and a redhead, with a black segment separating them.
Like most blister beetles, they secrete a chemical called cantharidin from their legs. This chemical is potent enough to cause stinging red spots or raised blisters on human skin. Though they're dangerous in those terms, they are otherwise harmless, feeding on leaves from a variety of plants.
Thanks to the collision of colors that make up the iron cross aesthetic, they aren't difficult to spot, and you should never handle one without gloves. The iron cross blister beetle is one of the more unique-looking beetles native to Arizona and is generally harmless when left alone.
4. Blue Death-Feigning Beetle
The blue death-feigning beetle has a pretty unique name and it looks like a severely magnified microscopic cell. Its faded blue body is riddled with tiny protrusions that look like filed-down spikes. As its name suggests, the blue death-feigning beetle will play dead when under threat.
It does this by simply rolling over and ceasing all movements, like a dog learning the play-dead trick. Their movements and the thick size of their legs give them a decidedly tarantula-like impression, though they are nowhere near the same size.
An adult, blue death-feigning beetle will reach anywhere between 3/4″ and 1″ in length. Because of their docile nature and unique appearance, they are often kept as pets in aquarium environments.
5. Black and White Click Beetle
The black and white click beetle is an incredible-looking beetle with a distinct thorax and abdomen separation—the two are seemingly linked by a tiny hinge, with an otherwise visible gap between them. They are also an interesting shade of white and black, with black making up the main color and the white a hazy outline feature.
They have neat, short antennae with tiny projections along the length of each one. As a click beetle, the black and white can stand straight up, like a human. The sight of this little feat is probably disconcerting to some, but it's a harmless posture.
Like all click beetles, the black and white is capable of making a loud, click-sound that is audible from a fair distance away.
6. Cottonwood Leaf Beetle
It's so unfortunate that some of the most stunning beetles are so small. When you see such a unique patterning and coloration, your eyes beg for more. The cottonwood leaf beetle is one such insect. It looks like one half of a sphere, with unique orange and black markings that both collide and reflect from the glossy surface of its wings.
Unfortunately, they don't get much bigger than about 1/2 an inch, so they look much better under a magnifying glass. Of all the beetles native to Arizona, the cottonwood is one of the more visually stunning.
While they aren't devastation-level beetles, they can harm young trees by devouring all the leaves, leaving them bare. This will either kill or deform the tree.
7. Darkling Beetle
The darkling beetle is the polar opposite of the shiny cottonwood leaf beetle. Not in a dreadful way, as its name suggests, but in an ordinary way. It looks like a generic beetle, dark brown or black, with a slightly rough-textured wing surface.
They are very large, sometimes three inches in length, which is more than enough to frighten some people. The good news is, the darkling beetle is fairly docile. Though it's large, it's neither invasive nor destructive.
Darkling beetles are scavenger beetles but only in a herbivorous way. They eat dead leaves and fallen fruits or vegetables on the ground. They don't go out of their way to attack living trees and plants.
8. Devil's Coach Horse
If you're looking for an insidious, mutant, demon beetle from another world, the devil's coach horse is about as close as you can get. It's a visually disturbing combination of a large ant, beetle, and scorpion. Its solid black or dark brown coloration does nothing to reduce its intimidation factor.
As you can imagine, it's a predator, measuring about 1.1″ in length. Like scorpions, devils coach horses like to hide under stones and rocks, launching themselves at your naked toes, and poking through your flip-flops when you flip over their home. Also, like a scorpion, their back end curls up and hovers over their heads.
Fortunately, there is no stinger in their tails, and it's nothing more than a defensive posture. Unfortunately, they have a maw straight out of a nightmare comic book, and they are more than capable of biting down on your skin hard.
9. Globemallow Leaf Beetle
The globemallow leaf beetle is a good, bright, and cheery follow-up to the devil's coach horse. The globemallow resembles a ladybug, though the spots are not circular, and there are more of them against the red, orange, or yellow backdrop.
The name, "globemallow" has nothing to do with the beetle itself but with the bush they like to hang out on and eat. Since there aren't a ton of globemallow shrubs out there, globemallow leaf beetles have to sometimes settle for something else.
The color of the globemallow is depended on its age. The older they get, the more their color changes to something brighter. They begin with a dark red back and end their lives in bright yellow.
10. Mealybug Destroyer
There are plenty of really neat names for beetles native to Arizona. The mealybug destroyer may just top them all. Though they're small (about .25″), they look like something straight from a Pokemon card. They have large, black eyes that seem to hover, distinct and separate from a bright orange face.
Their wings look more like a turtle shell, encasing a fuzzy, candy-orange body. The shell itself is the wings, which are black or dark brown. Even the legs are that same, candy-orange color. Their name implies far more than a physical description.
The mealybug destroyer was named and released in certain sections of the world as a biocontrol agent, just like the aforementioned tamarisk beetle. Their job was to consume mealybugs, ridding certain farmlands of the pest for good.
Final Thoughts
Arizona is a special place when it comes to beetles. For one, the state has a historical (in a good and a bad way) relationship with beetles and their uses as a biocontrol product. Further, some of the strangest and most colorful beetles in the world call Arizona home.
For those reasons, Arizona is a very unique and interesting state for beetle aficionados. There are around 175 species of beetle there, which is par for the course where most states are concerned. Despite that similarity shared with other states, Arizona truly stands out from the rest.
Up Next:
More from A-Z Animals
---
The Featured Image
---