The beetles living in Tennessee have a pretty bad reputation, probably because most of them are quite destructive. That's not to say there aren't any relatively benign beetles in Tennessee. The state is home to around 185 species of beetle after all. They can't all be bad.
Tennessee is a tale of two halves, with the western part of the state mostly flatland and the eastern part of the state feeding into the Appalachian Mountains. That kind of elevation change opens the door for a variety of different beetles.
Beetles are unique in the fact that they make up the largest portion of living creatures on the planet. When it comes to insects alone, beetles are a whopping 40%. It stands to reason there are a lot of beetles in Tennessee, and we found ten of the most unique and colorful.
Large Beetles in Tennessee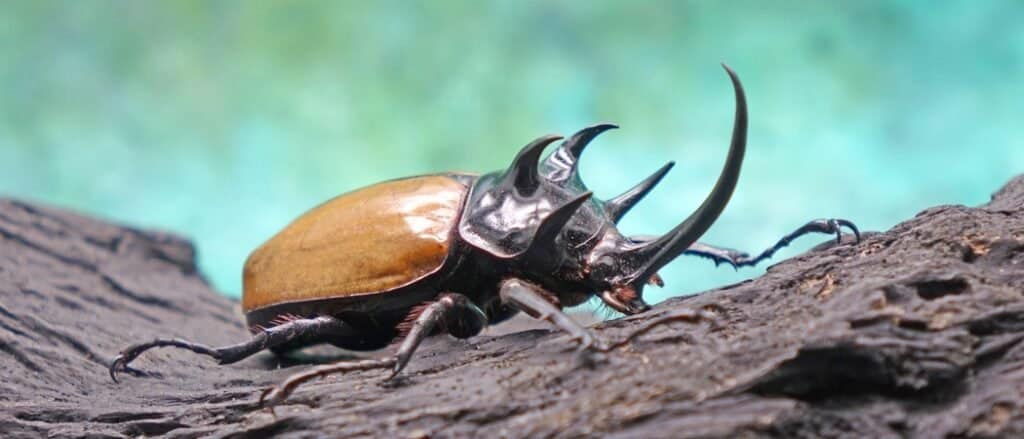 There are a handful of large beetles living in Tennessee, and all but one or two look far more terrifying than they are. The stag beetle (1.4″) and the giant stag beetle (2.4″) are two of the most common. Both are large, glossy dark brown and have vicious-looking pincers.
The triceratops beetle can reach 1.5″ in length. As its name implies, it has a series of horn-like projectiles on the front that resemble a triceratops horn formation. Not only are they long, but they are also big and bulky. The cottonwood borer beetle (1.6″) is probably the least intimidating of the bunch, and it's far more aesthetically pleasing.
Then there's the eastern Hercules beetle, which features a tan/grey body mottled with black shapes and spots. An adult eastern Hercules beetle can reach 2.36″ in length and they are also a bulky shape with verticle pincers.
Last but not least, the horned passalus beetle is more in line with the stag (in terms of looks). However, it has smaller pincers that are often lost in a patch of fuzzy projectiles. The adult can reach lengths of 1.41″, and the "horned" term refers to a rather tiny protrusion on its head.
Black Beetles in Tennessee
Tennessee residents tend to have a negative view of black beetles, mostly because they're invasive pests within the home. Black beetles love to burrow up inside mulch and piles of damp leaves, the latter of which is common in Tennessee in the fall.
It also happens that fall is the time of the year when black beetles are looking to invade homes for the warmth, water, and potential food homes offer. Black beetles are very common in Tennessee and throughout the country. There are over 2,000 species of black beetle in the United States alone.
Since they mostly turn into a pest problem, most pest control companies keep a lot of literature on them—how to repel them, get rid of them, etc. When it comes to looks, black beetles don't stand out from the crowd either. They're midnight black, in case the name didn't give it away, and they resemble the generic features of most beetles that spring to mind.
Now that we have the giant beetles and common house pest beetles in Tennessee, let's get down to the meat and potatoes of the more unique and colorful versions.
1. Dogbane Leaf Beetle
The last thing a dogbane leaf beetle resembles is a generic beetle. The dogbane is bright, reflective green, and the entire beetle looks as if it's been dipped in metallic green paint. It almost looks like some sort of reflective body armor. They are very hard not to notice, so the odds are good you've come across one or two in your life.
Their legs feature huge joints where each segment of the leg occurs and they are the same reflective, metal green as the rest of the beetle. They live most of their life cycle on and around the dogbane plant, which is where they derived their name.
The females only drop down from a dogbane plant once a year to lay their eggs in their accumulated feces. Once they hatch, the babies will grow and mature by feeding on the feces because nature is so lovely sometimes.
2. Glowworm
It's not known as a glowworm because it's a worm or even wormlike. The glowworm gets its name from its decidedly wormy larvae. The glowworm adults feature some truly unique antennae. They extend out from the top of the head like the world's biggest eyelash attachments.
It gives the glowworm an interesting and quirky appearance, though the rest of the beetle is a bit on the ordinary side. The rest of its body is a combination of light and dark browns and just the tiniest bit translucent.
The glowworm has a triangular head with two, bulging black eyes on either side of its head that give it an alien-like appearance. Only the males are capable of flight, but only the females create an iridescent glow, mostly used to attract mates.
3. Goldsmith Beetle
The goldsmith beetle looks as if it's planning to go to war, with a yellow body that resembles plate armor and an overall bullish aesthetic. It looks like it could curl into a ball and roll through a concrete wall. They get pretty sizeable as well, with the male reaching just a shade over an inch in length.
The abdomen, thorax, head, and individual wings are separated by a dark, black line which increases the 'plate armor' aesthetic. As warlike as they look, they're docile, preferring to hang out near bubbling brooks and streams, rivers, and the shoreline of lakes.
The grubs grow up on a diet of tree roots and, when they emerge from the ground as fully grown adults, switch to the surrounding foliage from the same tree.
4. Oil Beetle
Oil beetles may sound like greasy, dark, distasteful bugs, but they're pretty neat-looking. They have a bluish sheen to them that certainly catches the eye. Their color is black, but it doesn't look that way when the light catches them.
They have an ant-like appearance where the thorax, head, and antennae are concerned, but their abdomens are much larger and bulging. Compared to its abdomen, the oil beetle's wings are tiny and essentially useless.
On the downside, oil beetles don't secrete any kind of oil. They are a type of blister beetle, and the secretions they release are capable of burning the skin and creating raised blisters. In other words, handle it with care and caution. Of all the beetles living in Tennessee, the oil beetle is one of the rare species that can cause harm to humans.
5. Pustulated Carrion Beetle
The pustulated carrion beetle is a large beetle and very wide. It has large, glossy black wings, and its abdomen, wide in the center, tapers off into a point. The thorax is large as well and all black, just like the head and most of the abdomen.
They do sport a few red spots near the back of the wings. Since it's a carrion beetle, it's essentially nature's garbage pick-up service. It tracks down dead animals from vast distances, and the female will lay her eggs in the carcass.
Once the eggs hatch, the adults and the larvae will feast on the carrion, the little ones growing and transforming into adults themselves. Though they may sound disgusting, they're a cleanup service and a critical part of the cycle of life.
6. Rose Chafer
As the name implies, rose chafers are pests that typically target roses. Ironically, they're fairly pretty beetles themselves. The rose chafer has a metallic green coloration caused by the reflection of polarised light; like many other scarabs. When viewed through a right circular polariser, the beetle appears to be colorless. There are also different colors besides the common green; there are also copper, grey, and black.
Though they are associated with roses more than anything else, rose chafers are partial to any kind of flower if there are no roses nearby. They will also feed on the foliage from bushes and various other plant species, most of which are common in gardens.
These aren't solo insects either. Where there's one, there's more. They aren't the most common of pests found in gardens, but if you do see one, get rid of it quickly, along with any more of them. They will ruin a flower garden or a bush in very quick order.
7. Shining Leaf Chafer Beetle
The shining leaf chafer beetle gets its name from its aesthetics. The wing coloration is said to resemble a leaf, helping it blend into its environment and stay low on the radar of potential predators. In truth, it more closely resembles the wood grain look of a polished piece of furniture.
There is a black spot in the center of each wing, and the rest of the beetle is midnight black as well. The shining leaf chafer beetles living in Tennessee do what they do in every other state—eat leaves. Like many beetle species, they enjoy chewing holes through leaves and wreaking havoc on a single plant until the food source is exhausted.
They're on the lower level of pest lists for beetles living in Tennessee but they can create havoc from time to time.
8. Emerald Euphoria Beetle
It may not be super long at .65″, but the Emerald Euphoria Beetle makes up for it in heft. It's a sizeable beetle and it's heavy to boot. For the most part, they are a dusky greenish color, but some are blue, purple, red, or orange.
The primary diet of an emerald euphoria beetle is rotten fruit. Look for fruit trees and shrubs of just about any variety (but especially plums), and you might run into an emerald or two. Despite their bulk, they are perfectly capable of flying.
They have a top wing and an underwing (like most beetles), but they don't need their upper wings to fly. It's entirely optional with most euphoria beetles flying around with just their underwings.
9. Acorn Weevil
Acorn weevils are named because they prefer laying eggs inside acorns. Once the eggs hatch, the little larvae feed on the guts of the acorn to get their sustenance. The acorn beetle is a roughly textured beetle, with a rust-red and black mottled exterior and a long snout reminiscent of anteaters.
Another interesting fact about acorn weevils is their eye location. Since the long snout they use for feeding would normally get in the way, the acorn weevil's eyes are located beneath the snout. They can see everything at their feet before they eat it.
The only problem is, they can't see above them or around them very well, which makes them exceptionally vulnerable to predators attacking from above or behind.
10. Bee-Like Flower Scarab Beetle
The bee-like flower scarab beetle is decidedly bee-like. It resembles a bumblebee more than any other type, with similar markings on its abdomen and thorax. The bee-like even has fuzzy hairs all around its abdomen, just like a bee.
It's the perfect disguise since many predators won't bother with something that can fight back and potentially sting them. Their primary diet consists of leaves. It doesn't matter where it comes from and the bee-like has no particular preference.
If it has leaves, it's on the menu. They have the potential for pest-like behavior, especially if they find their way into a garden. However, most bee-likes are never a bother to anyone.
What is the Most Common Type of Beetle?
The most common beetle found throughout the world, except Antarctica, with over 100,000 species, is the weevil. This beetle is known for its very long snout and is usually less than one-quarter inch in length. While they belong to the superfamily, Curculionoidea, there are several that are part of multiple families, although the majority are in the family of true weevils, Curculionidae.
There are also several species of beetles, such as the biscuit weevil (Stegobium paniceum), that are called weevils and should not be confused with true weevils. These are actually beetles that are part of the Ptinidae family in the superfamily Bostrichoidea. Weevils are thought of as pests due to their ability to damage or destroy crops, although interestingly, there are also a few species that are used to control invasive plants. Some of the most destructive weevils are:
Boll weevil (Anthonomus grandis) – damages cotton crops.
Wheat or granary weevil (Sitophilus granarius) – causes significant damage to stored grains.
Rice weevil (Sitophilus oryza) – damages wheat, oats, rye, barley, rice, and corn.
Maize weevil (Sitophilus zeamais) – damages corn kernels.
Final Thoughts
There are around 185 species of beetles living in Tennessee and while some of them are considered pests, the majority are harmless. Many of these beetles are born, grow up, and die deep in heavily forested regions of the state without ever encountering a human being.
Tennessee has a varied ecosystem, making it a viable place for a large variety of insects, including beetles. There's also decent elevation and flatlands to offer the many beetles that call Tennessee home. If you're interested in a wild variety of beetle species, Tennessee is a good place to start.
---