For some of the best fishing in Alabama, you will have to decide if you want to spend the day on the lake, on the banks of the river, or on a pier overlooking the Gulf. With a full summer, you could certainly choose all three! There is a variety of great fishing in Alabama to choose from. Here are the 10 best fish to catch in Alabama this summer.
10) Mahi Mahi: Gulf Shores
Gulf Shores boasts some of the best marine fishing in the state. Whether you are fishing from shore, the Gulf Shore Pier, or you charter a fishing boat for some deep sea fishing, one of the most unique catches is the Mahi Mahi. This large colorful fish is really quite the catch. The males have a large forehead and impressive sailed dorsal fin. Their scales are a mix of blue-green and yellow with electric blue speckled spots. Off the shores of Alabama, you can find these fish in mid to late July.
9) Wahoo: Orange Beach
The Wahoo is another deep-sea fish that can be caught off the shores of Alabama. You can charter a fishing boat or guided fishing tour out of Orange Beach, AL. The best time to go Wahoo fishing is actually February and March but they can be caught year-round. Wahoos are challenging fish to catch because they are one of the fastest fish in the ocean. They are frequently caught with a trolling line in the deeper blue waters. Once they are hooked they put up quite a fight. Wahoos are long torpedo-shaped fish that average around 20 lbs.
8) Redfish: Gulf Shores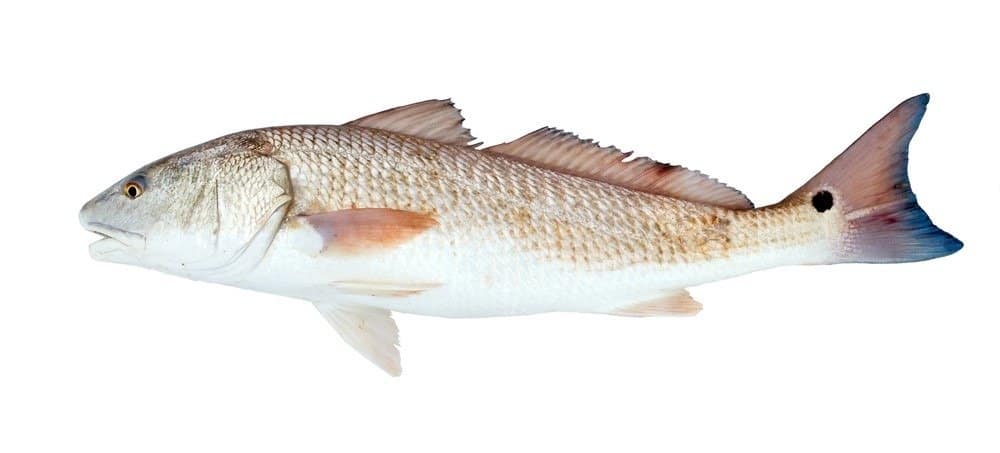 Redfish are one of the most common fish caught in Gulf Shores. They can be fished right from the shoreline. Redfish are a kind of drum fish that are great for eating, targeting the ones in the slot of 16-26". There are larger ones out there and you are allowed to keep ones that fall outside the slot range. In the fall the running of the bulls involves large groups of red bulls making their way through the surf. Anglers have nabbed some 40-50" redfish during this time! There are many areas you can fish for redfish, but one of the luckiest spots in Fort Morgan, just east of Dauphin Island.
7) Florida Pompano: Gulf Shores
Maybe they should be called Alabama Pompano, but either way, these popular fish are highly sought-after fish. They typically migrate through the Gulf Shores area in the early spring and again in the fall, swimming in large schools. Florida Pompano is a large silver fish with a forked tail. Most are around 12 inches long but some can get to be 4 feet. The trick to catching Pompanos is to use sand fleas as bait (their favorite food). If you are lucky you will be frying up these delicious treats for dinner.
6) Alligator Gar: Tensaw River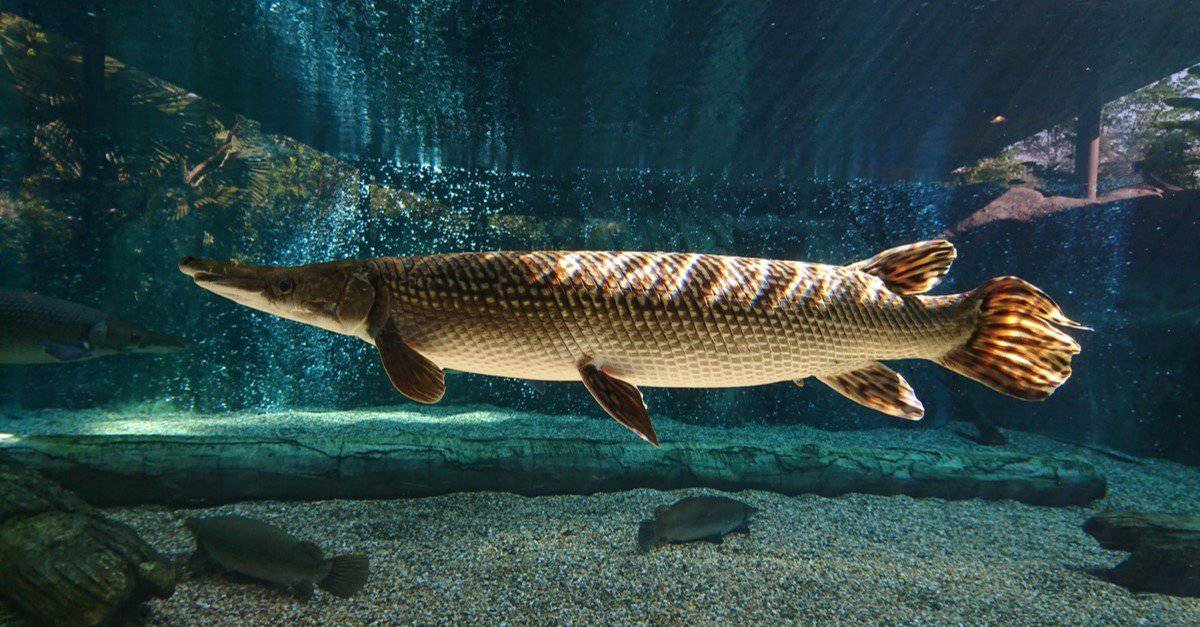 Unlike Florida Pompano, Alligator gar are not particularly good for eating. They are fun to catch and are impressive specimens. Alligator gars are the largest freshwater fish caught in Alabama. They can be found in coastal estuaries as well as many rivers. Both of the state record-breaking alligator gars (it is a tie) were pulled from the Tensaw River. On August 13, 2004, Michael Houseknecht caught a 151 lbs 5 oz alligator gar. What is crazy is that exactly 5 years later, on August 13, 2009, Richard Johnson caught a 151 lbs 9 oz alligator gar on the same river. The state records are calling it a tie.
5) Crappie: Weiss Lake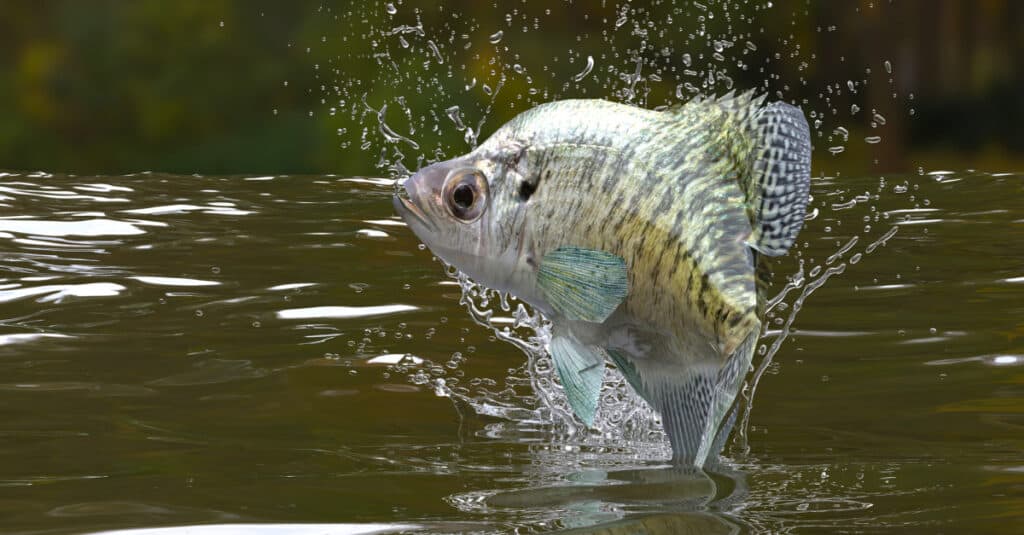 For some classic crappie fishing, you are going to want to either head to Weiss Lake or the Lower Alabama River. Load up the cooler with minnows (for the fish) and your favorite cold beverage. For a quick outing, you can even fish from the shores of Weiss Lake. This 30,200-acre lake is teaming with fish early in the morning and there are several shorelines with vegetation where the crappie love to hide. The Lower Alabama River is another great spot to find crappie near the banks.
4) Striped bass: Lewis Smith Lake
The striped bass record to beat in Alabama is a 69 lbs. 9 oz. bass caught on February 28, 2013. James Bramlett of Dora, AL reeled this one out of the Bankhead Reservoir. This reservoir is on the Warrior River, 15 miles west of Birmingham. Besides the amazing bass (there are Bass Tournaments held there regularly) the lake is stocked with rainbow trout. Another great place to find striped bass is Lewis Smith Lake near Cullman, AL, north of Birmingham. This lake is actually stocked with 50,000 striped basses each year.
3) Smallmouth bass: Pickwick Lake
Another favorite bass is the smallmouth bass and Alabama has plenty of them. Pickwick Lake is one of the lakes that is known for its smallmouth bass fishing. This lake is created by the Wilson dam and is not very deep with an average depth of 11 feet but there are many grassy areas along the shoreline where smallmouth like to hide out. The best time to fish Pickwick Lake is before the spring spawn. You will likely find some good-sized largemouth bass around the Wilson Dam as well.
2) Largemouth bass: Lake Guntersville
If you mention smallmouth bass you have to bring up largemouth bass. Lake Guntersville is the best lake for finding good-sized largemouth bass. There are both local and national bass tournaments on Lake Guntersville. Expert anglers recommend the Goose Pond boat dock as a great place to drop your line.
1) Catfish: Lower Alabama River
If you have southern fried catfish on your menu for tonight there are several great places to find some amazing-sized blue catfish, flatheads, and channel cats. The Lower Alabama River is one of the best places to fish for catfish. Here are where some of the record-breaking catfish have been caught:
Channel catfish: 40 lbs, Inland Lake, June 17, 1967 (time to break that record!)
Flathead catfish: 80 lbs, Alabama River, June 22, 1986
Blue catfish: 120 lbs 4 oz., Holt Reservoir, March 9, 2012
Now you have your Summer Bucket List of Alabama Fishing! Make your way down the list or start with the channel cat record, either way, there is lots of great fishing to enjoy in Alabama this summer.
Summary of the 10 Best Fish to Catch in Alabama this Summer
| # | Fish | Where to Catch |
| --- | --- | --- |
| 1 | Catfish | Lower Alabama River |
| 2 | Largemouth bass | Lake Guntersville |
| 3 | Smallmouth bass | Pickwick Lake |
| 4 | Striped bass | Lewis Smith Lake |
| 5 | Crappie | Weiss Lake |
| 6 | Alligator Gar | Tensaw River |
| 7 | Florida Pompano | Gulf Shores |
| 8 | Redfish | Gulf Shores |
| 9 | Wahoo | Orange Beach |
| 10 | Mahi Mahi | Gulf Shores |
The photo featured at the top of this post is © M Huston/Shutterstock.com
---