The Ohio River marks the northern border of Kentucky, and the westernmost part of the state is bounded by the Mississippi River. It's no small wonder that Kentucky has so many great fishing opportunities. The state has an abundance of lakes, ponds, and streams too. With so many options, we've decided that it would be fun to talk about just five of the best fish to catch in Kentucky throughout the summer.
We'll give you a list of options for the best fish to seek in this gorgeous state according to several criteria.
What Are The Best Fish To Catch In Kentucky?
We designed our list of the best fish to catch in Kentucky with all sorts of anglers in mind. We want people seeking a challenge to find a fish or two on this list. Also, we included a few fish that new fishers could pursue with a relatively low amount of difficulty. Without further ado, here are five fish that people in Kentucky can enjoy catching.  
1. Largemouth Bass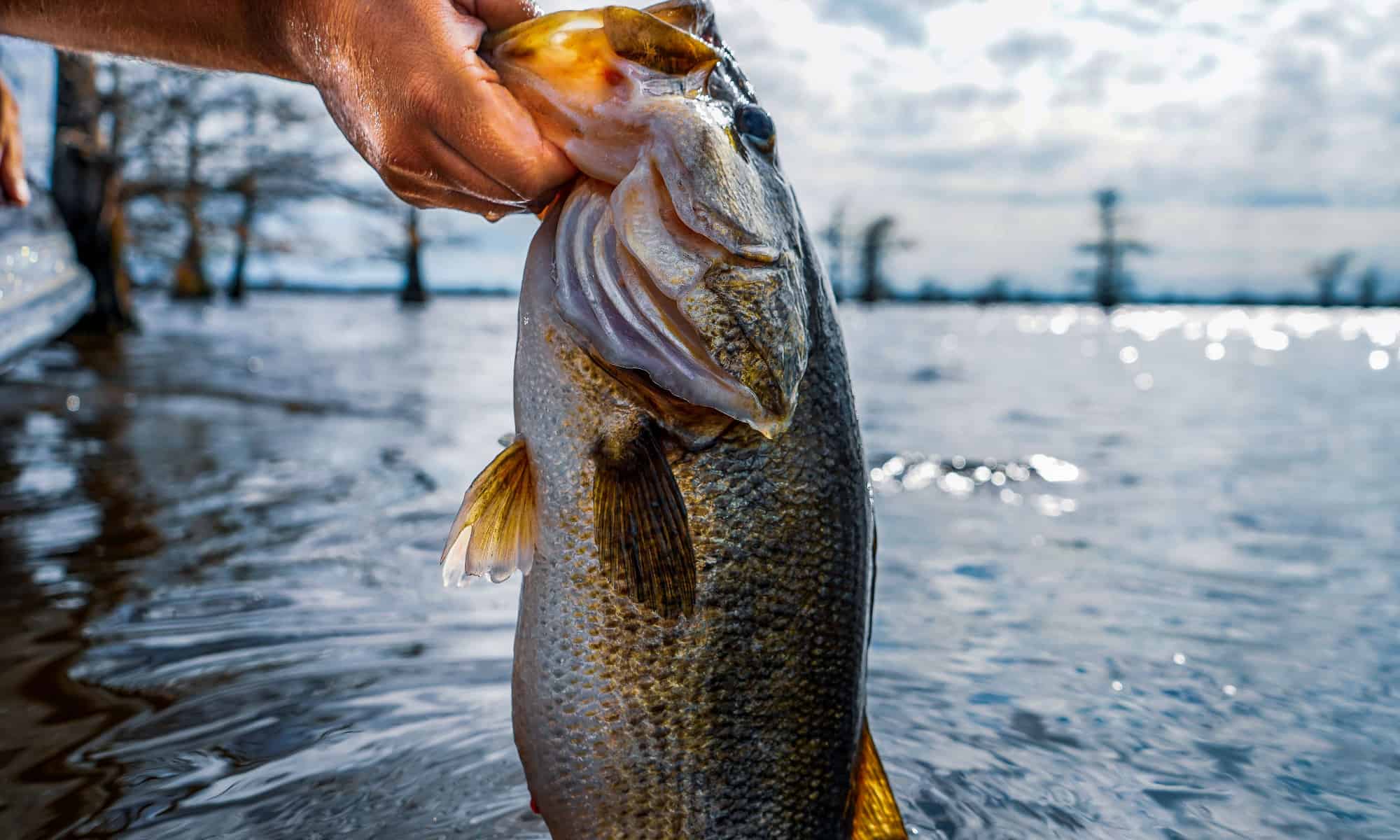 Most people that fish love to catch largemouth bass. These fish are known for their large mouths and voracious appetites. Their hunger for food is part of what makes them so much fun to catch. You can get them on the line with all sorts of bait from soft plastic worm lures to part of your own lunch!
Although these fish are often sought in springtime when the smaller bodies of water warm up, you can catch them throughout the summer.  
These fish are usually found in the shallow parts of lakes, ponds, and oxbows during the early morning. Largemouth bass moves to the deeper parts of the waters during the hottest times of day, and they usually seek shelter under cover. That means casting by ledges, fallen trees, and other structures.  
You can catch these fish from shore at dawn and dusk, but you'd have better luck with a boat in the heat of the day.
2. Rainbow Trout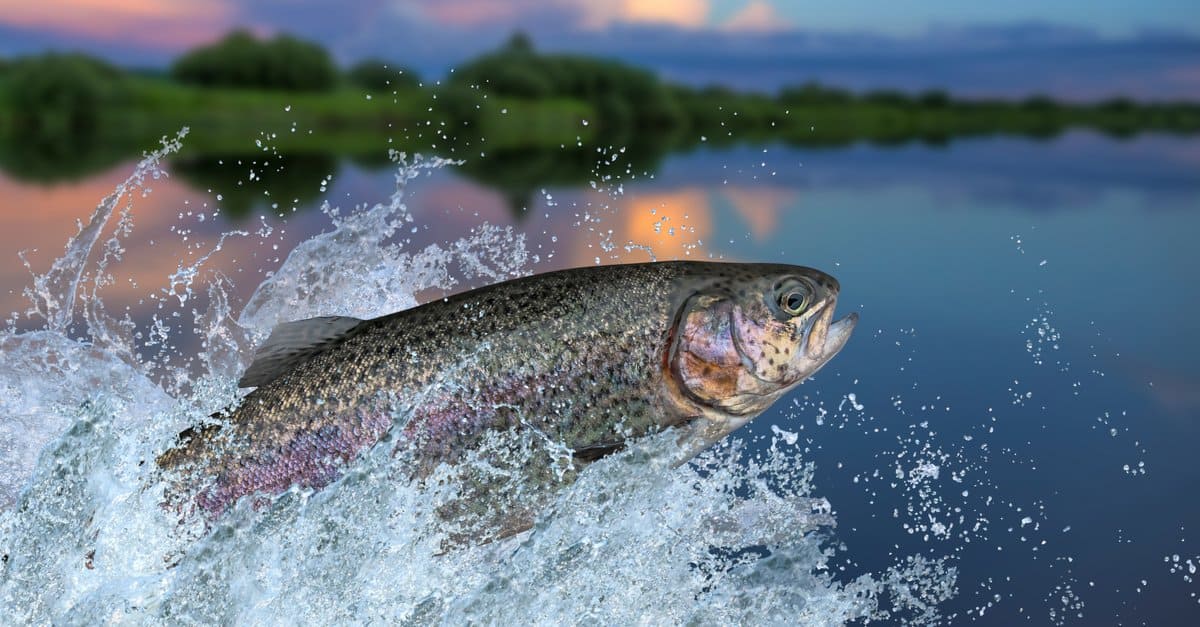 Trout are another type of fish that anglers like to catch. These fish are beautiful, substantial, and tasty. Kentucky, like many other states that stock trout, has restrictions on the number and size of the trout that can be taken from its waters.
Most often, these fish measure just over 12 inches in length and weigh a pound or slightly more. Yet, they can grow larger depending on where they live. Rainbow trout are found in the Cumberland River, Paintsville Lake, Laurel River Lake, and many other bodies of water.
You'll usually have to fish in water that is deeper than 15 feet, sometimes below 30 feet. The fish likes cool water. Even then, you have to use different baits to get their attention. Some people use corn or cheese, but you can try spinners and crankbaits.
Make sure you check the regulations on which bait you are allowed to use before fishing, though. Also, check the size charts to see which fish you can keep and what ones have to be released.  
3. Longnose Gar
People that want a fishing challenge should consider the longnose gar. They are the second-largest species of gar in the state, but they are also the most common member of their family. That means you actually have a chance of catching these creatures!
The longnose gar and other members of the family are often called living fossils. However, the longnose gar is distinct because it has a very long, thin snout. These fish can measure upwards of 6 feet long and weigh 50 pounds. These fish can put up a tremendous amount of fight owing to their large size.
These factors make them one of the best fish to catch in Kentucky! You'll find them in various rivers and reservoirs in the state, including the Kentucky River and parts of the Ohio River. These fish are supposed to be caught and released rather than kept, though.
Try to find these fish along riverbanks with a lot of cover. Use brightly colored lures and remember to hang on tight when the fish strikes the line!
4. Walleye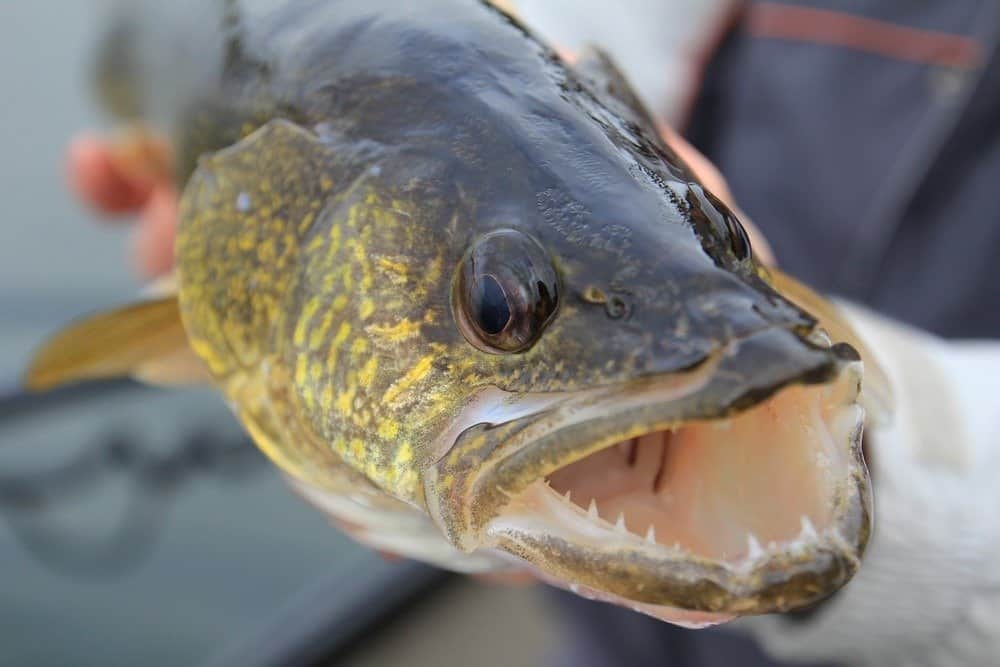 The walleye is known for its opaque eyes and resemblance to the sauger. They usually grow between 12 and 30 inches and weigh just 2-10 pounds. The largest one ever caught in Kentucky weighed 21 pounds and 8 ounces.
In other words, this is a medium-sized fish that is plentiful in Kentucky's rivers and lakes. You'll find them in Rockcastle River, Cumberland River and its drainages, Green River Lake, Lake Barkley, and many others.
Some people insist that walleyes are tough to catch. However, pro anglers say that catching walleyes is usually a matter of using very fresh bait like minnows or leeches, using light jigs, using short casts, and avoiding dragging the bait along the bottom too often.
Walleye can be tough to spot but using electronics to find them in depths of 25 to 40 feet in the summer can help. Try catching walleye during dawn and dusk to have good results.
5. Blue Catfish
The blue catfish is a favorite target of anglers in Kentucky. These fish are large and heavy, weighing from 5 pounds or less up to 60 pounds. They can measure several feet long, too. You can find them in the Mississippi River and the Ohio River along with Lake Barkley and Kentucky Lake.
Some people catch them with a rod and reel, and other people catch them with trotlines. You may catch them from the shoreline, but you have a better chance of catching them from a boat. They like to go to deeper waters, especially in the summer heat.
Using nightcrawlers, artificial bait, and live fish are some of the best ways to get blue catfish on the line. Don't expect an easy time getting them into the boat, though. These are large, powerful fish that will present quite the challenge. That's half the reason people go after them, though.
Now that we've covered the best fish to catch in Kentucky this summer, it's time for you to go out and get them. Remember to check information about state laws regarding fishing before you depart, though. You don't want to be spotted fishing on a river or lake without the right permits!
Summary Of The 5 Best Fish To Catch In Kentucky This Summer
| Rank | Fish | Found In |
| --- | --- | --- |
| 1 | Largemouth Bass | Found in the shallow parts of lakes, ponds, and oxbows during the early morning |
| 2 | Rainbow Trout | Cumberland River, Paintsville Lake, Laurel River Lake, and many other bodies of water |
| 3 | Longnose Gar (catch & release) | Various rivers and reservoirs in the state, including the Kentucky River and parts of the Ohio River |
| 4 | Walleye | Rockcastle River, Cumberland River and its drainages, Green River Lake, Lake Barkley and others. |
| 5 | Blue Catfish | Mississippi River, Ohio River, Lake Barkley and Kentucky Lake |
Up Next:
More from A-Z Animals
---
The Featured Image
---