Minnesota is a state that's good at growing perennial flowers. They just love to die down and get really cold over winter before reappearing like magic in the spring. Here's a list of the best perennial flowers for Minnesota, including their sun requirements and when the blooms burst out.
Minnesota Growing Zones
Northern Minnesota encompasses USDA hardiness zones 3a to 4b with a small far southern area that reaches zone 5. This means that temps get low so tough, fast-growing plants reign. Perennials suit Minnesota's climate, and there's lots to choose from.
In no particular order, here are 22 of the best perennial flowers for Minnesota for an amazing bloom every year.
1. Coneflowers
Native perennial coneflowers benefit Minnesota gardens with their striking shades and bee magnet properties.
Purple, orange, yellow, red, or pink burgundy-foliaged coneflowers need full sun and well-drained soil but very little else. They thrive in zones 3-9 and reach around three feet tall. Their pollinator-friendly blooms emerge in late spring and last all summer. Hardworking coneflowers give their all, and they're easy to grow. All Minnesota gardens should have a coneflower patch! Plant yours out in mid-spring and keep them well watered.
2. Peony
Pretty peonies might appear tender and delicate, but it's a tough perennial for Minnesota that comes back better each year.
Suitable for zones 3-8, pink, white, yellow, and red peonies create bowls of beauty with large rose-like flowerheads that can reach 12 inches across. Overall, the peony's bushy mound of foliage reaches 34 inches tall by 36 wide, so it needs room to spread in a flower border's mid-section or a large, well-watered, and fed container. The best time to plant a peony is mid-spring.
Plant in full sun or part shade and expect June blooms. Put a peony support in place before it gets too big because those gorgeous, heavy blooms require support.
3. Ox Eye Daisy
Native perennial ox eye daisy has large white and yellow flowers with gray-green foliage. This gorgeous bloomer loves full sun and isn't too stressed about soil if it's in full sun or part shade.
Good growers in zones 3-8, ox-eye daisies flower later in the year from early July to fall, so they're a good choice for late Minnesota color. Plant them in spring when the soil has warmed up, and they'll flower that year.
4. Bearded Iris
Perennial bearded iris grows in zones 3-9, popping the yard with white, blue, yellow, peach, and burgundy shades year after year. Bearded iris' ruffled petals, three architectural lips, and spiky foliage make a real statement in a border or container.
Depending on species, these unusual plants grow from 12 to 36 inches tall, and love full sun to part shade in well-drained sandy soil. Blooms arrive in early spring, so it's best to plant bearded iris the previous fall. Leave 1/3 of the rhizome above ground because an iris won't flower unless it feels the sun on its roots.
5. Allium
Minnesota gardeners can't beat large sphere-shaped perennial alliums in a spring-blooming garden. Alliums are related to onions, but they don't smell oniony at all! In fact, they're sweetly scented, and bees adore them.
Choose from blue, yellow, white, or the most popular purple shades and plant the bulbs in fall, ready for a springtime display. These lollipop-shaped flowers are stylish and easy to grow in zones 3-9, and they don't need deadheading, just well-drained soil and full sun or part shade.
6. Sea Holly
One of the toughest flowers for Minnesota gardens is the sea holly, but it must have full sun and very well-drained sandy soil to thrive.
With spiky gray-green foliage and orb-shaped blue cone-style flowers, sea holly is a tough coastal plant in zones 4-9, but it looks like it came from an alien planet. It'll reach two feet in height and spread in just two years, and bees adore its easy-to-access spherical flowers.
7. Balloon Flower
Purple or white balloon flowers love full sun or part shade in zones 3-8. Balloon flower is one of the best perennials for Minnesota because it blooms at the end of summer when the garden is starting to die down for fall.
Reaching 24 inches tall and 24 in spread, these pretty blooms need space to do their thing. When they bloom, they expand from the center and burst open, just like a balloon!
Evenly moist, well-drained soil and plenty of well-rotted organic mulch each year is needed for these hungry clump-forming perennials, but it's worth the effort when their large purple-blue flowers burst open. Plant balloon flowers in spring and expect blooms that year.
8. Delphinium
Spring delphiniums look almost tropical in Minnesota's gardens, but they're well-established classics. Available in traditional blue or purple, white, red, or pink, these beauties need lots of sun and defense against slugs and snails who love young delphiniums as much as gardeners do. A two-inch wide circle of sheep's wool around the stem's base is one of the best ways to defend delphiniums from predation. Molluscs do not like its texture and stay away.
Depending on the variety, perennial delphiniums reach two to six feet tall, and the tallest require supportive stakes. They survive in zones 3-7 and produce delightful fluffy blooms from late spring until late summer. Plant them out in early spring, and delphiniums bloom within months.
9. Gas Plant
With one of the most unattractive names on the planet, it's no wonder it's not a common Minnesota plant! The name actually comes from its ignitable vapor.
White or pink gas flowers need full sun and rich, well-drained soil in zones 3-8. They'll reach 36 inches tall but 46 inches wide and form handsome clumps across mixed borders. Gas flowers' narrow pinnate leaves appear in spring, followed by long spires of light pink flowers in late spring. Its citrus scent keeps deer and rabbits at bay but welcomes in pollinators.
Give this one a try in Minnesota. You won't regret it.
10. Hydrangea
Big and bold hydrangeas live for years, so they're one of the best perennial flowers for Minnesota gardens.
With their large woody trunks and large clusters of pink, blue, or white flowerheads, this a structural plant that suits flower borders or large, well-watered containers. It'll cope with zones 3-8 but needs partial shade because natively, it's a woodland plant that enjoys the shelter of large trees.
Fall is a good time to plant hydrangeas. Keep them shallowly planted and apply lots of water plus rich organic mulch to their roots each year.
One of the most popular hydrangeas is white flowering Annabelle. This one doesn't change color depending on soil type, and flowers from late spring all through the summer. In winter, its dried-out flowerheads provide safe places for ladybugs.
11. Astilbe
Perennial astilbe is a shade-loving plant for Minnesota that enjoys consistently moist soil.
Astilbe has fluffy pink, white, or red flowers depending on the variety and suits spots that ferns thrive in. From zones 3 through 8, fluffy astilbes brighten shady corners, forming a clump of lacy foliage with its pretty flowers held up on spikes for hot bees to find.
This perennial doesn't get too large, so it suits the front of a border or containers that drain efficiently.
Plant out astilbe in early spring, and it'll flower from late spring to mid-summer.
12. Ligularia
Shade-loving ligularia, also called leopard plant, prefers an excellent spot in zones 4 to 9. It's a large perennial with architectural form and vastly underused.
Nearly five feet in height and spread, ligularia adds structure, height, and color to Minnesota gardens with its late summer bright yellow blooms.
It's best to plant this beauty in fall, wait over winter, then watch it emerge the following year. If you can't wait, plant it in spring and water it frequently.
13. Asters
Late fall blooming asters provide nectar for hungry pollinators when summertime flowers have faded. This alone makes them one of the best perennials for Minnesota.
Asters resemble daisies with their large yellow centers, but petals are usually lavender-purple. Low-growing, tough asters suit zones 3-8 and the front of a border in full sun. Plant yours out in late spring, and it'll bloom that fall.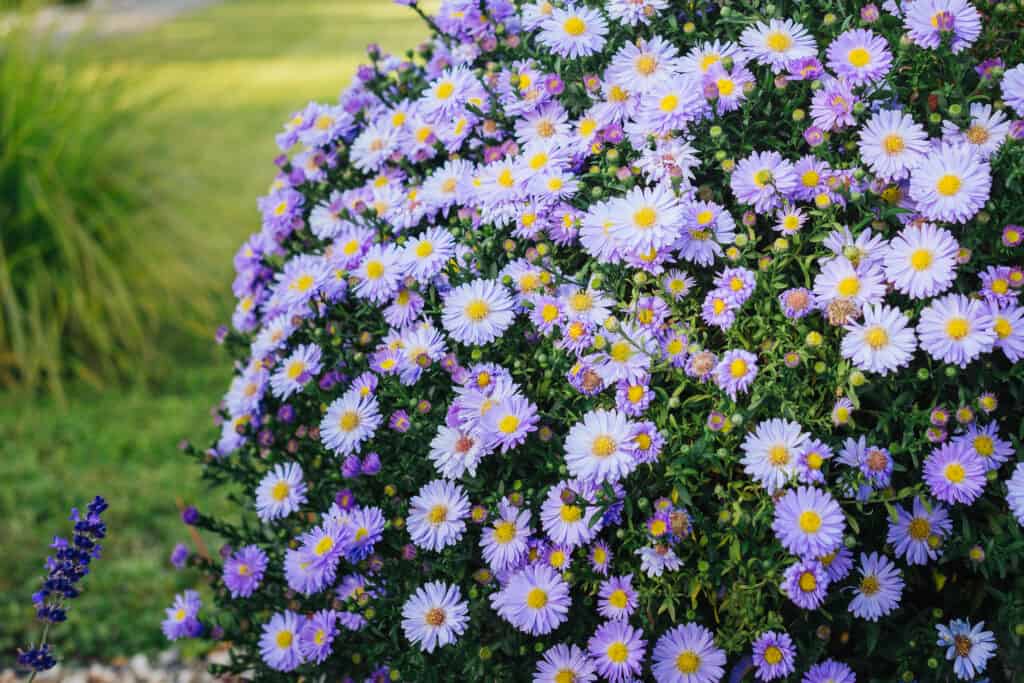 14. Black Eyed Susan
A common perennial for southern states but equally as gorgeous in the north, is the stunning, black-eyed susan.
Versatile and low-maintenance black-eyed susan loves full sun and well-drained soil. Its vibrant yellow, black-centered blooms attract pollinators and fill Minnesota yards with warm hues.
Black-eyed susan forms a clump that grows larger each year, maxing out at around two feet wide. She'll bloom in mid-summer to late fall, only fading out when frosts arrive. Plant yours out in early spring and keep it well-watered until established. After that, black-eyed susan is pretty drought tolerant.
15. Smooth Wild Rose
The smooth wild rose (Rosa blanda) is the most common native Minnesota rose. It grows wild in hedgerows, forest edges, prairies, and thickets in part shade to full sun.
This wild beauty blooms in June and July. It's a native perennial, so Minnesota's bees and butterflies love it. Plant yours out in early spring or late fall with sturdy support such as a trellis or fence wire because it'll reach seven feet tall.
Growing wild roses requires attention, or they can get woody, leggy, and unmanageable. However, don't let that put you off because smooth wild rose blooms reach 2-3 inches wide, and are the most beautiful rich pink with yellow stamens. Plus, the fragrance is a knockout.
Restrain smooth wild roses by cutting back their branches after flowering. Flowers bloom on new growth, so they'll grow new branches ready for the following year's sweet flower display.
16. Lavender
Perennial lavender must reside in a sunny spot. The more sun it gets, the happier it is.
Lavender's aromatic foliage and pretty purple blooms attract pollinators in flower borders, rock gardens, containers, and herb gardens. Some Minnesota folks use lavender as a summer flowering low-growing hedge. Its distinctive scent deters deer and rabbits, but it's edible! Pop flowers on ice cream, in cold water, or on cakes for an unusual mellow flavor.
Many varieties tolerate Minnesota's cold weather, but they won't cope with soggy soil. Choose hardy English lavender cultivars Hidcote or Munstead because they cope with zones 4 and above, flowering in early summer to fall. French lavender growing zones begin at zone 8, which is way hotter than Minnesota's zones.
17. Hosta
Reliable hostas grow in shady areas in zones 4-8. Mostly grown for their large leafy foliage, happy hostas also produce scented flower spikes (called racemes) in mid-summer.
Flower spikes reach several feet tall with white, lavender, or blue bell-like blossoms that hummingbirds adore.
Plant hostas outside in spring when the soil has warmed up, and give them lots of water until you spot new growth. Protective wool around their roots helps keep slugs at bay. Choose a spot in shade or partial shade that's well-drained but fertile. Hostas put on vast amounts of growth each year, rising from nothing to two to three feet tall.
18. Hardy Geranium
Zones 4a and above suit hardy geraniums like the popular geranium Rozanne.
This purple-blooming beauty is as tough as you like. It dies down over winter, then re-emerges in spring with serrated green foliage. By June, its bee-magnet five-petalled blooms start to flower and continue until fall.
Geranium Rozanne is one of the best perennials for Minnesota because it grows in the majority of soils, and although it prefers full sun, it copes with partial shade too. Low maintenance Rozanne gets on with looking fabulous and needs very little attention other than some water in drought spells.
19. Yarrow
Perennial yarrow suits Minnesota's zones 4 and up. It's one of those excellent plants that requires barely any attention but always performs in the northern states.
Yarrow prefers full sun but copes with partial shade in most well-drained soils. Its feathery gray-green foliage contrasts nicely with its flat-topped heads of white, coral, terracotta, pink, or red, depending on the species. Pollinators love easy-to-access yarrow, especially hoverflies, but rabbits and deer leave it due to its distinctive scent.  
Expect flowers from June until fall, and plant new yarrow out in June when the soil is warm.
20. Hoary Puccoon
Oddly named hoary puccoon is a Minnesota native who's a little different. It's a short flower that can reach 18 inches tall, with vivid yellow-orange tubular blooms in July.
In the wild, it festoons prairies, grasslands, and savannahs, so if you're looking for a border filler, this is a good bet. Before its stunning hummingbird-friendly blooms emerge, velvety tooth-edged foliage appears. In late summer, small egg-shaped white nuts glow in the low sunshine.
This is an unusual choice for sure, but it's native and hardy to the point of requiring no maintenance. Just pop it in well-drained, sandy soil and water well until it's established.
21. Prairie Phlox
Native 18-inch tall prairie phlox produces bright hot-pink flowers from May to July and best of all. It's not picky. This Minnesota native grows in virtually any well-drained soil and welcomes bees to the yard.
Plant prairie phlox in June, being sure to spread plants at least 20 inches apart because they need room to spread. Full sun is best, but partial shade is acceptable. This dense herbaceous perennial dies down over winter and returns even bolder the following year.
22. Agastache
From mid-summer to mid-fall, agastache, known as hyssop, profusely blooms purple flowers on sturdy two-three feet tall spikes. Its aromatic foliage smells like licorice, and its flowers attract many pollinators,, including bumblebees, butterflies, and hummingbirds.
Many cultivars exist, so it's possible to buy white or pink agastache. Most varieties reach two to three feet tall each spring and die down to a clump over winter.
Plant agastache in full sun to partial shade in well-drained soil during May. It's not picky about soil type but won't cope with consistently flooded ground.
The photo featured at the top of this post is © iStock.com/Cheryl Ramalho
---