Imagine the thrill of hooking a leviathan, a fish so massive it could rival the mythical sea monsters of old. The sun glints off its silvery scales as it leaps and dives, fighting for freedom, while your heart races in tandem with every surge of adrenaline.
This is the story of a monumental catch that would etch itself into the annals of angling history forever. In the picturesque waters of Michigan, where nature's paintbrush dances across the landscape, a battle unfolded between man and fish, culminating in the largest salmon ever caught in the state.
Like a Herculean feat, this extraordinary tale is not just about the prize's size but the angler's indomitable spirit and the mesmerizing dance of predator and prey. This remarkable feat stands as a testament to the abundant fisheries and the thrill of reeling in a trophy-sized fish. So, strap in and join us on this roller coaster ride as we reel in the captivating story of this spectacular catch.
Background on Michigan Salmon Fishing
Salmon fishing in Michigan boasts a storied past, tracing back to the early 1900s. As interest grew, anglers of all stripes tried their luck at catching these elusive fish.
The scene shifted in the 1960s, with Pacific salmon joining the Great Lakes party. This move aimed to curb the rampant alewife population, an invasive fish wreaking havoc on the ecosystem. These Pacific newcomers, primarily Chinook and coho salmon, flourished in their adopted waters, feasting on plentiful alewives.
With these new additions, Michigan's salmon fishing craze took off. Anglers descended on the shores, eager to land these fresh catches. Word spread like wildfire, and salmon fishing became the region's hottest topic.
Nowadays, Michigan's salmon fishing remains a popular pastime, drawing enthusiasts from near and far. The sport shows no signs of losing steam as more people get hooked on the thrill it offers.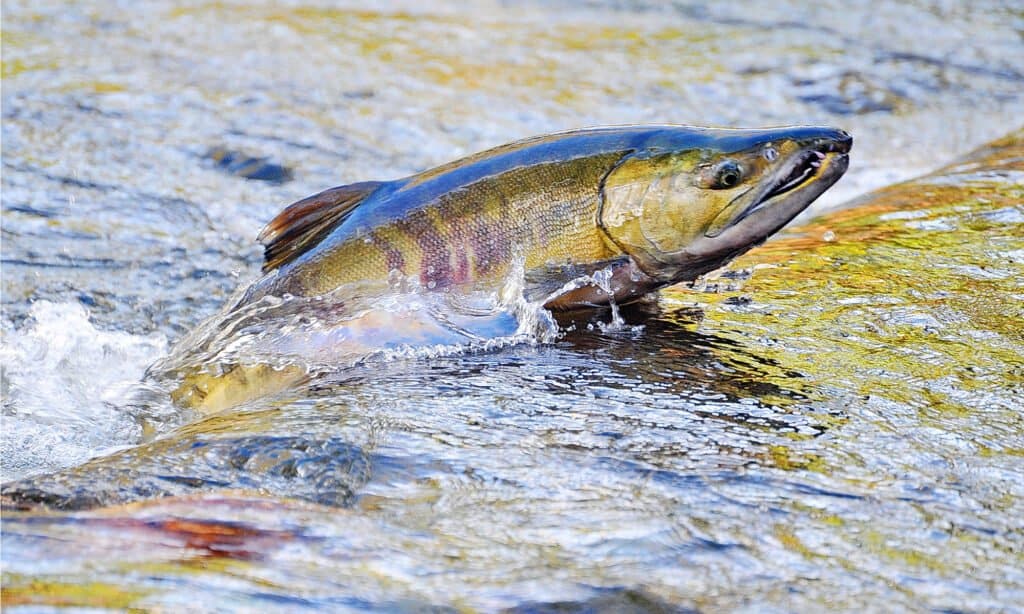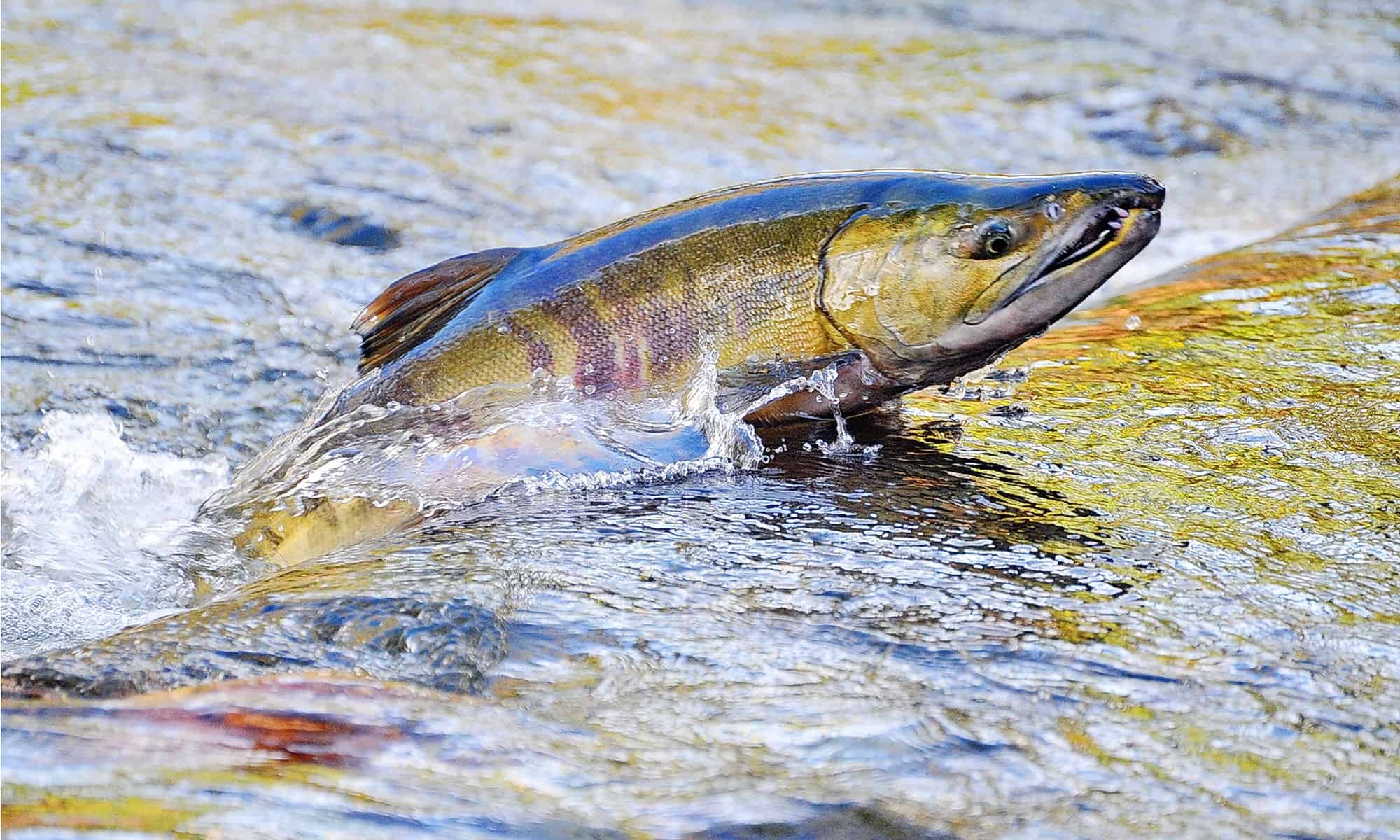 The Record-Breaking Catch
The day was spectacular when 19-year-old Luis Martinez, an Ortonville resident, ventured out on his first-ever salmon fishing expedition. On that Saturday, Lake Michigan was to witness a record-breaking catch. Martinez did not know he would soon reel in Michigan's largest Chinook salmon ever caught.
It was September 4th, 2021, and the weather conditions were just right for an unforgettable fishing experience. Armed with his trusty fishing gear and guided by Capt. Bobby Sullivan of Icebreaker Charters, Martinez set out to try his hand at troll fishing. Employing little technique, he was about to make a catch that would etch his name in the annals of Michigan's fishing records.
As the battle ensued, the moment of the catch arrived. Martinez faced numerous struggles and challenges during the fight, lasting more than 30 minutes. The first 10 minutes were intense, but around the 20-30 minute mark, the massive Chinook salmon started leaping out of the water. With Captain Bobby Sullivan's assistance, Martinez landed the colossal fish in the boat.
The duration of the battle was certainly worth it, as the measurements of the record-breaking salmon were astonishing. The Chinook weighed a staggering 47.86 pounds, measured 47.5 inches in length, and had an impressive girth. With this catch, Martinez broke the previous state record set back in 1978 by Ray Essex, who had caught a Chinook salmon weighing 46.06 pounds and measuring 43.5 inches.
Elated and humbled by his achievement, Luis Martinez was grateful to Capt. Bobby Sullivan who played an instrumental role in making the catch possible. Captain Sullivan, in turn, commended Martinez for his exceptional performance, stating, "Luis did amazing, executing perfectly everything I asked him to do to bring this fish in." Jay Wesley, DNR Lake Michigan Basin coordinator, and Scott Heintzelman, DNR Central Lake Michigan Management Unit supervisor, verified the new record.
This tale of the largest salmon ever caught in Michigan reminds us that anyone can achieve greatness on the open water with the right guidance, determination, and a bit of luck.
The Aftermath of the Catch
When Martinez reeled in the largest salmon ever caught in Michigan, his reaction was a combination of astonishment and pure joy. "Try something new," he said, reflecting on his first experience catching a salmon. The momentous catch occurred around 7 a.m., according to Lemaster. They knew they had hooked a massive fish from the get-go. "The reel started screaming," she said, noting that it all happened faster than anticipated.
In the wake of this extraordinary catch, the process to certify it as a state record commenced, and word quickly spread throughout the fishing community. By 2 p.m., Captain Chuck's II teemed with people eager to glimpse the record-breaking salmon. Vehicles filled the parking area, and dozens of spectators gathered as fishermen Martinez, Sullivan, and Keegstra finally unveiled the fish from its box and placed it on a scale.
The crowd whipped out their phones to capture photos and videos, eager to share the news of the new record. Keegstra was amazed by the turnout, saying, "The fishing community is relatively small. I figured we would have our normal fishermen and some of the other clients, maybe.
The way that word spread and the draw from the people just blew my mind." The event's significance was not lost on him, as he reflected that a 19-year-old kid had broken a record set in the '70s. This spectacular catch and its aftermath will undoubtedly go down in Michigan's fishing history.
Types of Salmon Found in Michigan
If you're willing to try your luck at fishing for salmon in Michigan, you'll find that there are several varieties of this species available. The most common types include:
Chinook Salmon
Chinook salmon, the largest Pacific salmon, has thrived in Michigan's Great Lakes for over half a century. Fond of cooler temperatures, they swim in deeper waters, making them a bit elusive. Late summer marks the start of their upstream migration, with catchable numbers surfacing by mid-August.
Often dubbed "kings," Chinook salmon can weigh more than 20 pounds, living up to their royal nickname. Fall is the prime time to reel these majestic fish at popular spots like Lake Michigan piers and coastal streams. Inland streams like the Manistee (Tippy Dam), Pere Marquette, and St. Joseph rivers also serve as excellent fishing grounds.
The mighty Chinook salmon reigns supreme in Michigan's waters, providing anglers with an exciting and rewarding challenge.
Coho Salmon
The Department of Natural Resources credits coho salmon for launching the Great Lakes salmon fishery. You can catch this well-liked species in Lake Michigan all year long. The lake's east side offers the best fisheries in early spring, late summer, and early fall.
Coho enthusiasts should visit the Manistee River in late October. The Platte River in northern Michigan is another seasonal hotspot. St. Joseph River hosts migrating coho up until Christmas. Try the Anna River for coho fishing in the Upper Peninsula. Experience the excitement of catching this popular Michigan salmon species.
Pink Salmon
Pink salmon, the tiniest of Pacific salmon species, made their home in Lake Huron during the 1950s. These fish weigh just over eight pounds and hold the state record for the smallest salmon. To find them, head to Lake Huron's tributaries, especially the Carp River in the southeastern Upper Peninsula and the St. Marys River.
Interestingly, pink salmon typically spawn every two years. However, a mix of one and three-year-old fish ensures annual spawning runs. Expect the largest runs in odd-numbered years, making it an exciting event for anglers and nature enthusiasts.
Atlantic Salmon
Atlantic salmon, native to the North Atlantic Ocean, display remarkable leaping and fighting skills. Torch Lake hosts a thriving fishery, attracting fly fishers to tributary mouths for pre-spawning catches. The St. Marys River is the primary hotspot for Atlantic salmon fishing, with Lake Huron and St. Clair River offering additional options.
These salmon initiate spawning in mid-summer, drawing fly fishers to the river's swift rapids. Fall months, specifically October through December, yield abundant catches for dedicated anglers.
Prime Salmon Fishing Locations in Michigan
Whether you are a beginner or an experienced angler, Michigan offers plenty of spots for salmon fishing. The state's numerous rivers, lakes, and tributaries are teeming with Chinook, coho, pink, and Atlantic Salmon – all just waiting to be caught. Here are some of the best places to fish for salmon in Michigan:
Manistee River
The Big Manistee River and Tippy Dam are the top salmon spots in Michigan. This scenic river offers an early Chinook season, starting in late August or early September, enabling anglers to chase kings ahead of other state rivers.
With Chinook runs lasting until early or mid-November, the fishing season truly goes the distance. October and November also shine for coho salmon, with fish journeying up to Tippy Dam. Here, most anglers test their mettle, seeking the river's abundant colossal king salmon.
Heading downstream, other bountiful locations include Off Fayette Road (in Deward) and the 612, CCC, and Sharon Bridge.
Pere Marquette River
The picturesque Pere Marquette River, a prime salmon hotspot, stretches 64 miles across Michigan. Boasting one of the state's largest Chinook runs, it's a true angler's paradise. You can bet your bottom dollar on a bountiful catch during peak seasons.
For king salmon, cast your line from mid-September to late October. Meanwhile, coho runs steal the spotlight between late September and November. The Pere Marquette River promises an unforgettable fishing experience for salmon enthusiasts.
Muskegon River
The Muskegon River, a renowned salmon and trout hotspot, offers plenty of action for drift boaters and waders alike.
Stretching over 200 miles, prime salmon fishing occurs below Croton Dam in Croton Township. This river's main draw is its king salmon, migrating upstream in massive numbers during fall. The optimal time for catching kings spans from mid-September to mid-November.
Although the Muskegon hosts some coho runs, they're often relatively small. Shore and wading anglers typically target the stretch between Newaygo and Croton, while boat anglers cast their lines from the river mouth up to Croton Dam.
Rogue River
The Rogue River, a significant tributary of the Grand River, boasts a prime salmon fishing location in Michigan. Spanning merely 7 miles, this hidden gem offers bountiful salmon and trout fisheries between Rockford Dam and its confluence with the Grand.
Interestingly, the smaller river contributes to its underrated reputation as a salmon hotspot. Many anglers gravitate towards the Grand River, overlooking that the Rogue shares in the abundance of Chinook and coho runs from the Grand, making it a lesser-known salmon paradise.
Moreover, the Rogue provides exceptional fly fishing experiences, where catching king salmon exceeding 20 pounds is not a rarity. Plan your fishing expedition from early September through November to maximize your chances of reeling in both king and coho salmon.
St. Marys River
St. Marys River stands out as a prime salmon fishing location in Michigan. Acting as a natural border between Michigan and Ontario, this river connects the vast waters of Lake Superior and Lake Huron.
With connections to two Great Lakes, St. Marys River boasts abundant salmon species. Remarkably, all four types of Michigan salmon thrive here, offering anglers plenty of variety.
Mostly known for its impressive Atlantic salmon run, St. Marys River witnesses these fish migrating from Lake Huron to spawn. Additionally, significant annual Chinook and coho runs occur, along with a fair number of pink salmon.
Interestingly, salmon runs in St. Marys River start quite early. Chinook, coho, and pink salmon seasons may begin in late July or early August. Meanwhile, Atlantic salmon appear even earlier, providing successful fishing opportunities from June through August.
Lake Michigan
Lake Michigan serves as a prime salmon location in Michigan. Many rivers and tributaries to this Great Lake contribute to the state's abundant salmon runs. Fishing on Lake Michigan offers numerous benefits over river fishing.
Firstly, all four types of Michigan salmon can be found here. While kings and cohos are most common, you may also catch pink and Atlantic salmon.
Another advantage is Lake Michigan's extended salmon season compared to shorter river seasons. The best time for salmon fishing is summer, typically from May to late August, but you can target salmon year-round.
Ideal periods for salmon fishing on the lake include early spring, late summer, and early fall, when fish begin their runs.
Tips for Catching Large Salmon in Michigan
Catching large salmon is no small feat, but with these tried-and-true tips, you'll reel in the big ones.
When it comes to Chinook salmon, timing is everything. Cast your line during low-light hours, like mornings or evenings, to increase your chances. For those who prefer fishing under the moonlight, use glow-in-the-dark spoons to attract these elusive creatures. Most anglers opt for artificial bait but don't count out salmon eggs — they're quite the catch.
Now, let's talk coho salmon. Spin your way to success using spinners, spoons, and plugs — these are the go-to choices for many experienced fishermen. These tools will have you swimming in fish before you know it.
As for pink salmon, patience is key. Troll the deeper waters of St. Marys using downriggers or jigs with spoons. As the weeks pass, these fish will journey into the rapids, and you'll be ready for a bountiful harvest.
Lastly, set your sights on Atlantic salmon. Drift below the rapids and troll with downriggers to nab these beauties. Alternatively, cast your line with streamers or soft-plastic jerk baits to hook them in. With the right technique, you'll be the talk of the town.
The Unforgettable Titan: Michigan's Most Epic Salmon Catch
The largest salmon ever caught in Michigan stands as a testament to the state's incredible fishing opportunities. This spectacular catch created a memorable moment for the angler involved and inspired fellow enthusiasts to pursue their record-breaking achievements.
The tale of the largest salmon caught in Michigan is one that will continue to be shared among fishing enthusiasts for years to come. It symbolizes the allure of Michigan's rich waters and the possibilities that await anglers seeking their own extraordinary catches. Whether you're an avid fisherman or simply appreciate the beauty of nature's wonders, Michigan's fishing scene offers an exhilarating experience.
So pack your gear, cast your line, and embark on your own journey to create unforgettable fishing memories in the Great Lakes State. Join us as we dive into the story behind this spectacular catch and marvel at the wonders of Michigan's fishing paradise.
The photo featured at the top of this post is © SnapTPhotography/Shutterstock.com
---