The United States is a truly beautiful country. There are about 18,617 claimed islands, and this doesn't include islands within lakes. Florida has over 4.500 islands to choose from. In just the Great Lakes alone, there are 30,000 islands, many of which you can visit. So, which islands are the best? Which ones should you add to your bucket list? Follow along to learn about the top 12 must-visit islands in the United States.
1. Amelia Island, Florida
The first island on our list is Amelia Island in Florida. It's a true beach paradise. This lovely island offers visitors about 13 miles of beaches. Amelia Island is one of the most underrated islands in the state. There are many things to do on this small island. You won't be stuck at beaches all day. For instance, visitors can go to Amelia Island State Recreation Area. It covers about 200 acres of beaches, marshes, and marine forests. The nearest city is Fernandina Beach, Florida. Apart from this amazing state park, you can also visit Fort Clinch, the Amelia Island Lighthouse, and the Amelia Island Museum of History.
2. Mount Desert Island, Maine
When most people think of islands in the United States, they usually imagine Florida, Hawaii, or Puerto Rico beaches. However, there are islands in many other states that are just as stunning. Mount Desert Island is located in Maine and is the largest island off the coast of the state! The island has a population of about 10,000 people and yet gains over 3 million visitors every year. Most of the visitors come from far to visit Acadia National Park. The national park covers about half of the island. Within this national park are 158 miles of hiking trails and plenty of wildlife viewing opportunities. Not only is the island full of natural beauty, but you can also book a whale-watching tour!
3. Whidbey Island, Washington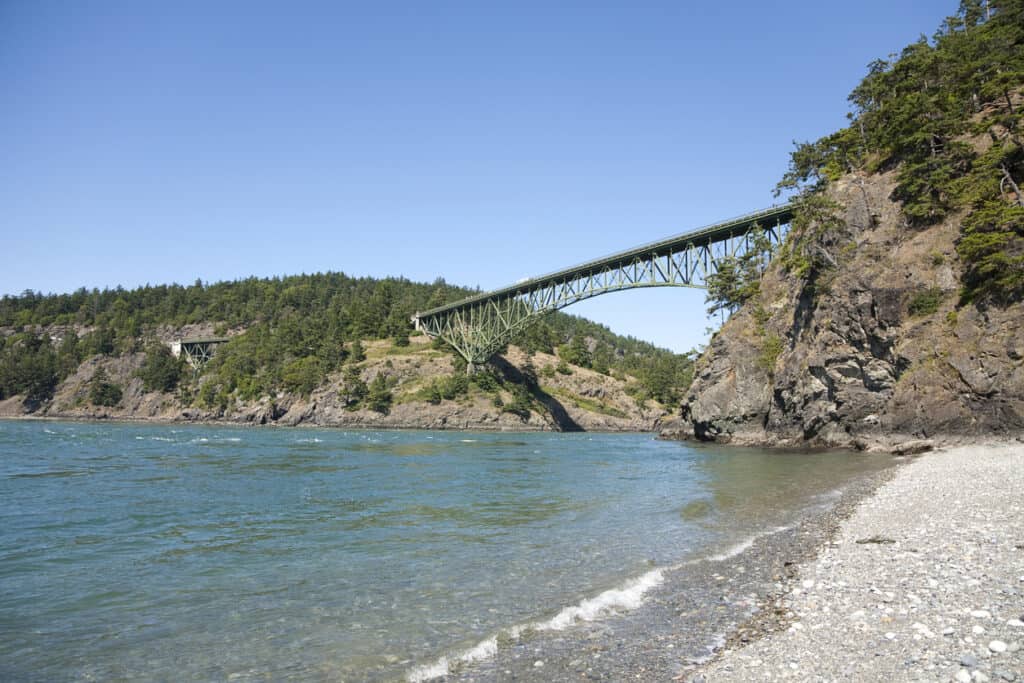 One of the best islands to visit in the United States is Whidbey Island in Washington State. Like the previous island, it's the largest island in the state. Whidbey Island has a surface area of 168.67 square miles. It's 37 miles long and 10 miles wide. Whidbey Island is home to about 70,000 people. While it's not a top tourist destination, many people visit during the summer to enjoy the island's natural beauty and many free attractions. The island has multiple state parks including Deception Pass State Park, South Whidbey State Park, and Fort Ebey State Park. Apart from admiring the island's beauty, you can also attend a festival. Some of the most popular festivals held on this island are the Island Shakespeare Festival, Whidbey Island Zucchini Festival, and Oak Harbor Music Festival.
4. Seabrook Island, South Carolina
This island is a beautiful barrier island in Charleston County, South Carolina. About 2,000 people live on this island. It was previously called Simmons Island. The total surface area of the island is 7.06 square miles. Seabrook Island has beautiful beaches. Some of the top things to do on the island are camping, fishing, hiking, and sports like tennis. You can also visit the Seabrook Island Equestrian Center and take riding lessons.
5. Vieques Island, Puerto Rico
Another fantastic island to visit in the United States is Vieques Island in Puerto Rico. This lovely island is about 8 miles east of mainland Puerto Rico. The surface area of Vieques is about 52 square miles. This island is 20 miles long and 4.5 miles wide. It's one of the best island destinations in the world, however, there are parts you can't explore. A section of the island is still closed off because of severe contamination as it was used as a bombing area. Although it's a beautiful island perfect for swimming, you can also visit the Fortín Conde de Mirasol, Faro de Vieques, and the pristine bioluminescent bay. You can get to the island on a ferry or flight from Ceiba or San Juan's Luis Muñoz Marín International Airport.
6. Jekyll Island, Georgia
Jekyll Island is a stunning island in Glynn County, Georgia. It's a popular summer tourist destination for locals. You can travel to this island from mainland Georgia through a paved causeway. Jekyll Island has a surface area of 5,700 acres. It's about 7 miles long and 1.5 miles wide. Parts of the island are made up of tidal marshlands. There are over 8 miles of beaches and 20 miles of hiking trails, perfect for all difficulty levels. Jekyll Island has many things to do and see including the Horton House, Clam Creek Picnic Area, Glory Beach, and the Jekyll Island Club Historic District. Did you know Jekyll Island has also been used as a filming location for multiple movies? This island was featured in X-Men: First Class, Magic Mike XXL, The Legend Of Bagger Vance, and the Color Purple.
7. Catalina Island, California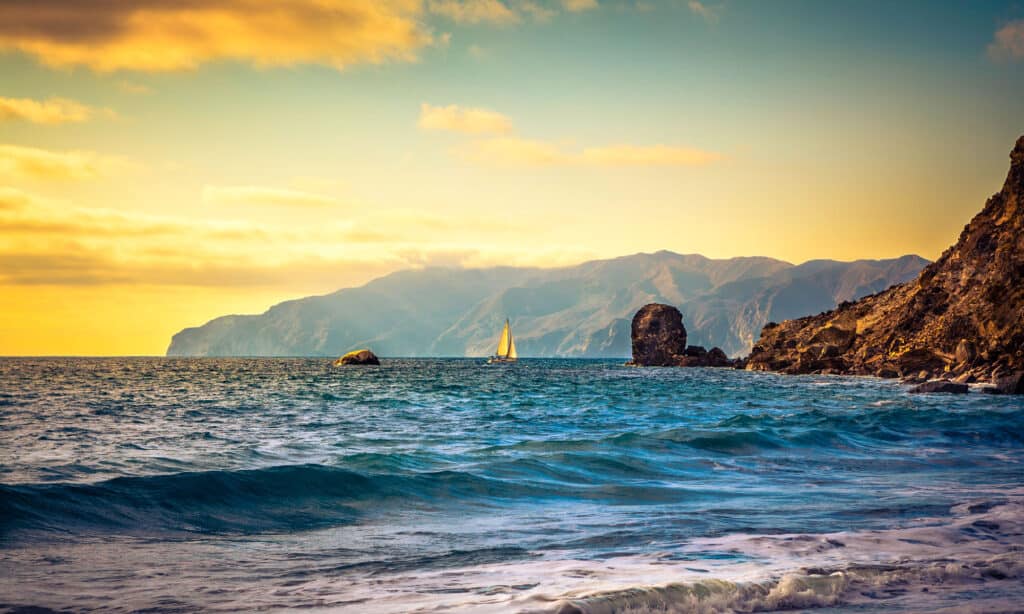 The next island on our list is Santa Catalina Island, more commonly shortened to Catalina Island. It's located off the coast of California and is a popular tourist destination. The highest point on the island is Mount Orizaba, and it sits at an elevation of 2,097. Catalina Island's surface area is 74.98 square miles. The island has a long and rich history. It was likely first settled as long as ago 7000 BC. The first European to land on Santa Catalina Island was Juan Rodríguez Cabrillo. About 1 million people visit this island every year, contributing about $166.7 million. There are fantastic beaches and many hiking trails to enjoy. You can also book tours on glass-bottom boats to view wildlife and shipwrecks off the coast of Santa Catalina Island. If you're a history buff, you can also visit the Catalina Island Museum and see over 100,000 items.
8. Kauai, Hawaii
Hawaii's fourth largest island is Kauai, but its size is just a fraction of its incredibleness. Kauai has a population of over 70,000 and a surface area of 562.3 square miles. There is so much to do and see on this island. Some of the best waterfalls are located within Kauai like Hanakapiai Falls, Manawaiopuna Falls, and Wailua Falls. Tourism is Kauai's main industry. Each year, nearly 2 million people visit Kauai, typically in the summer. Kauai is home to many wilderness areas and state parks. Some of these include the Alakai Wilderness Area, Haʻena State Park, Kōkeʻe State Park, Nā Pali Coast State Park, and Waimea Canyon State Park.
9. Mackinac Island, Michigan
Next on our list is Mackinac Island off the coast of Michigan. This must-visit island is very busy during summer and early fall, however, there are only about 500 permanent residents. Mackinac Island has a surface area of 18.84 square miles, and over 76% is water. The island was first settled in 1671, well over 300 years ago. Mackinac Island, however, wasn't established as a city until March 20, 1900. You can take a ferry to the island or a scenic boat trip around. Interestingly, Mackinac Island is known for its many delicious fudge shops. While you can spend your time trying out all the unique fudge flavors, there are plenty of historic sites to visit. Important sites and buildings include the Round Island Passage Light, Richard and Jane Manoogian Mackinac Art Museum, and Fort Mackinac.
10. Nantucket, Massachusetts
Another wonderful island in the United States to visit is Nantucket in Massachusetts. The island is about 30 miles south of Cape Cod. It was settled in 1641. The surface area of Nantucket Island is 105.3 square miles and about half of the surface area is water. There are about 14,000 permanent residents living in Nantucket, Massachusetts. The weather on this island is refreshing. The highest temperature ever recorded was 100 °F in 1975, but this is rare. While it's not the hottest island in the United States, it also isn't extremely cold. The coldest temperature recorded in Nantucket is −3 °F. There is a lot to do and explore on Nantucket, including museums, art galleries, beaches, and historic buildings. Next time you visit, don't miss the Nantucket Whaling Museum or the Nantucket Historic District.
11. Block Island, Rhode Island
Rhode Island is the smallest state in the U.S. by area, however, while it's small, it does have many beautiful islands. Block Island in Rhode Island is perfect for a weekend getaway in the summer. Although a popular tourist destination, only about 1,000 residents live here permanently. The island's surface area is 9.73 square miles. There is a lot to do on the island, including many festivals and parades. One of the largest parades on Block Island is the Fourth of July Parade. Anyone can enter and ride on a float as long as it fits the regulations. Built in 1875, you can also visit the Southeast Lighthouse. Another historic lighthouse on the island is the North Lighthouse.
12. Kiawah Island, South Carolina
Another popular island in South Carolina is Kiawah Island. It's a barrier island about 25 miles southwest of Charleston with 10 miles of beaches. Kiawah Island is a luxury destination. Most people who visit go because of the Kiawah Island Golf Resort as it has beautiful and clean private beaches. Apart from gold, you can also play tennis at the Roy Barth Tennis Center. Kiawah Island is small, with a surface area of 15.14 square miles. It's home to about 2,000 people and sits at an elevation of 13 feet. Golfing though isn't the only thing you can do on the island. You can also visit the Beachwalker County Park. While the beaches are stunning, you can also kayak in the Kiawah River.
The photo featured at the top of this post is © Maridav/Shutterstock.com
---