The states that produce the most wheat are participating in one of the oldest agricultural crop operations in the world. Wheat has been a mainstay across the world and a primary crop for thousands of years. Whole grain wheat has been responsible for feeding untold billions since the dawn of agriculture.
Wheat is an energy-boosting, metabolism-driving food and is the primary ingredient in cereals, bread, pasta, flour, crackers, and more. All six types of wheat are grown in the United States, and it's the only country to do so.
The top ten states on this list are responsible for the production of 1,182,335,000 bushels of wheat in 2022. The US doesn't lead the world in wheat production, but it is a major producer, exporting half of all produced wheat each year.
States That Produce the Most Wheat
Our top two states go back and forth with each other sometimes. For this list, we're using the most recent year, not an overall average. However, 2021 is thrown in for good measure, so you have a working idea of how much each state produces on an annual basis. Wheat is a finicky crop from time to time, and some years are highly productive, while some are nearly devastating.
1. North Dakota
North Dakota edged out Kansas for the number one spot in states that produce the most wheat for 2022. Kansas led the list by a long shot, in 2021. Each year, North Dakota averages about 7.5 million acres purely for wheat production, and the state is responsible for an average of 320 million bushels per year. North Dakota produced 299,900,000 bushels in 2022.
2. Kansas
Kansas is not always in the second spot and spends as much time in the first spot as North Dakota. Both states have the rich soil and flat land necessary for planting and producing wheat, making it the ideal, number-one crop in both states. Kansas produced 244 million bushels in 2022 and 364 million in 2021. So far, the state is sitting at 191 million bushels for 2023.
3. Washington
Washington produced 144,020,000 bushels of wheat in 2022 and 87,180,000 in 2021. Though Washington is high on the list of states that produce the most wheat, its primary crop production lies elsewhere. The state is known for fruits more than anything else, especially blueberries and sweet cherries. Washington also produces a ton of asparagus, potatoes, apricots, and pears.
4. Montana
Like Kansas and North Dakota, Montana and Washington jump back and forth in the third and fourth spots for states that produce the most wheat. Montana produced 139,300,000 bushels of wheat in 2022 and 100,361,000 bushels in 2021. Despite floating back and forth between the number 3 and 4 spots, Montana's primary crop is wheat, though the state is a huge producer of apples, dry beans, mustard, squash, and field peas as well.
5. Idaho
Idaho is not just known for producing potatoes. The state produced 93,515,000 bushels of wheat in 2022 and 76,534,000 bushels in 2021. Idaho is always among the states that produce the most wheat each year, but the state's claim to fame remains potatoes. Idaho produces a third of all the potatoes throughout the entire U.S., using only 300,000 acres to do so.
6. Minnesota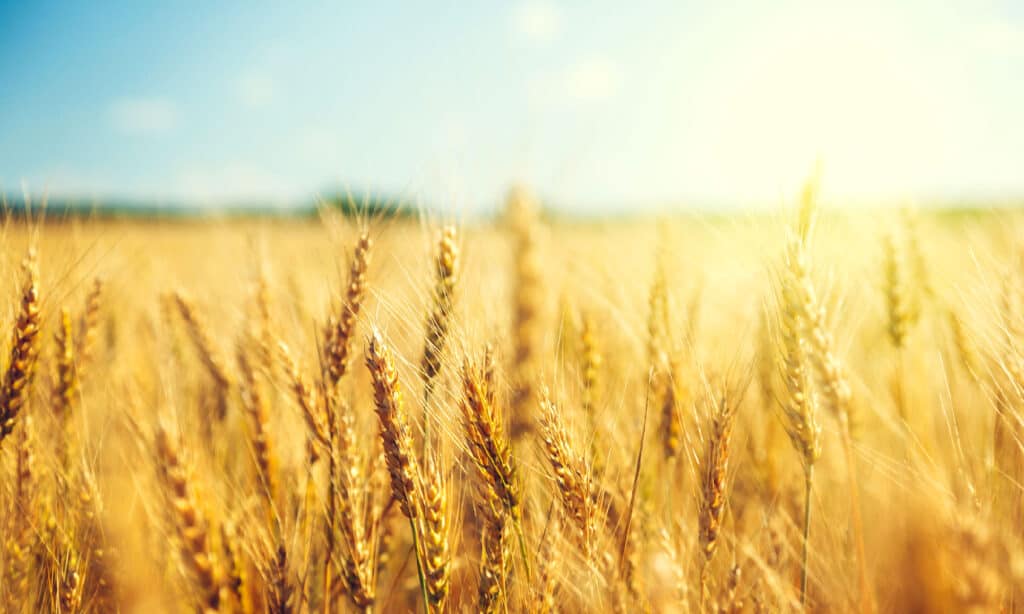 As one of the states that produce the most wheat, most people don't associate Minnesota with wheat production. The state is better known for its livestock, alongside soybeans, corn, and sugar beets. Nonetheless, Minnesota produced 73,810,000 bushels of wheat in 2022 and 55,680,000 in 2021. Wheat is also one of the top 5 commodity exports for the state, so it's by no means a trivial crop in the North Star State.
7. Oklahoma
Oklahoma had a huge year in wheat production back in 2021, surpassing Washington, a state that sits in the third spot on this list. However, 2022 is a regression from the previous high, by a large amount. Oklahoma produced 68,600,000 bushels of wheat in 2022, and a much higher 115,500,000 in 2021. Despite its place on the list, Oklahoma is a corn state, through and through.
8. Illinois
The last three states fall off significantly from the above 7 states that produce the most wheat each year and on average. Illinois produced 44,240,000 bushels of wheat in 2022 and a slightly higher 48,190,000 in 2021. Illinois leads the nation in soybeans and corn, as well as swine on the livestock side of the agriculture industry. The Prairie State primarily grows winter wheat, with 560,000 acres set aside for it.
9. Texas
As big a state as Texas is, it only makes the ninth spot on our list of states that produce the most wheat. Texas is more about horses and cotton, as far as livestock and crops are concerned. However, the Lone Star State is also a huge producer of corn, peanuts, rice, and pecans. Texas produced 39,000,000 bushels of wheat in 2022, and 74 million the year prior.
10. Colorado
Colorado is known for the Rockies, not necessarily being one of the states that produce the most wheat. Nonetheless, it squeaks into the 10th spot with 35,750,000 bushels of wheat in 2022 and 69,560,000 bushels in 2021. Many of the states on this list did a lot better in 2021 than in 2022. Many did the exact opposite. In 2022, Colorado only produced a little over half its 2021 haul.
Which Of The 10 States Produces The Most Wheat Overall?
As you can see, by the disparity between 2021 and 2022, it's an up-and-down ballgame each season. However, the most consistent state is Kansas. The Sunflower State has 7.3 million acres set aside purely for wheat, while the runner-up state, North Dakota, has 6.5 million acres.
Interestingly, Texas has the third most acres set aside for wheat production at 5.5 million acres. Despite that, the Lone Star State is ninth. As it turns out, growing, harvesting, selling, and exporting wheat is not always a cut-and-dry business, with states experiencing drastic successes and drawbacks each year.
Summary Of Top Ten States That Produce The Most Wheat In The U.S.
| Rank | State | Production in Bushels |
| --- | --- | --- |
| #1 | North Dakota | 299,900,000 |
| #2 | Kansas | 244,000,000 |
| #3 | Washington | 144,020,000 |
| #4 | Montana | 139,300,000 |
| #5 | Idaho | 93,515,000 |
| #6 | Minnesota | 73,810,000 |
| #7 | Oklahoma | 68,600,000 |
| #8 | Illinois | 44,240,000 |
| #9 | Texas | 39,000,000 |
| #10 | Colorado | 35,750,000 |
The photo featured at the top of this post is © Juice Flair/Shutterstock.com
---