Being caught alone in the wild can be one of the most dangerous things for many animals. Often, we hear stories of a zebra or antelope being killed because they strayed from their pack. They were found alone, and some other animal, or pack preyed on that loneliness. 
Click the Button Below to check out the Video!
Even still, in other situations, packs of animals, such as hyenas or wild dogs, can take down large animals together. For example, the African wild dog eats antelope. However, a lone wild dog is no match for an antelope.
Antelope Facts
The antelope weighs approximately 1,100-2,000 pounds, reaching lengths of five feet, and running up to 43 miles per hour.
African Wild Dog Facts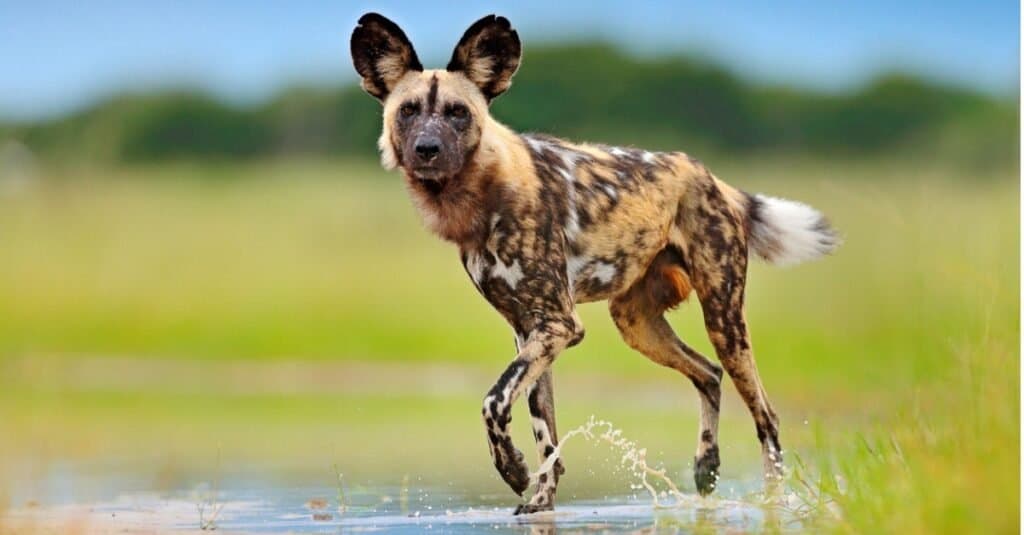 The African wild dog weighs approximately 39-79 pounds, reaching lengths of 43 inches, and running up to 45 miles per hour.
As we can see, the antelope far outweighs the African wild dog, so a wild dog would not try to take an antelope down on its own. They rely on their packs to take down large prey that can feed their entire packs.
In the case of the TikTok video shown, we see a pack of between a half dozen to a dozen African wild dogs attempting to take down an African elephant. Alone and away from its herd, this elephant is in danger of being taken down. 
The dogs form a small formation surrounding the elephant to tell him they mean business. While they have more numbers, they know this enormous beast will not go down easy. The elephant charges at the wild dogs and is heard trumpeting.
What are Three Interesting Facts about African Elephants?
Few animals on earth are more impressive in size than the African elephant. Due to this, the African elephant has earned the title of the biggest land animal on earth.
Let's look at three interesting facts about the African elephant.
Size – they can weigh as much as 13,000 pounds.
Eating – they can eat up to 500 pounds of food per day.
Tusks – their tusks can weigh between 50 to 100 pounds per tusk. 
It is no wonder that, given this animal's size, these African wild dogs thought twice about rushing in!
The photo featured at the top of this post is © Lyntree/Shutterstock.com
---