Key Points
Niagara Falls comprises a group of three different waterfalls and spans the border between Ontario, Canada, and New York State.
The water at Niagara Falls is severely dangerous due to fierce rapids, powerful currents, and whirlpools that can be dangerous for even the strongest swimmers.
The Niagara River and the waterways near Niagara Falls are hosts to over 60 species of fish.
Niagara Falls is situated in both the province of Ontario in Canada and the state of New York in the United States. This magnificent attraction consists mainly of three waterfalls: the American, Horseshoe, and the Bridal Veil Falls. Interestingly these falls are over 12 000 years old and were formed by melting glaciers. The word Niagara means 'a thundering noise'. Additionally, Niagara Falls is known as the world's Honeymoon capital, attracting millions of tourists every year. Water is redirected from the falls to generate hydroelectricity that powers the southern part of Ontario as well as the Western part of New York.
A Snapshot Of Niagara Falls
Niagara Falls comprises a group of three different waterfalls and spans the border between Ontario, Canada, and New York State. The three waterfalls include the Horseshoe Falls, the largest of the three, with a depth of about 174 feet. Additionally, it includes the American Falls, which is about 110 feet deep. Lastly, it includes the Bridal Veil Falls, which is the shallowest at about 56 feet deep. The American and Bridal Veil Falls are found in the United States. In contrast, the Horseshoe Falls sits on the international border of Canada and the United States and is also known as the Canadian Falls.
Niagara Falls is freshwater and flows into Lake Ontario, the St. Lawrence River, and the Atlantic Ocean. However, all three falls originate from the Niagara River. The Niagara River gets water from four of the great lakes, namely:
Lake Michigan
Lake Superior
Lake Erie
Lake Huron
Is Niagara Falls Dangerous?
The water at Niagara Falls is severely dangerous. They have fierce rapids, powerful currents, and whirlpools that can be dangerous for even the strongest swimmers. Furthermore, the rocks surrounding the falls are very slippery, and you could be seriously injured if you slip and fall. Additionally, swimming is forbidden, and there are warning signs all over.
There are an estimated 5,000 bodies recovered from the bottom of Niagara Falls since 1850. Furthermore, 14 people have intentionally gone over Niagara Falls; of these, five people have lost their lives. Annie Taylor was the first person to go over Niagra Falls and survive, which she did in a barrel. Annie was a schoolteacher from Michigan. In addition, a man from Michigan went over in 2003 without any protection and survived.
In contrast, only one person has unintentionally gone over and survived, a seven-year-old boy named Roger Woodward. Lastly, two men have attempted to go over the falls, one on a kayak and the other on a jet ski. Neither one of them survived. These days, an intentional trip over Niagara Falls will cost you a fine of $ 10,000 if you survive.
What Lives At The Bottom Of Niagara Falls?
The Niagara River is host to over 60 species of fish. Furthermore, the waterways near Niagara Falls are home to many different fish species, such as the American eel, largemouth bass, channel catfish, rainbow trout, and lake sturgeon.
The American Eel (Anguilla rostrata)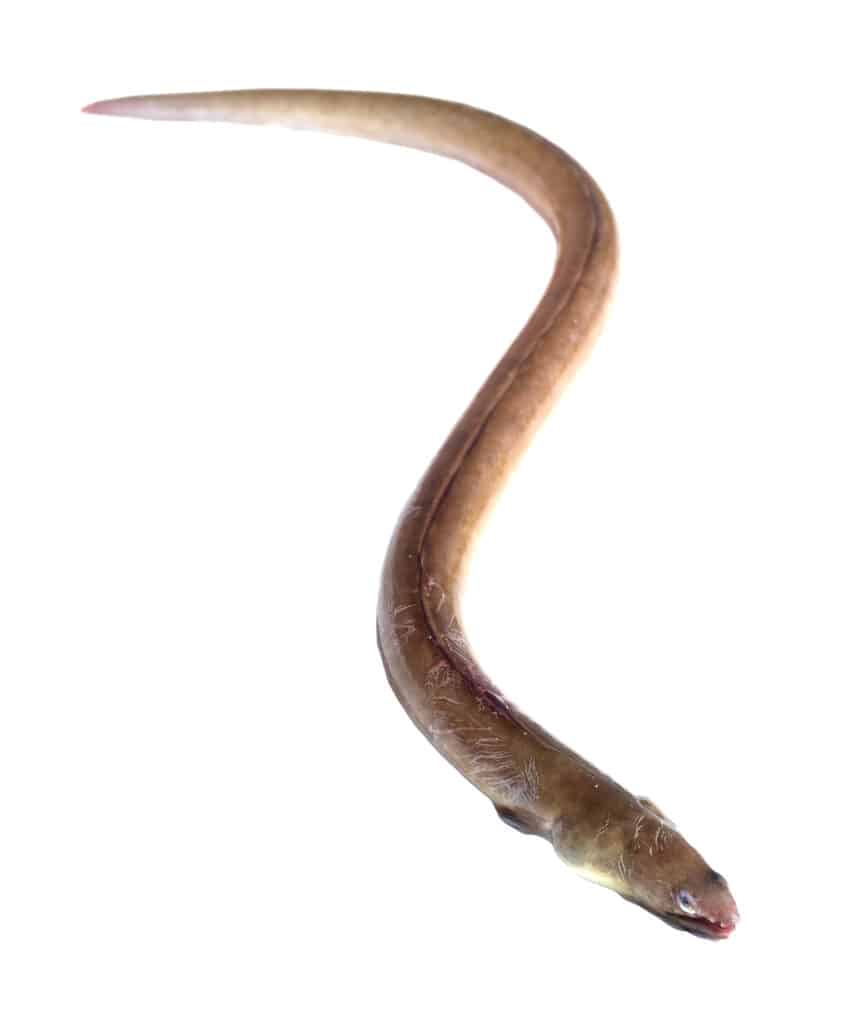 The American eel has a snake-like appearance, they are sleek, and their bodies can look greenish, blackish, or yellowish-brown with white bellies. Furthermore, females appear lighter in color and have smaller eyes as well as higher fins. Females can reach four feet, while males are only 1.5 feet and can weigh up to nine pounds.
American eels are catadromous; this means that they live in estuaries and lakes, but they migrate to the ocean when they spawn. Additionally, a female eel can produce up to thirty million eggs. These eels are nocturnal. Therefore, most of their feeding happens at night. Their diet consists of the following:
Clams
Small fish
Crustaceans
Worms
Macroinvertebrate insects
Largemouth Bass (Micropterus salmoides)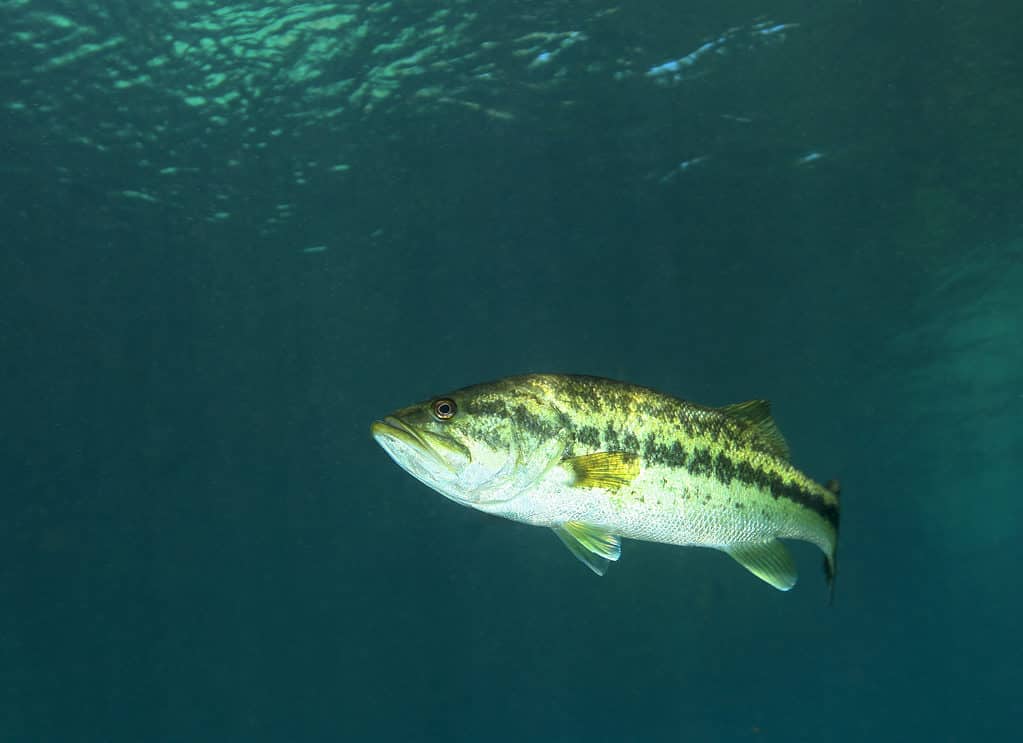 Largemouth bass are plentiful and occur in 48 of the 50 states in America. They are part of the sunfish family as they are a member of the 'black bass' group. This olive-green to greenish-grey fish has been introduced into many regions because they are a popular species for sports fishermen. Furthermore, they are tolerant of urban environments. Additionally, the largemouth bass is the biggest of the black basses. They have a lifespan of up to 16 years in the wild. Additionally, their diet consists of the following:
Shad
Smaller fish
Snails
Worms
Crawfish
Snakes
Salamanders
Channel Catfish (Ictalurus punctatus)
The Channel catfish has a greyish-blue color, white belly, and black back. A mature adult weighs between 2 to 4 pounds and is about 12 inches long. Interestingly, the world record for the largest catfish was 58 pounds. This catfish was caught in South Carolina in 1964. Channel catfish are omnivores and have an incredibly good sense of smell and taste, which helps them to find food in muddy and dark waters. Additionally, they have taste receptors all over their body. They have an estimated lifespan of about 25 years.
Furthermore, they are the official fish of Tennessee, Missouri, Nebraska, and Kansas. These fish, also referred to as "channel cats," have incredibly tiny teeth and therefore swallow their food whole.
Their diet consists mainly of:
Snails
Clams
Small fish
Snakes
Algae
Insects
Rainbow Trout (Oncorhynchus mykiss)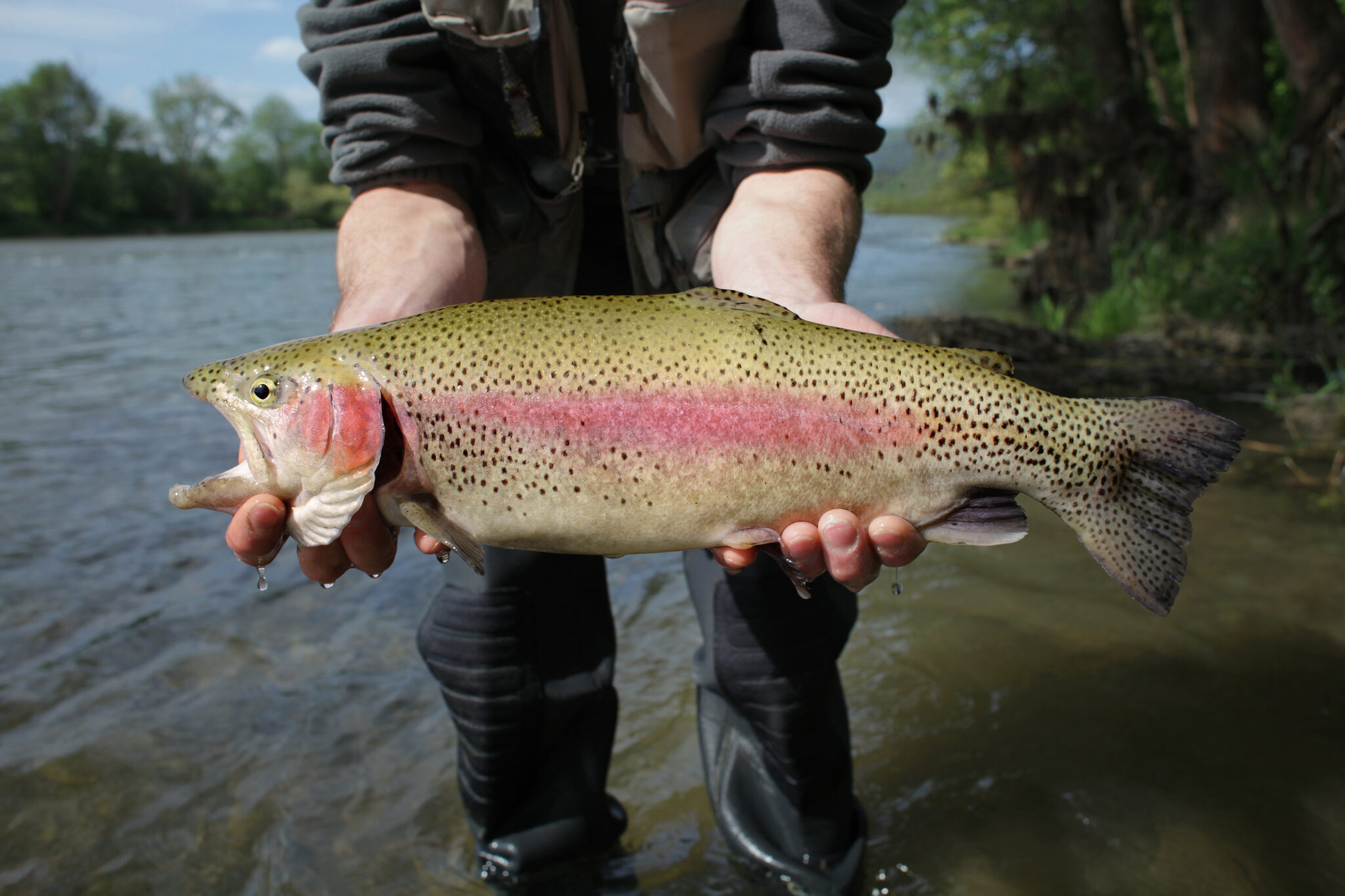 The rainbow trout is part of the salmon family. These trout occur on all continents except Antarctica. Furthermore, fifteen species of rainbow trout are indigenous to the western parts of North America. They reside in icy water and are an essential food source for humans. Therefore, they are farmed commercially all over the world. Rainbow trout can weigh up to eight pounds; the heaviest recorded rainbow trout weighed 48 pounds.
These fish appear brown, blue-green, or olive green, with a reddish line along the side of its body. Additionally, its belly is silver or white, and the upper part of its body, tail, and fins are covered with black spots. On the other hand, some rainbow trout spend some of their life in the ocean, appearing almost entirely silver. They are known as Steelhead or Anadromous trout.
Rainbow trout can only withstand living in clean water. Therefore, they are excellent indicators of water pollution. Humans like to eat Rainbow trout because they are rich in omega-3 fatty acids and taste delicious. Female Rainbow trout can lay between 200 to 8,000 eggs at a time. These fish can survive up to six years in the wild. Their diet consists of the following:
Small fish
Insects and their larvae
Crustaceans and carcasses
Lake Sturgeon (Acipenser fulvescens)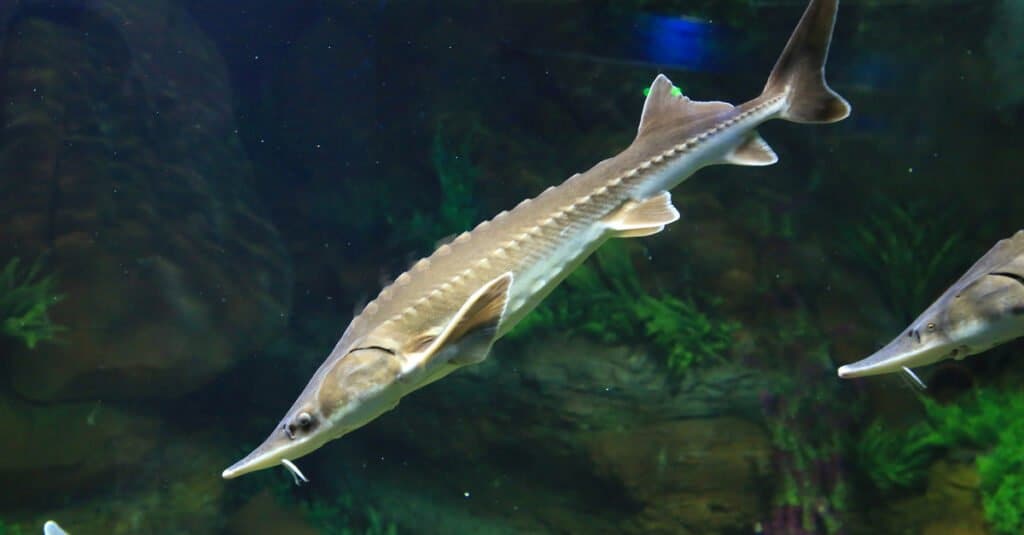 Lake sturgeon, also known as rock sturgeon, is the largest and oldest indigenous species in the Great Lakes. This enormous fish has rough skin and can measure 6.5 feet long. Additionally, they can weigh up to two hundred pounds. Lake sturgeon occur in lakes and rivers, despite their name. They appear dark olive or gray on top and yellow or white underneath.
Furthermore, they look prehistoric and can live for many years. Females can reach the age of 150, while males can live up to 55 years. Females can lay an astounding 2 to 3 million eggs per season. 
These majestic fish were once abundant throughout the Great Lakes. However, over-harvesting and pollution have devastated their population. In addition, climate change, along with its rising water temperatures, is also a threat to the Lake sturgeon. These fish frequently migrate, looking for food and suitable spawning locations. Furthermore, they will move in response to seasonal changes.
Lake sturgeon are bottom dwellers who feed along the riverbeds and bottom of lakes. Their diet consists of small invertebrates such as the following:
Crayfish
Clams
Leeches
Snails
---
The Featured Image
---