Are you planning a visit to Yellowstone in spring? This fantastic National Park is open year-round and offers its visitors a different experience, depending on the time of year that you visit. What can you expect out of visiting Yellowstone National Park during the springtime, and how can you best prepare for this particular type of visit? 
In this article, we will go over some of the top things you should know if you are planning a visit to Yellowstone in spring. We will discuss some of the best activities to do during this time of year, what you should know about road and weather conditions, and other expert tips and tricks. Let's get started now!
| Yellowstone National Park: Spring | Activities and Information |
| --- | --- |
| Top Activities | Wildlife viewing, some snow activities, photography, hiking, guided tours |
| Must-See Spots | Northern Ridge, Lamar Valley, Hayden Valley, geysers and thermal waters |
| Best Wildlife | Song birds and other birds, elk, bison, deer, wolves, bears, rabbits, foxes, frogs, marmots |
| Closures/Openings | Expect sporadic road closures for plowing throughout the month of March; North and Northeast entrance open to cars |
| Tips and Tricks | Make sure to pack for the unexpected, and Yellowstone's birthday is March 1st! |
An Overview of Yellowstone in Spring
Visiting Yellowstone in spring is a fantastic idea for a number of reasons. This time of year means that the park will be transitioning from a long and cold winter into an abundant and lively spring. However, springtime in Yellowstone happens a bit differently than in other parts of the world, given just how long the snow stays in the park. 
Most people consider Springtime to be the months of March, April, and May. Yellowstone National Park remains snowy and unpredictable throughout the month of March, and even into April. You likely will need to pack many layers and prepare for inclement weather, no matter what the forecast says! Plus, with snow comes road closures, and the majority of the park remains inaccessible to tourist cars for all of March. 
This isn't to say that you can't access certain locations, as Yellowstone National Park offers guided tours year round. Inclement weather aside, Yellowstone has plenty to offer in the springtime, especially if you enjoy viewing wildlife, bird-watching, or exploring an ever-changing landscape. The wildflowers during this time of year are particularly stunning, so it's definitely worth a visit if you don't mind packing some extra clothes!
Yellowstone in Spring: Top Activities
Depending on the weather, there are a number of fantastic activities to participate in during the springtime in Yellowstone National Park. For example, bird-watching is extremely popular during this time of year, as they return to the park and emerge from their nests after a long winter. The wildflowers are also stunning in the springtime, as the snow melts throughout the lower valleys and warmer regions of Yellowstone. 
You can hike and enjoy a variety of guided tours during this time of year, as well as camp should the weather cooperate. Photography and painting are also extremely popular during this time, especially as grizzly and black bear cubs begin to emerge from their dens after hibernation. Wildlife viewing is always a popular activity in Yellowstone National Park, and visiting at either dawn or dusk in the early spring just about guarantees you will have front row seats to watch these beautiful creatures in their natural habitat, without too many tourists getting in the way! 
Yellowstone in Spring: Must-See Spots
There are a number of must-see spots in Yellowstone during the spring months, particularly the lower valleys. Both the Hayden and Lamar Valleys are extremely popular during this time of year, as wildlife lingers in these locations just soak up the warmer weather. Wildflowers blossom throughout these locations as well, giving an attractive backdrop to any potential photography. 
Given the overall lower temperatures found during this time of year, exploring any thermal features is also a good idea. Geysers and hot springs will be particularly thrilling to see, given the amount of steam that rises and gathers in the chilly air. However, keep an eye on any potential road closures and inaccessible areas if you are planning a visit during the month of March in particular, as Yellowstone Park Rangers plow roads on a particular schedule. 
Tips and Tricks for Visiting Yellowstone in Spring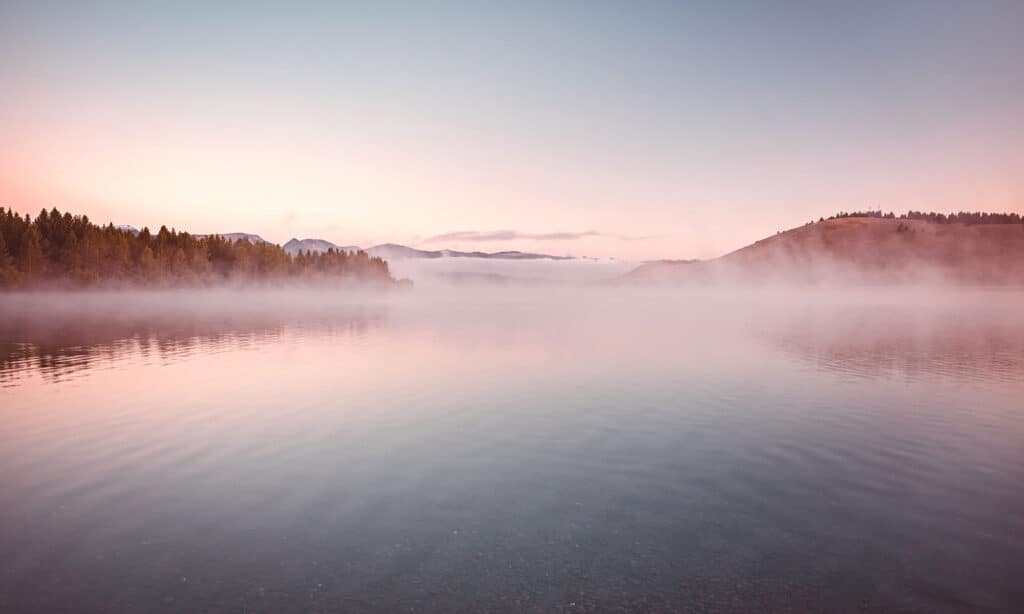 While you may want to keep your trip to Yellowstone National Park spontaneous, one of the top tips or tricks we can offer you is: plan. Given that Yellowstone is so affected by the weather and seasonal changes, the last thing you need to do is ignore any potential road closures or hotel closures and have your trip derailed. Planning ahead is a good idea for this particular National Park, especially if you are traveling from a great distance. 
However, visiting Yellowstone during the springtime is a fantastic time of year to visit overall. It is less crowded than visiting in the summertime, and wildlife is particularly active during the months of April and May. Plus, March 1st is technically the birthday of Yellowstone National Park, so there will be plenty of exciting activities to participate in during this time of year as well!
The photo featured at the top of this post is © iStock.com/Banu R
---