Walking your dog should be a walk in the park. We mean that figuratively, though you can also take it literally if you want to. But not all of us have a perfectly well-behaved pooch. A collar and leash is good enough for dogs that never pull, jump on people, and zigzag around. Dogs that do all those things and more require something a little different – a harness.
A dog harness makes it easier to control and manage your dog while you're out of the house. You can use it to train your pup proper manners; a harness helps discourage a dog from pulling. More importantly, it prevents your dog from getting injured. A harness does not put pressure on your dog's neck that can cause him to choke or injure his trachea. In addition, it can prevent your little escape artist from getting away.
Just like with collars, you can find dog harnesses everywhere. There are several types available – Roman harness, no-pull harness, and multi-use harness. You'll find padded harnesses and ones that feature reflective stitching. Some are best for large dogs while others are designed for small ones. You'll even find dog harnesses with more than one attachment point (chest and back). The question you have to ask is, what's the best dog harness in 2021 for my favorite pooch? Well, that's what we're here for. Our brief guide should give you an idea of what features to look for as well as how to safely use a dog harness. Below that, you'll find the dog harnesses that are the best in the market according to tour team (pets included!).
How to Choose a Dog Harness- Our Criteria
Fit
Your dog's harness should fit properly to ensure your dog's safety and comfort. To get the right size for your dog, you will need to measure his chest (the widest part of his torso) and his lower neck. Add two inches on your measurement to allow for adjustment. If your measurements fall between two sizes, choose the larger size. 
Secure Connection
You should consider if the harness has secure attachment points that won't break even when your pup pulls with all his might. The buckles should be easy to use, but won't accidentally open while you're out walking with your dog.
Comfort
Your dog should feel comfortable while wearing the dog harness. It shouldn't cause skin irritations and/or fur loss. Find a harness that features soft straps and extra padding for maximum comfort.
Maintenance
Naturally, you'll want a dog harness that's easy to clean. Get a machine-washable one if possible to make cleaning it stress-free. 
Utility and Features
When picking out a harness, consider the specific purposes you'll need it for and compare that against how each option performs at those tasks. For example, you may want different features for running and hiking, training, grooming, a working dog, or a pup in rehab.
Ease of Use
Especially if your dog wears their harness every day, you don't want to be fumbling around each time you put it on. A great dog harness is easy to put on in seconds once you get used to it the first few times.
How to Safely Use a Dog Harness
Before you start strapping the harness on your dog, you should first read the instructions carefully. Take the harness out of the packaging and leave it on the floor along with a treat or two. Let your dog sniff it and associate the harness with treats.
When you put the harness on your dog, make sure he is calm and in a standing or sitting position. Once you've buckled the harness, make sure to adjust the fit. You should be able to put two fingers between your dog's body and the strap. Attach the leash and try pulling the harness to test if the harness is secure. It will take some practice to become familiar with how the harness works. The most important thing that you need to keep in mind is that your dog is comfortable wearing it. He should be safe and secure in that harness at all times.
The Top Picks for Best Dog Harness in 2022: Ranked
#1 Best Overall: Kurgo Tru-Fit Smart Harness
Best Overall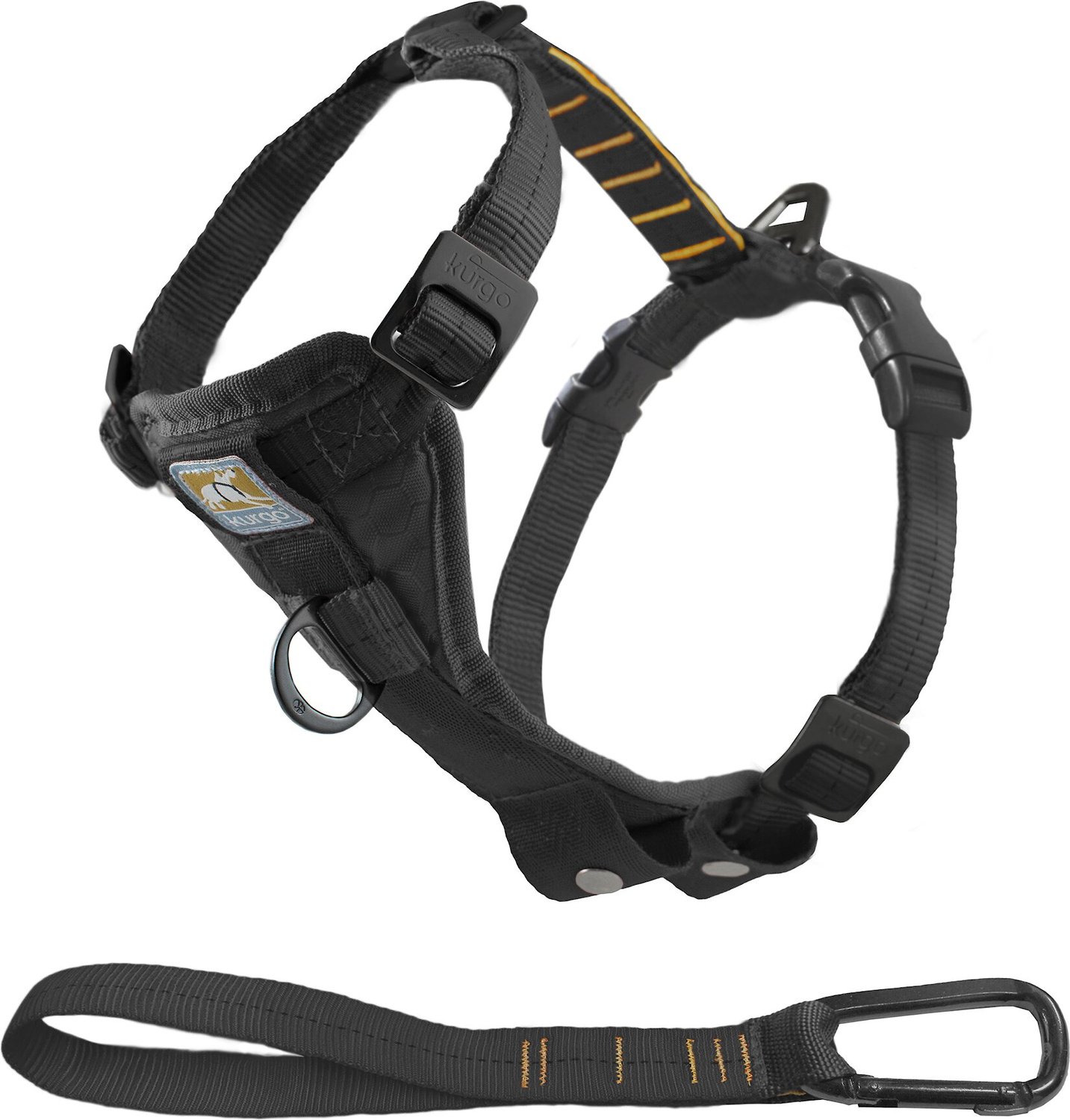 In our search for the best dog harness in 2022, there was only one that ticked all of our boxes. Once we narrowed it down, we decided the Kurgo Tru-Fit Smart Harness is the best overall dog harness. This Roman harness was easy to use on our favorite golden retriever. We didn't have a problem picking out the right size and adjusting the straps was a breeze. We also didn't have any difficulty slipping the harness off due to the quick-release buckles.
Comfort definitely wasn't an issue because the padded chest felt soft enough. Our enthusiastic doggo didn't show any signs of discomfort whenever we pulled him back a little. We also liked how the straps remained in place during our entire walk outside. This harness comes with a front and back D-ring, so you can choose to use it for normal walking or no-pull training. It even comes with a seat belt tether to help keep your pooch safe and out of your hair while in the car.  Pet owners will also appreciate that this harness is machine-washable (delicate cycle) and comes with a lifetime warranty. Plus, it features a reflective trim for when you walk your dog at night or early morning. 
Take note that this is not a step-in harness. If you have a nervous dog that is not open to having a harness slipped over his head, this might not be the best choice for you. 
#2 Best Multi-Use Harness: Kurgo Journey Multi-Use Dog Harness
Best Multi-Use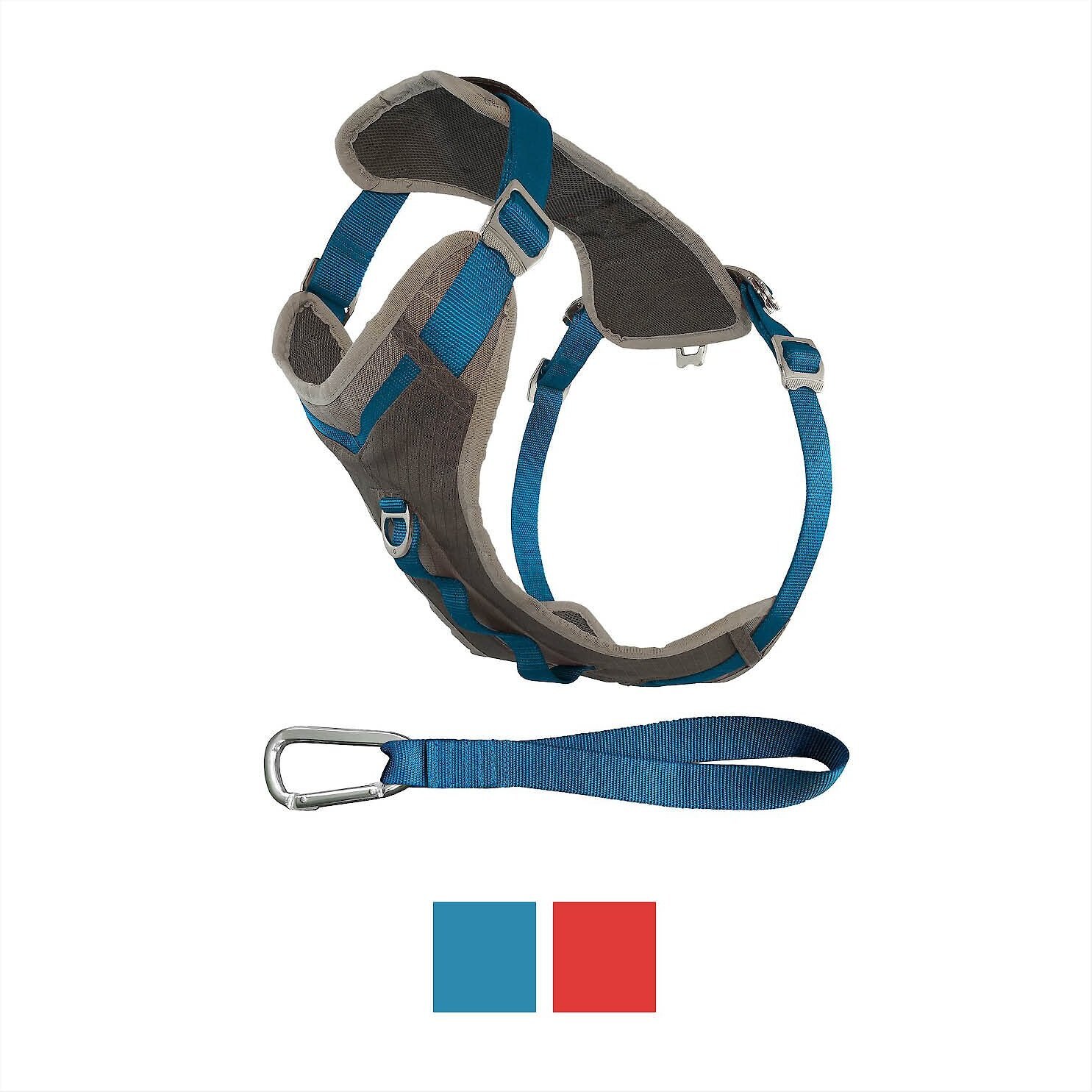 If you want a dog harness that can accommodate different outdoor activities, then your best bet is the Kurgo Journey Multi-Use Dog Harness. This multi-use dog harness is perfect for walking, running, and even hiking. 
This Kurgo model is quite similar to our number one pick. It is made of ripstop fabric, featuring heavy-duty stitching for extra durability. It also comes with D-rings located in the chest and the back. In addition, there's a seat belt tether to ensure safety during car rides. But the similarities end there.
We found that this particular harness featured a V-neck design that allowed our dog to move more freely. The padded chest added comfort while the four adjustment points made it easy for us to create a snug fit. For increased security, this multi-use dog harness comes with steel nesting buckles, the same type used by rock climbers. We must admit, however, that these buckles weren't as easy to use as quick-release plastic ones. That should give you peace of mind though; they won't accidentally open while you're climbing over rough terrain.
Speaking of rough terrain, this harness has a back handle that allowed us to gently lift our dog up over obstacles around the house as we couldn't go outdoors at the time of our testing. This is a necessary feature if you plan on going on outdoor adventures with your pooch over bodies of water, large rocks, or other similar obstacles. If you want a harness that will go the distance, whether on the trails or up a mountain, we recommend this one.
#3 Best Affordable No-Pull Harness: PetSafe Easy Walk Dog Harness
Best Affordable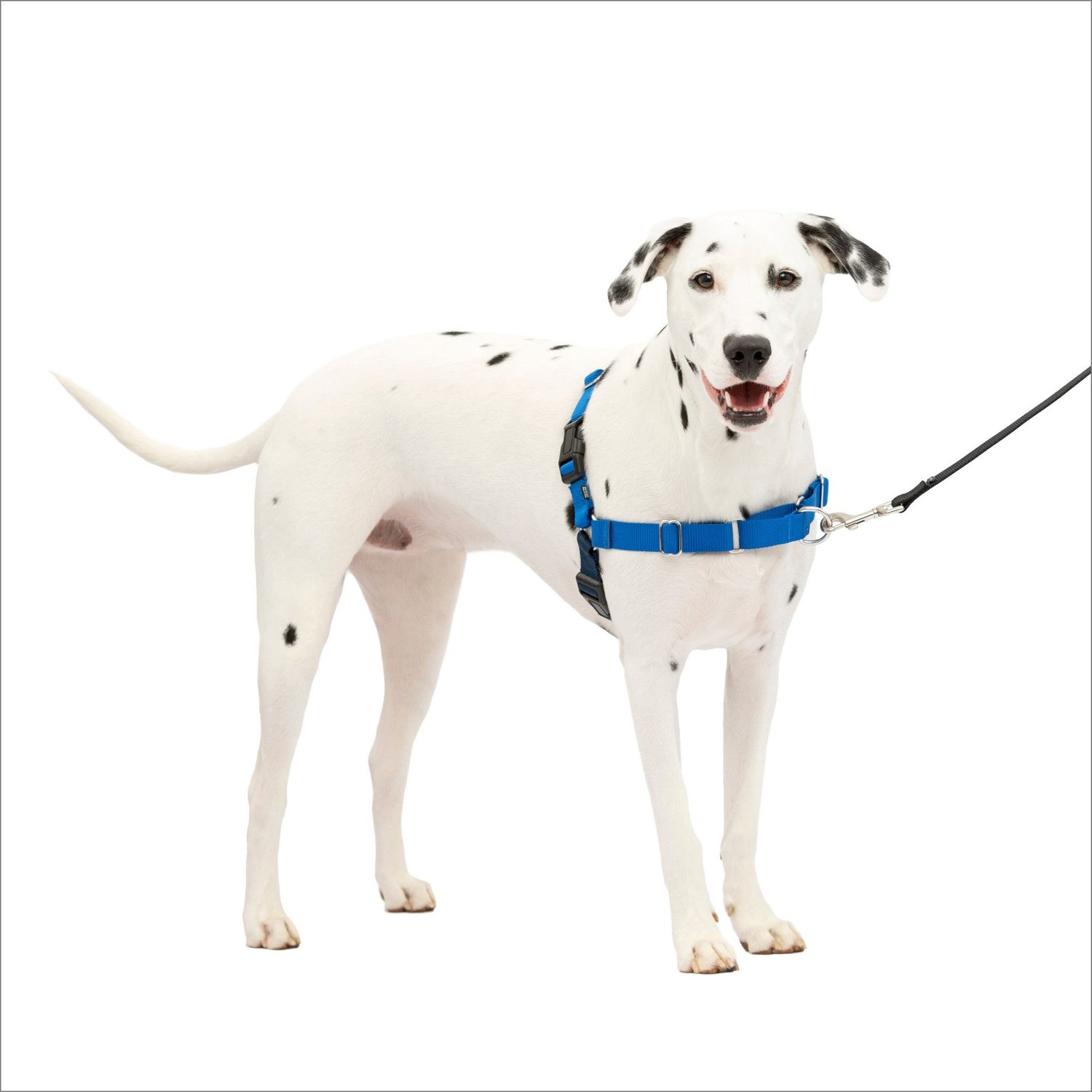 No-pull harnesses are not really that expensive. But what's affordable for one pet parent isn't always budget-friendly for another. Fortunately, there's a no-frills harness that would fit anyone's budget – the PetSafe Easy Walk Dog Harness.
We found this harness to be pretty basic compared to our other picks. It doesn't have a padded chest and reflective trim. It features simple but sturdy nylon straps with quick snap shoulder and belly straps. There's a D-ring located on the chest strap which features a martingale loop that will help you correct your pup's pulling behavior. 
In our testing, we found that this is one of the easiest harnesses to use. The Easy Walk Harness comes with quick snap buckles. We were able to get a snug fit using the four adjustment points. Plus, we loved that one of the straps – the one that goes around the belly – had a different color. This made it easier for us to know which way was up. 
Walking around with the harness on didn't seem to bother our golden retriever who happily went on his way without a care in the world. When he started to pull the leash, he would get turned around. This made him stop and stare at us a little before turning to walk again. After a couple of "corrections," we did notice that he was more well-behaved and less likely to jump towards anything that caught his attention.
We also noticed that the straps weren't rubbing on his skin, though we might have his coat to thank for that. If you have a short-haired dog such as a French bulldog, we recommend getting the PetSafe Easy Walk Deluxe Dog Harness which comes with padded straps and reflective accents to boot. 
Note: we read some reviews that mentioned how their dogs went swimming with their harness on. While water will do nothing to damage your new harness, leaving your dog wearing the wet harness can cause skin problems. So, please take care. 
Find more tested and reviewed no-pull harnesses here.
#4 Best for Large Dogs: 2 Hounds Design Freedom No Pull Dog Harness
Large Dogs
It can be difficult to find a harness that fits your large dog, especially for ones that weigh above 150 lbs. The [2 Hounds Design Freedom No Pull Dog Harness comes in 7 sizes including an XXL size that can fit big breeds such as Newfies, Great Danes, and St. Bernards.
Similar to the Easy Walk Harness, this model features sturdy nylon straps. But it also has Swiss Velvet lining on the belly strap to make it more comfortable and prevent chafing. 
Speaking of straps, dog trainers often recommend this harness because the front strap sits low across the chest, far away from the neck to prevent choking. More importantly, it doesn't restrict shoulder movement at all. There are two connection points – on the chest and at the back – which give you more control over your dog. The martingale loop on the back spreads the pressure across your dog's body to avoid creating pain points. 
In our testing, we used the double connection leash offered with the harness (a package deal) on a rambunctious Newfoundland. Having a leash connected to the front and back did help us keep the dog on point whenever he saw something he wanted to chase. The heavy buckles and rings were quite durable; we had no doubt the harness wouldn't break while our dog was at his most enthusiastic or stubborn. 
All of that being said, we did find it a tad tricky to put on the harness. Adjusting it wasn't easy compared to the other harnesses we tried out. Other than that, this is one harness that lives up to the hype.
#5 Best Lift Harness: GingerLead Dog Support & Rehab Sling Harness
Best Lift Harness
GingerLead Dog Support & Rehab Sling Harness
Support harness for dogs with hip dysplasia and other mobility issues, or surgery recovery
Unisex design featuring cutouts for males or females
Available sizes Medium & Large for unisex design (other sizes available male/female specific)
Veterinary hospital approved
Machine washable
Check Amazon
We really liked the way the GingerLead Support Sling Harness helped support pups with limited mobility. The harness features a padded and comfortable design to keep our furry friends happy along with adjustable straps to set the height to a comfortable level for the dog's owner.
The exterior of the harness is made from a heavy-duty nylon pack cloth. Unlike some other sling harnesses, this model features stay-on straps to connect the sling to your dog's leash or chest harness. It also includes a detachable leash.
This harness is an optimal choice for helping dogs recover from surgeries and procedures as well as aiding older dogs dealing with health conditions such as arthritis, vestibular disease, or degenerative myelopathy. It can also be used to help special needs pets who have trouble with balance or mobility. The GingerLead Lift Harness is a popular choice in veterinary hospitals to help dogs recover and move more easily.
This harness is available in a variety of sizes. There are also options specifically designed for male and female dogs to prevent the harness from impeding the dog's ability to go to the bathroom. The available sizes inclpuppyude: extra-small, small (female), small (male or unisex), medium-large (male or unisex), large (female), tall (female), and tall (male). GingerLead offers a sizing chart to help you make sure you choose the best-fitting harness for your pup.
Find more tested and reviewed lift harnesses here.
#6 Best Leather Harness: Peshouco Handmade Leather Dog Harness
Best Leather
After trying out all of these leather harnesses, we chose the Peshouco Leather Dog Harness as our top choice. This harness comes in two sizes to fit both medium and large dogs with a chest circumference between 24 and 32 inches. You can adjust the straps to ensure a snug and secure fit for your pup.
The harness features a no-pull design that evenly distributes the pressure to a dog's entire body to teach them not to pull on the leash. A handle on the back of the harness is also available to give you added control of your dog or quickly lift them up in the event of an emergency.
This harness is also designed to be easy to put on and take off with snapping buckles. It is made from 100% genuine leather with a visible grain. You can purchase this harness in dark brown or black.
Find more tested and reviewed leather harnesses here.
#7 Best Rabbitgoo Harness: Rabbitgoo No-Pull Dog Harness with Two Leash Clips
Best Rabbitgoo
The Rabbitgoo No-Pull Dog Harness with Two Leash Clips is the top-selling harness offered by the company. After trying this harness out, we could see why so many people love this model and give it such high reviews. With two rings at both the front and back of the harness, users can find the best leash set-up that works for them.
Use both clips when training a dog or in more crowded areas, the front clip (or both clips) for dogs who pull on the leash, and the back clip for dogs who have learned how to properly walk on a leash. This is a top-selling no-pull and no-choke harness designed to keep owners in ultimate control.
Rabbitgoo designed this harness to be easy to use. It slides over a dog's head and is secured using the two buckles. The harness comes in four different sizes (small, medium, large, and extra-large) and Rabbitgoo offers a size guide and instructions for measuring your dog's neck and chest girth to help you choose a proper fit. Each harness size can be adjusted to achieve an ideal fit using the four straps.
This harness is also designed to be comfortable. It features soft, padded cushions to keep a dog's skin protected and breathable air mesh fabric. The nylon oxford fabric is durable and long-lasting to help you get years of use out of this harness. There are 12 different color options to allow you to walk your dog in style. Choose from: baby blue, classic black, modern violet, bright pumpkin, honey wheat, light gray, navy blue, passion red, lemon yellow, cherry pink, vibrant lime, and tranquil teal.
Find more tested and reviewed Rabbitgoo dog harnesses here.
#8 Best Lighted Harness: Noxgear LightHound Harness for Dogs
Best Lighted
Noxgear LightHound Harness for Dogs
Battery operated LED fluorescent dog harness (rechargeable battery)
Changes between 8 different colors
Features adjustable straps, loop on back
Constructed of

Nylon, Cordura, Silicon, visible up to 1/2 mile away
Check Amazon
If you're looking for the overall best-lighted dog harness, we'd recommend the Noxgear LightHound. After trying out all of these harnesses, this is the one that performed the best. It also offers a lot of impressive features that we love.
The vest features color-changing LED solid lights that allow you to choose between red, yellow purple, blue, magenta, green, pink, and cyan lights to help make your dog visible in the dark. There are also six special modes where multiple lights will flash or fade including Independence Day, Rainbow, Rescue, and Disco Dog. These different lighting modes can be selected simply by pressing a button when you are out with your dog.
The layout of the LED lights on this harness allowed us to spot our dogs from over half a mile away. Lights and reflective technology are present on all sides of the vest to ensure your dog is visible from every direction.
This lighted harness uses a fast-charging rechargeable battery that offers up to 12 hours of illumination. The harness features durable construction using military-grade Cordura fabric, 3M reflective bias, and heavy-duty hardware. You can also easily wash this harness in the washing machine.
Find more tested and reviewed lighted dog harnesses here.
#9 Best Puppy Harness: BINGPET Soft Mesh Dog Harness
Best for Puppies
BINGPET Soft Mesh Dog Harness
Breathable soft sports mesh dog harness great for puppies
Adjustable straps, loop on back, paw print decoration
Available in 6 colors
Sizes XSmall-Large (neck girth 11"-18")
Check Amazon
A Secure Fit: A variety of sizes available as well as detailed instructions on how to measure your pup to ensure a good fit
A Quick Release Clip: No more fumbling with an awkward fastener. The clip is conveniently located on the side and takes just seconds to release
Comfortable: The air mesh and breathable polyester make this product cool and comfortable for a puppy
Freedom of Movement: The design allows a pup's legs to move in a natural way without tightness or rubbing against its skin
A Padded Design: The padded chest allows the dog the freedom to lie down comfortably while wearing it
Variety of Colors: It's available in several colors to match a favorite leash or an owner's color theme
In testing a variety of harnesses, this one fulfills all of the requirements needed to keep a puppy or dog secure and comfortable both outdoors and inside. This is why we recommend this product made by BINGPET.
The variety of sizes available allows an owner to choose an ideal fit for their puppy. BINGPET provides a list of sizes based on the girth of a puppy's neck and chest. In addition to that, an owner is able to see a diagram and the steps of how to measure their puppy in order to get the best fit.
The quick-release clip on the BINGPET Soft Mesh Dog Harness allows an owner to unfasten the clip without fumbling with buttons. This is helpful if there is a pressing need to remove the harness.
Lastly, the light, cool polyester material of its air mesh design keeps a puppy or dog comfortable while walking through the neighborhood, playing at the dog park, or even while relaxing on the sofa.
In sum: BINGPET Soft Mesh Dog Harness earns our #1 ranking for its:
Secure fit
Clear guidance in finding the right size
Quick release feature
Comfortable, breathable fabric
Variety of colors available
Find more tested and reviewed puppy harnesses here.
#10 Best Tactical Dog Harness: ICEFANG Tactical Dog Harness
Easily Allows Carrying: MOLLE strips allow your dog to carry toys, water bottles, and water bowls. If you go hiking with your dog a lot, hands-free transport for these items is easier.
A Style That Works: Features a MOLLE style that allows the addition of patches, perfect for service and therapy dogs
Effective No-Pull Control: The metal buckles have been designed to bring dogs who pull a lot under control. There is also a handle for greater control.
Durable Metal Buckles for Load Bearing: Designed to withstand your dog's demands without breaking off
Easy Washing with Detergent: This harness offers easy, hassle-free care
The ICEFANG Tactical Dog Harness has earned our #1 spot for the best tactical dog harness.
Our testing of this vest found it to have some of the best construction, from the buckles to the ability to add patches. The harness also offers helpful pouches for more accessible transport in addition to the MOLLE straps that help your dog carry gear on your journeys. We think that these features are among some of the most useful.
Although we know that not everyone will need to add patches to their dog's vest, we think it is one of the most helpful features. If your dog is used as a therapy or service animal, others will find it easier to identify as such. The MOLLE material makes their addition fast and easy.
Our testing found that the buckle placement offered superior control for dogs who pull a lot. Their load-bearing capabilities reduce the chances of the harness breaking because of out-of-control pulling. A handle situated on the part covering the dog's back helps you get better control in difficult circumstances, such as getting out of a car in a busy area.
Another thing that stood out when we tested the ICEFANG Tactical Dog Harness was how easy this restraint made from industrial material is to take care of. Hand-wash with detergent and allow you air-dry. We think that easy-care is one of the best benefits of this product.
Find more tested and reviewed tactical dog harnesses here.
Related Products
Top Ten Dog Harnesses Summary
| Rank | Best For | Product |
| --- | --- | --- |
| #1 | Overall | Kurgo Tru-Fit Smart Harness |
| #2 | Versatile Uses | Kurgo Journey Multi-Use Dog Harness |
| #3 | Affordability and Ease | PetSafe Easy Walk Dog Harness |
| #4 | Large Dogs | 2 Hounds Design Freedom No Pull Dog Harness |
| #5 | Rehab and Mobility-Limited Dogs | GingerLead Dog Support & Rehab Sling Harness |
| #6 | Control | Peshouco Handmade Leather Dog Harness |
| #7 | Leash Attachment Options | Rabbitgoo No-Pull Dog Harness with Two Leash Clips |
| #8 | Visibility | Noxgear LightHound Harness for Dogs |
| #9 | Puppies | BINGPET Soft Mesh Dog Harness |
| #10 | Utility and Straightforward Care | ICEFANG Tactical Dog Harness |
Up Next…
Best Leather Dog Collars– Treat your pup to the comfort and style of a snappy leather collar.
The Best Dog Crates– You did the right thing and crate trained your dog as a puppy- now it's time for a crate to suit your pup and your family's lifestyle.
Best Dog Seat Belts– Whether your fur baby adores car rides or isn't thrilled about them, it's important to keep them safe in the car.
Last update on 2022-09-27 / Affiliate links / Images from Amazon Product Advertising API
Reviewed: 2022's 10 Best Dog Harnesses FAQs (Frequently Asked Questions) 
What harness is best for my dog?
Based on our testing, the best harness is a Roman harness that is comfortable, secure, and easy to use. We're talking about the Kurgo Tru-Fit Smart Harness. It features a padded chest for extra comfort and a reflective trim for visibility in low light conditions. There are 5 adjustment points that make it the ideal choice for most dog body types. 
However, if you have a nervous dog who isn't ok with having a harness slipped over his head, then the best choice would be a step-in harness. If your dog loves swimming or playing in puddles, then you should get a dog harness that easily dries. In short, the best harness should have features that are suitable for your dog's temperament, personality, and lifestyle. It should be one that he is comfortable wearing. It's no use buying the most popular harness if your dog is not willing to wear it.
What is the most comfortable harness for dogs?
The most comfortable dog harness for your pooch is one that fits perfectly. A harness that is too tight or too loose can cause discomfort. Of course, in addition to fit, the material used can also influence comfort. A padded chest, for example. Some dog harnesses feature a soft lining of cotton or faux fur. A breathable fabric can also make your dog feel comfortable, especially if he's wearing the harness in the heat of summer.
Are harnesses bad for dogs?
Compared to collars, experts believe that harnesses are the safer option. They prevent you from injuring your dog's throat when you or your dog pulls on the leash. But it is important to note that not all dog harnesses are created equal. There are different types of dog harnesses such as step-in harnesses and no-pull harnesses. Some experts do not recommend no-pull harnesses because they believe it can negatively affect his gait, causing him to walk with a shortened stride. This is why it is important that you choose a harness that does not restrict shoulder movement.  
Another example is non-padded harnesses. They are fine for the most part, but they're not always the best choice for short coated dogs. The straps can lead to chafing and cause skin irritations. As you can see, It's important that you do your research before making your purchase to ensure that what you buy is safe for your pooch.
Are harnesses better than collars?
According to experts including the American Kennel Club, a dog harness is simply the safer, more comfortable choice for your pooch. Harnesses give you better control while preventing your dog from getting injured whenever he pulls on his leash. The design of a harness allows the pressure to get distributed to different points of your dog's body. A harness is also the more secure option when it comes to escape artists. Moreover, if you have a dog that requires assistance getting up from a sitting or prone position, a harness will enable you to pull him up without causing pain or discomfort.
That being said, you should still get your dog a collar because it's the most visible place for his ID tags. A collar can be worn when you're indoors or he's just in the yard. In any case, you should not let your dog wear his harness 24/7 because that can be uncomfortable, no matter how soft your dog's harness is. This is especially true for harnesses that got wet in the rain or when your dog went swimming while wearing it. When the webbing gets wet, dirt can get stuck on it which can lead to chafing.