Royal Canin produces well-known pet food recipes. Just about every pet owner has heard of Royal Canin food, and they typically consider them to be high-quality food options.
While Royal Canin sounds like a dog food company, this brand also produces a range of cat foods. You can find kitten foods in a variety of different options, allowing you to choose the best option for your feline.
Of course, not all of these recipes are the same. Some are designed for specific felines, while others work well for just about any kitten. Therefore, we reviewed some of the best Royal Canin kitten wet foods out there, allowing you to choose the best option for your feline.
A-Z-Animals Top Picks for Royal Canin Kitten Wet Food
1. Best Overall: Royal Canin Feline Thin Slices in Gravy Wet Kitten Food
For most kittens, we highly recommend this Royal Canin recipe. It includes thin slices of meat in gravy, making it easy to eat for most kittens. It works well for kittens that have smaller mouths, as the thin slices are easily bitten through. Plus, Royal Canin specifically formulated it for kittens between 4 to 12 months.
For the most part, this food contains meat protein. It includes chicken, chicken by-products, chicken liver, and pork liver. All of these ingredients improve the protein content of this food. Plus, they also contain high levels of amino acids, which help improve your kitten's overall health.
To improve the moisture content of this food, it contains a high level of water. In fact, water is listed as the first ingredient. Therefore, this food works well for kittens that need a lot of extra moisture.
Plus, the company also adds fish oil for increased omega fatty acids. These provide vital nutrition for kittens, especially since they are developing.
Best Overall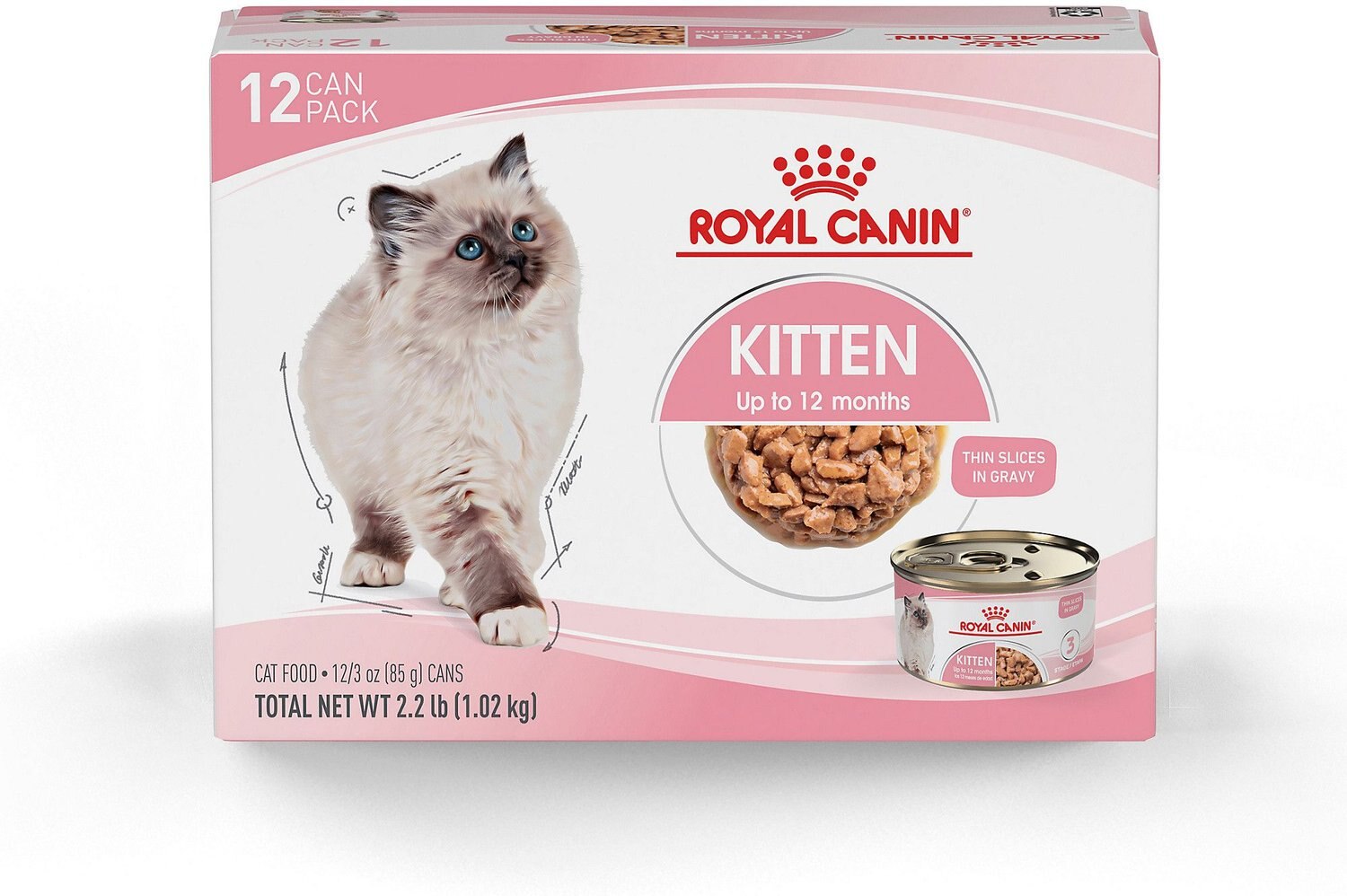 2. Best for New Kittens: Royal Canin Mother & Babycat Ultra-Soft Mousse
Like most wet kitten foods, the first ingredient in this recipe is water. Water provides plenty of extra moisture for your cat's food. Therefore, Royal Canin designed this formula to contain especially high levels of moisture, making it easier to eat for new kittens and mother cats.
Plus, this formula also contains high levels of protein and meat, including chicken and chicken liver. We love that it contains plenty of organ meats, as these are especially high in protein and other nutrients.
However, this food also contains plant-based ingredients that are high in protein, including wheat gluten. These ingredients add a lot of protein. Keep this in mind when looking at the complete protein content of this food.
Many cats love the smooth texture of this food. Plus, the texture has an extremely soft feel, making it easier for new kittens to eat. For this reason, many people use this food for weaning purposes.
Best for New Kittens
3. Best for Digestion Support: Royal Canin Veterinary Diet Kitten
For kittens with both short-term and long-term digestion problems, we highly recommend this veterinary diet food. It features an extremely soft texture that many kittens find extremely easy to eat. Therefore, it works for kittens that are currently weaning.
Because this is a veterinary diet, you will need a prescription to purchase it. For this reason, it is best for kittens that really have digestion problems.
This formula contains extremely digestible proteins to prevent upsetting your cat's stomach, as well as prebiotics to regulate their system. Furthermore, it includes a high energy content, which is vital for your kitten's growth.
Plus, the company added fish oil to increase the omega fatty acid content of this food. These extra fatty acids work to improve your cat's skin and coat, as well as their digestion system. Because it is designed for gastrointestinal problems, this formula includes adapted levels of certain nutrients.
Best for Digestion Support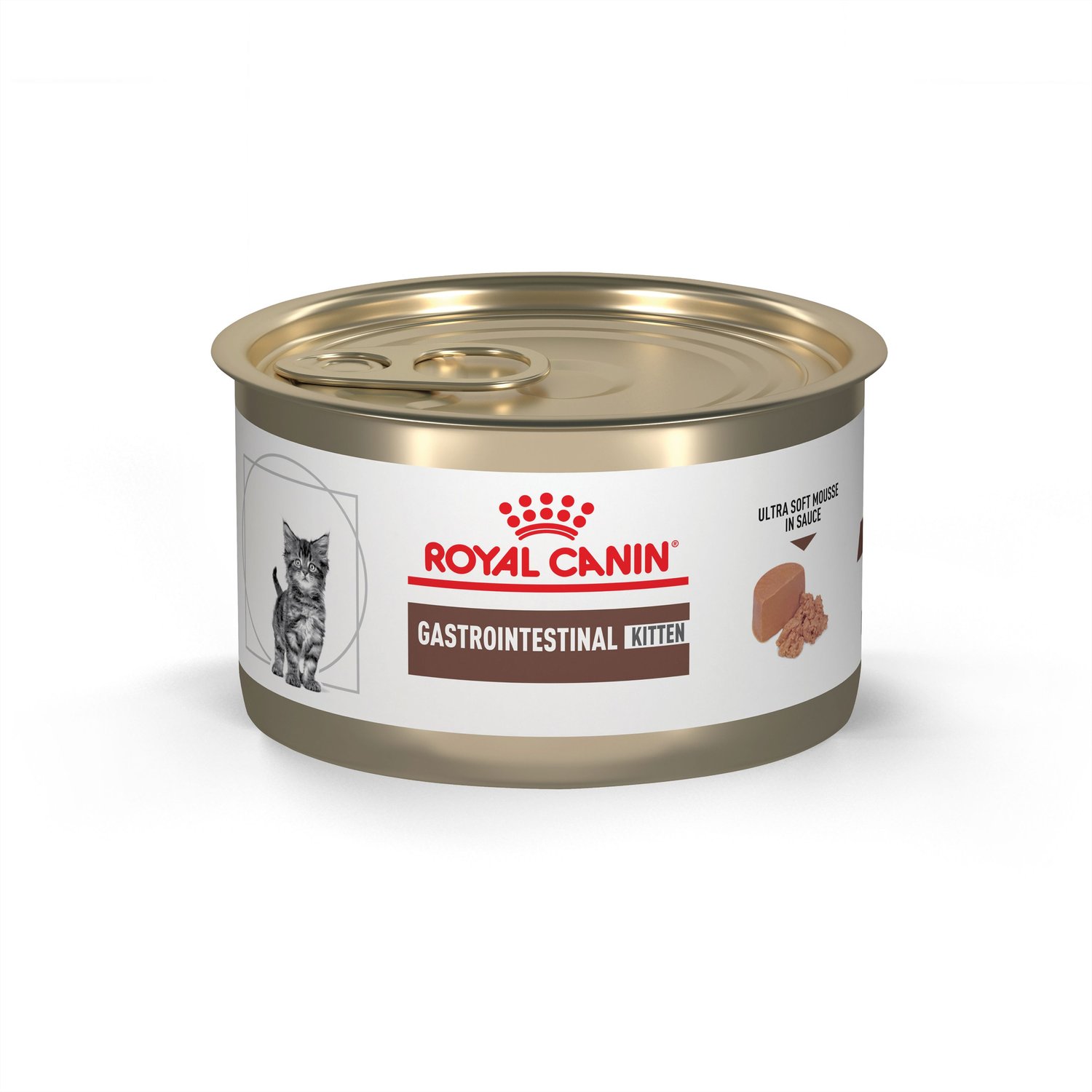 4. Best for Older Kittens: Royal Canin Health Nutrition Loaf Canned Kitten Food
Most of the foods on this list have an extremely soft and watery texture. This texture makes the food extremely easy for kittens to eat. However, older kittens don't necessarily need something so soft. In these cases, we recommend this loaf canned cat food. It provides the same nutrition as other kitten foods but helps transition your kitten towards adult textures.
This formula mostly contains pork by-products, chicken, chicken liver, and pork liver. All of these ingredients combine to provide plenty of protein and amino acids for your feline. However, wheat gluten appears further down the ingredient list, adding quite a bit of plant-based protein as well.
Royal Canin has added antioxidants to this formula, which prevent oxidative stress and improve your cat's immune system. Furthermore, all of the ingredients are digestible, preventing digestion problems.
Best for Older Kittens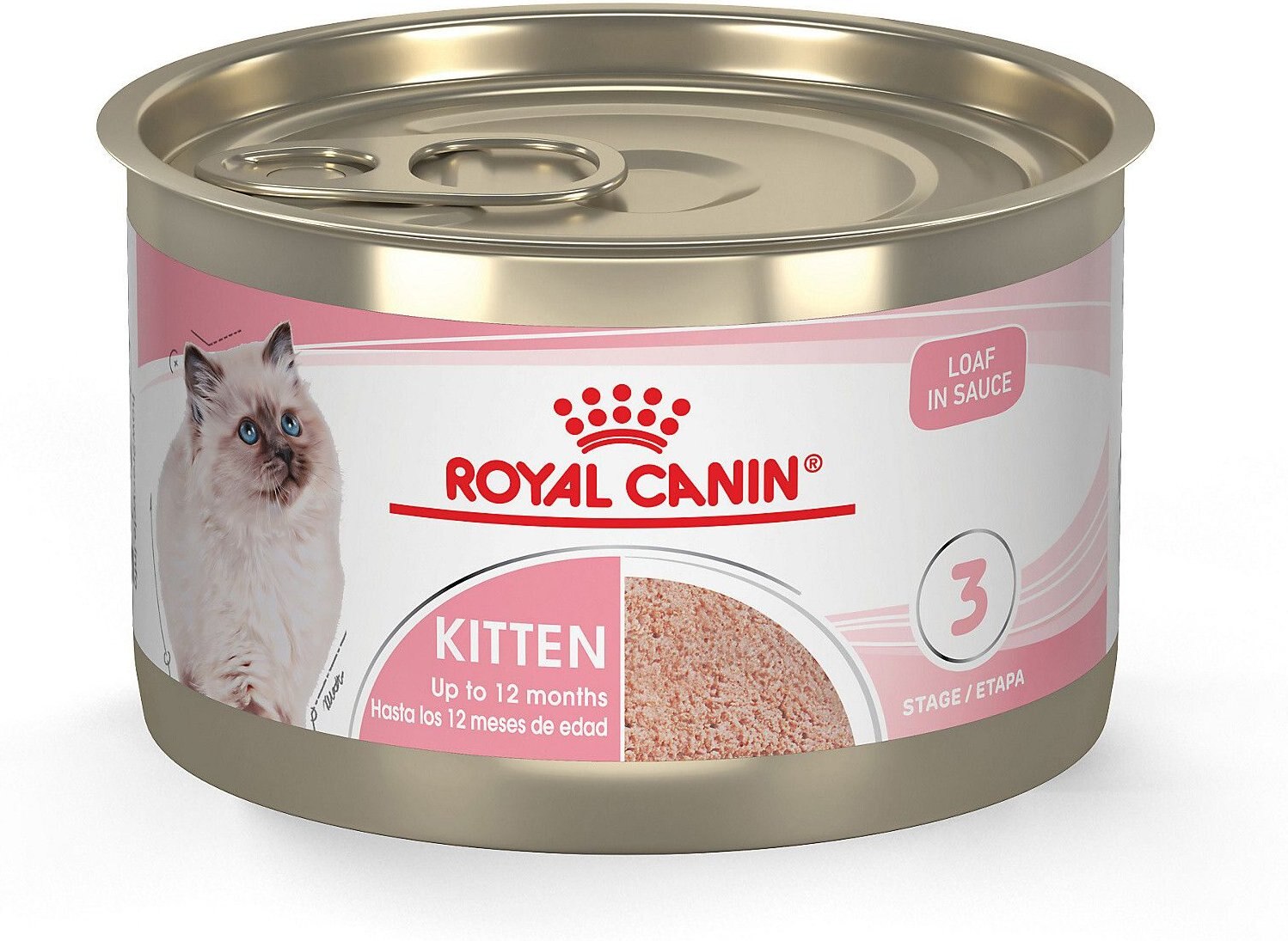 Choosing the Best: What to Look For
Not all Royal Canin kitten wet foods are the same. Therefore, when you're choosing one of these foods, there are several things that you need to keep in mind. For instance, price, protein, grain inclusion, and ingredients all play a vital role in the food's overall quality.
Let's take a look at each of these factors.
Price
The only person that knows your budget is you. Your budget is vital to choosing the correct option for you. While expensive cat food may be perfect for your kitten, if it isn't in your budget, then the food probably isn't right for you.
Royal Canin tends to be more expensive cat food. Therefore, all of their foods cost a bit more than you'd expect. Keep this in mind when shopping.
Protein
Cats are obligate carnivores. Therefore, they must consume meat as a regular part of their diet. Many amino acids they need only appear in meats, as well as other ingredients. Therefore, your feline must consume meats to thrive, or they will develop nutrition deficiencies.
Your little kitten evolved to hunt prey and eat most meat items. While veggies and grains can have a place in their diet, they should not make up a huge portion of their diet.
Therefore, the meat included in your cat's food should be high-quality. Generally, this means it should be whole meat or meat meal. Pet companies make meat meal by dehydrating whole meats, removing most of the moisture content. This ingredient works well for dry dog foods with lower moisture contents.
Beyond the moisture, these meat meals contain the same nutrients as whole meats.
Grain-Inclusion
Grains have become a bit of a controversial subject in the cat food market. There are many uses for grains in cat food. For instance, pet food companies often use them to keep fatty carbs out of cat food. Plus, many experts push the use of grains to keep other, potentially harmful, ingredients out of cat food.
In this way, many consider grains to be the lesser of two evils.
Often, cat owners think that grain-free foods are low in carbohydrates. However, pet food companies typically use starchy veggies in place of grains when making grain-free foods. Therefore, grain-free foods typically don't contain few carbohydrates.
Furthermore, most allergies in pets are related to meat proteins. In fact, grain allergies rarely occur.
Ingredients
The ingredients in cat food heavily affect the quality. For instance, cats need a bunch of amino acids to thrive. Most of these amino acids come from meats, though veggies and other ingredients often have some amino acids as well. Furthermore, many cat foods add amino acids to ensure completeness.
Usually, cat foods include some level of carbohydrates, as well. Often, these include grains, which have tons of carbohydrates in them. However, starchy veggies also include lots of carbohydrates, making them a positive choice for grain-free cat foods.
The Different Types of Royal Canin Kitten Wet Foods: Pros & Cons Compared
Royal Canin creates a variety of different foods for kittens. However, when you narrow it down to wet foods only, there are really only two different options available: veterinary and non-veterinary diets.
Certain cats will do best on certain kitten foods. Therefore, it is vital to understand the differences between these food types. Let's take a look at the pros and cons of each option.
Non-veterinary kitten food – Designed for the average cat, this kitten food contains everything kittens need to thrive and nothing else. These recipes are the "usual" options on the shelves.
Veterinary kitten food – If your kitten has chronic or short-term illnesses, then they may require a veterinary kitten food. Usually, this type of food requires a prescription.
Non-Veterinary Kitten Food
| Pros | Cons |
| --- | --- |
| Formulated for the average kitten | Not for cats with health problems |
| Many different formulas are available | |
| Often includes quality ingredients | |
| Inexpensive | |
Veterinary Kitten Food
| Pros | Cons |
| --- | --- |
| Designed for kittens with health problems | Expensive |
| Often formulated by vets | Requires a prescription |
| Can be purchased at most vet's offices | |
| Specialty ingredients included | |
Verified Review: User Experience
Most users had lots of praise for Royal Canin. Typically, users reported that their kitten food had a soft texture, making it easier for kittens to eat. Plus, one user reported that the Mother & Babycat formula proved helpful for their elderly cat, who had a painful mouth condition.
Their GI formula received lots of praise. Users found that it helped with their kitten's digestive problems, whether they had serious problems or minor problems. However, this formula costs more than most, which many users complained about.