The joy and adrenaline rush you get from running, hiking, swimming, walking, playing Frisbee, or doing yoga with your active furry buddy are often laced with concern about flea and tick infestation. Unfortunately, exposure to the outdoors puts your pet at significant risk, especially those in grassy and wooded environments.
Ticks are most active when the humidity level is at least 85% and the temperature is over 45 degrees F. Thus, checking your pet's body for ticks after a long day out is recommended.
According to the Centers for Disease Control and Prevention, the spring and summer months in most U.S. regions have the highest tick bite rates, with a second peak in the fall.
Some pets may experience more than just an itchy discomfort from flea bites. It can result in irreversible hair loss or flea allergy dermatitis. In addition, anemia and, in rare instances, death can occur from fleas feeding on your pet's blood during severe infestations.
The flea season peaks in warm months, but the duration varies depending on location. They can survive year-round in states like Florida, while they last about four months or less in cold places like Alaska.
Flea and tick prevention remedies are available in various forms, including shampoos, tablets, sprays, chews, and powders to shield your pets from flea and tick bites.
We reviewed Chewy's best-selling flea and tick prevention products to make your purchase decisions easier.
Best Topical Medication for Large Dogs: FRONTLINE Plus Flea & Tick Spot Treatment
Best Topical Medication for Large Dogs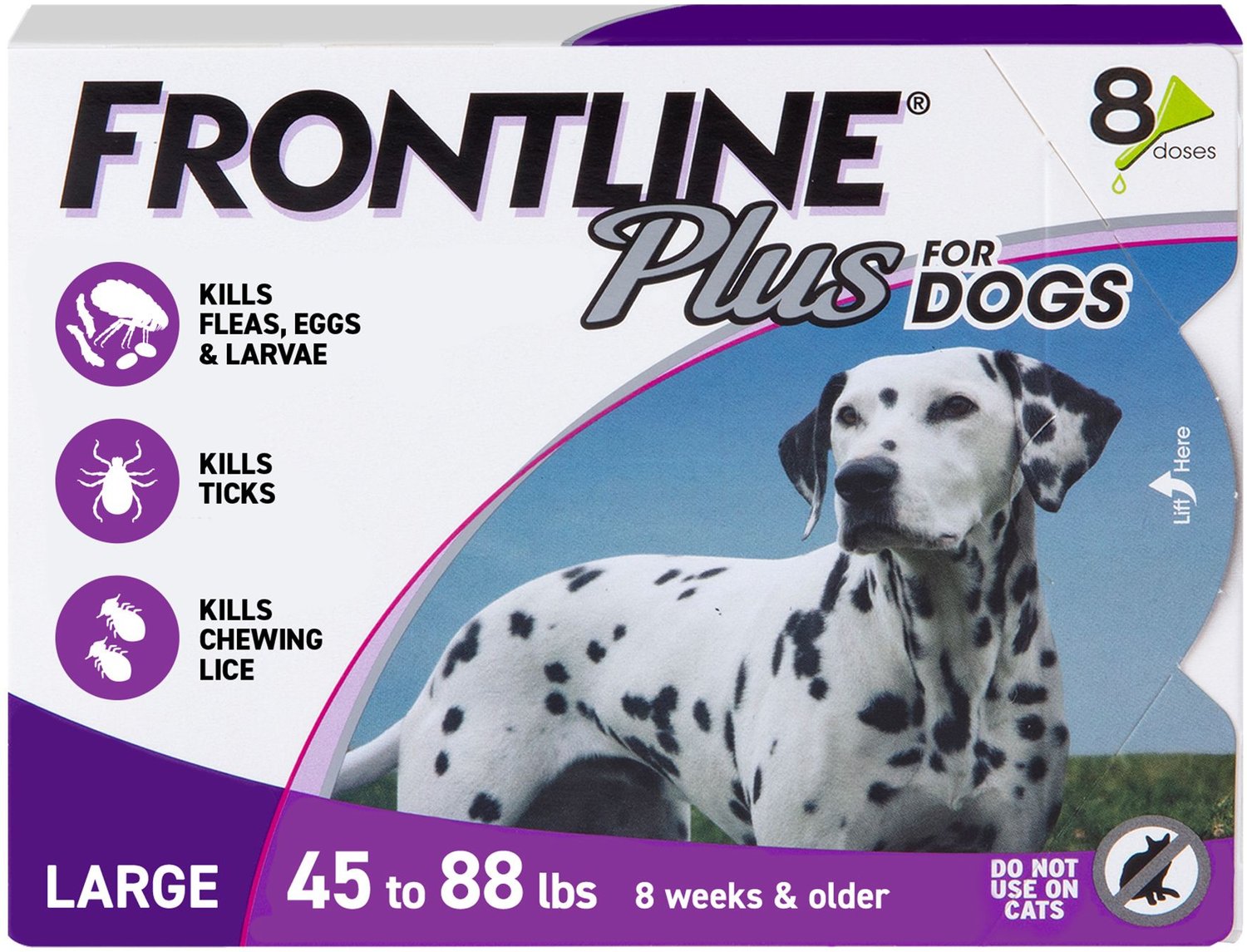 Frontline Plus Flea & Tick Spot Treatment for Large Dogs, 45-88 lbs
Available for dogs over a variety of weight ranges, comprising 5-22-, 23-44-, 45-88-, and 89-132-pound doses.
Boxes sold with three, six, eight, or 12 doses.
Provides fast and long protection against fleas and ticks.
Kills adult fleas, flea eggs, flea larvae, chewing lice, and ticks.
Check Chewy
Check Amazon
This topical flea and tick treatment is formulated to eliminate chewing lice, ticks, adult fleas, flea eggs, and flea larvae on large dogs weighing 45-88 lbs.
The active ingredients (S)-methoprene and fipronil- kill adult fleas, ticks, and their eggs and larvae. They also prevent further infestations.
The formula is stored in the oil glands of the dog's skin once applied to the back and shoulder blades and remains effective for 30 days. It also has water-resistant protection 24 hours after application. However, you may notice a greasy spot on the dog's fur for a few days after use. 
My family started using Frontline on our Golden Retriever last summer. It worked great without negative reactions, so we don't have plans to switch next summer and fall," a user noted.
Pros and Cons of FRONTLINE Plus Flea & Tick Spot Treatment
| Pros! | Cons! |
| --- | --- |
| Easy to apply. | Leaves a greasy residue. |
| Kills both fleas and ticks. | Not suitable for cats. |
| Waterproof and available in sizes. | |
Best Topical Medication for Large Cats: Advantage II Flea Spot Treatment
Best Topical Medication for Large Cats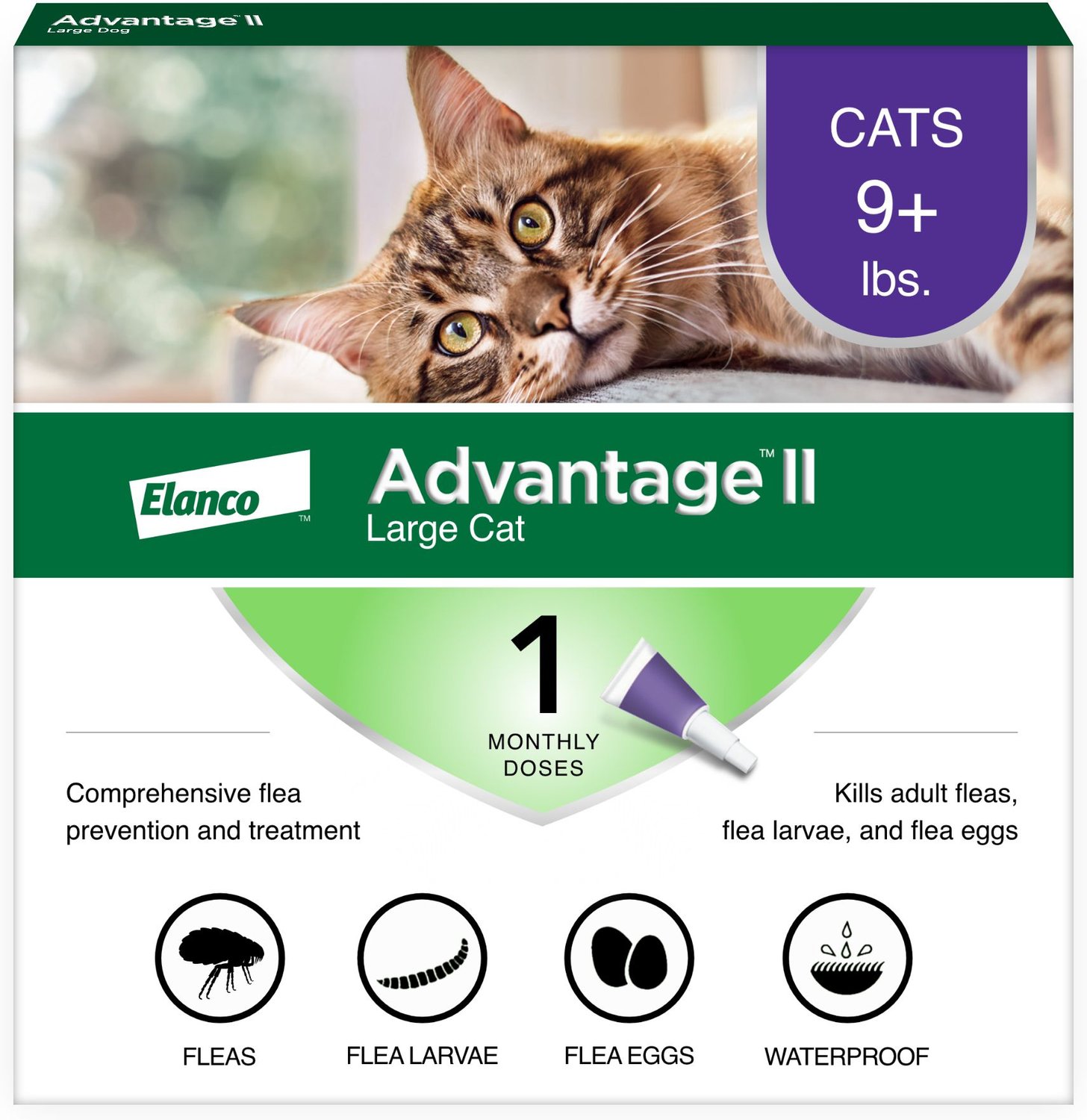 No cat deserves the torment caused by fleas because it enjoys exploring the summer backyard or cuddling with a parent that unknowingly gave fleas a hitch ride home.
The veterinarian-recommended, fragrance-free Advantage II flea treatment from Bayer is designed to destroy fleas in multiple life stages immediately upon contact within 12 hours without needing a sting. It's suitable for cats at least 8 weeks old and weighing more than 9 pounds.
It contains imidacloprid, which attacks the nervous system of adult fleas, and pyriproxyfen which stops the growth of flea eggs and larvae. 
It disrupts the flea life cycle with three-way protection, killing the eggs, larvae, and adults. Also, it reduces the likelihood of your pet and home becoming infested again for up to a month. It's waterproof 24 hours after application, but its efficacy lasts four weeks.
The major downside is that you have to weigh your cat before every purchase, particularly if its weight fluctuates. In addition, this treatment may cause side effects if applied on cats under 8 weeks old or weighing less than 9 lbs. 
All was well with a user's recently rescued cats until one of them got a flea infestation at the grooming salon. The user bought this topical remedy as suggested by a veterinarian and saw significant changes in the cats.
Another user describes his experience using the Advantage II Flea Spot Treatment. "My indoor feline developed sore scabs on her lower spine, and it seemed like a reaction to flea allergy. Then, I discovered a single flea while grooming with a flea comb.
"Once I placed her on this treatment, the scabs fully healed within a month. She is still free of scabs and fleas four months later."
Pros and Cons of Advantage II Flea Spot Treatment
| Pros! | Cons! |
| --- | --- |
| Fast-acting. | Doesn't work for ticks. |
| Works without biting cats. | Application is strictly for the stated cat size. |
| Begins working in 12 hours | May not always last a full month. |
Best Flea and Tick Chewable for Dogs: NexGard Soft Chew 
Best Flea and Tick Chewable for Dogs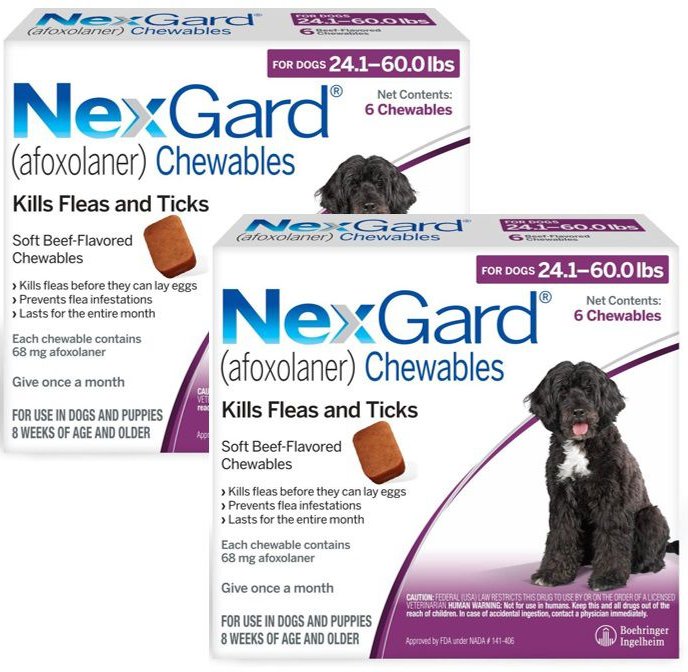 NexGard Chew for Dogs, 24.1-60 lbs, (Purple Box)
Available for dogs ranging from four to 10, 10.1 to 24, 24.1 to 60, and 60.1 to 121 pounds.
Boxes with one, three, six, and 12 doses sold.
FDA-approved to kill adult fleas before they have the chance to lay eggs.
Helps prevent Lyme infections by killing black-legged ticks.
Check Chewy
The NexGard Chew is effective against fleas and wipes out common types of ticks, including deer ticks. In addition, it's an FDA-approved medication to aid in the prevention of the infamous Lyme disease. 
It has an enticing beef flavor that makes it easy to administer to dogs as light as 4 lbs up to 8 weeks old monthly. In addition, each chew offers reliable defense against fleas and ticks for 30 days. 
Afoxolaner, the primary ingredient, gets absorbed into the bloodstream after consumption. With NexGard, your pup doesn't have to wait a few days before playing in the sprinklers. It's also safe for use at home around other pets and kids.
It's, however, pricey because a prescription is needed for purchase.
"My Staffie has sensitive skin, so spot-on treatments have been a no-no due to irritation and redness. I'm glad to have found NexGard; he hasn't had issues since we made a switch two months ago," a satisfied user shared.
Pros and Cons of NexGard Soft Chew
| Pros! | Cons! |
| --- | --- |
| Has a beef flavor. | Expensive. |
| Easy and safe to administer. | |
| Available in sizes. | |
| Has FDA approval. | |
| Eradicates ticks and fleas. | |
Best Collar for Cats: Seresto Flea & Tick Collar
Best Collar for Cats
The Seresto flea and tick collar is unique in many ways. For one, it's formulated with Imidacloprid and Flumethrin to manage flea infestations and eliminate lymph, larvae, and ticks. Together, these ingredients provide an eight-month-long defense against fleas and ticks. Even better, the fleas don't have to bite your feline pal to die; the Seresto collar is effective upon contact for cats aged 10 weeks and above.
It wards off fleas within 24 hours of initial application and ticks within 48 hours. In addition, the quick-release mechanism and visibility reflectors of the adjustable, odor and grease-free collar add an extra layer of safety.
This collar requires close monitoring to avoid loss and prolonged sensitive reactions. Ensure you leave enough space for your cat to escape in an emergency because you can't take it off without cutting it once it's on.
The Seresto Flea & Tick Collar is a worthy investment. A cat mum had this to say. "The price is worth the value my Maine Coon and I get from the Seresto collar. I'm relieved that she has become accustomed to it. There were no signs of irritation, and the ticks were gone after a few days."
Pros and Cons of Seresto Flea & Tick Collar
| Pros! | Cons! |
| --- | --- |
| Adjustable. | Some sensitive cats may react to it. |
| Provides long-lasting protection. | May be some hair loss after initial use. |
| Worth the price. | |
| No unpleasant odor. | |
Best Shampoo: Adams Plus Flea & Tick Shampoo
Best
This flea shampoo eliminates fleas, flea eggs, larvae, ticks, and lice. It's packed with aloe vera, oatmeal, coconut extract, and lanolin to moisturize, condition, and improve the appearance of your pet's coat and skin.
Precor is an insect growth regulator and the main ingredient in this product. Not only does it kill active infestations, but it also prevents re-infestation for up to 28 days. Thus, this shampoo should be used every 28 days to eliminate fleas and ticks in their life cycle.
Although the manufacturer claims the shampoo can be applied on dogs and cats of all ages, it contains pyrethrins that can harm kittens and cats.
The Adams Plus Flea & Tick Shampoo "came highly recommended by my neighbor who works at an animal shelter. Apart from preventing ticks and fleas, it makes my dog smell freshly groomed and his coat shiny."
Pros and Cons of Adams Plus Flea & Tick Shampoo
| Pros! | Cons! |
| --- | --- |
| Effective against active infestations. | Requires frequent reapplication. |
| Hydrates the skin and coat. | Not suitable for cats. |
| Smells nice. | |
Best Oral for Kittens: Capstar Flea Oral Treatment
Best Oral for Kittens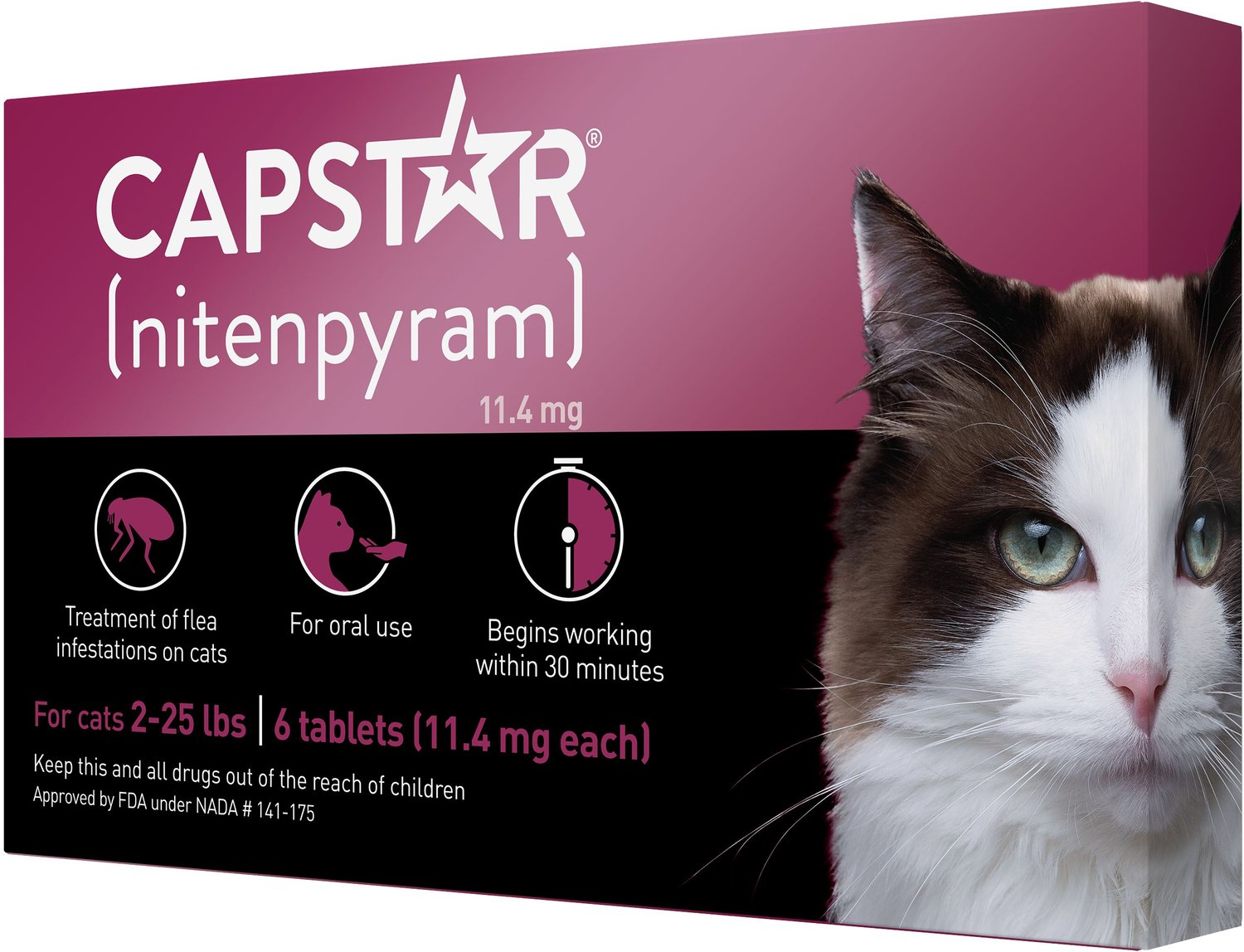 The Capstar formula is your go-to alternative to topical medications to aid the removal of fleas on felines weighing 2 pounds and 4 weeks of age and older. With nitenpyram as the active ingredient, this fast-acting product gets to work in just 30 minutes.
One tablet destroys 90% of adult fleas in 6 hours. Adult fleas contribute to flea allergy dermatitis, often resulting in unpleasant, itchy skin.
It offers instant relief and doesn't come with the mess and unpleasant smells associated with a topical remedy.
However, the treatment is a temporal solution. Some cats may require a dose every other day to stay flea-free.
"I crushed the pills and added them to my itchy cat's wet food. I was glad to observe that the itching stopped within minutes. This product works as advertised," a user commented.
Pros and Cons of Capstar Flea Oral Treatment
| Pros! | Cons! |
| --- | --- |
| Gives immediate relief. | Doesn't kill flea eggs, larvae, and ticks. |
| Easy to use. | Effect doesn't last long. |
| | Needs to be reused often. |
Best Collar for Dogs: Hartz UltraGuard ProMax Tick & Flea Collar
Best Collar for Dogs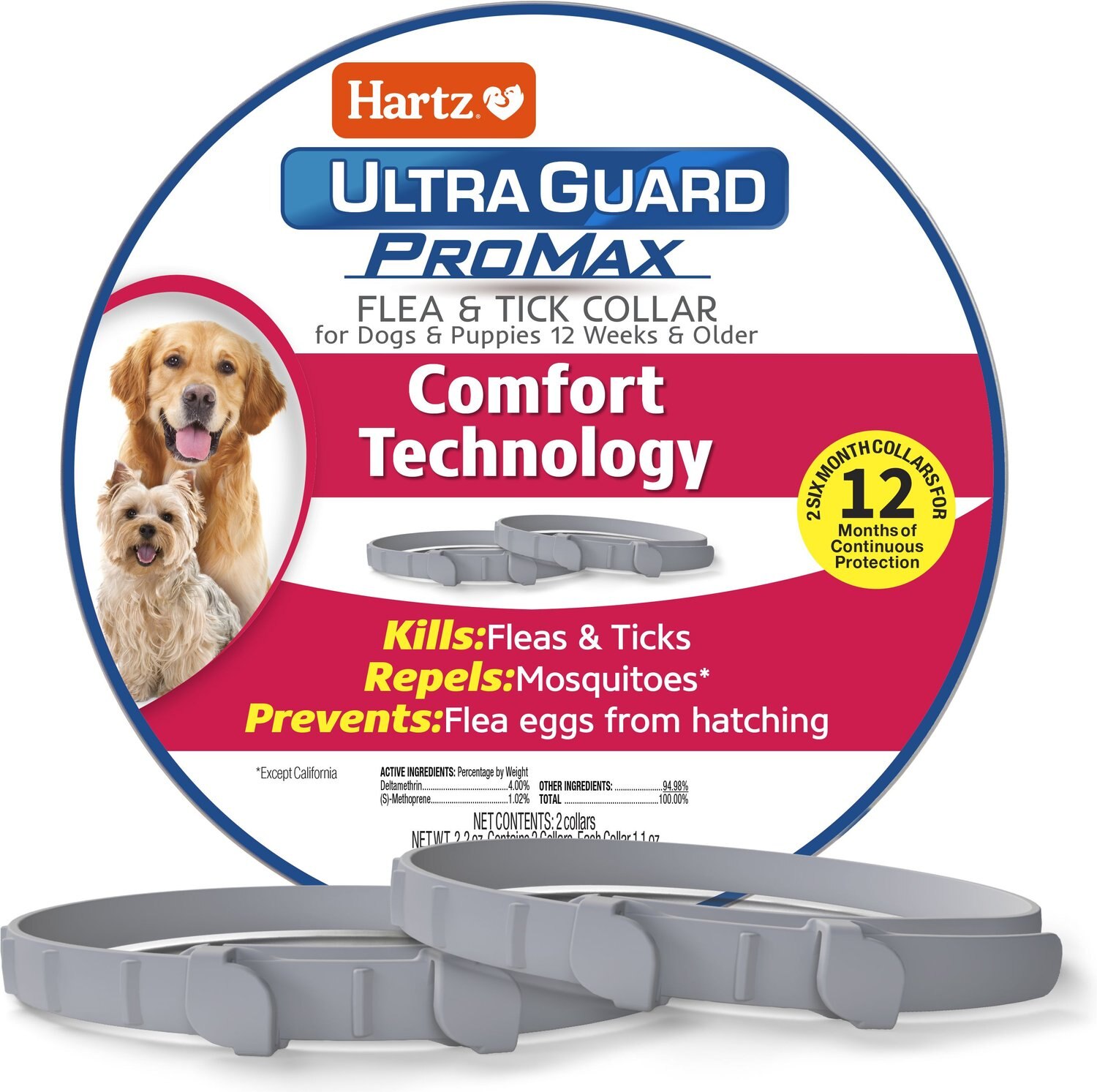 This product kills fleas and ticks, repels mosquitoes, and stops flea eggs from hatching. It features a dual buckle design to create a firm buckle grip that is easy to use and take off as needed.
It's waterproof and best for dogs and puppies aged 12 weeks or older. 
The collar is optimized for your pooch's comfort. It has a soft texture and rounded edges on the outward-facing latch for maximum ease and protection. 
The collar gradually seeps its active ingredients, Deltamethrin and (S)-Methoprene, into the dog's skin surface for up to six months. Since each tin comes with 2 collars, your dog is guaranteed continuous protection for a year.
However, this isn't recommended for dog breeds prone to chewing because the collar isn't chew-resistant. 
According to a user, "I got this for my Yorkie before the season, and it seems to be working for him. I haven't seen fleas or scratches."
Pros and Cons of Hartz UltraGuard ProMax Tick & Flea Collar
| Pros! | Cons! |
| --- | --- |
| Guarantees up to 1-year of protection against fleas. | Some dogs may react to it. |
| One size fits all. | Isn't safe for use around children. |
| Designed for comfort. | |
| Packaging is durable. | |
Choosing the Best: What To Look For
Active ingredients
Before making a purchase decision, you should know the kind of insects that the active chemicals can kill in the product. Confirm that there are no adverse effects when used on your pet or around children. Your veterinarian is the best source of expert opinion on this.
Longevity
How long does the treatment stay effective? This helps you determine the frequency of the reapplication and the likely annual flea and tick treatments cost.
Mode of application
Different flea and tick preventive medications are available on the market. Should you go for a shampoo, spray, or topical formula? How about tablets? Your choice should be based on what works best for your pet.
Up Next…
More from A-Z Animals