Key Points
The best overall pet tech product today is the UCD605 dog camera.
Explore products like treat-dispensing cameras, air purifiers, self-cleaning litter boxes, and more!
When deciding on a product, consider its durability, upfront, and associated costs, and what verified reviewers have to say.
Technology allows for more thorough communication, GPS tracking to safely get you from point A to point B, and ultimate convenience. There's no reason why you shouldn't apply the fruits of technology to your role as a pet parent! There are some fantastic products out there that help simplify your life, keep your pet safe, and even keep them fed when you're away from home.
In the list below, we share our top six picks for pet tech products you can find today. The first is an awesome camera to keep track of your fur babies when you're out and about (and that rewards them with treats for holding down the fort!). The second is a GPS tracker so you know where your pet is at all times. The third is a pretty handy self-cleaning litter box that simplifies your life. We also include an air purifier for homes with pets, an automatic feeder, and an electric indoor fence!
170-degree wide-angle lens with 1080p resolution with 270-degree rotation.
4x zoom function.
Remote treat tossing with three distance settings.

Check Chewy Check Amazon

Modern-looking device
Real-time tracking
Uses WIFI, cellular, GPS, and Bluetooth
Water-resistant and light-weight

Check Chewy Check Amazon

A covered cat litter box.
Automatically cleans after each use by separating waste and placing it in a waste drawer.
Waste drawer is fully enclosed to help rid the litter box's area of odors.

Check Chewy

Feeds pets up to four meals each day.
Meal time and portions can be set via an LCD screen.
Contains a pet-proof lid to keep pets from getting into the feeder and getting food early.

Check Chewy

An indoor fence that uses audible sound to keep pets from restricted rooms.
Range is adjustable.

Check Chewy

Advertised as reducing up to 99.97% of dust and allergens with HEPA air filters.
Reduces household odors.
Optional UV-C light setting to help kill airborne germs.

Check Chewy
Best Overall: Eufy D605 Dog Camera
Best
The best overall pet tech product today is the UCD605 dog camera. When you leave home, there's probably always a lingering thought about what your pet might be up to when you are away. There have even been movies made about this. Pets have their own lives when we're not home and to make separation anxiety a little bit easier for them, you can purchase a camera that not only helps to keep an eye on your favorite furry friend but that also dispenses treats. This camera features a 1080p wide-angle lens and also has a 4X zoom function to increase your visibility.
If you have a pup or a cat that loves to hide, you can zoom in and take a look around the room to spot them. If they're being a good boy or a good girl, use the remote treat tossing feature. Whereas some other versions of this product may end up clogged, you can breathe easy because it's equipped with an anti-clog design. This ensures there's never an interruption in all the yummy treat goodness for your pet. It is also designed with smart motion tracking and has 270° rotation. If there is barking or any other kind of activity, you get an alert. Plus, this product comes with 16 GB of local storage so that you can keep a diary of all your pet's at-home escapades.
What Buyers Say
Customers rate this product 4.9 out of five stars on average. 100% of the reviewers would recommend it to a friend. One customer says that it's not just for dogs or cats. She has an indoor rabbit that she lets free roam. He is full of energy and she tends to hear him being mischievous. When she goes up to find him, he immediately runs out to play innocent and greet her. She purchased this camera to understand exactly what he was getting into. She's come to find that even though her rabbit is funny when they're together, he is absolutely hilarious when he doesn't know she's looking. She also re-programmed the snack noise to her own voice so that it says "snackies," and she gets a kick out of his excitement every time.
Another customer says some of the features are spotty, but that seems more like a tech support issue that requires resolution.
| PROS | CONS |
| --- | --- |
| Wide-angle lens | May require customer service support for setup |
| Dispenses treats |   |
| 4X zoom functionality |   |
Best Tracker: Jiobit GPS Dog & Cat Location Monitor, Gen 2
Best Tracker
If you're anything like us, you are abreast of the goings on in your neighborhood and repost lost pet photos and descriptions as needed to get any lost fur baby home to their families. It's absolutely devastating when you call out for your pet, and you get silence in return. Instead of giving yourself a near heart attack on a regular basis, pick up this innovative monitor.
It uses a combination of Wi-Fi, Bluetooth, cellular, and GPS to keep track of your pet's location at all times. It attaches to your pet's collar, and you get an unlimited range of tracking. The battery is long-lasting, and you only have to charge it every seven days. It's a really small device, very lightweight and durable, and even water resistant so if your pup loves puddles, that's no big deal.
What Buyers Say
Customers rate this product 4.1 out of five stars. One woman shares that it's absolutely perfect for her cat. She spent hours researching these types of devices and finally decided on this one. She's now ordering a cover for it because her cat loves to run through the forest and sometimes makes his way into a drain pipe. She's trying to make it as heavy-duty as possible, but she is already thrilled about being able to track her favorite furry friend. Some customers felt the design was too flimsy and would have preferred something more heavy-duty.
| PROS | CONS |
| --- | --- |
| Lightweight | The device may require a cover for extra adventurous pets |
| Water-resistant |   |
| Unlimited tracking range |   |
Best for Cats: Smarty Pear Leo's Loo Covered Automatic Self-Cleaning Cat Litter Box
Best for Cats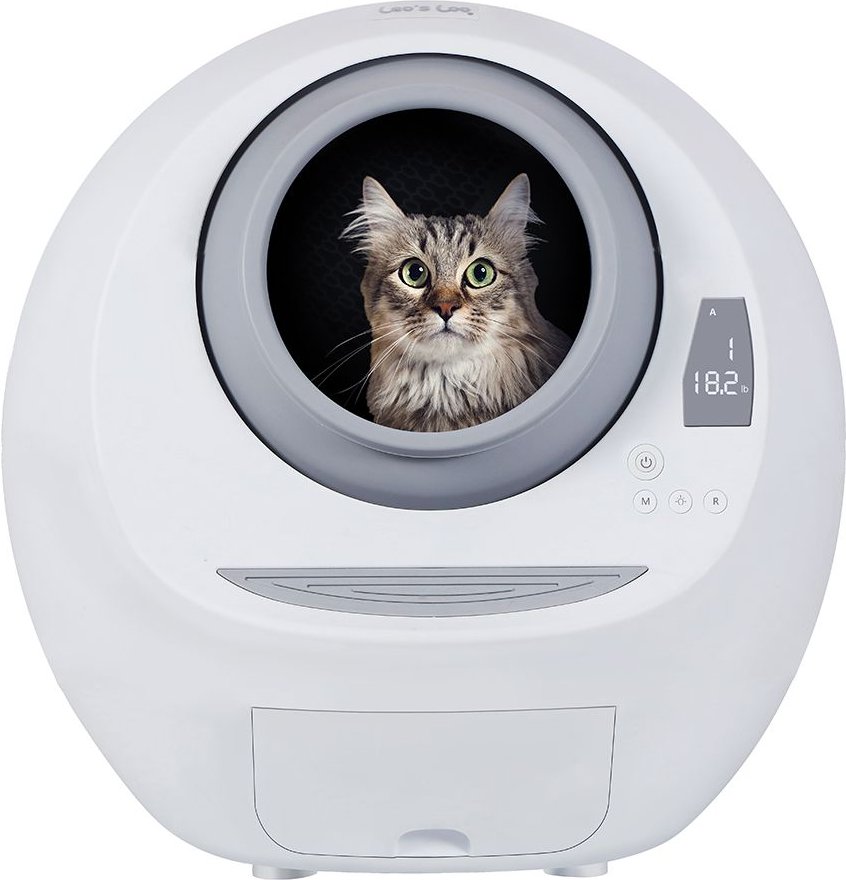 There are so many joys to having a cat. Sometimes they're busy at work making biscuits for the whole family and sometimes they're curled up in that cute little position that makes you want to go over and hug them. If you're lucky, you get some awesome cuddle time with them too. Their antics are fun to watch, and they overall bring a sense of love and entertainment to your home. The one downside of owning cats is the litter box. No matter which way you look at it, it's unpleasant.
This covered, automatic, self-cleaning cat litter box takes the task off your hands. It automatically cleans itself every time your cat uses it. It separates the waste from the clean litter and disposes it into a waste basket that is located underneath the device. Since it's fully enclosed and it has an all-natural bamboo charcoal filter, it really cuts down on those offensive odors. It has touch-friendly buttons, and it also tracks your fur baby's health and behaviors. It's equipped with ultra-quiet sifting technology so that you're not getting woken up at two in the morning by the sound of this machine.
What Buyers Say
Customers rate this product 3.9 out of five stars. This device has made big fans out of cat parents. One customer suggests that you shake the waste drawer before opening it to make sure that the waste is evenly distributed. This makes it easier to dispose of. Another customer lives in a multi-cat household and has spent a lot of time trying out different litter boxes. So far, this one is the quietest, most reliable, and easy to clean option. She loves that the litter stays in the box because several of her cats love scratching and making a mess. It is pricy upfront but the general sentiment from customers is that it's a worthwhile investment.
| PROS | CONS |
| --- | --- |
| Easy clean-up of waste drawer | Significantly more expensive than basic litter boxes |
| Ultra-quiet sifting technology |   |
| All-natural bamboo charcoal filter |   |
Best Feeder: Petdiary Automatic Dog & Cat Feeder
Best Feeder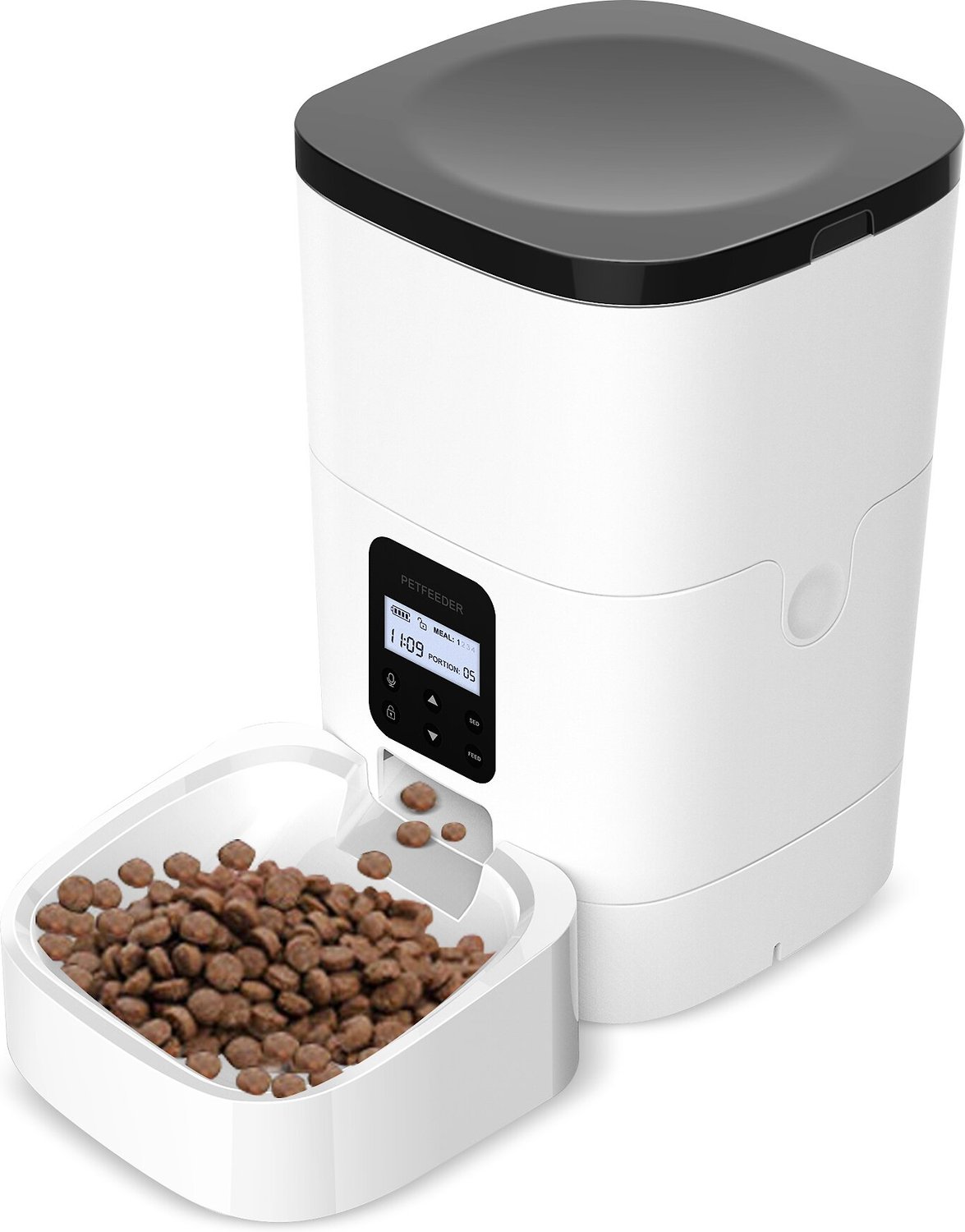 There are times when you're just not home to feed your pet on time. It could be that you're on a trip and there's no one around to come and feed your pet for you. In those cases, it's always great to have an automatic feeder. This one can feed your pet up to four meals every day. There are nine customizable portions per meal, which is especially important if you have an extra hungry fur babe who doesn't know when to stop munching. This is also a great option for those weekends when you just want to sleep in and not have to respond to the scratches at the door or the long, howling meows from your hungry feline.
What Buyers Say
Customers rate this automatic feeder 4.7 out of five stars. They feel it's worth every penny. They love how easy it is to set up, that the settings are customizable and that they can breathe easy knowing that it's a reliable machine. One customer says there is a setting that she loves. You can record a custom message that gets played at feeding time. This is super helpful, especially when her two cats are home alone. Another customer says it has completely changed her life. She has a nine-year-old cat that started suddenly requesting food at 4 AM. It was driving her nuts. After she set this up, she's not getting woken up by her cat anymore. One customer says the synchronization took some figuring out at first but once that was set up, they were good to go.
| PROS | CONS |
| --- | --- |
| Nine customizable portions | Synchronization may be a little tricky at first |
| Feeds up to four meals daily |   |
| Customize the mealtime recording |   |
Best Fence: High Tech Pet Products SB-1 Sound Barrier Indoor Sonic Dog & Cat Fence System
Best Fence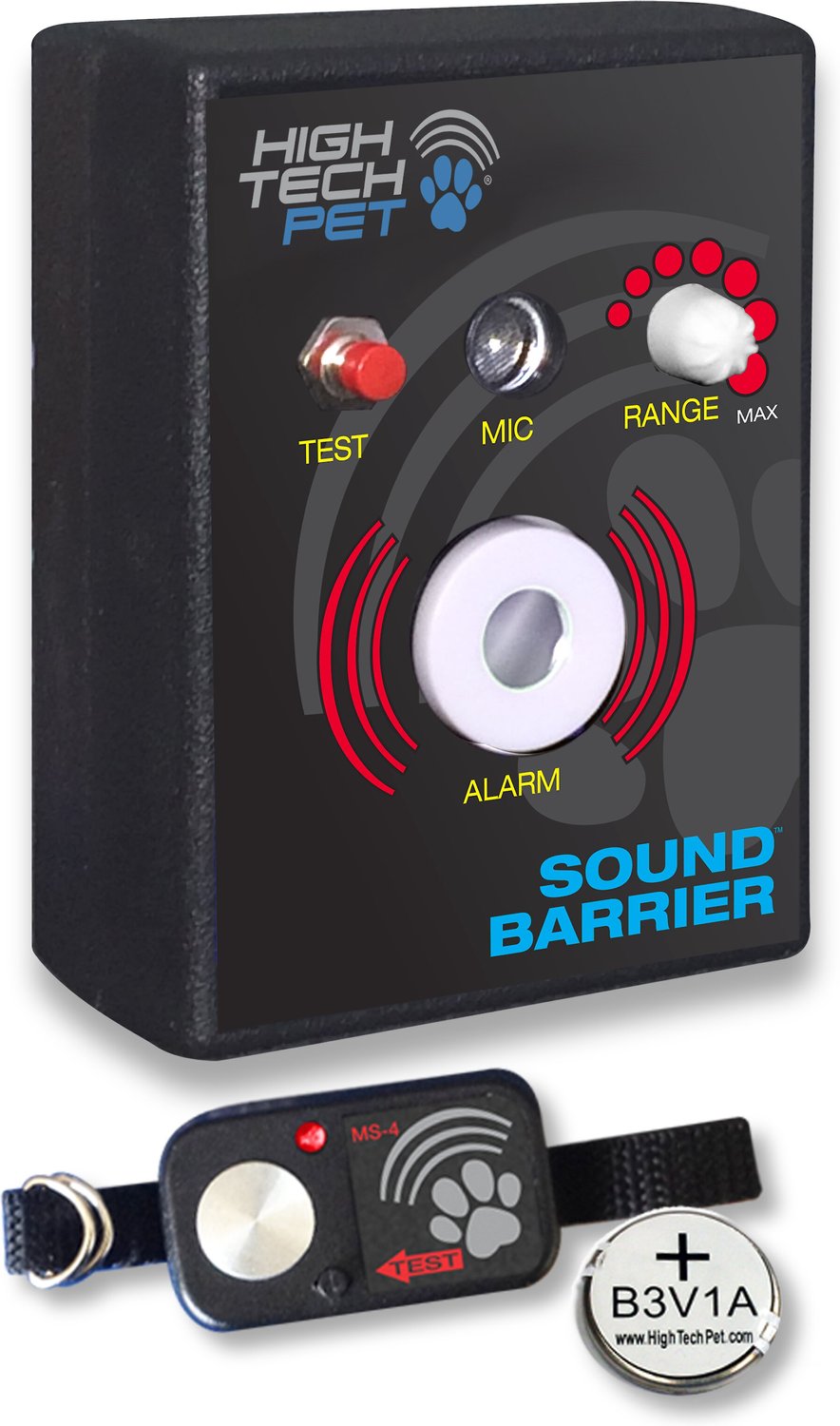 If there is a place in your house where you just don't want your pets going, you need this indoor electronic fence. Sometimes, it's the kitchen that is a no-go area for both dogs and cats. Sometimes, it could be your nursery where you have a resting baby. Other times, it might even be a guest room where guests who don't like pets stay. This electronic fence has a fully adjustable range from one to 35 feet. The way it works is by utilizing an audible sound that keeps pets out of those restricted areas you designate. It comes with a receiver that detects an ultrasonic signal from the pet collar your pet wears. It's ideal for adult pets of different size breeds.
What Buyers Say
Customers rate this product four out of five stars. One customer says she was skeptical, but this electronic fence surprised her. She had tried something similar in the past but didn't have any luck with it. She had a persistent problem with her cat. He kept sneaking out every time her dogs would go out. It became a constant headache for her to try and find him and chase him down and get him back home. From the very first time she put this collar on and set up the receiver, it worked perfectly. Now the cat won't even go close to that door and can remain safe indoors. It has a loud sound, so it may not just be jarring for pets, but also humans.
| PROS | CONS |
| --- | --- |
| Full adjustable range up to 35 feet | The loud beep may be bothersome for humans until pets learn to keep from restricted areas |
| Activated by electronic collar |   |
| Includes receiver and collar |   |
Best Purifier: Germ Guardian AC5250PT HEPA Filter Air Purifier
Best Purifier

If you have a pet in the house, you need a HEPA filter air purifier. It's just a reality. Yes, you can use the best pet vacuums, but you also need some air purifying support. This one reduces 99.97% of allergens and dust as small as .3 microns. It has a PetPure antimicrobial agent as well that inhibits the growth of mildew, mold, and any other odor-causing bacteria. There's an activated charcoal filter that also helps with odor protection throughout the house. It has an optional UV-C light technology that you can use to kill any airborne viruses or germs. It has five speed settings, an eight-hour timer, a digital display panel, and a filter change indicator. It's perfect for rooms up to 180 square feet.
What Buyers Say
Customers rate this air purifier 4.6 out of five stars. For one customer with a three-cat household, this is a must. Another customer says she has a long-haired cat and a husky which both shed a lot and even though she vacuums daily, this is an incredible addition. She started vacuuming the filter once a week and is shocked by how much pet fur and dust the carbon filter and pre-filter are able to gather. She highly recommends this for anyone who has pets. It's a bit expensive but for how it helps, customers feel it's worth it.
| PROS | CONS |
| --- | --- |
| Reduces 99.97% of allergens | Requires a higher upfront cost and replacement filters |
| PetPure antimicrobial agent |   |
| Activated carbon charcoal filter |   |
Criteria: What to Look for in Pet Tech Products
Ultimately, when you're considering a pet tech product, you're thinking about convenience. Pet tech products are designed to make your life easier. Whether that means an automatic feeder to keep your pets satiated when you're away (or sleeping in) or a full-on automatic, self-cleaning litter box to get rid of your daily scooping litter tasks, pet tech is invaluable. Consider the following when purchasing one of these products:
Durability
If you're investing in and relying on tech, it should be durable. Look for any warranties for each product and see if there are any restrictions on returns. This way, you can shop with peace of mind.
Cost
Sometimes, there's an upfront cost and that's it. With other products, like an air purifier, you have to factor in not only the cost of the unit but the ongoing cost of replacement filters.
Reviews
Buying online is the norm nowadays but that doesn't mean it's risk-free. Check out previous customer reviews to get the scoop on how each of these products really works, including the not-so-great aspects of each.
Up Next, Check Out Some More Pet Products…
The 6 Best Pet Tech Products on Chewy Today FAQs (Frequently Asked Questions) 
What pet products are in high demand?
There are tons of great products for pets right now! Some of the most popular include CBD for pets, comfortable pet beds, litter box solutions, and pet toothpaste.
Are pet tech products worth it?
Absolutely! Much like a laptop and phone have completely altered your life, pet tech products can totally feel like a godsend.
More from A-Z Animals