Iowa is home to some of the best fishing lakes in the country. You have the option of choosing from the large glacial lakes of Spirit Lake and Clear Lake to the remote small ponds in the middle of rural Iowa.
The state of Iowa offers plenty of opportunities for anglers to land a variety of species. With the option of choosing from such a myriad collection, it can be hard to decide which is best for your next fishing trip. To help, we've identified 13 of the top fishing lakes in Iowa, each with its own unique characteristics and plenty of fish to reel in.
Whether you're a beginner or a pro, these fishing lakes have something for everyone, so jump in your boat and get your line ready for a great day out on the water!
Exploring the 13 Nature's Angling Gems in Iowa
Iowa offers amazing water bodies throughout the state. The lakes contain diverse fish species, amazing landscapes, and a long fishing culture. Let's uncover the secrets that make each a must-visit itinerary for anglers.
1. Okoboji Lake
Lake Okoboji is a jewel in Iowa's fishing crown. It is in Dickinson County and has a picturesque natural setting with more than 40 fish species. The lake is famous for smallmouth and largemouth bass fishing. One distinctive feature of Okoboji Lake is that it covers the East and West with a surface area of 1366 acres of aquatic beauty.
For a better understanding, we will venture to study them separately.
East Okoboji Lake
East Okoboji Lake is a living reminder of the Pleistocene Ice Age, a glacial pothole left behind after the glaciers receded. It is the most stunning and prevalent lake for fishing trips and weekend getaways. It features 1835 acres of surface area and has a maximum depth of close to 22 feet.
East Okoboji Lake is next to West Okoboji Lake and contains a healthy fish population. The fish stock includes white bass, crappie, and yellow bass, bluegill, walleye, perch, and northern pike. East Okoboji is one of the best fishing spots for those in the northwest region of Iowa offering a very unique angling experience.
West Okoboji Lake
Found in northwestern Iowa, West Okoboji offers an array of fishing opportunities. The lake has state parks surrounding it. For instance, on its Eastern side is Arnolds' Park Amusement Park. On the Northern side is Pikes Point State Park.
Besides fishing, West Okoboji Lake has many recreational activities. Such include boating, canoeing, camping, jet skiing, swimming, waterskiing, and more. Also, it has added entertainment, making it a favorite spot to enjoy your passion.
Enveloped by clear blue waters, the lake has many fish species. The popular ones are bluegill, channel catfish, crappie, bass, walleye, and yellow perch. This lake is perfect for all anglers, including novices.
2. Coralville Lake
Coralville Lake is a human-made lake just a stone's throw away from Iowa City. It's in eastern-central Iowa with several outdoor activities. Coralville Lake is a darling to catfish enthusiasts as it is a thriving home of channel catfish.
Many in-and-out water activities keep visitors hooked throughout the day. It also has recreation areas like Sandy Beach, Sugar Bottom, and West Overlook.
The peaceful ambiance and fantastic fishing opportunities beckon anglers to Coralville Lake. Fish species include black bullhead, crappie, catfish, largemouth, sunfish, and walleye. You can also enjoy biking, birdwatching, boating, etc.
Explore Coralville's secluded coves and brush piles for a lifetime chance to reel in the catch.
3. Big Creek Lake
Big Creek Lake is at the center of Iowa State within a state park in Polk County. It covers a surface area of close to 814 acres. With a depth of 51 feet to 167 feet, the lake only freezes for a short time compared to other options due to its size.
The lake borders a wildlife refuge and a state park (Big and Creek), giving it plenty of flora and fauna. Big Creek Lake offers an all-year-round fishing alternative, including ice fishing. Thanks to its central location. Most anglers enjoy being here because of its ample space and several fish species.
You can catch varying fish species like bluegill, crappie, and channel catfish. Muskies, largemouth bass, walleye, etc., are a line throw away.
Beyond the exhilaration of fishing, Big Creek Lake provides various recreational activities. With the advantage of being near Polk City, the lake has impressive views and picnic spots that are perfect for a getaway with family and friends. Other activities at Big Creek Lake include boating, canoeing, hiking, jet skiing, and kayaking.
4. Saylorville Lake
Sitting on the Des Moines River, Saylorville covers a surface area of 4970 acres and is 44 feet deep. It offers a tranquil retreat in the middle of striking beauty. The lake is one of the vast attractions in the capital city. It beckons anglers with its diverse aquatic habitat.
Whether you cast your line on the shore or adventure in a boat, the fishing experience is exciting. Saylorville supports anglers through many coves and submerged structures where fish gather, giving you the opportunity to experience the thrill of a rewarding catch.
You can have a fantastic catch reeling in catfish, crappie, white bass, largemouth bass, walleye, sunfish, perch, and bluegill.
5. Black Hawk Lake
The southernmost glacier, Black Hawk Lake, is in Lake View, Iowa. Although surrounded by private homes, it has tons of shorelines. Black Hawk Lake covers a sprawling 922 acres and is visited by an estimated 250,000 people each year.
It has a depth of 13.4 feet. Black Hawk grants a wide selection of fish for anglers. They catch bass, bluegill, bullheads, crappie, catfish, perch, walleye, and muskies throughout the year.
If you're looking for a great outdoor experience in nature, Black Hawk is the place for you. Whether you're interested in fishing or hiking, skating or snowballing, Black Hawk has a wide variety of activities to enjoy.
Plus, the Stone Pier Summer Concert Series – held right on Lake View's shores – is an added bonus. With a public boat dock and a 25-space parking lot just steps away, launching your vessel into the lake couldn't be easier. So make sure to put Black Hawk on your bucket list and get ready for the adventure of a lifetime.
6. Big Spirit Lake
One of Iowa's best lakes for fishing is Big Spirit Lake nestled on the Minnesota-North Dakota border. It offers a peaceful fishing escape to anglers.
Spirit Lake, Iowa, is the largest natural Lake. It has a tremendous potential for fishing opportunities, appealing to the hearts of anglers.
Its surface area is approximately 5,684 acres, with a depth of 24 feet. Spirit Lake is the remnant water body from 13 years back of the recent ice age. It's part of Iowa's chain of lakes called "Iowa Great Lakes".
Big Spirit Lake is home to more than 40 unique species of plants and animals. Enveloped by lush forests and rolling hills, it attracts a vast population of anglers. In Big Spirit Lake, despite the rich biodiversity, only thirteen species are fished regularly.
Some fish stocks include crappies, walleye, muskie, yellow perch, northern pike, and perch. It is better to go fishing early in the morning or late evening to reap the benefit of your efforts. The lake's several bays and drop-offs harbor enough fish population.
They use boats or ducks during the summer season and via ice if it is winter as a fishing technique. With its serene atmosphere and breathtaking surroundings, Spirit Lake offers an actual immersive fishing experience.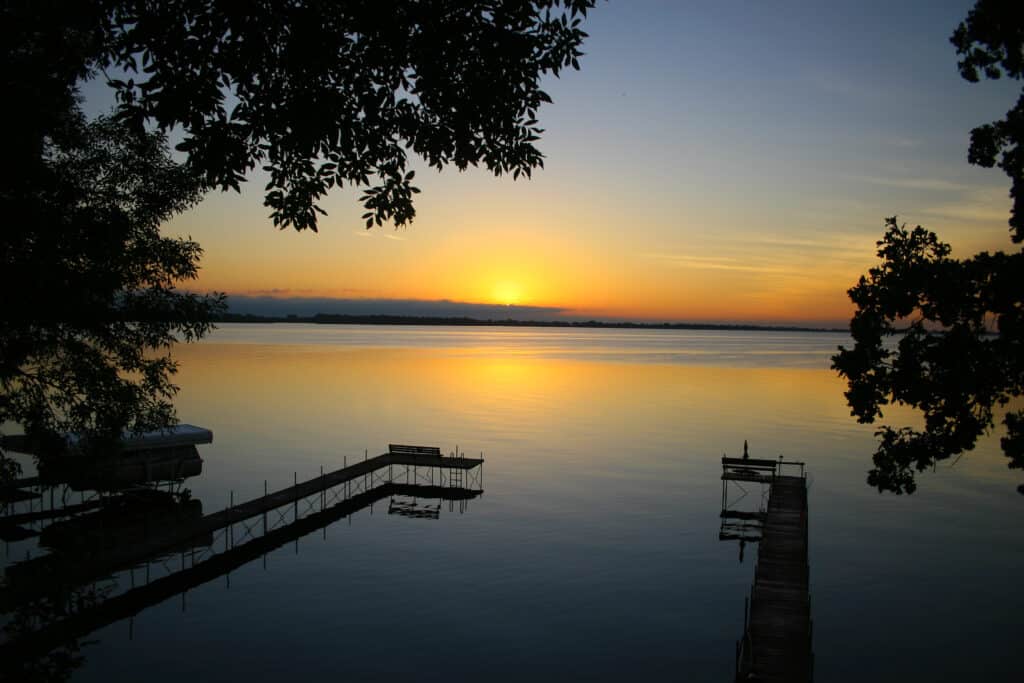 7. Storm Lake
Promising a memorable fishing experience, Storm Lake has exceptional walleye fishing. The lake has a dynamic fishing venture that makes anglers flock there. It offers to their delight species of catfish, crappies, and white bass.
Storm Lake has a surface area of 3,200 acres. Found in the northwestern part of the state, it has over eight shorelines. The lake has enough space for every angler. Note that if you catch walleye between 17 to 22 inches, you release them after the catch.
Renowned as the best lake for walleye fishing, you can still catch crappie and perch in Storm Lake. You may even find catfish in this water. Storm Lake is worth venturing out if you love giant fish.
8. Rathbun Lake
Spanning over 11,00 acres, in the heart of southern Iowa, Rathbun is a hidden treasure. It sparks tranquility and immense fishing opportunities. Rathbun is home to diverse fish species.
Located in south central Iowa within the Honey Creek State Park, it is the second largest lake in Iowa. It contains awe-inspiring species, including channel catfish, crappie, and white bass. Bluegill, walleye, largemouth bass, and flathead catfish are available on the lake.
Besides fishing, Rathbun Lake offers extra activities like boating, canoeing, and hiking. The lake provides all its visitors with an unforgettable angling experience. The foliage that envelops the lake and the rolling hills offer you a breathtaking testimony to the beauty of nature.
9. Clear Lake
Another fantastic place for anglers is Clear Lake. It's on the south edge of Clear Lake, in Cerro Gordo County. The lake covers 3,684 acres with a maximum depth of 18 feet. This water reservoir is also called Iowa's "surfcasting capital."
Clear Lake gets its water from a natural spring, making it what it is today. It's an incredible touring itinerary in Iowa, especially during summer.
It's one of the best lakes with a fantastic fishing experience. The combination of adrenaline-pumping action with nature's beauty makes it trendy.
The lake is home to a broad spectrum of fish like walleyes, muskies, crappies, small bass, sunfish, and panfish-offering successful angling to everyone. The walleye is towards the northern border areas. In contrast, the crappies are along the lake docks near Clear Lake.
10. Lake Macbride
Found in the County of Johnson, Lake Macbride covers a surface area of 940 acres with a maximum depth of 45 feet. It is the only fishing spot for Kentucky spotted bass in Iowa.
Lake Macbride hosts other varieties like bluegill, largemouth and smallmouth bass, catfish, walleye, and muskie. The angler gets to enjoy their dream come true as there are seven boats to facilitate their catch and other amenities.
Nestled within a state park, Lake Macbride presents a captivating blend of angling possibilities and natural beauty. The lake's clear waters and submerged structures make it a perfect location for experienced and beginner anglers.
11. Prairie Rose Lake
Prairie Rose Lake near Harlan is a fabulous place to fish for bluegill. The lake is renowned for its pea gravel spawning beds, making it ideal for fishing in the springtime. The lake has many rock habitats, creating great places to fish for largemouth bass. There are six fishing jetties, so finding your perfect fishing spot is relatively easy.
Prairie Rose Lake is in Shelby County, 8 miles southeast of Harlan. Its surface is 196.10 acres with a depth of 25 feet. The lake offers a peaceful oasis near Leon.
This hidden gem offers a serene fishing experience. It's home to various fish species, including channel catfish, bluegill, and largemouth bass. Whether you prefer shore fishing or setting sail on the lake's tranquil waters, this lake is an angling escape to create memories for a lifetime.
12. Little River Lake
Prairie Rose Lake in Shelby County, Iowa offers a range of features that entice anglers. The lake has a diverse fish population making it a favorite spot for fishing. The lake's healthy fish species provide ample recreational and competitive angling opportunities.
This hidden gem offers a serene fishing experience and is home to various fish species, including bass, perch, bluegill, and channel catfish. Little River offers a variety of recreational activities like boating, hiking, camping, and wildlife views. These combinations give a fantastic experience all around.
13. Lake Manawa
Manawa in the western parts of Iowa. It has surrounding forests that are a habitat for wildlife. Just like the name, the lake offers serenity and comfort. Fishing is common here, with the Manawa Sailing Association offering support through boats.
The lake is famous for anglers of all levels because of its fishing activities. The typical fish in Manawa Lake is bluegill, walleye, and bass. Manawa is specifically famous for largemouth fishing. Anglers use techniques to win the catch, like live bait, lures or submerged structures.
Other activities include boating, kayaking, waterskiing, canoeing, paddle boarding, camping, hiking, and sunbathing.
Unforgettable Fishing Adventures Await in the Heartland of America
Iowa's 13 best fishing lakes offer a cornucopia of angling experiences. The serene lakes are amidst breathtaking landscapes, brimming with trophy-sized catches. Iowa's fishing lakes are places for passionate anglers seeking solitude or a family looking to create lasting memories.
So pack your fishing gear, immerse yourself in Iowa's natural beauty, and embark on an unforgettable fishing adventure in the heartland of America.
Iowa offers an abundance of beautiful fishing lakes for anglers to experience. Anglers are spoiled for choice with the variety of lakes located around Iowa. You are sure to find one that fits your ideal fishing adventure. Be it a lake stocked with bass, trout, walleye, or pike, the selection has something for everyone.
From intimate remote fishing lakes to popular tourist spots like Clear Lake, there is an opportunity to catch a trophy-sized fish and create unforgettable memories. Iowa not only offers great fishing spots but also wonderful, once-in-a-lifetime opportunities to reconnect with nature and enjoy a multitude of outdoor activities.
Summary Table of the Best Fishing Lakes in Iowa
Here is a list of the best fishing lakes you can find in Iowa:
| Rank | Best Fishing Lakes in Iowa |
| --- | --- |
| 1 | Okoboji Lake |
| 2 | Coralville Lake |
| 3 | Big Creek Lake |
| 4 | Saylorville Lake |
| 5 | Black Hawk Lake |
| 6 | Big Spirit Lake |
| 7 | Storm Lake |
| 8 | Rathbun Lake |
| 9 | Clear Lake |
| 10 | Lake Macbride |
| 11 | Prairie Rose Lake |
| 12 | Little River Lake |
| 13 | Lake Manawa |
The photo featured at the top of this post is © iStock.com/shironosov
---