If there's one thing that you should know about Yellowstone National Park, it has to be the bison population. Bison are prevalent throughout all of Yellowstone and the surrounding region, including herds large enough to stop tourists as they drive through! But just how many bison live in Yellowstone, and what can you expect out of a visit to this beautiful natural area?
In this article, we will go over everything you need to know about bison in Yellowstone National Park, including just how many live in the region on average. We will also address what the bison prefers to eat, where in the park you can expect to see them, and the time of year in which bison are most active in the park. Let's get started now!
Key Information About Bison in Yellowstone National Park
| Yellowstone National Park | Bison Facts |
| --- | --- |
| Number in the Park | 5,000-6,000 |
| Average Size | 8-10 feet long; 1,000-2,000 pounds |
| Mating Season | July or August, with one calf born in April or May |
| Diet | Grasses and hedges |
| Active Times | Daytime and dusk, with some night activity |
| Best Viewing Locations | Seasonally dependent, but definitely along the Madison River, the Hayden and Lamar Valleys, and grasslands |
How Many Bison Live in Yellowstone National Park?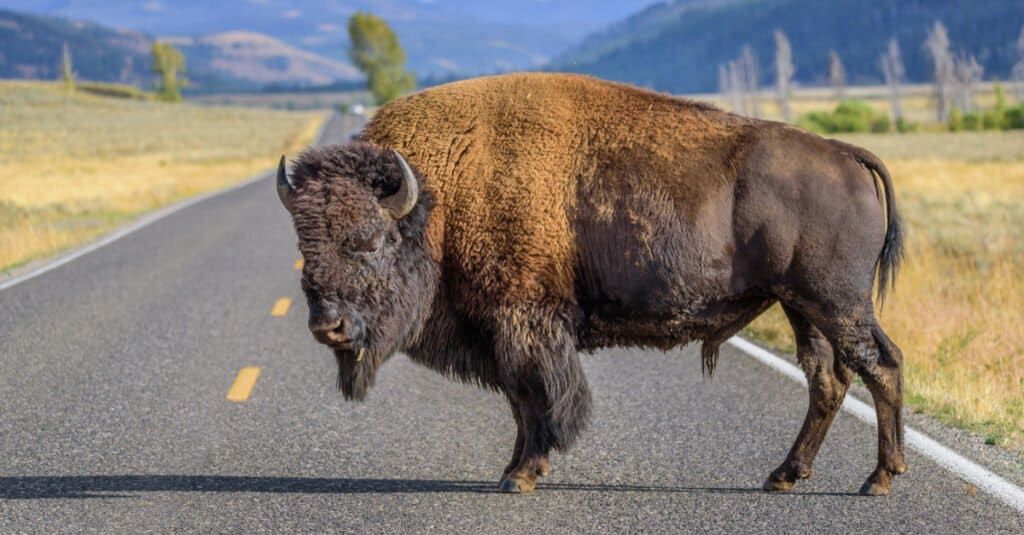 If you've always wanted to see bison in the wild, Yellowstone National Park is one of the best places in the world to do this. In fact, depending on the time of year, you can see herds upon herds of them gathered in the grasslands all at once. You're more likely to see hundreds of bison at once rather than individual animals, leading to an even greater viewing opportunity for you! 
Depending on the time of year, there are an estimated 5,000 to 6,000 bison living in Yellowstone at any given time. The breeding season as well as the birthing season is when the population sees an increase, but there are never fewer than 5,000 bison in Yellowstone National Park and the surrounding regions. 
In fact, there are so many bison in Yellowstone National Park that they frequently cause traffic and large gatherings of guests to view them. While it is impossible not to gaze in wonder at the Bison in Yellowstone, it is important to always maintain a safe distance from them, as well as obey any traffic laws found in the park. 
How Large are Bison in Yellowstone National Park?
Bison are some of the largest animals found in Yellowstone, alongside grizzly bears. Depending on gender, the average bison reaches anywhere from 8-10 feet long and 1,000-2,000 pounds. This is why it is paramount to maintain at least 100 yards of distance from these beautiful creatures, no matter how peaceful they may appear upon first glance!
Male bison are larger than female bison, and both genders have horns. The average bison runs at speeds of up to 35 miles per hour, and they can jump nearly five feet into the air. This means that they are definitely worthy of your respect and patience while in the park, no matter how excited you are to see them on your visit to Yellowstone! 
When are Bison Most Active in Yellowstone National Park?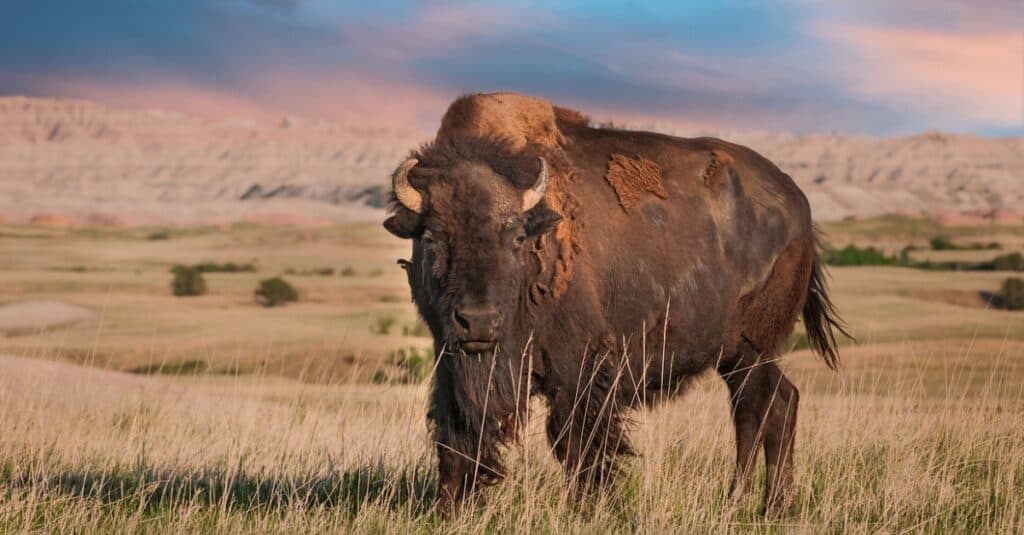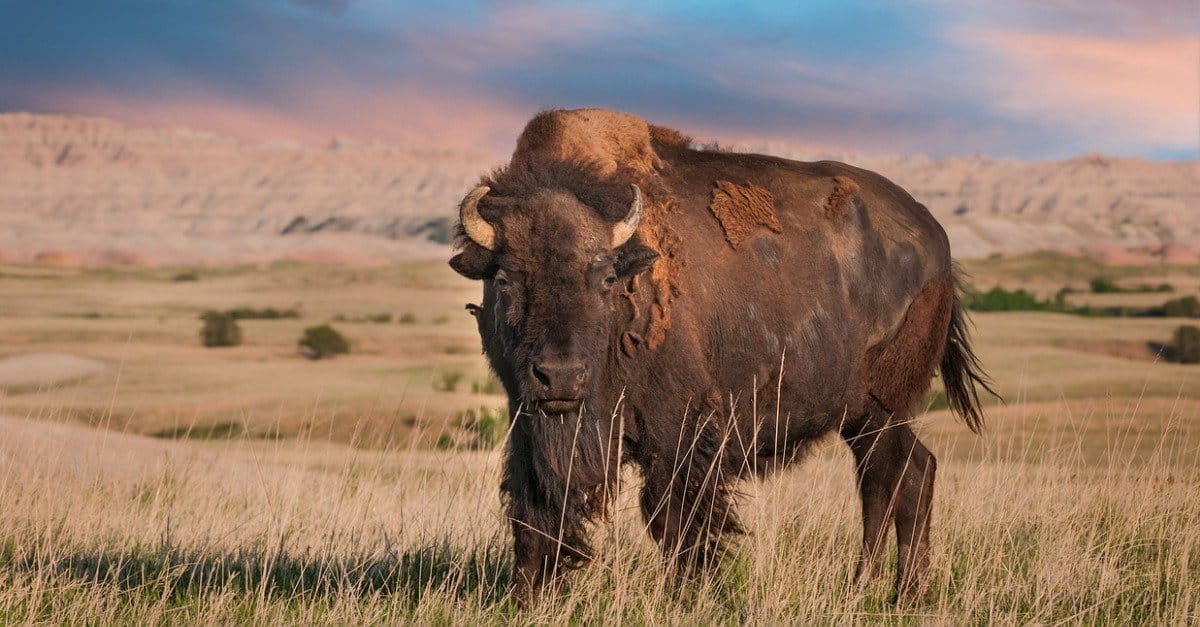 Bison are most active throughout the day, particularly around dusk. You may notice some bison activity in the night as well, but many herds choose to settle down for the evening once dusk has passed. Given the fact that most bison eat anywhere from 8-12 hours each and every single day, it only makes sense that they are extremely active animals!
Breeding season is a great time of year to view bison in their natural habitats. This happens during the summertime, particularly during the months of July and August. A single calf is born to bison couples sometime in the spring, around April or May, and this is another great time of year to see bison, particularly young calves.
It is interesting to note that bison herd sizes are largest during the summer months as well, with nearly 200 bison per herd! These numbers dwindle in the winter, averaging 15-20 bison during the colder months. However, you are still likely to see multiple bison during your Yellowstone trip, no matter the time of year. Let's go over some of the top viewing locations for these creatures now.
Where Can I View Bison in Yellowstone National Park?
You can view bison in a number of locations throughout Yellowstone National Park, depending on the time of year. For example, bison populate any and all grassland areas throughout the park in the summertime, making for easy viewing during the warmer months. You can also expect bison in either the Hayden or Lamar valleys anytime of year.
During the winter, bison roam throughout the park in smaller herds. They are commonly found in:
Tower
Gardiner Basin
Blacktail Deer Plateau
Madison River
Hydrothermal areas of the park
You will likely see bison in a number of other areas of Yellowstone as well, though these locations are where the most common sightings happen. Much has been done regarding the migration habits of bison into areas outside of Yellowstone National Park, and this beautiful area is truly a long-time sanctuary of the American bison!
---