↓
Continue Reading To See This Amazing Video
Indiana has a long deer season that stretches from September through January. However, this season is broken up into several smaller seasons – all of which have their regulations and bag limits. Therefore, figuring out which season you want to hunt matters. They aren't all the same and may even differ from area to area.
With that said, understanding the different seasons can be complicated. Plus, when you add license requirements and other regulations, figuring out how to hunt in Indiana during each season can seem nearly impossible.
We wrote this article to give you a helping hand. We'll work through how to hunt in Indiana and the available seasons.
Hunting License Requirements for Indiana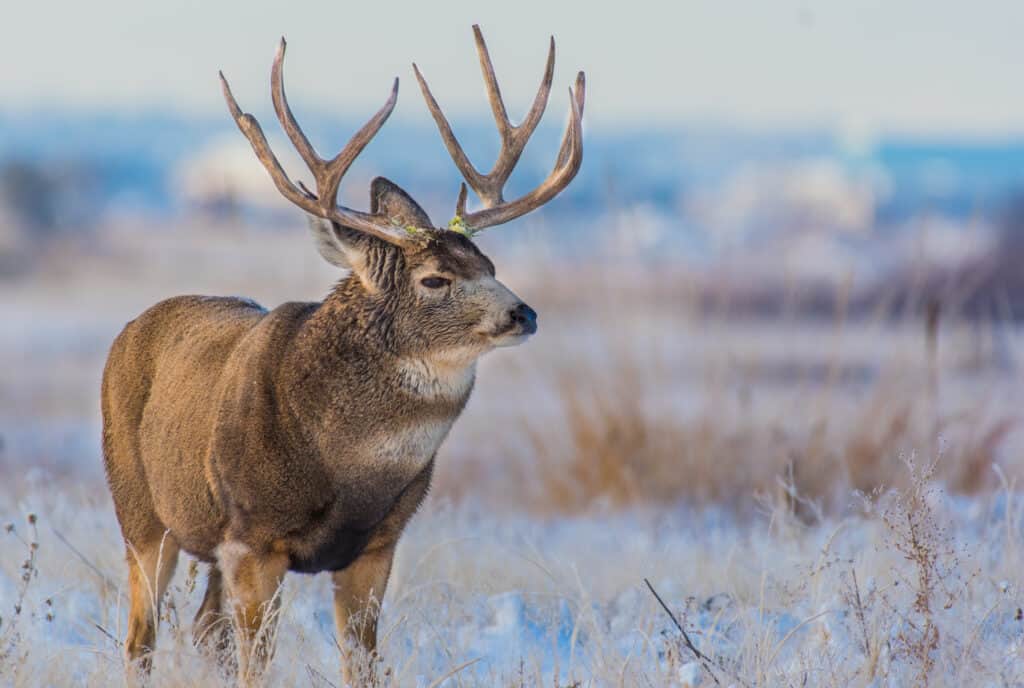 You need a hunting license to hunt any wild game species in Indiana. This requirement includes hunting on public and private land. On top of a license, you may also need to purchase a range of different "stamps" for particular species, including deer.
To get a license, you must also complete a hunter education class.
There are several ways to go about purchasing a license. You can purchase one online through the state's website, in person at a retailer, by mail, or by phone. Of course, ordering by mail is often much slower. Therefore, if this is your preferred method, allow a few weeks for delivery.
There are some exceptions to the license requirement, though. Those who own farmland and their immediate family do not need a license to hunt on their land. This doesn't apply to any land owned by a business or corporation. There is no acreage requirement for this exemption.
Trust properties also fall into this group. However, the trustees must all be immediate family members and residents of Indiana.
A non-resident who is younger than 18 may hunt without a license. However, they must be accompanied by a resident with a license who is their parent, grandparent, or legal guardian. Active-duty military in Indiana may use a resident license, even if they aren't technically residents of Indiana.
Apprentice Licenses and Hunter Education Courses
Under normal circumstances, most people must complete a hunter safety course run by the state to get a license. However, you can purchase an apprentice license instead of completing the course. This license can only be purchased three times before the course must be taken.
This license is meant to let people try out hunting before committing to a class. Therefore, it isn't supposed to be purchased over and over again.
Anyone with an apprentice license must be near someone over 18 with a license while hunting. The individual with the apprentice can not accompany more than two apprentices at a time.
All other required stamps and fees are the same as a regular license. The only difference is the safety course requirement.
When you decide to take the course, you may take any course in Indiana or be certified by another state. Simply present the certificate of completion when applying for your license. Indiana offers both online and in-person classes.
Types of Deer-Hunting Licenses
Several different licenses allow you to hunt deer in Indiana. You can purchase a deer hunting license only, a comprehensive hunting license, or a comprehensive hunting and fishing license. There are lifetime options available for some of these licenses, as well.
Only one deer can be taken with a single deer hunting license. The only exception is with the deer license bundle, which technically provides many licenses. This particular license allows you to hunt during all deer seasons. Therefore, you can harvest up to three deer (one for each season).
However, you may still only take one antlered deer per year. The others must be antlerless.
Furthermore, you don't have to take one deer each season. Instead, you can take all three deer in whichever season you like. You can take them all during one season or spread them throughout the year.
Deer Seasons in Indiana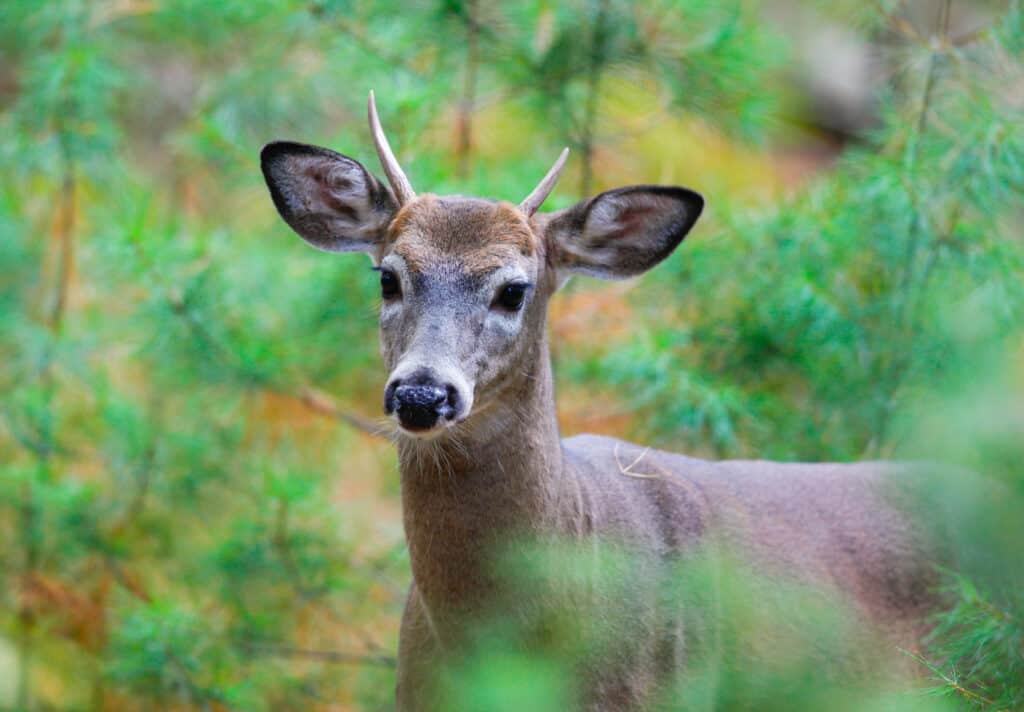 Indiana has several different seasons. These start at different times and have different regulations. The type of weapon you can use is restricted heavily in each season. Not all areas have each season, so be sure to check your local regulations.
Archery Season
You may hunt deer with a bow and arrow during this season. You can also purchase a crossbow permit to use a crossbow. Keep in mind this permit is on top of the usual hunting license.
Qualified archery equipment includes longbows, compound bows, and recurve bows. The minimum draw weight is 35 pounds for all bow types. You can use a bow that is made to be drawn, held, or released by means other than "traditional," as well. The arrows must have metal, metal-edged, flint, chert, or obsidian broadheads.
Firearms Season
During this season, you can use an approved modern firearm. Muzzleloaders are not allowed during this season, as they have their own season. During firearms season, you may take only a single deer – no matter your license.
Three main types of firearms are allowed during this season: rifles, handguns, and shotguns.
When using a rifle, you must use bullets at least .357″ in diameter (on private land, this is lowered to 6 mm). The casing length must be between 1/16-3″. Full-metal jacketed bullets are illegal. You must possess no more than ten cartridges when hunting on private land.
Handguns have different requirements. The barrel must be 4″, and the gun must use .234″ diameter bullets at least. The cartridge length must be at least 1.16″, though this doesn't apply to 10 mm. 10mm are legal, even though they don't fit these requirements. You may also not use a handgun when hunting in military areas.
Shotguns can be 10, 12, 16, 20, or 28 gauge. Slugs and saboted bullets are required. You can use a combination "rifle-shotgun." However, they must follow the same requirements.
Muzzleloader Season
As the name suggests, you can utilize a muzzleloader during this season. You must have the correct permit, of course. A firearm permit does not count toward muzzleloader season. You need a muzzleloader permit, instead.
The muzzleloader you use can be a rifle, shotgun, or handgun. For rifles and shotguns, the requirements are the same. The barrel caliber must be a minimum of .44″, and the bullet diameter must be at least .357″. The gun must be loaded completely through the muzzle. Saboted bullets and multi-barreled guns are permitted.
You can use guns that require the powder to be loaded through the breach end during the firearms season.
For handguns, requirements are different. The barrel length must be 12″ at minimum. The bullets used must be .50″ in caliber and .44″ in diameter – at least. Of course, these handguns must be true muzzleloaders, which means that both the bullet and powder must be loaded from the muzzle.
Youth Season
During the youth season, qualified hunters may use anything by handguns (both modern and muzzleloaders). You must be 17 years old or younger to hunt during this season. However, adults must accompany all minors.
The youth who is hunting can harvest both antlered and antlerless deer. All deer harvested count towards the annual bag limit for the hunter. The youth must possess a valid license unless they are exempt due to one of the reasons discussed above. The adult with the youth must also possess a valid hunting license.
This adult may not possess any weapon – except handguns being carried lawfully. The adult partner may not take any deer. All normal hunting regulations apply, as well.
Deer Reduction Zones
Deer reduction zones work a bit differently. These zones are in areas where the deer population needs to be diminished. Therefore, the bag limit is higher. A hunter can take up to 10 deer in these areas, but only one can have antlers. You must harvest an antlerless deer before taking an antlered deer in one of these areas.
These bag limits are in addition to all your usual bag limits.
You must have the appropriate license to hunt in these areas. A license bundle does not qualify you. Instead, you'll need a deer reduction zone or lifetime license. You must have a valid license for each deer you take.
Be sure to check local laws before hunting. Laws involving weapons still apply during this season. Firearms and archery equipment can be used if allowed by local law. Archery is typically allowed from September to January, while firearms aren't allowed until November.
Tagging and Reporting Requirements
All deer harvested are required to be tagged and reported. You should complete a temporary tag once you kill a deer. This tag should include your name, address, sex of the deer, license number, and date. You do not have to attach this information to the deer while transporting it out of the woods.
Instead, you can keep it in a back pocket or somewhere else on your person. You must keep this tag on you until you are done dragging the deer out of the woods. Then, the tag must be placed on the deer.
You must maintain custody of the deer unless you fill out a transportation tag. Furthermore, if you leave the deer, a tag must be attached.
You're required to report the deer within 48 hours of the kill. You can do this via a check station, online, or over the phone. Reporting over the phone does come with an extra fee, though.
Once your deer is registered, you will receive a confirmation number. Record this number on the tag and keep it with the deer until it is processed. You may not process the deer until it has been registered.
Bag Limits in Indiana
The bag limits in Indiana can be a bit complicated. Annually, you're usually only allowed to hunt one antlered deer a year. The only exception is in deer reduction zones. In these areas, you may take another buck with the right permit.
Antlerless deer quotes depend on your county. Some counties only allow one annually, while others allow two or three. It depends on the population indicators in the area. These "bonus" antlerless deer are on top of your usual one-deer bag limit for the average license.
You must purchase a license to take antlerless deer, even if you're bagging "bonus" deer. Use these bonus licenses during any season, but only qualified equipment may be used. You may also use them in any county. However, you must pick a county to hunt bonus deer in. You cannot take a bonus deer in every county.
Chronic Wasting Disease
Chronic wasting disease affects many deer throughout North America. This disease is caused by prions, which are mutated proteins. Thes proteins infect a deer's neurological system, causing holes to develop in the brain. As you can guess, this leads to all sorts of neurological problems.
Currently, this condition affects all cervid species, including deer. There is no treatment for this disease, and it is always fatal. The mutated proteins can be found in an infected deer's saliva, urine, feces, bones, and brain. Direct contact with these proteins will infect other deer.
Plus, these proteins survive for a long time in the soil. Therefore, once the disease is in an area, it doesn't leave. Cooking, disinfectant, and freezing does not affect the prions.
Deer usually take a while to show symptoms. Most show symptoms after about two years, though they are contagious before this. Affected deer will lose weight, stagger, lose motor ability, drool, and appear confused.
While CWD doesn't currently infect humans, the CDC recommends limiting potential contact to prevent the disease from causing problems for humans. For instance, meat should be tested before consumption in areas where CWD occurs.
Luckily, CWD hasn't been spotted in Indiana. However, it has occurred in neighboring states. Therefore, Indiana is cautious regarding transporting deer from CWD-positive locations. Only processed deer without high-risk tissues can be moved into the state.
Up Next
---
The Featured Image
---