As the northeasternmost state as well as one of the most rural in the United States, Maine is home to an exceptional range of unique wildlife. Like most states, Maine is represented by an official state animal, as well as several others, including a state bird, cat, fish, and even crustacean! Below, we'll take a look at all five of the Pine Tree State's representative animals, why they're so important to the region, and some interesting facts you should know about them.
1. Official State Animal: The Moose (Alces alces)
Maine's official state animal is none other than the moose, the sole species within its genus, Alces. Taxonomically, it's also part of the deer family, Cervidae, which is one of the most diverse families of even-toed ungulates. Notably, Maine is one of the only US states to have a thriving moose population, with most of them living along the state's northern edge.
The moose's preferred habitat is the taiga, or cold, snowy forests full of coniferous trees. However, it also occupies more temperate forests with milder temperatures. These rather lonely habitats are ideal for this massive animal, though, as it doesn't live in herds and only meets with other members of its species to mate yearly during the fall months. 
Weighing anywhere from 400 to 1,500 pounds, moose are sexually dimorphic, with males being taller and heavier than females. Both sexes are also very tall, measuring from around 4.5 to nearly 7 feet tall. Males of the species have especially large antlers they use to fight with one another over potential mates. Their antlers are covered in a fuzzy material known as velvet. Rather than being made up of a large, bony core like goat horns, antlers grow from a smaller bony stub, are full of blood vessels, and regrow every year.
In general, moose are very sedentary animals that move rather slowly. But they're more than capable of displaying aggression and moving at speeds of up to 35 miles per hour, particularly when startled or harassed. If you're lucky enough to ever spot one of these animals in its natural habitat, be sure to only admire them from a safe distance!
2. State Bird: The Black-Capped Chickadee (Poecile atricapillus)
Up next, we have Maine's official state bird: the chickadee! While there are seven total species of this handsome little bird, the most prominent one in the Pine Tree State is the black-capped chickadee, Poecile atricapillus. As part of the Passeriformes order, it is classified taxonomically as a perching bird. This is due to the arrangement of its toes, which perfectly enables the bird to perch on and cling tightly to branches and ledges. More specifically, Maine's smallest state animal is a member of the Paridae family, which consists of chickadees, tits, and titmice.
Chickadees get their common name from their distinctive "chick-a-dee-dee-dee" call. The black-capped chickadee is easy to differentiate from other species by the distinctive black feathers atop its head, along with a strip of black feathers beneath its chin. Though it has a rather robust build for its size, its total body length is just 4.5 to 6 inches long. Additionally, it weighs just under half an ounce on average.
The black-capped chickadee's geographic range mainly covers the northern half of the United States and much of Canada. While it is well-suited for cold weather, studies have shown chickadees with access to bird feeders in the winter fare much better than those who lack this access. If you want to help your local chickadee population get through the winter, consider putting out a feeder for them!
3. State Cat: The Maine Coon
As one of the largest cat breeds, the Maine Coon looks more like a wild cat than a domestic one. Its coat of long, dense fur and tall, alert ears make it look even larger! Known to many as a gentle giant for its friendly and gentle temperament, Maine's official state cat is perfectly suited to the area's cold, snowy winters.
There are a lot of theories as to where the Maine Coon breed originated. A common belief is that it is a descendant of the Norwegian forest cat and Siberian forest cat breeds. 
Alternatively, some historians believe Marie Antoinette was involved in its origins! Allegedly, before she was executed in 1793, she tried to escape on one of Captain Samuel Clough's ships. Although she didn't make it, she loaded the ship with six of her prized cats. These cats were likely Turkish Angoras or Siberian forest cats, and they may have gone into the development of the Maine Coon breed.
While the Maine Coon can have many different coat colors and patterns, all individuals have very long and thick, water-resistant fur with a large, bushy tail. It is also one of the largest domestic cat breeds alongside the Savannah cat. On average, Maine's fluffiest state animal ranges from 8 to 18 pounds, with males being heavier than females.
4. State Fish: The Landlocked Salmon (Salmo salar)
In addition to having a state animal, state cat, and state bird, Maine also has an official state fish: the landlocked salmon! Also known as the Atlantic salmon, this unique fish is the third-largest salmon species. As its common name suggests, it mainly lives in the Atlantic Ocean and along the many rivers flowing into it. 
An anadromous species, the landlocked salmon hatches in streams and rivers. As it matures, it ventures out to sea to finish growing, but it still returns to these freshwater habitats to spawn every year in the fall. However, many populations of the species spend their entire lives in freshwater, only migrating out to larger lakes rather than the ocean–hence the name "landlocked."
Interestingly, most landlocked salmon change color as they age. As juveniles, their bodies are covered in blue and red spots. Upon reaching maturity, though, they become more silvery-blue in color and have black spots. Adult specimens range from around 25 to 30 inches long and usually weigh around 8 to 12 pounds, but especially large individuals can weigh over 30 pounds. Adults that migrate out to sea rather than other freshwater habitats tend to be larger.
5. State Crustacean: The American Lobster (Homarus americanus)
Finally, we've come to Maine's most unusual state animal: the American lobster! Yes, Maine also has an official state crustacean. Also known as the Maine lobster, the American lobster is especially common throughout the Gulf of Maine. It thrives in these chilly yet shallow waters where it can hide from predators under rocky debris. It often uses its large, powerful claws to crack open mollusks it finds while searching along coastal ocean floors.
Incredibly, the Maine lobster is the heaviest and largest of all known arthropod species! It's closely related to the European lobster, which very nearly matches it in size. Fully-grown individuals are capable of reaching more than 25 inches long and weighing more than 40 pounds. They vary widely in color, from a bluish-green to the more typical vibrant red and brown.
While Maine lobsters generally prefer very cold water, they need warmer temperatures to breed. Every summer, when water temps hit at least 55F, they meet with other members of their species to breed. A single female lobster will often carry around 12,000 eggs at a time. As juvenile lobsters grow and mature, they can fully molt their exoskeletons more than 20 times before reaching their full size!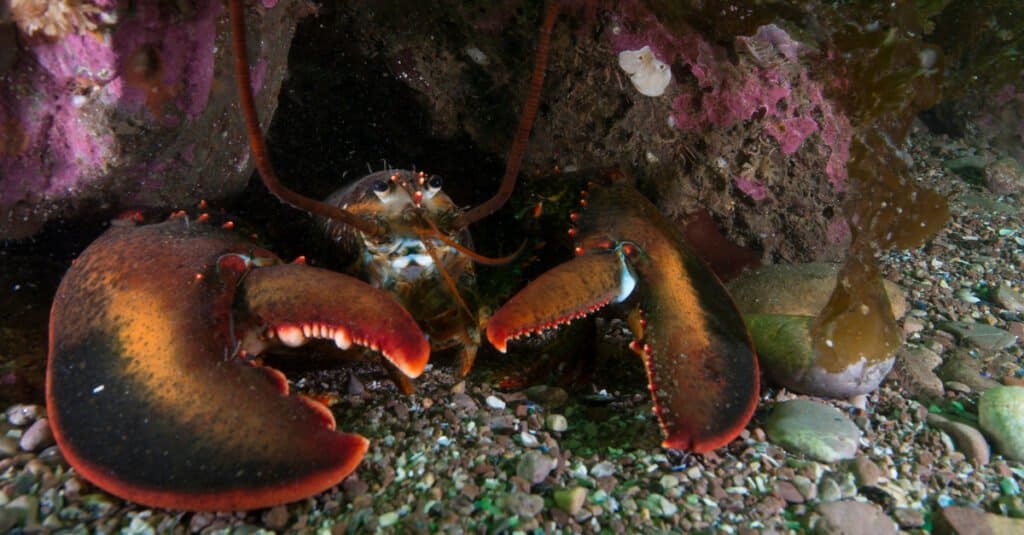 ---
The Featured Image
---