England's deepest lakes are chiefly located in the beautiful Lake District in Cumbria. Geological processes created most of them 10,000 years ago, but one or two are man-made reservoirs. In the article, we'll discover England's deepest lakes, their location, and size, animals you might find there, and activities visitors enjoy. We'll finish by comparing England's deepest lake to the deepest in the United Kingdom, Europe, and planet Earth.
1. Wastwater 243 feet (76 meters)
Wastwater is located in the beautiful Lake District of Cumbria and is England's deepest lake. It reaches a depth of 243 feet.
The glorious lake is surrounded by mountains, including Great Gable, Kirk Fell, Red Pike, and England's tallest mountain Scafell Pike. Situated in the Wasdale Valley in the western Lake District National Park, Wastwater is ½ a mile wide and three miles long. It's owned by the National Trust and is a popular spot for scuba divers.
Along the south-east bank, scree slopes rise 2,000 feet tall, and ancient St Olaf's church is nearby. According to polls, it's one of Britain's favorite views, but in 1976, a body was discovered in its depths. Margaret Hogg, murdered by her husband, was preserved like wax because the lake contains so little oxygen.
2. Windermere 219 feet (67 meters)
Lake Windermere is probably the most famous lake in England's Lake District. It's 219 feet deep, 11.25 miles long, and one mile wide.
It contains 19 islands that are home to the Lake District's friendly ducks. Privately owned 40-acre Belle Island is the largest. Tourists can pass the islands on tour boats that circle the lake and stop at various points for a drop or a pickup, such as the Windermere Jetty Museum, which houses the world's oldest yacht "Margaret," and Beatrix Potter's rowing boat. Keep your eyes peeled for Bownessie, the legendary serpentine monster!
Sat on the southern end of the Lake District, this deep lake is popular for its glorious scenery. Peter Rabbit was filmed here. You won't find many rabbits here, though, they live in the surrounding green fields, but Windermere is home to otters, minnows, herons, ducks, moorhens, and pike.
3. Ullswater 206 feet (63 meters)
Covering 3.5 square miles, Ullswater is 206 feet deep. Its clear water stretches 7.5 miles long and 0.75 miles wide. Like most lakes in Cumbria, it was created about 10,000 years ago by glacial action carving into the underlying rock. This means the lake basin is exposed sedimentary mudstone filled with snow melt and rain. As it evaporates, it's refilled.
Beautiful mountains surround Ullswater to its south, and green hilly fields to the north. Ullswater was William Wordsworth's favorite, and Donald Campbell broke the water speed record here in his Bluebird K7 in 1955.
Animals in Ullswater include an endemic fish called the Schelley, plus minnows, herons, and otters. Interestingly, unlike other deep lakes here, pike don't inhabit the waters.
4. Haweswater 187 feet (57 meters)
187-foot-deep Haweswater is another of England's deepest lakes, but this one is unusual because it's man-made. Glacial lakes chiefly make up the Lake District's glorious water bodies. However, engineers created Haweswater to provide water to the northwest's cities and towns. Today it still provides ¼ of their water.
To make deep Haweswater, two villages drowned. Engineers flooded the Mardale Valley in 1929, covering Mardale Green and Measand villages. In drought season, the water recedes so far that the settlements' ruins are visible.
This isn't a tourist area, so the 1.5-square-mile Haweswater is very attractive to wildlife, anglers, and birdwatchers.
5. Coniston Water 183 feet (56 meters)
Coniston Water in Cumbria is 183 feet deep. It's the third largest lake in the Lake District by volume, even though it is only 5.4 miles long by 1.45 miles wide. 10,000 years ago, glaciers scraped the rock and created a deep gouge that filled up with rain and snow melt. Today, Coniston is a tourist magnet and a popular place to film on location.
This deep lake outflows into the River Crake, which drains into Morecambe Bay. It's a thriving area for wildlife, and historic Roman settlements surround its shores. They mined copper from the nearby fells. Atlantic salmon, Arctic charr, trout, and eels swim in its waters.
Daily boat tours transport tourists across Coniston Water on two different routes, so you can jump off at any jetty you fancy and hop back on again.
6. Kielder Water 170 feet (52 meters)
Northumberland's 170-foot-deep Kielder Water is the largest man-made lake in Britain. It has a 27.5-mile-long shoreline. Kielder Water is situated in northeast Britain and holds 200 billion liters of water. Queen Elizabeth II opened it in 1982 to provide water and hydroelectric power to the northeast region.
Kielder Forest, the largest man-made forest in northern Europe, surrounds Kielder Water. It allows migratory salmon and sea trout access upriver, helps boost shallow flows on the River Tyne, and assists with emergency pollution incidents. The unique forest is home to osprey, goshawks, otters, stoats, red squirrels, roe deer, and badgers.
7. Ennerdale Water 147 feet (45 meters)
Back to the Lake District National Park for the next deepest lake in England, let's meet 147-foot-deep Ennerdale Water.
This glacial lake is just three miles long by 0.75 miles wide. Ice flows gouged it from the rock during the last ice age, and it filled with rain and snow melt.
It's not as popular with tourists simply because the public road access isn't great. Private Forestry Commission-managed land surrounds this lake, and visitors need a map to stay on the right track. However, once you're there, Ennerdale is unspoiled, quiet, and wild. Rumor has it that Bill Clinton proposed to Hillary here.
Animals at Ennerdale are prolific due to its quieter nature. You'll find the ubiquitous Lake District ducks, red squirrels, roe deer, foxes, and many fish species, including salmon, trout, brook lamprey, eel, stickleback, and Arctic char. Something pretty special to watch is the Galloway cattle herd introduced to manage ground vegetation.
8. Crummock Water 144 feet (44 meters)
Crummock Water is 144 feet deep and has one square surface mile. It's a tiny 1.5 miles long and just half a mile wide.
The water here supplies nearby Maryport and Workington towns. You can take a rowing boat out on the lake and wild swim from the sheltered shingle beach, but most tourists stop to admire Scale Force, a 170-foot single-drop waterfall that's the highest in the Lake District. It's found partway up Scale Fell, on the southwestern banks of Crummock Water.
Like most Lake District lakes, lush forests surround Crummock Water, providing a rich habitat for red squirrels, roe deer, and jeweled kingfishers.
The Deepest Lake in the United Kingdom
243-foot-deep Wastwater is England's deepest lake, but the United Kingdom's deepest lake is Scotland's Loch Morar.
This stunning freshwater loch reaches a staggering 1,017 feet (310 meters). It's 11.7 miles long and a Site of Special Scientific Interest due to its minimal nutrient intake. Created by glacial action 10,000 years ago, it has a legendary creature to rival the famous Loch Ness's Nessie. Loch Morar's fabled serpentine monster "Morag" was first reported in 1887.
The Deepest Lake in Europe
Norway is home to the deepest lake in Europe. Lake Hornindalsvatnet plunges to 1,686 feet (514 meters). It's a fjord-like glacial lake with astonishingly clear icy-cold water. This epic lake has green sand beaches caused by mineral deposits and an endemic species of Arctic char discovered in 2006.
And the deepest lake in the world? That honor goes to Lake Baikal, "The Pearl of Siberia," in southern Russia. It's a shocking 5,387 feet deep (1,642 meters)!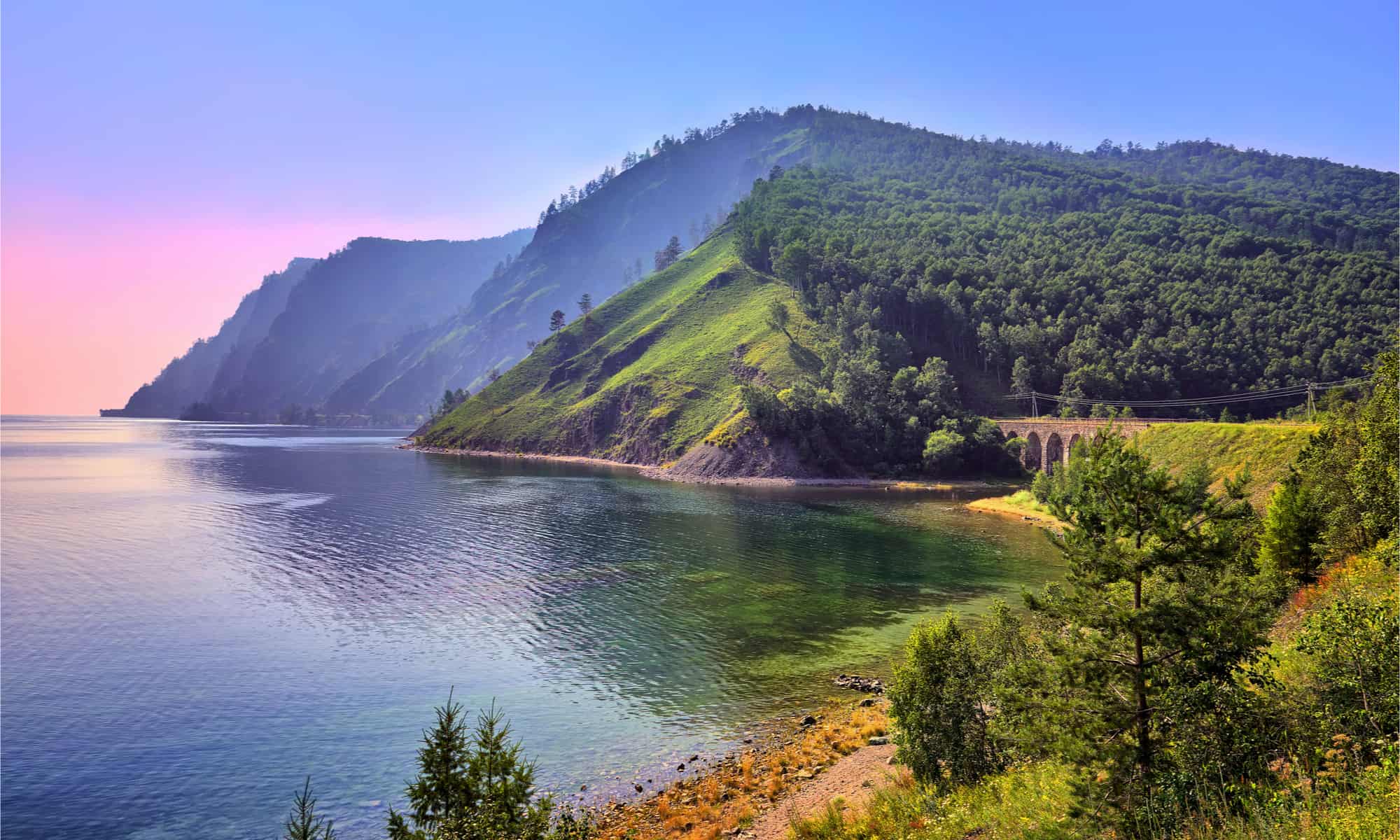 Recap on the Deepest Lakes in England
England's deepest lakes sit in the country's north. The Lake District National Park is a hot spot for deep lakes created by mind-boggling glacial action 10,000 years ago. Not surprisingly, humans have taken advantage of these clean, deep waters for millennia and continue to do so today.
Summary of the 8 Deepest Lakes in England
| Rank | Lake | Location | Depth | Type of Lake |
| --- | --- | --- | --- | --- |
| 1 | Wastwater | Cumbria | 243 feet | Ribbon Lake |
| 2 | Windermere | Cumbria | 219 feet | Ribbon Mere |
| 3 | Ullswater | Cumbria | 206 feet | Ribbon Lake |
| 4 | Haweswater | Penrith | 187 feet | Man-made Reservoir |
| 5 | Coniston Water | Cumbria | 183 feet | Ribbon Lake |
| 6 | Kielder Water | Northumberland | 170 feet | Man-made Reservoir |
| 7 | Ennerdale Water | Lake District National Park, Cumbria | 147 feet | Glacial Lake |
| 8 | Crummock Water | Lake District National Park, Cumbria | 144 feet | Ribbon Lake |
Summary Table of the 8 Deepest Lakes in England
The photo featured at the top of this post is © nikonpete/Shutterstock.com
---