↓
Continue Reading To See This Amazing Video
Three national forests, the Apalachicola, Osceola, and Ocala, span much of northern and central Florida. These forests produce 600 billion gallons of water and contain 510,000 acres of wetlands. You can also find 854 miles of rivers and streams within Florida's national forests, as well as 36,000 acres of lakes and ponds.
All three forests provide important habitats for migratory birds as well as large mammals, like Florida panthers. Along with these unique inhabitants come plenty of recreational activities, including camping, fishing, hunting, hiking trails, and more. With such an abundance of natural beauty, it is no wonder why these 1.2 million acres remain some of the most visited locations in Florida!
The Largest Forest in Florida
The Apalachicola National Forest is the largest forest in Florida. It is 567,742 acres in size and contains 32,726 acres of pure wilderness to enjoy.
The Apalachicola National Forest offers an incredible array of animal and plant species. From tiny amphibians to majestic birds, visitors can spot a variety of wildlife while exploring this beautiful landscape.
In addition to its abundant wildlife, the forest also provides many outdoor activities, such as fishing, hunting, hiking, and trail riding, that are safe for all ages.
The diverse ecosystems within the Apalachicola National Forest provide a tranquil backdrop for any activity you choose – whether it's birdwatching or kayaking on scenic rivers and streams. With its diverse flora and fauna, vast natural resources, and family-friendly recreational opportunities, the Apalachicola National Forest will leave you with lasting memories no matter how long your visit lasts!
Where is Apalachicola Forest?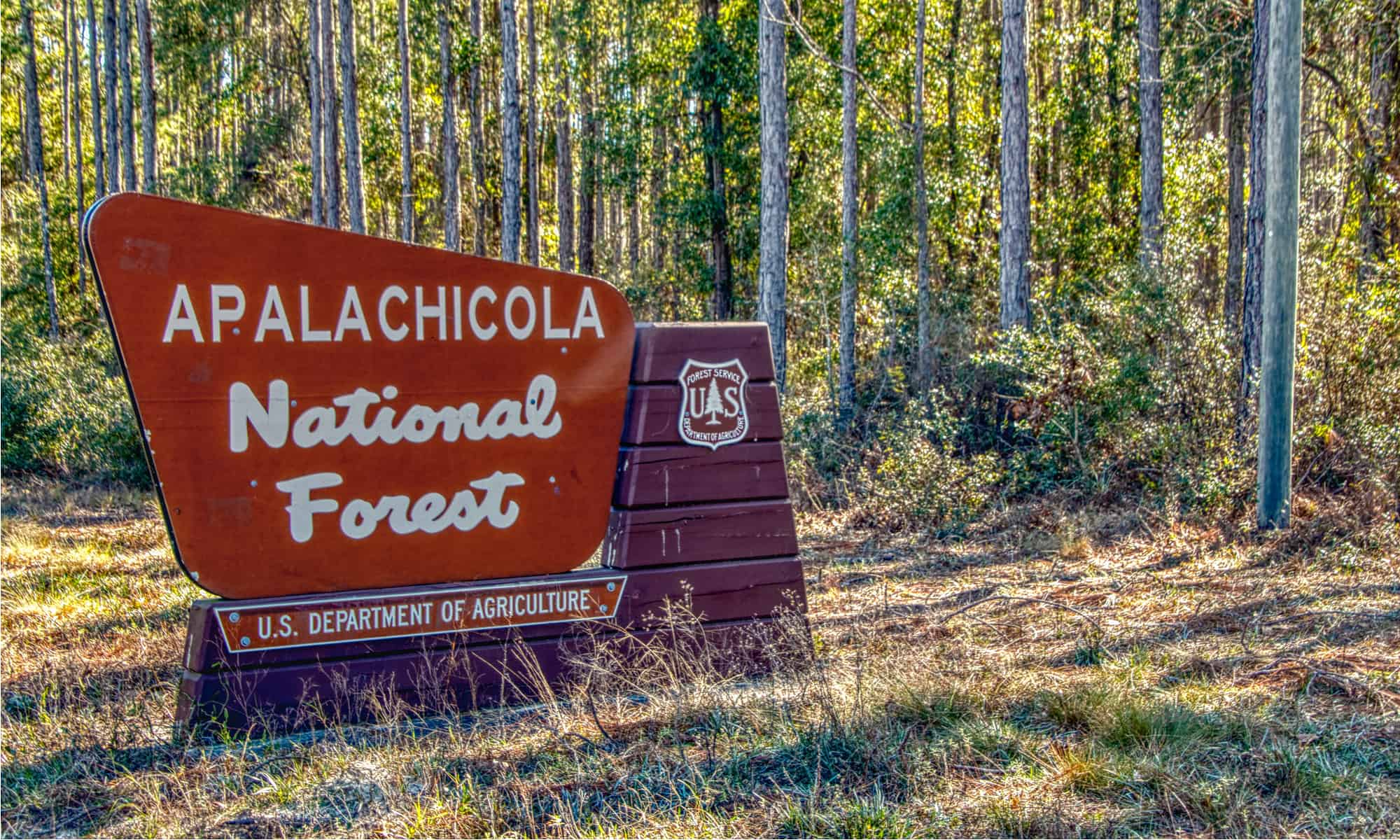 Apalachicola Forest is located in the Panhandle region of Florida. It is south of Tallahassee, approximately 45 miles away from the city center. It also borders Georgia to its northwest corner. The closest city in Georgia to this forest is Thomasville, which lies about 80 miles north.
Wildlife
The Apalachicola National Forest is home to a wide variety of wildlife. It is not just the large animals like black bears, alligators, and white-tailed deer that inhabit this forest. Smaller species, such as armadillos, fox squirrels, turtles, and tortoises, also live here.
There are plenty of birds in this area too! Hawks, wild turkeys, herons, and kites can be seen flying around while warblers and red-cockaded woodpeckers make their homes here. Don't forget to look up. Apalachicola is home to six active bald eagle nests!
The water sources within the national forest are teeming with amphibians and reptiles. There are many types of sport fish, such as catfish, bream, and bass. In Florida, there are 45 different snake species, but only 6 of them are venomous snakes.
Endangered Species
The Apalachicola National Forest is home to the largest population of endangered red-cockaded woodpeckers, a rare species that has become increasingly vulnerable due to habitat loss. You can also find the endangered gray bat and the large wood stork in these lovely woods.
Threatened species that live in Apalachicola National Forest are the bald eagle, flatwoods salamander, Gulf sturgeon, and eastern indigo snake.
And if you're looking for large mammals, look no further than the Florida black bear (Ursus americanus floridanus), which is a state-threatened species but can still be found roaming through this lush landscape. These are just some of the many diverse and unique species that inhabit these forests, from reptiles and amphibians to birds and mammals. These precious animals make conservation efforts crucial across the state!
Climate
The dry season in this forest lasts from November through February, and temperatures can range anywhere from a daily average of 50° F to a high of 72° F. During the summer months, the weather is hotter and more humid due to afternoon thundershowers that often raise the humidity levels up to 90%. Temperatures during this time usually range between 80° F and 95° F. The forest receives an average rainfall of 55 inches per year.
Terrain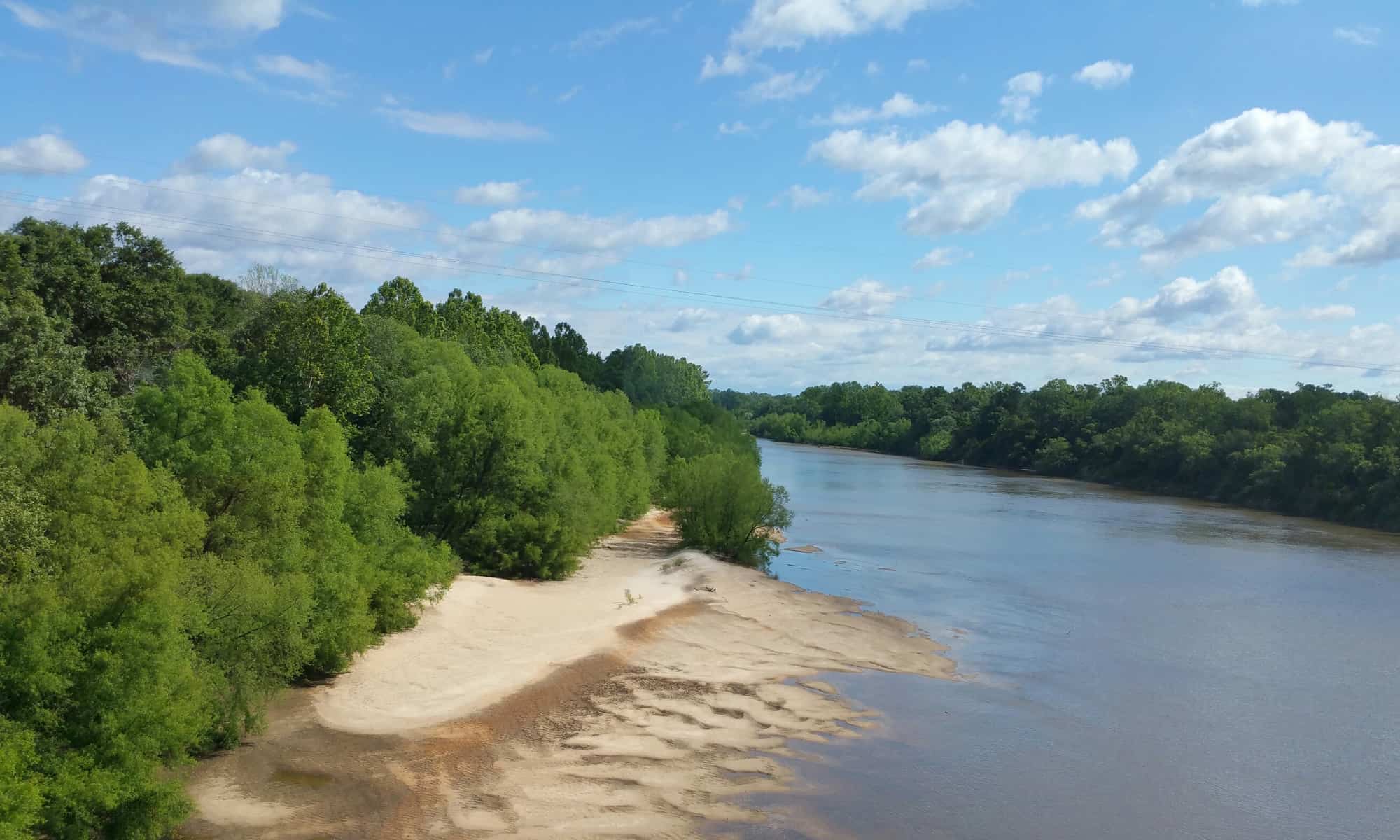 The forest is made up of different types of terrain, including swamps, sinkholes, and bays. The largest area of the forest is dominated by longleaf pine and slash pine trees, with an understory of gallberry, palmetto, and wiregrass.
The Munson Sandhills have oak and pine trees that enjoy the deep sandy soil. There are also many geological sinks in the area, surrounded by hardwood forests.
The Apalachicola Savannas in the southwestern part of the forest have sandy ridges covered in longleaf pine, valleys that are largely treeless, and wetland communities. The forest also includes many bogs full of wax myrtle and cypress trees.
History
In addition to being the largest forest in Florida, Apalachicola National Forest is also rich in history. Prior to 1880, it was dominated by longleaf pine and wiregrass, similar to the coastal areas of the United States. The trees were up to 120 feet tall, many 250 years old, and surrounded by dense groves of saplings.
Unfortunately, this old-growth forest was cut down during the late 1800s for lumber and gum resins that were distilled for turpentine and rosin production. It wasn't until 1934 that large parts of this area were bought by USDA Forest Service as part of their mission to conserve nature for public use. Following World War II, there arose an even greater demand for timber from this national forest which led to extensive clearcutting efforts across its acreage over the next several decades. These areas were replanted with slash pines once harvested.
Fortunately, in 1992, Forest Service policy shifted towards promoting healthy ecosystems and sustainable forestry, which has allowed a portion (25%) of its original native longleaf forests to regenerate naturally since then. 58,000 acres are now covered with these trees again.
Camping, Hiking, and Recreation
The Apalachicola National Forest offers a variety of camping experiences for the outdoor enthusiast. From well-maintained campgrounds with modern conveniences like hot showers, electric hook-ups, and dump stations to remote rustic sites such as river landings or hunt camps that offer little amenities. There is something for everyone.
Camping can be enjoyed year-round due to the mild climate in this area of Florida. Whether you are looking to get away from it all or just want some quality time with nature while still having access to basic comforts, the Apalachicola has a spot that's perfect for you!
Areas to Visit
Camel Lake Recreation Area — In Liberty County. It has a swimming area with a white sand beach and a boat ramp.
Fort Gadsden Historic Site — In Franklin County. The site of several historical battles. Exhibits, artifacts, and displays, as well as a picnic area.
Leon Sinks Geological Area — In Leon County. Boardwalks and trails, picnic areas, running water, restrooms. 640 acres with many limestone sinks.
Lost Lake Recreation Area — In Leon County. A small lake and picnic area.
Silver Lake Recreation Area — In Leon County. Lake with sandy beaches and a boat ramp. Bathroom with showers. Picnic areas with grills and tables.
Wright Lake Recreation Area — In Franklin County. Swimming lake with a beach. Bathroom with showers and hot water. Picnic tables with grills and tables. A 5-mile trail goes around the entire lake.
Apalachee Savannahs Scenic Byway — 32 miles near the western side of the forest. A lovely drive through orchids, pitcher plants, oak, and cypress. A good chance to see the endangered red-cockaded woodpecker here.
Munson Hills Trail — Mountain biking abounds in the Apalachicola National Forest. The Munson Hills Trail has, and 8 miles loop and a 5-mile loop through pine trees and sandy soil.
Camel Lake — A 1-mile interpretive hiking trail. Campground with 10 campsites. Each site has a picnic table and grill. Shared showers and toilets.
Trail of Lakes — A 9-mile interpretive hiking trail.
Vinzant Horse Trail — An 11-mile loop or a 23-mile loop. Horse riders are welcome throughout the forest, including on streets and roads.
Hickory Landing — In Franklin County. 12 campsites with picnic tables and grills. No showers. A concrete boat ramp.
Mack Landing — In Wakulla County. 10 campsites with picnic tables and grills. A concrete boat ramp. Drinking water. No showers.
Whitehead Lake — 20 campsites with picnic tables and grills. Shared hot showers and flush toilets. No alcohol is allowed here.
Conclusion
As you can see, Apalachicola National Forest is an outdoor enthusiast's dream. With 567,742 acres of lush pine and cypress trees, it's the perfect place to explore nature in its most pristine form. Multiple camping sites throughout the forest offer campers spectacular views, as well as plenty of recreational activities such as fishing, canoeing, and hiking trails. Wildlife abounds here, and even endangered species make their home within the boundaries of this stunning park. Whether you're looking for a fun weekend getaway or simply want to take in some natural beauty without going too far from home, Apalachicola National Forest has something for everyone!
Up Next…
More from A-Z Animals
---
The Featured Image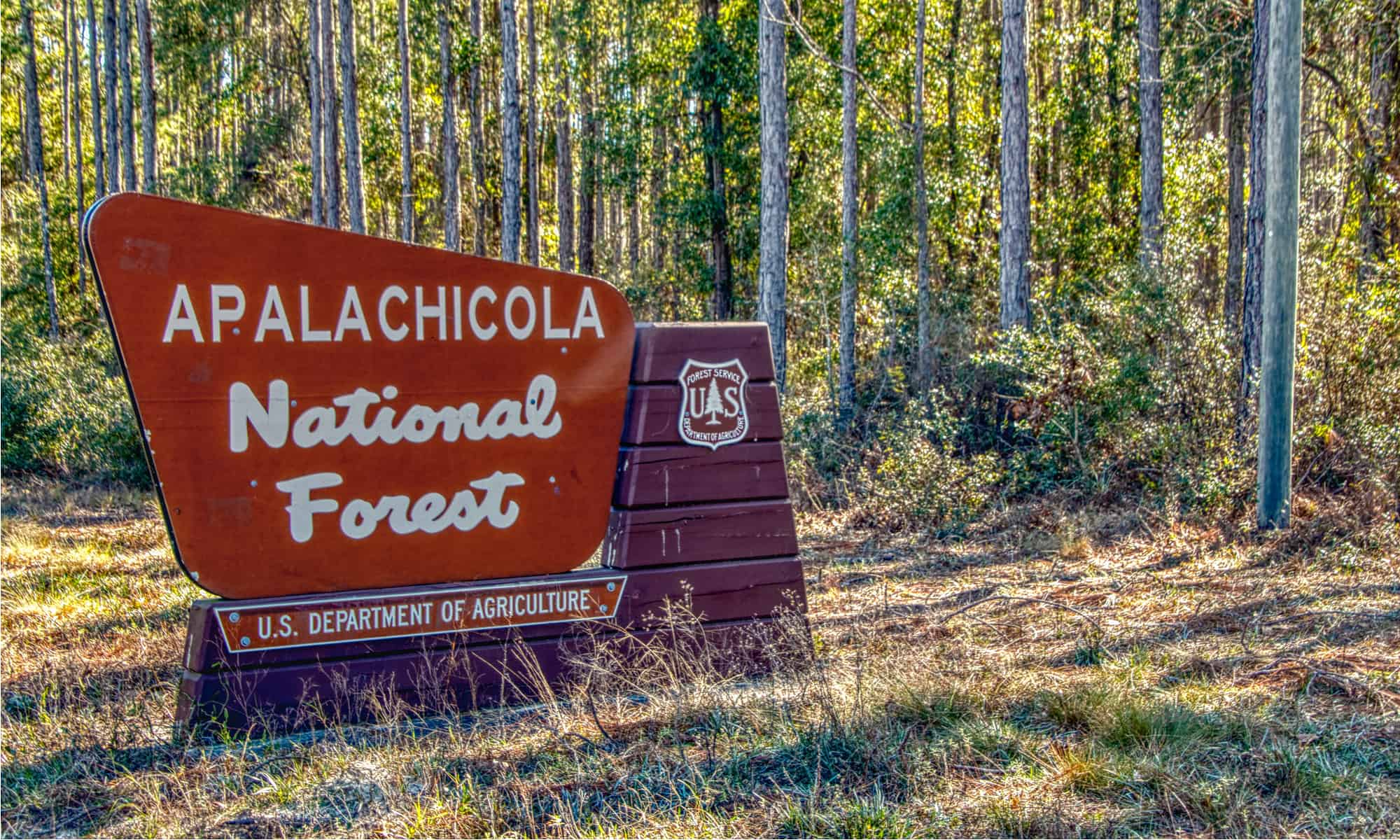 ---