If you're looking for the perfect destination to catch huge bass or large numbers of bass fish, Florida has many incredible fishing opportunities. Florida is home to hundreds of lakes full of different fish species, but some are well-known for producing good quality and quantities of bass. They primarily owe their thriving fish population to the weather and healthy vegetation across Florida throughout the year. This article brings to you the 7 best bass fishing lakes in Florida.
Lake Okeechobee
Lake Okeechobee is the largest freshwater lake in Florida and the tenth-largest natural freshwater lake in the United States. Big O, as it is popularly called, is known for its legendary bass fishing throughout the year. The 730-square mile river has a largemouth bass, crappie, and bluegill population. Spring bass fishing is especially popular in the southern regions of the lake, with Clewiston and Belle Glade being the best locations to fish during the spring. This time of the year is most favorable for anglers as most basses are still in their spawning process. Fishing by flipping, pitching, and punching Texas-rigged plastics or jigs with a craw trailer can help catch plenty of basses. 
Lake Seminole
Sitting in the southwestern part of Georgia along its border with Florida, Lake Seminole contains 152 square kilometers (59 square miles) of water and has a shoreline of 376 miles. There are 10 parks along the shore of the lake, and 35 parks, including five campgrounds, available for recreation.
Lake Seminole has one of the most abundant largemouth bass populations in Florida. Common fish in the lake include striped bass, crappie, chain pickerel, and catfish. In the upper reaches of Lake Seminole in the Flint River, there's a population of shoal bass, which most anglers love to catch. Fishing in Seminole ranges from typical Florida grass fishing to focusing on river bends and creek channels, where baits like lipless crankbaits can thrive. 
Lake Talquin
Lake Talquin is an 8,800-acre freshwater lake in North Florida, just about 10 miles west of Tallahassee, with an average water level of 68.5 feet –deeper than most Florida lakes. This lake offers outstanding bass fishing in Florida. On a visit to Lake Talquin, anglers can expect to catch a lot of big fish in one of the country's best bass fishing lakes, such as largemouth bass, striped bass, spotted bass, and white bass, in just one trip.
Lake Talquin has crappie, bowfin, speckled perch, bream, and catfish. The lake's shoreline measures over 40 miles, with most of the southern and southwestern shores of the lake constituting part of Lake Talquin State Forest. It features facilities for private picnics, picnic areas, marinas, lodges, boat landings, and more.
Lake George
Explore the second-largest lake in Florida, Lake George, for the best bass fishing in the state. The lake hosts a wide variety of wildlife ranging from migratory water birds to several marine species. The lake is best known for striped bass, big bass, sunfish, mullet, and blue crabs fishing. Its blue crab population is large enough to support a local fishery, making it one of the world's only freshwater blue crab fisheries! However, Lake George lacks foliage along its shoreline or at its bottom, making it more difficult to find fish than other heavily vegetated lakes. Even though it has no vegetation, there are still plenty of spots to catch big Florida bass in Lake George.
Lake Istokpoga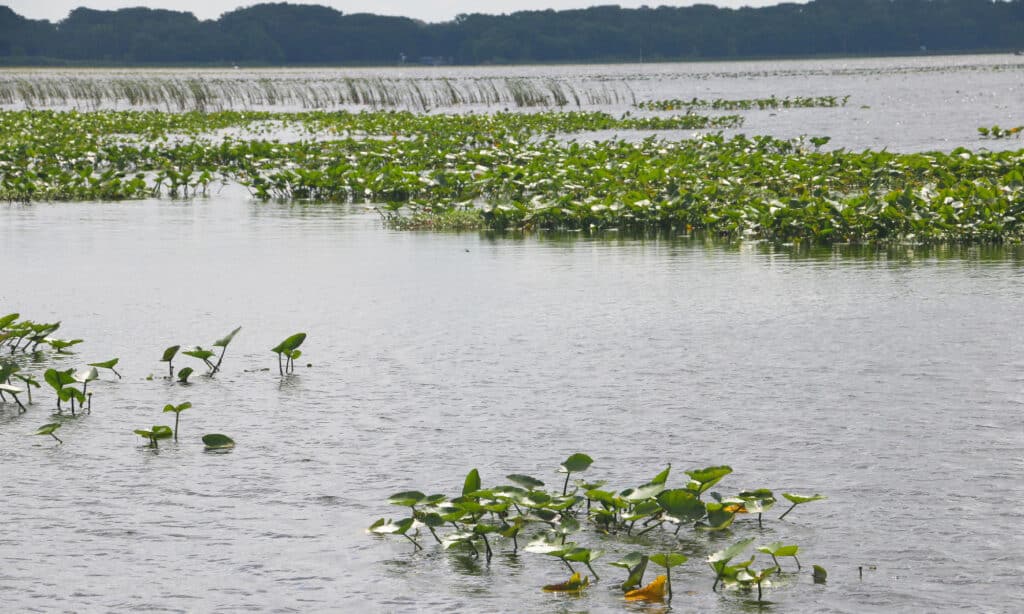 Lake Istokpoga is an oblong-shaped freshwater lake located in Highlands County in central Florida, just five miles northeast of Lake Placid. With a surface area of 26,762.9 acres (108 km2), it is considered the fifth-largest natural lake in Florida. However, it is a very shallow lake, with an average depth of only 4 feet (1.2 m). Thus shallow vegetation, such as Kissimmee grass, hydrilla, bulrush, eelgrass, and lily pads, is abundant.
Fishing is a popular activity at this huge lake, so much that there are at least half a dozen fish camps to book visitors for fishing trips. Cabins and hookups are also available to campers for overnight stays. Lake Istokpoga has consistently recorded quality bass since the significant restoration effort in the 2000s –totaling about 329 trophy catch fish. The Bassmaster Magazine and Florida's Trophy Catch program have consistently ranked Lake Istokpoga as a top trophy bass lake.
Lake Kissimmee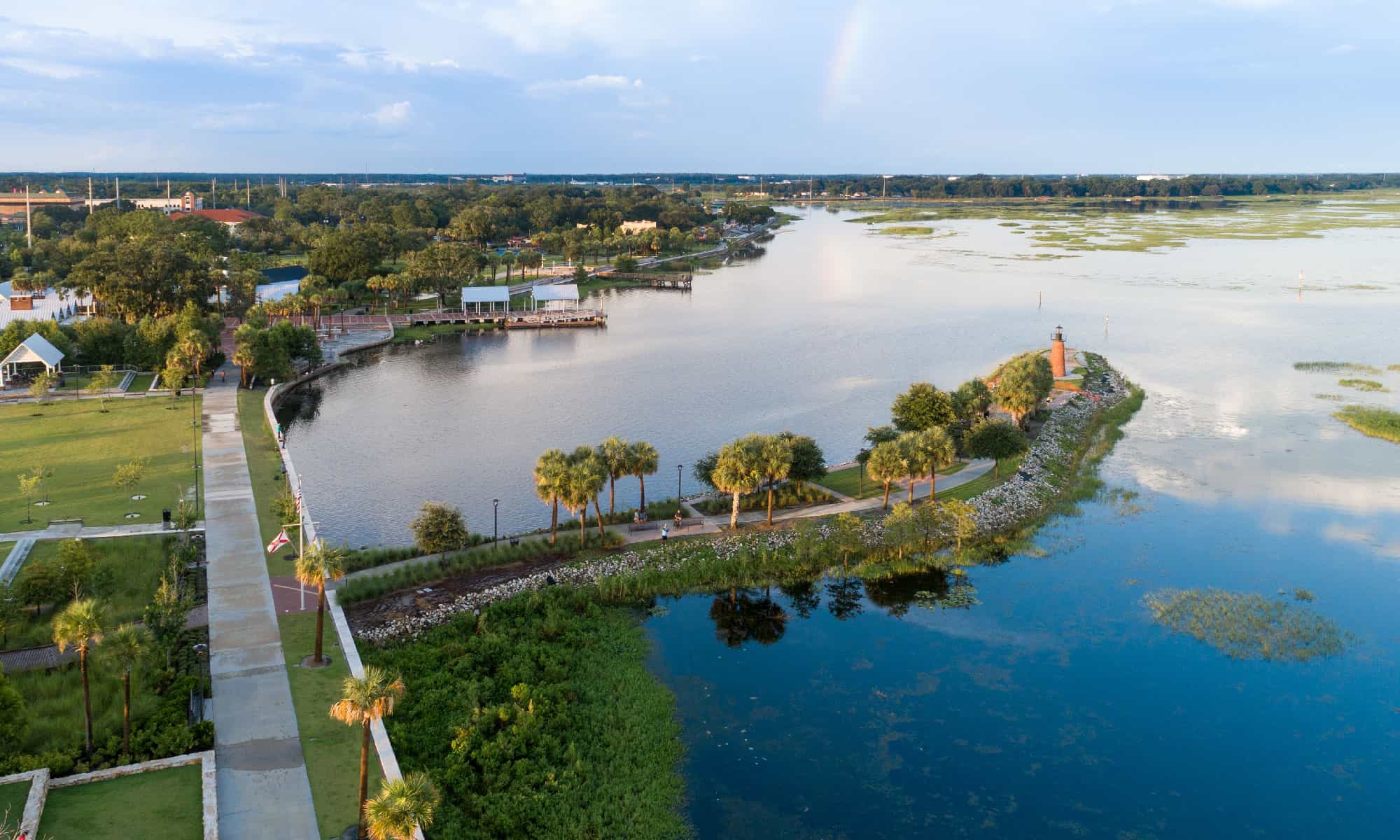 The Kissimmee Chain of Lakes is four lakes connected in one, comprising approximately 75,000 acres of prime bass fishing waters. They include popular fisheries – Lake Tohopekaliga (Toho), Lake Kissimmee, and the smaller Lakes Cypress and Hatchineha. Lake Kissimmee is consistently the top bass-producing lake for Florida's Trophy Catch program, an event in Florida that recognizes anglers who catch a bass over eight pounds. It has a bass-friendly habitat featuring hydrilla beds, cattail, lily pads, bulrush, and expansive native grass communities (knotgrass and maidencane).
Lake Tohopekaliga
Lake Toho, bordered on the northern shore by Kissimmee and on the eastern shore by Kissimmee Park, is a massive, well-known bass fishery considered one of the best places in the world to fish for largemouth bass. Lake Toho hosts several world-famous bass tournaments yearly. Serious bass anglers are often drawn to a unique location on the lake – the mouth of Shingle Creek – as this is one of the most popular lakes for finding the biggest fish.
Many anglers report catching large fish that gather here to hunt the smaller baitfish also found in the area. Not only can you find trophy-sized bass here, but this area also holds a large number of bass all year long. Bassmaster magazine describes Lake Toho as the most consistent bass lake in the country for churning out both high numbers and trophy bass.  
---