Hunting and fishing are both very common outdoor sports in Colorado. The mountainous terrain allows for beautiful hunting grounds, and there are many different species that can be hunted in the state. While the state is famous for its big game hunting, such as elk, moose, and mule deer, duck hunting is still very widespread. 
Ducks hide out in groups called "rafts" (if in the water), "teams" (if flying) or "waddlings" (if on land) during the winter season, and that's when all hunters around the country come out to go stalking and searching for the right grounds.
If you're new to hunting ducks in Colorado, this guide is for you! In this article, we will break down duck hunting in Colorado, including season dates and the best hunting grounds in the state.
Hunting Season Dates in Colorado
Duck hunting is usually the most feasible and enjoyable during the winter months when ducks group together in one spot. It is much easier to spot a team of ducks than it is to spot an individual duck flying overhead.  Duck hunting season is regional and depends on the species of duck in Colorado. The duck hunting season begins with teal season in September and continues until the the end of January.
Duck hunting dates in Colorado are as follows:
Teal Season – Sep 10, 2022 – Sep 18, 2022
Eastern Zone – Oct 1, 2022 – Jan 13, 2023
Western Zone 1 – Oct 1, 2022 – Oct 18, 2022
Mountain/Foothills Zone 1 – Oct 1, 2022 – Nov 27, 2022
Northeast Zone 1 – Oct 8, 2022 – Nov 27, 2022
Southeast Zone – Oct 28, 2022 – Jan 31, 2023
Western Zone 2 – Nov 6, 2022 – Jan 31, 2023
Northeast Zone 2 – Dec 18, 2022 – Jan 31, 2023
Mountain/Foothills Zone 2 – Dec 25, 2022 – Jan 31, 2023
Colorado Hunting Grounds
Certain areas in Colorado are likely to have a higher duck population in the winter season than others. One of the prime locations for duck hunting is the Southern Platte River drainage. The region has several ponds, sloughs, and lakes, making it an attractive location for waterfowl of all sorts. In addition, there are several public hunting spots in the area where you'd find a large number of hunting ducks. Another good hunting location with many ducks is the Arkansas River drainage in Colorado. But even if you do not go to these specific spots, in reality, any area around rivers and especially valleys nearby are good areas to find ducks to hunt.
There are some state parks in Colorado that allow hunting. 15 of the 42 parks in Colorado permit duck hunting during the season in certain areas of the park. Camping sites are also available in these areas, so you can set camp and enjoy the beauty of Colorado's nature while hunting. Among these 15, the top three parks for duck hunting are Harvey Gap State Park, Highline Lake State Park, and Colorado River State Park.
Daily Bag Limits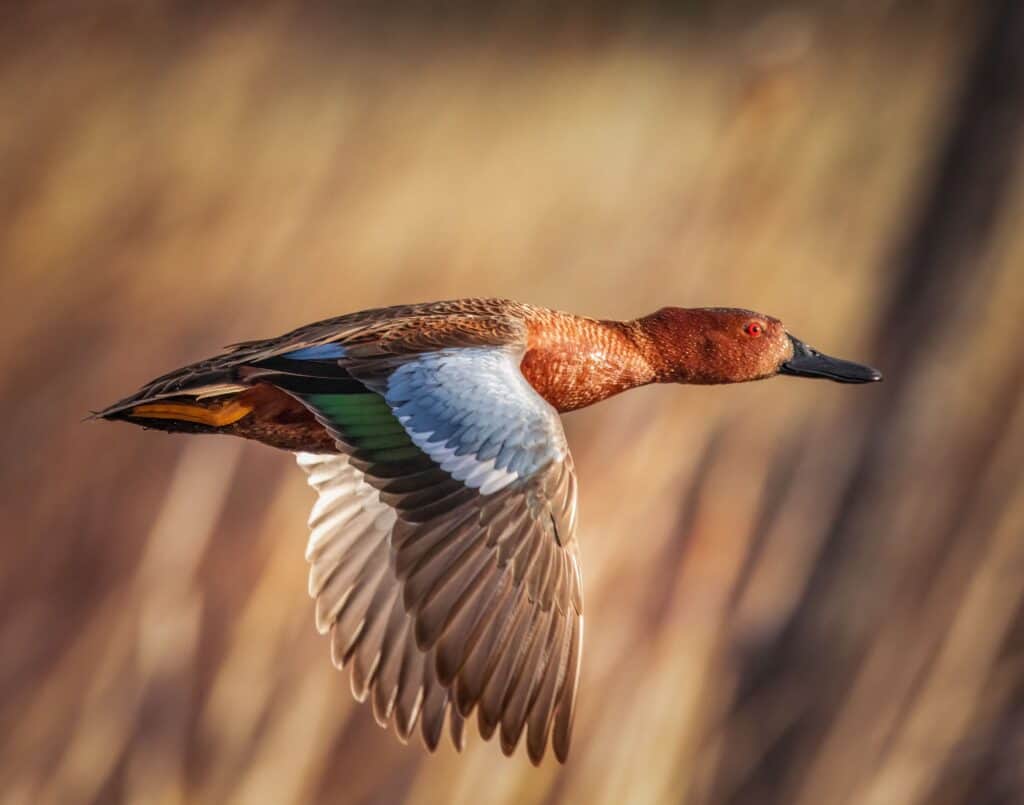 The daily bag limit is the number of ducks you can kill and take home in a single day. Like all other states in the US, Colorado also has its fair share of hunting laws. The Central Flyway region (Northeast, Southeast, and Mountain/Foothills zones) has a combined daily limit of 6 ducks. In the Eastern and Western zones, these limits are down to 4-5.
Possession Limits
Although the possession limit in Colorado hasn't been stated explicitly, you should assume that it's double the daily bag limit, so somewhere between 8-12 ducks is the likely possession limit number in Colorado.
Requirements/Cost For Duck Hunting In Colorado
In order to legally duck hunt in Colorado, you will need a small game hunting license, a Habitat stamp, A Colorado waterfowl stamp, and a federal migratory bird stamp. Here is the cost breakdown of these permits and stamps.
Small game license: $10
Habitat stamp: $10.59
Colorado waterfowl stamp: $10.59
Federal Migratory bird stamp: $31
Conclusion
If you're into hunting, the best hunting grounds for ducks in Colorado are river banks and any nearby ponds or valleys. You will need a valid hunting license before you head out. And do confirm the possession and daily bag limits with the authorities before you head out since these numbers are always subject to change!
Happy hunting!
Up Next
---
FAQs (Frequently Asked Questions) 
Can you duck hunt in Colorado?
Of course, you can! But before you go duck hunting, you will need to make sure you have a small-game license.
When does duck hunting season start in Colorado?
Duck hunting in Colorado begins with the teal season on September 10th.
What kind of license do you need to hunt ducks in Colorado?
To hunt ducks in Colorado, you need a small-game license. In addition, you would need a habitat stamp, which allows you to hunt if you are between the ages of 18 and 64. You also need a Colorado Waterfowl Stamp and Federal Migratory Bird Stamp. All these stamps are available at local post offices and CPW offices.
Can you duck hunt from a boat in Colorado?
Hunting from a boat is permitted from the first day of the regular duck season after the teal season.
Sources

Denver Post / Terry Wickstrom, Available here: https://www.denverpost.com/2018/08/29/where-to-waterfowl-hunt-in-colorado/
Colorado Parks & Recreation, Available here: https://cpw.state.co.us/thingstodo/Pages/WaterfowlDatesFees.aspx